Paste Multiple Keyframes 2
Compatibility After Effects

Please check exact version compatibility under the "COMPATIBILITY" tab below
Smart copy and paste keyframes from multiple layers at the same time.
Has the option to be run with or without an interface so that it can be used with ft-Toolbar
To run with GUI install in ScriptUI Panels folder, to run GUI-less install in Scripts folder
Usage
Select all the keyframes you want to copy
Move your time slider to where you want the first keyframe to be placed
Click on Paste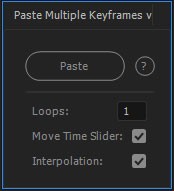 Options
Do not copy checkbox:
This is an option useful if you have lots and lots of keyframes (100's or 1000's on an individual layer)
By checking this box, two things will happen when you paste your keyframes
The keyframes will paste much, much faster
You will NOT paste any easing/temporal/spatial properties with your keyframes
(This option is mainly for when you have lots of keyframes from tracking, motion capture, etc. and the keyframe interpolation is not necessary)
Running without an interface:
If you have installed it to run without an interface (such as using it with ft-Toolbar), it will default to copying/pasting all easing/temporal/spatial properties and pasting one loop
Custom values:
It can not work with plugins or effects that have custom values for keyframes. ex.(Levels - Histogram, Hue/Saturation - Channel Range, etc.)
Upgrade notice: If you purchased v1 within the last year you will receive a discount equal to 100% of what you paid for it, if you bought it more than a year ago the discount will be equal to 50% of what you paid. Simply login with the same account that was used for the original purchase. Please contact support if you have any questions.
| | |
| --- | --- |
| After Effects | 2020, CC 2019, CC 2018, CC 2017, CC 2015.3, CC 2015, CC 2014, CC, CS6, CS5.5, CS5, CS4 |
2.0.9 (Current version) - Dec 12, 2019
Updating licensing
2.0.8 - Nov 13, 2019
Updating licensing to v3.0.42
2.0.7 - Oct 4, 2019
Add option to automatically select newly pasted keyframes (this is slow when pasting lots of keyframes)
Slightly clean up interface
2.0.6 - Sep 23, 2019
Very minor change to improve interface on CS6
2.0.5 - Sep 1, 2019
Updated licensing to work on macOS 10.15, Catalina
2.0.4 - Feb 2, 2019
Simplified non-selected keyframes error message
Updated licensing
2.0.3 - May 2, 2017
Changes:
Compact interface

New Options:
Move Time Slider: Automatically put the time slider at the end of the pasted keyframes
Interpolation: When unchecked, interpolation of keyframes will not be pasted
2.0.2 - Nov 27, 2014
Bug fix: Pasting checkbox keyframes did not always work
2.0.1 - Nov 18, 2014
Bug fixes:
Stopped the license information always alerting the user when the script is run
The help button was not working
2.0 - Nov 14, 2014
Added the ability to paste keyframes in loops

Bug fixes:
Copying/pasting temporal auto-bezier keyframes
If a layer has keyframes that are in between the times of another layer's keyframes, copying/pasting keyframe interpolation may not have worked correctly
(ie. Layer 1 has keyframes at 0 seconds and 5 seconds.
Layer 2 has keyframes at 2 seconds and 3 seconds
Layer 2's keyframe interpolation would not always work )
When choosing not to copy interpolation values:
This did not work when pasting keys before or after ALL pre-existing keyframes on their respective layer
There are significant speed improvements in this case
Having a property selected that had 0 keyframes would stop the script from running