TikTokText
Compatibility After Effects

Please check exact version compatibility under the "COMPATIBILITY" tab below
Create native looking TikTok content without leaving After Effects.
The fonts, styles, colors, box-size, corner roundness and even stroke-width have been designed to emmulate that authentic TikTok in app look.
Which is perfect for creating content destined for TikTok.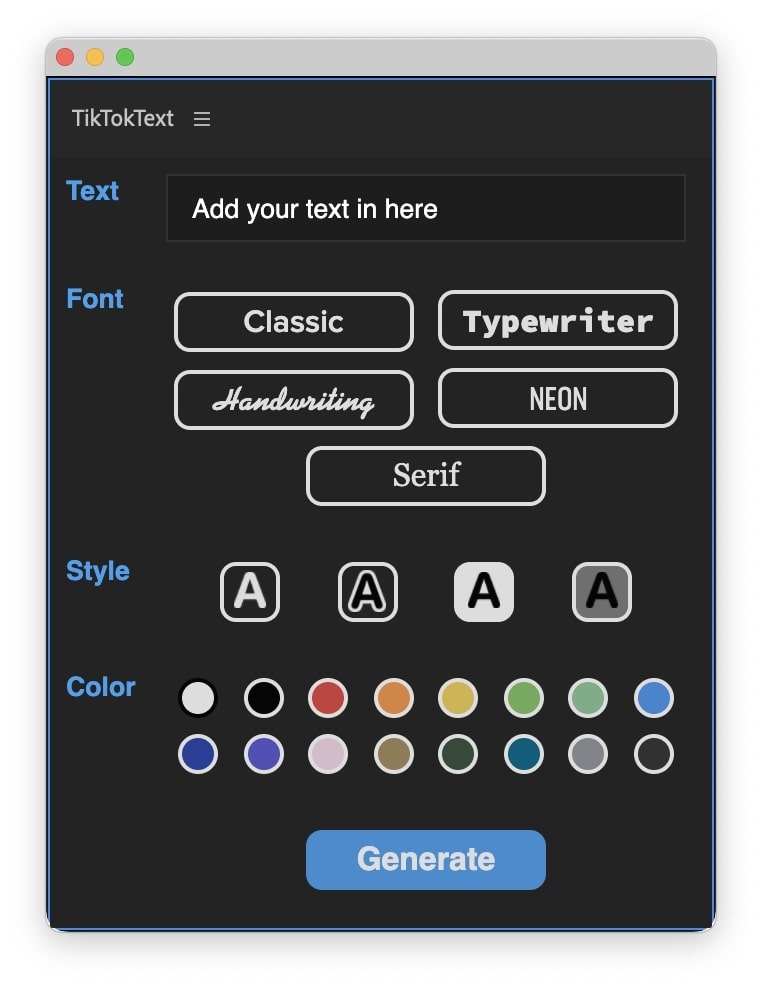 Choose From the Five TikTok Fonts.
- Classic
- Typewriter
- Handwriting
- NEON
- Serif
Choose From the Four TikTok Text Styles.
- Plain Text
- Text with a Stroke
- Text within a Solid Box
- Text within a Semi-Transparent Box.
Choose From the 16 TikTok Colors.
Select the main color and this will be applied to either the font or text box.
You can even right-click the color buttons to copy that color's hex-code to your clipboard for use in other graphics.
Create Your Chosen Text.
A text layer and shape layer (if a box style was selected) will be created to the specifications you chose.
These remain completely editable afterwards. Meaning you can share your projects with anyone, even if they don't have a copy of TikTokText.
Box styles work best with single-line text.
With the magic of expressions, any text-boxes will automatically scale to fit the size of your text, no matter how many times you change it!
| | |
| --- | --- |
| After Effects | 2022, 2021, 2020, CC 2019, CC 2018, CC 2017, CC 2015.3, CC 2015, CC 2014, CC |
2.0 (Current version) - Nov 16, 2022
• Fixed issue of tool polluting the global namespace.

• Fixed bug with apostrophe's in text input box.

• Updated Neon font to be available in lowercase, to align with change in TikTok app.

• Text box shape layers are now only named "Text-box" to make user duplication easier.
1.0 - Sep 24, 2022
Initial Release