TikTokText
Compatibility After Effects

Please check exact version compatibility under the "COMPATIBILITY" tab below
Create native looking TikTok content without leaving After Effects.
The fonts, styles, colors, box-size, corner roundness and even stroke-width have been designed to emmulate that authentic TikTok in app look.
Which is perfect for creating content destined for TikTok.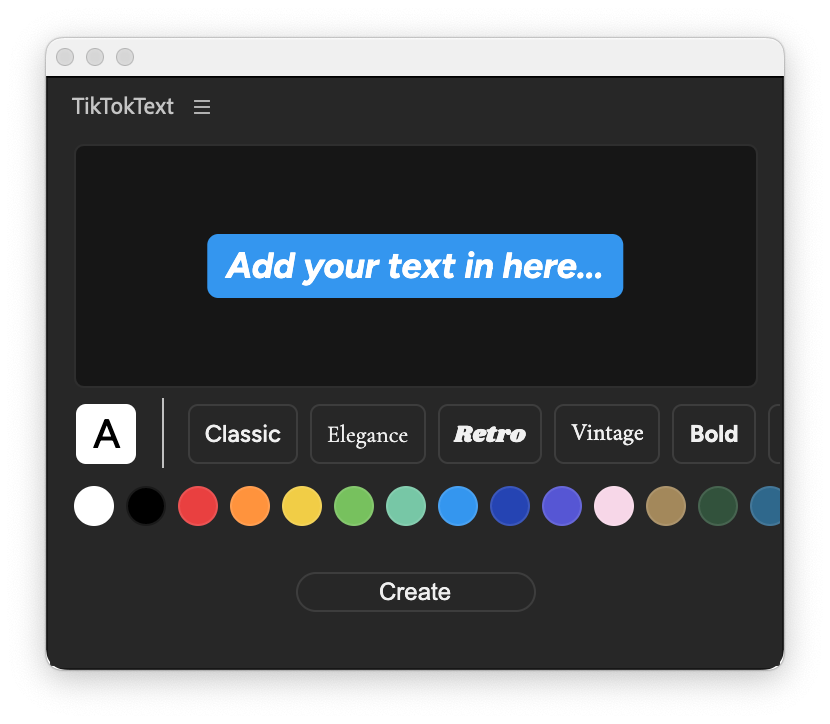 1. Choose from the 19 TikTok fonts.
- Classic
- Elegance
- Retro
- Vintage
- Bold
- Serene
- Oblique
- Postcard
- Script
- Typewriter
- Comic Sans
- Serif
- Heavy
- Freehand
- Handwriting
- Neon
- Luxury
- Telegraph
- Curious Cat


2. Choose from the four TikTok text styles.
- Plain Text
- Text with a Stroke
- Text within a Solid Box
- Text within a Semi-Transparent Box.


3. Choose from the 16 TikTok colors.
Select the main color and this will be applied to either the font, text-box or glow effect.


4. Preview all changes and combinations.
The text input box also gives a rough preview of what your text / box will look like.


5. Create Your Chosen Text.
A text layer and shape layer (if a box style was selected) will be created to the specifications you chose.
These remain completely editable afterwards.
Meaning you can share your projects with anyone, even if they don't have a copy of TikTokText.
With the magic of expressions, any text-boxes will automatically scale to fit the size of your text, no matter how many times you change it!


Bonus Premiere Pro Integration.
With version 2.1 onwards of TikTokText, an essential graphics template is now included, allowing you to bring automated TikTok text creation into Premiere Pro.

Please note.

The TikTokText After Effects extension is still considered the best way to create TikTok Test with a higher overall quality and
more granular control of the individual parameters. Essential Graphics templates are limited in their capabilities, as such this
template is offered as a bonus to compliment the After Effects extension, and not to be considered a stand alone product.

| | |
| --- | --- |
| After Effects | 2022, 2021, 2020, CC 2019, CC 2018, CC 2017, CC 2015.3, CC 2015, CC 2014, CC |
3.0.3 (Current version) - Sep 12, 2023
- Added the 8 new fonts TikTok introduced in Sept 2023.

- Fixed bug causing off-centre anchor points.

- Added new transparent background option for preview window to help with previewing dark colors.
3.0.1 - Jul 16, 2023
Minor Update Release Notes:

- More accurate preview UI panel.

- Improved preview panel spacing.

- Fixed bug with off centre anchor points on layers.
3 - Jun 6, 2023
- Updated to match TikTok's 11 new fonts available.

- Styles updated to match latest TikTok look.

- Colors updated to match latest TikTok colors.

- Entire UI redesign.

- Preview window added for rough previews of text.
2.1 - Jan 17, 2023
With version 2.1 onwards of TikTokText an Essential Graphics template is now included, allowing you to bring automated TikTok text creation into Premiere Pro.
2.0 - Nov 16, 2022
• Fixed issue of tool polluting the global namespace.

• Fixed bug with apostrophe's in text input box.

• Updated Neon font to be available in lowercase, to align with change in TikTok app.

• Text box shape layers are now only named "Text-box" to make user duplication easier.
1.0 - Sep 24, 2022
Initial Release