YY_UVmapper
Compatibility After Effects

Please check exact version compatibility under the "COMPATIBILITY" tab below

Adding to cart...
This plugin allows you to add or replace textures on 3D renders by using a UV map. It can also be used to add reflections using a Normals map. UV and Normal map can be easily rendered with any 3D application.
Here is an example of a cloud texture being applied to a UV map: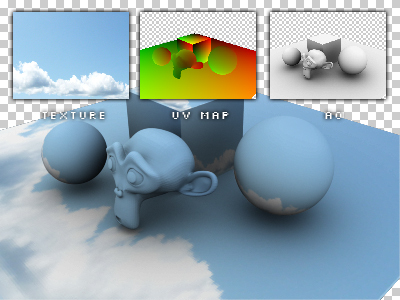 (the AO isn't part of the plugin, I just overlayed it for a more finished effect)
The plugin is meant to be applied onto your UV map.
Parameters:
Input 2: this is the texture that will be used.
Top Left: crops the top left corner of the texture
Bottom Right: crops the bottom right corner of the texture
Offset X: offset the texture on the X axis
Offset Y: offset the texture on the Y axis
Scale: scale the texture
Tile: whether or not the texture should tile
It does not work with normal maps (it might do something though, but I don't think it'd be useful.)
As you can see, there aren't too many parameters, but this plugin does work for some simple re-texturing.
Have fun :)
| | |
| --- | --- |
| After Effects | CS5.5, CS5, CS4 |
Current version:
3.0
3.0 - Now uses SampleLinear() on the texture for bilinear interpolation (smoothing)
2.0 - Initial release on aeplugins - Nov 2010