Displacer Pro
Compatibility After Effects

Please check exact version compatibility under the "COMPATIBILITY" tab below
The displacement map inside of AE is one of the most versatile tools at our disposal as compositors and motion designers. For one reason or another, it can only displace by translation (moving the position). We thought it would be cool if you could use other transformations, and thus Displacer Pro was given birth to through our proprietary plugin birth canal.
Core Features:
Displace with translation, rotation & scale
All your favourite modes: hue, saturation, luma, red, etc
Powerful map adjustments: gamma, softness, easing & more
Temporal motion blur and iterations for smooth displacement
Chromatic aberration
Inbuilt anti-aliasing
GPU accelerated, 32bpc
MFR & Apple silicon native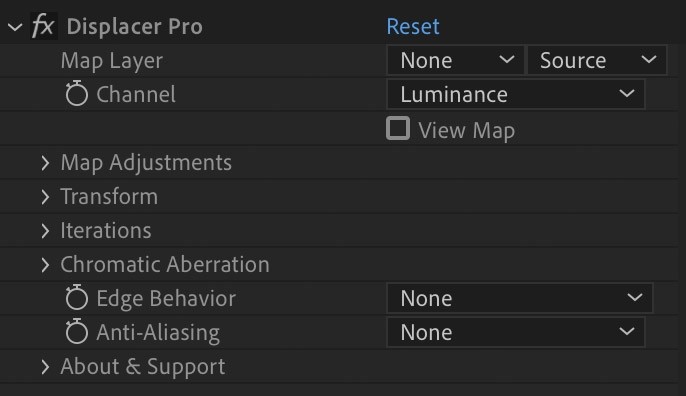 Free transitions pack
now released!
To celebrate the release of Displacer Pro v1.5 update, we've created a collection of 20 funky displacement transitions to get your creative juices flowing. See below in the additional downloads for the link
| | |
| --- | --- |
| After Effects | 2023, 2022, 2021, 2020, CC 2019, CC 2018, CC 2017, CC 2015.3, CC 2015, CC 2014, CC, CS6 |
1.5 (Current version) - Jun 20, 2023
- Added classic displacement (same behaviour as AE) where 0 means -100% displace, 1.0 = 100% displace and 0.5 = none.
- Added iterations parameter for smoother results & simulating motion blur
- Added input map mixing
- Added clamp overflow transforms, useful for creating transitions
- UI improvements
1.1 - May 7, 2022
- MFR support for AE22 and up
- Universal binary for apple silicon support
- Performance improvements
- UI improvements
1.0 - Oct 29, 2020
- Initial Release