Pixel Sorter 3
Compatibility After Effects

Please check exact version compatibility under the "COMPATIBILITY" tab below

Compatibility Premiere

Please check exact version compatibility under the "COMPATIBILITY" tab below
Pixel Sorting in After Effects and Premiere Pro
Pixel Sorter was the first tool to bring the pixel sorting glitch effect available for motion designers and video editors within After Effects. Experimenting with Pixel Sorting then became so much easier.
Quick Tutos
Using masks as constraint
A new feature allows you to use masks to constraint the sorting.
Adding Noise
It's now simpler than ever to add details to the sorting effect, with the use of the new Noise section.
Mirror Sorting
A new feature allows for smoother, loopable animations.
Floating Particles
Create the illusion of floating particles emitting from the image.
Lots of new features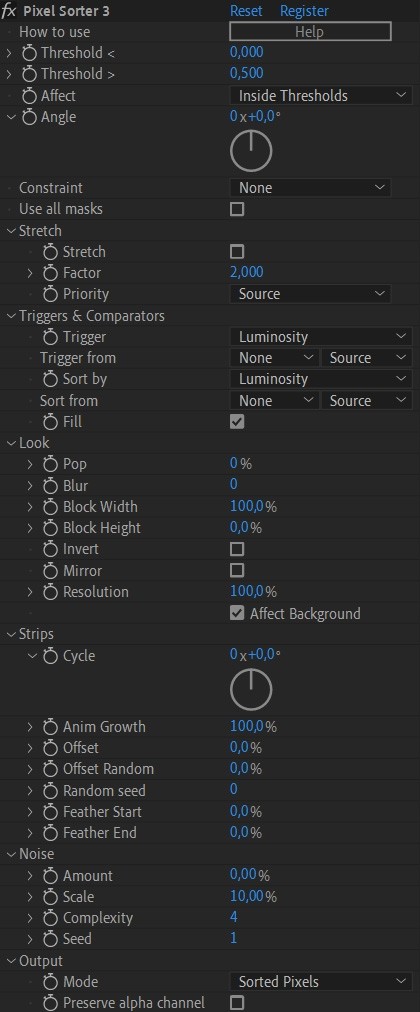 More Examples
Pixel Sorter has been used in a wide variety of medias:
The Peripheral
Beautiful use of Pixel Sorter in this Prime Video series main title
Watch Dogs 2
Ubisoft made an extensive use of Pixel Sorter in their trailers, cinematics and in-game UI.
Shared Memories
This experimental short film made by Benjamin Bardou and Ash Thorp uses AEPS in all its elegance!
Ghost in the Shell
Ash Thorp made a clever use of the plugin in his work for the feature film.
Documentation & More
You can find documentation, examples, and additional videos on how to use Pixel Sorter in creative ways on pixelsorter.studio.
Trial version
You can try the plugin for free. If no serial is entered, the output is limited to 960x540 and watermarked. Once a valid license is entered these limitations are removed.
Upgrade Notice
If you purchased Pixel Sorter v2 after June 5, 2023, you can upgrade for free, otherwise the upgrade is $25 (Floating licenses extra). Simply login to the same account that you purchased v2 from and you will see the upgrade price automatically. If you need any assistance please open a support request and we will be happy to assist you.
| | |
| --- | --- |
| After Effects | 2024, 2023, 2022 |
| Premiere | 2024, 2023, 2022 |
3.0.2 (Current version) - Sep 12, 2023
Fixed a bug on Mac causing Premiere crashing on some computers
3.0.1 - Sep 6, 2023
Top new features of v3:
- Premiere Pro compatible
- Constraint masks
- Stretch mode
- Noise
- More control
- New animation settings
- New looks settings
3.0.0 - Sep 5, 2023
Top new features of v3:
- Premiere Pro compatible
- Constraint masks
- Stretch mode
- Noise
- More control
- New animation settings
- New looks settings
3.0.0 - Sep 5, 2023
Top new features of v3:
- Premiere Pro compatible
- Constraint masks
- Stretch mode
- Noise
- More control
- New animation settings
- New looks settings