Automation Blocks for After Effects Public Beta
Compatibility After Effects

Please check exact version compatibility under the "COMPATIBILITY" tab below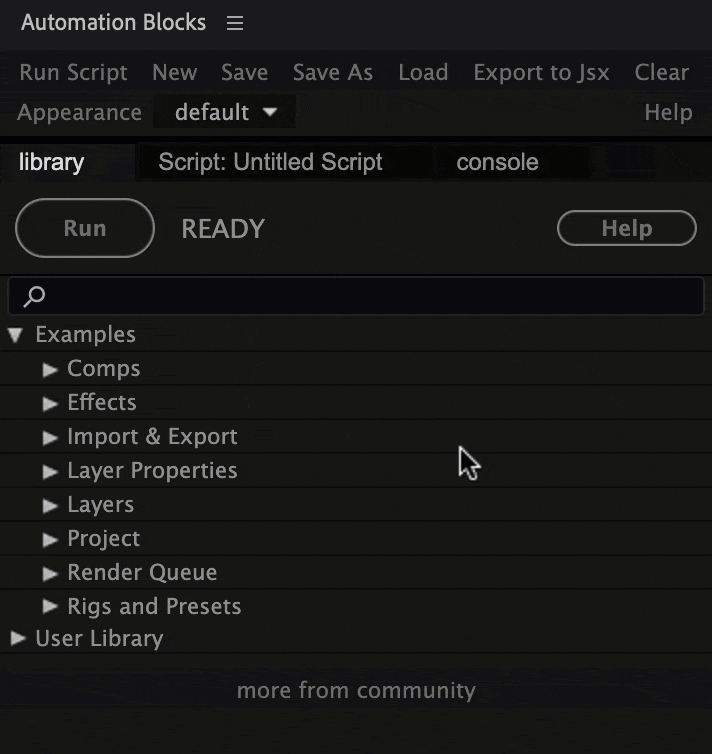 Large Library of One-Click Tools
Automation Blocks is an infinite collection of premade, one-click tools for any task. With Automation Blocks, you can fully customize all the tools, and even create your own!
There are too many tools to list them all, but here are some highlights:
Write Your Own Tools
Instead of programming code, the tools are based on blocks – creating tools feels more like playing with Lego bricks than doing actual programming. It's when you start to customize the example tools to do what you need, or even write your own tools from scratch, that the magic really begins!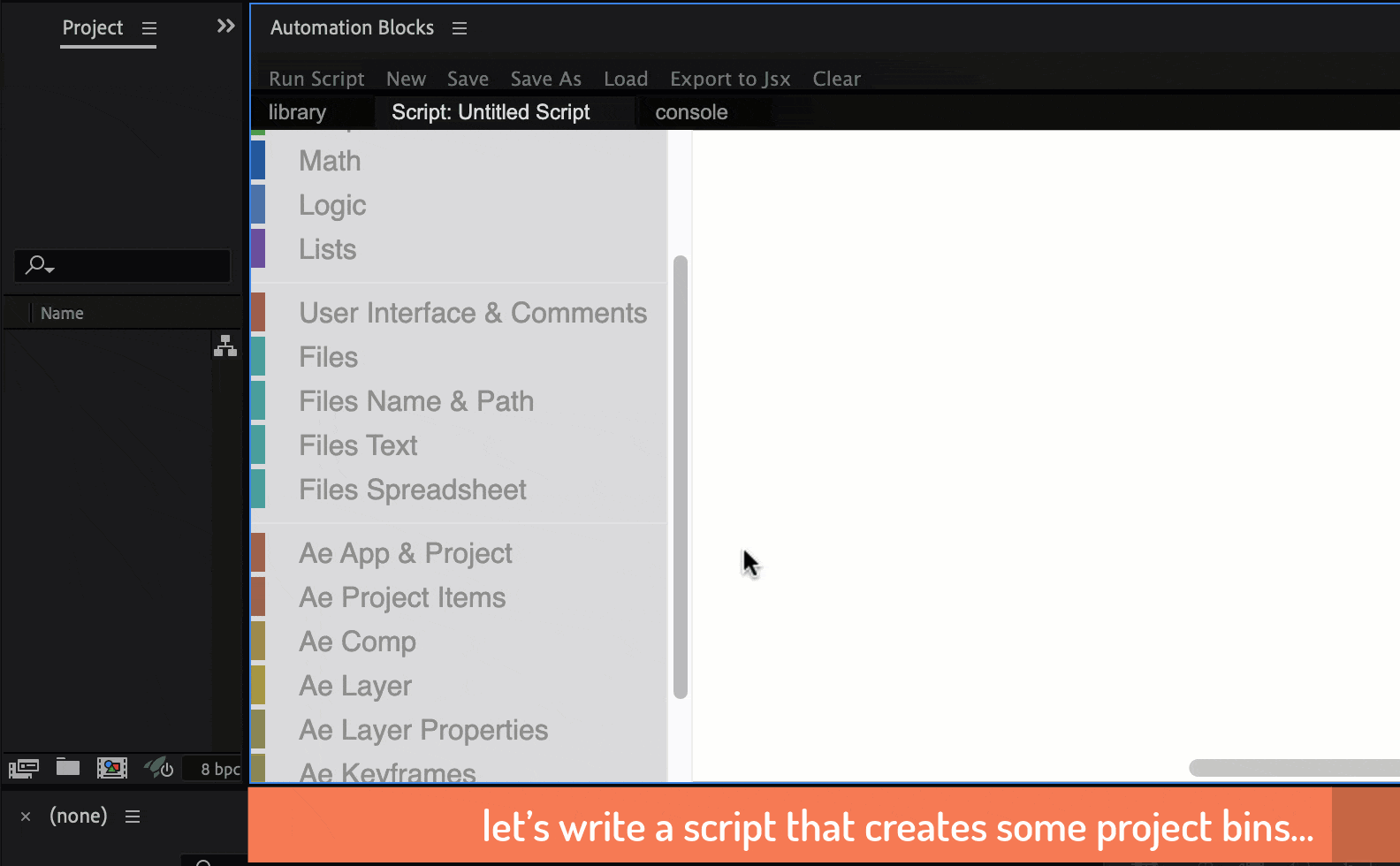 Public Beta
In June and July Automation Blocks is free for everybody to use. You tell us what you want to automate in your After Effects workflow, and we'll implement it together with Automation Blocks. Join our public beta now!
Learn More
Learn everything about Automation Blocks with our in-depth documentation:
Automation Blocks Documentation
User Reactions
I'm excited for #AutomationBlocksAe ... it looks like MIT's Scratch for @AdobeAE https://t.co/7TEErTxxJB

— Erin Finnegan (@erinf) January 31, 2022
Thank you @mamoworld for creating the request script with #AutomationBlocksAe :) https://t.co/KLrQaYrXit

— onderk. (@motioneasy) April 21, 2022
Children using Scratch will now be able to use After Effects much more easily. In addition, thanks to this, AFX has moved on.

Artık Scratch kullanan çocuklar çok daha rahat After Effects kullanabilecekler. Ayrıca bu sayede AFX çağ atlamış. https://t.co/aRVeR0eP3p

— Gökhan Aydın (@soraouji) February 3, 2022
Rolling up my sleeves with the new #automationblocksae.
At first glance, 2 of my fav tools are Precompose & Crop as well as Box Around Selected Layers.
Thanks @mamoworld for adding me to the beta testing ground!!#motiondesign #motionGraphics pic.twitter.com/6mwoBoPdGD

— Donn O'Lochlainn (@donn_lochlainn) June 2, 2022
This tool seems to put an end to the frustration that is working with Javascript in order to automate tasks in After Effects, and also looks so beginner-friendly: you just need to learn the logic instead of all the ugly JS syntax. https://t.co/ljs8gpRHjI

— Eveline Falcão (@evefalcao) June 3, 2022
I don't use many addons but the few tend to be very focused utilities. However, this looks stunning. And open beta right now. Take a what was a kids intro to programming and make a function builder in AE. From @mamoworld https://t.co/UBQNH0TOoH https://t.co/qmWlRNuVC0

— Mark Coleran (@Coleran) June 3, 2022
| | |
| --- | --- |
| After Effects | 2022, 2021, 2020, CC 2019, CC 2018, CC 2017, CC 2015.3, CC 2015 |
0.9.019 (Current version) - Jun 9, 2022
- fixed bug in box around layers tool
- removed annoying help tips from menu bar
- added support to create mocha Ae effect
- fixed issue with using lists in pattern replace block
- more robust handling of looping over items which have been deleted in the meantime
0.9.018 - Jun 1, 2022
initial public beta release
0.9.017 - May 31, 2022
initial public beta release