Home

/

Expression Timeline 2
Expression Timeline 2
Compatibility After Effects

Please check exact version compatibility under the "COMPATIBILITY" tab below

Adding to cart...
The ExpressionTimeline allows you to apply several expressions to a property, so that each expression is ony active for a certain period of time. Instead of an abrupt change between expressions, you can smoothly transition from one expression to the next. What's more, you can specify time intervals in which no expression is active, so that the keyframed motion is considered.
Some facts
define the start and end times of expressions
fade expressions in and out smoothly
create smooth transitions from one expression to another
works with arbitrary expressions
allows you to combine many arbitrary expressions
New in Version 2
Version 2 of ExpressionTimeline has an improved interface where the width of the timeline automatically adjusts to the width of the panel, so there's no need to adjust the size manually.
Example 1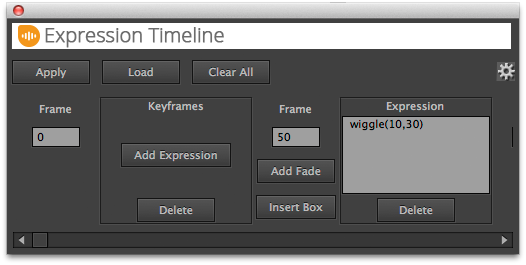 From the beginning until frame 50 use the keyframed values and after frame 50 use a wiggle expression.
Example 2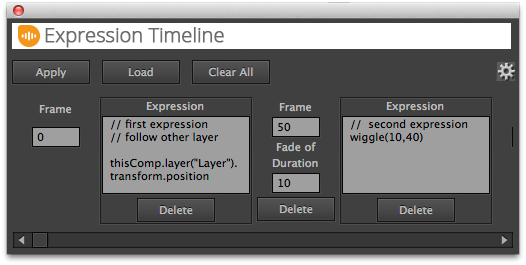 Smoothly transition from one expression to another. So, if the first expression is active from frame 0 to 50 and the second from frame 50 until the end, the smooth transition between the two expressions will be 10 frames long and thus last from frame 45 to frame 54. With the expressions in this example, the layer first follows another layer (expression 1) until frame 45. Then until frame 54 it smoothly transitions back to its own position while simultaneously beginning to wiggle (expression 2).
Upgrade Notice: If you bought Expression Timeline 1, you can upgrade for free. Make sure you are logged in to the same account with which you bought v1 to see the special upgrade price. Contact support if you have any questions.
Demo
Tutorial: Expression Timeline
The ExpressionTimeline allows to combine and modify expressions without touching the code. In this tutorial we look at three examples for a creative text reveal that is based on expressions. And don't be scared - you don't need to write any expressions code to follow the tutorial.
Contents
Example 1: Random grid movement (1:59-12:59)
Example 2: Ease and Wizz expressions (13:00-17:50)
Example 3: Confetti expressions (17:51-26:26)
Tutorial: Timeline for Plexus
In this After Effects tutorial we will combine the ExpressionTimeline with the plugin Plexus to create an impressive title animation. In addition I show you a useful expression to loop the keyframes of a property.
Creating and animating text in Plexus (1:11-13:01)
Animating a Plexus point cloud using ExpressionTimeline(13:02-38:04)
| | |
| --- | --- |
| After Effects | 2022, 2021, 2020, CC 2019, CC 2018, CC 2017, CC 2015.3, CC 2015, CC 2014, CC, CS6, CS5.5, CS5, CS4, CS3 |
2.1.001 (Current version) - Aug 6, 2019
- added compatibility with Mac OS Catalina
- minor bug fixes
2.1 - Jun 23, 2014
fixed licensing issues
2.0 - Timeline automatically adjusts to panel width, new CI
1.2 - Fixed issue with loading expressions from effects in CS5 (Feb 2011)
1.11 - Fixed upgrade url (Feb 2011)
1.1 - Made CS3 compatible, fixed Tab ui crashing bug (Feb 2011)
1.0 - Initial release (Jan 2011)