QuickImporter
Compatibility After Effects

Please check exact version compatibility under the "COMPATIBILITY" tab below

Compatibility Premiere

Please check exact version compatibility under the "COMPATIBILITY" tab below

Compatibility Audition

Please check exact version compatibility under the "COMPATIBILITY" tab below
Importing footage is an essential and often time-consuming part of the editing process. With QuickImporter, you get a next generation file import dialog with super-fast, fuzzy keyword search and a built-in audio player. This makes searching through large footage libraries a breeze. QuickImporter offers the same, efficient workflow in Premiere Pro, After Effects and Audition.
Features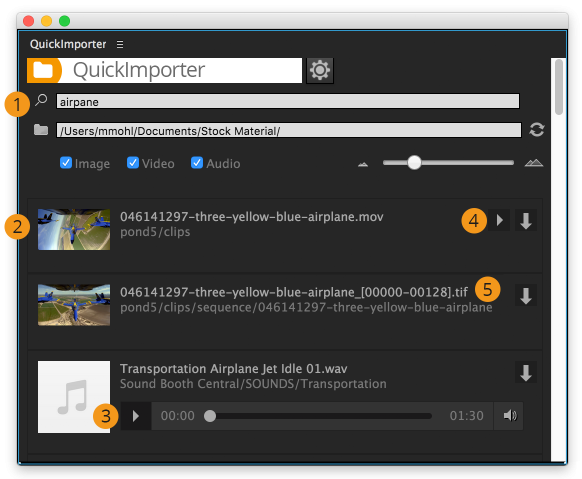 super-fast, fuzzy search instantly searches through thousands of files to find what you want - even with typos in your search term.
thumbnail images for most file types (Mac only)
audioplayer just hover over the file icon to start playback
mediaplayer open video files in the media player for preview
image sequences are shown as a single search result - no need to navigate through hundreds of individual image files
Premiere Pro After Effects & Audition just one license allows you to use QuickImporter in all host apps
Multitrack Support If you're working on a multitrack session in Audition, QuickImporter inserts the files directly into the active track of the session. If not, QuickImporter opens the file in the waveform editor.
Quicklook Thumbnails (Mac only)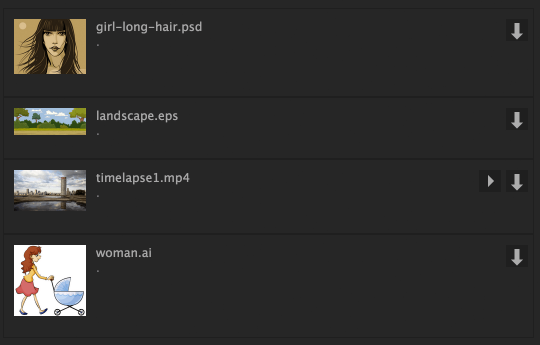 Thumbnails in QuickImporter are based on the MacOS Quicklook. This means QuickImporter supports thumbnails for a huge variety of file formats, including psd, ai, eps and most video formats. This means that if MacOS finder can show a thumbnail for a file, QuickImporter can show it too. If you don't get a thumbnail for a particular file format, you can check whether there's a Quicklook plugin for it.
Quick Navigation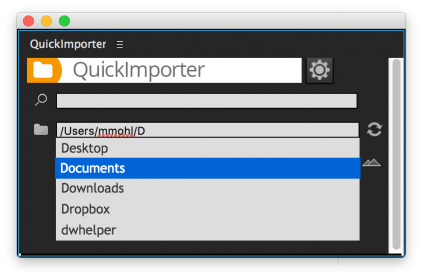 Quickly navigate to your footage folders
with favorites, recent folders
and the auto-complete system.
Limitations
Due to a limitation within Premiere Pro, image sequence import does not work in Premiere Pro versions older than CC 2015.4.
Thumbnail images are based on the Mac OS Quicklook system, so on Windows, thumbnails are only available for jpg and png files.
Audio preview is not available for AIFF files.
| | |
| --- | --- |
| After Effects | 2024, 2023, 2022, 2021, 2020, CC 2019, CC 2018, CC 2017, CC 2015.3, CC 2015 |
| Audition | 2023, 2022, 2021, 2020, CC 2019, CC 2018 |
| Premiere | 2024, 2023, 2022, 2021, 2020, CC 2019, CC 2018, CC 2017, CC 2015.3, CC 2015 |
1.5.004 (Current version) - Jan 17, 2020
fixed issues with showing more than 40 search results
1.5.003 - Oct 8, 2019
fixed issues with extension crashing on CC 2019 after closing open file dialog
1.5.002 - Aug 29, 2019
licensing system now supports floating licenses
1.5.001 - Jun 27, 2018
files starting with a dot (i.e. hidden files) are not shown anymore in the search results
1.5.0 - Dec 11, 2017
added support for Audition
1.0.4 - Nov 29, 2017
fixed issues with JKL keys in CC2018
1.0.3 - Oct 20, 2017
added compatibility to CC 2018
1.0.2 - Nov 3, 2016
added compatibility for CC 2017 Release of Premiere Pro and After Effects
1.0.1 - Aug 5, 2016
added compatibility for 2015.3 Release of Premiere Pro and After Effects
1.0.0 - Apr 19, 2016
initial release