Tool Launcher
Compatibility After Effects

Please check exact version compatibility under the "COMPATIBILITY" tab below
Do you have lots of scripts that you only use once in a while cluttering up your menus or workspace? Tool Launcher lets you launch scripts whenever you need it without having to deal with floating windows that get in the way. You free up your workspaces and window menu, but can still have the scripts docked and quickly available. The best of both worlds!
Tool Launcher comes with tl_panel, which when opened looks like an empty panel, but paired with either tl_list or tl_bar, this panel can show any script UI panel with a click of a button.
tl_list also comes with a trick of it own, as most scriptUIs can be shown in this panel as well. So now you have two panels that can be customized to show whatever you like, whenever you like.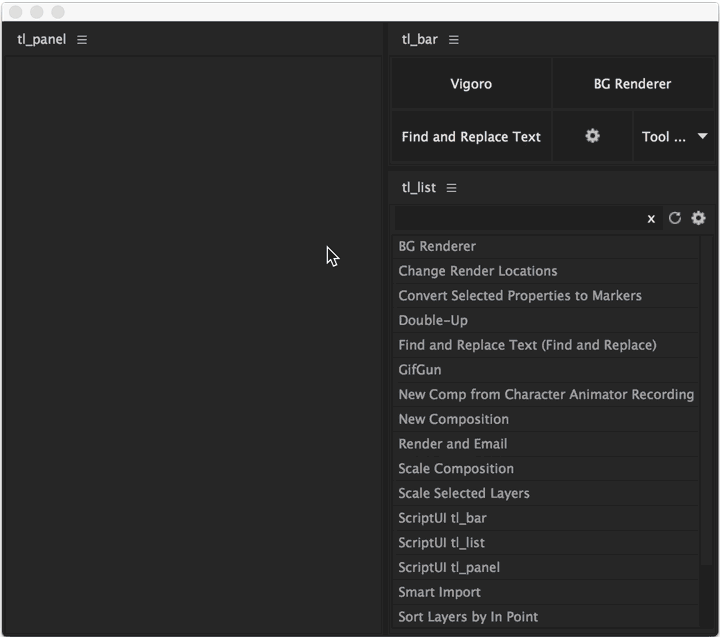 Features
Load folders with scripts and place them in a searchable list or in dedicated toolbars.
Show interfaces for scripts, that normally has to be in the ScriptUI folder/Window menu, in pre-docked panels.
Multiple panels:

tl_panel: Show script interfaces,
tl_list: Searchable list of all tools,
tl_bar: Customizable toolbar panels. Can be duplicated to have multiple toolbars.

Create shareable config files with tools already configured, with modifier keys, icons, and toolbars.
Set icons for toolbar buttons.
One central settings window to customize all options, tools, and toolbars.
Store the config file in any location.
Copy the config file between computers and all your settings, icons and toolbars, will be included.
Import ft-toolbar config files.
Types of commands
Script: A script file to run.
JavaScript: Write javascript directly inside Tool Launcher.
Expression: An expression that can be applied to all selected properties.
Menu Command: Any command from After Effects menus.
OS: Any command that can be run from your terminal
Effect: Add an effect to all selected layers
Animation Preset: Apply animation preset files to selected layers
Launch scripts into pre-docked panels
| | |
| --- | --- |
| After Effects | 2021, 2020, CC 2019, CC 2018, CC 2017, CC 2015.3, CC 2015, CC 2014 |
1.4.3 (Current version) - Aug 12, 2020
- Fix wrong version number in 1.4.2
1.4.2 - Apr 25, 2020
- Fix MacOS Catalina compatibility
1.4.1 - Dec 9, 2017
- Fix issue with config buttons in paths tab
- Resize script interface immediately when loading it in tl_panel
1.4.0 - May 16, 2017
- Adds ability to apply Animation preset files to selected layers with command type "Animation Preset"
- Adds "Show only icon" button in Toolbar settings. This hides the button outline on buttons with icons in the toolbar.
- Creates an "Undo" to undo applying effect or expression to multiple layers or properties.
- Shows list of Icons that could not be written correctly, instead of showing nothing.
1.3.0 - May 1, 2017
- Adds 'effect' tool type. Applies an effect to all selected layers
1.2.0 - Apr 30, 2017
- Faster startup time when multiple panels are open
- Fixed issue where sometimes toolbars would not update or show up in lists correctly
- Added 'Reveal config in finder/explorer' button when config location is not changed
- Added 'Add to toolbar' dropdown in tl_list right click menu
- Holding down any modifier key (shift, alt, control, command) when clicking 'Edit' in tl_list right click menu will open the script files in a text editor instead of opening the settings window
- Set the path for the running script, so relative paths will resolve correctly
1.1.1 - Feb 28, 2017
- Fixes CS6 issue where After Effects would say it had crashed when quitting AE
- Fixes tool icon not being saved in some cases
- Fixes issue where sometimes the script was unable to launch
- Changes link to where updates can be downloaded from
1.1 - Dec 11, 2016
- CS6 support!
- Can now use Enter key to run tools in tl_list
- Can now use left and right arrow keys to add and remove tools from toolbar in toolbar tools settings.
- Uses "Show UI in tl_panel" by default for scripts, will have to be manually turned off for scripts without UIs
- Fixes removing tools not working in some cases
1.0 - Nov 27, 2016
Initial Release