REACH: AEssential Kit
Compatibility After Effects

Please check exact version compatibility under the "COMPATIBILITY" tab below
Your workflow is
UNIQUE

. And Reach is.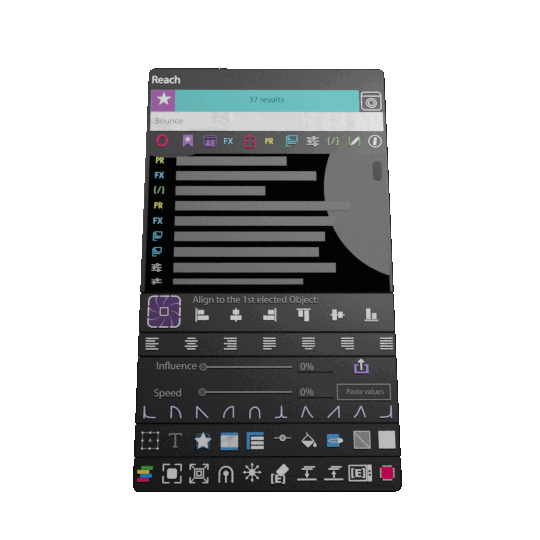 Get ready to raise After Effects with the Reach AEssential kit:
Reach gives you easy access to a wide range of functions within AE, including commands, effects, presets, extensions, plugins, and all your scripts. There are also pre-written expressions, an expressions editor, a Script helper, and a storage feature for expressions.
Reach has exclusive features like tools for managing layers, keyframes, colors, audio sync, compositions, optimizations, crop, bounce, puppet pins, cameras, and more. The responsive interface also includes built-in features, for example, an anchor manager, align tools, easing sliders and shortcuts, and more.
Reach is regularly updated based on user feedback, so you can be sure you're always getting the latest and greatest.
The natural cherry on top is your bookmark manager and thematic toolbars with additional helpful and straightforward tools.
With a dynamic and responsive user interface, complete with a search bar for easy access to all features, Reach is a breeze.
Reach offers a free trial version with access to all side toolbars, so you can try it out and see for yourself just how mighty it is.

You can use this excellent opportunity to boost your After Effects game.
Download our manual
Last Update v 1. 9.8: New presets for the easing tools and a fresh new look for the Anchor Point Mover
Available in The PENCIL Park Bundle


A tool with so many features might initially seem intimidating, but don't worry! We've designed Reach to be customizable to fit your individual needs. In the settings, you can deactivate any toolkit except for the tool's core – the powerful search bar.
If you click on the info button at the top right, you can completely fine-tune your interface :)

If you click to launch a dockable script, click when you want it to disappear.

If you apply an effect, double-click on the effect in Reach to remove it

The tools' eraser thoroughly cleans your Layer of its effects and expressions.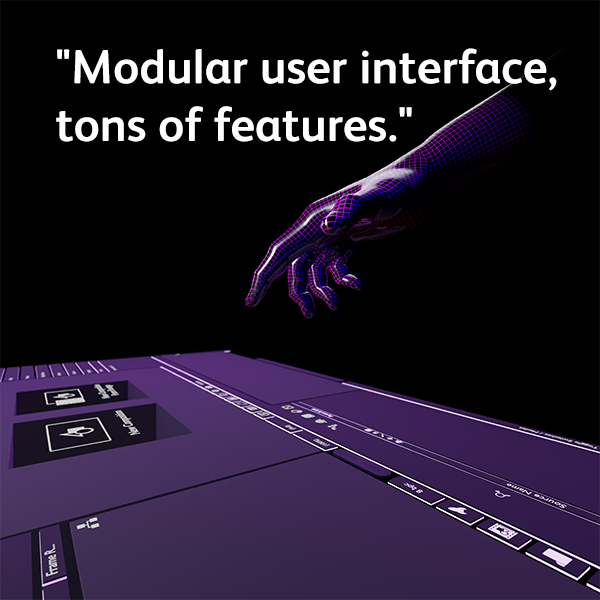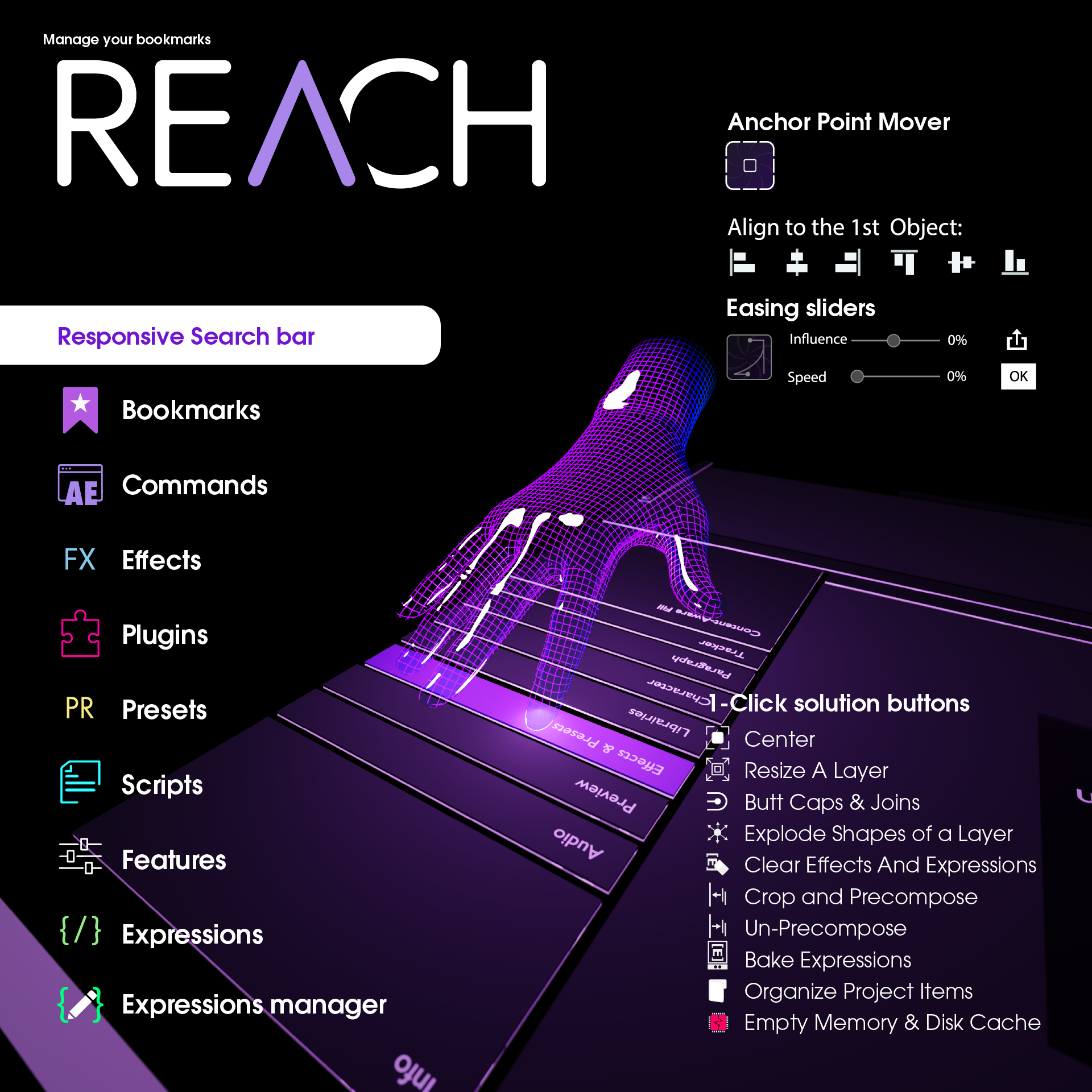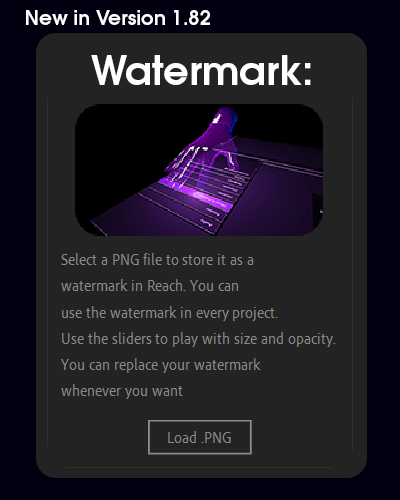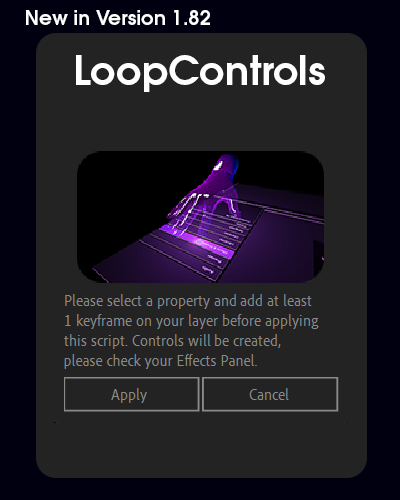 "Reach constantly evolves with you:
Don't hesitate to tell us your needs and recommendations.
Your feedback is precious!"
Reach UI and expressions editor example:
UI: Bookmarks |Feedback | Screen Capture Tool & Search Bar
Buttons: Refresh, Bookmarks, Commands, FX, Presets, Your scripts, Utilities, Expressions, Editor, Infos.
Edit, Fetch, Inject, and Create Expressions and Select the property(ies) to apply them. Save or Delete any Expression. All your Expressions are immediately accessible in Reach*.(more information is below)
Paste Expressions Language References directly in your code with a double click—bonus: Scripting Helper when you select a property from your Timeline.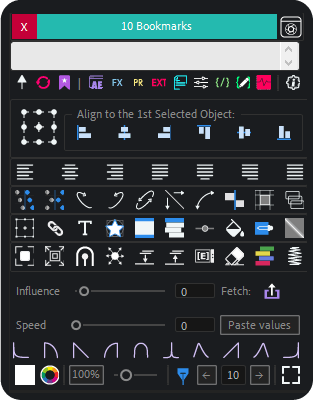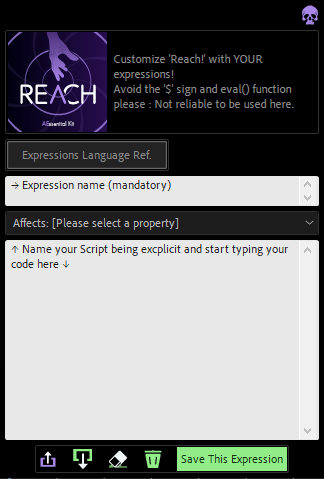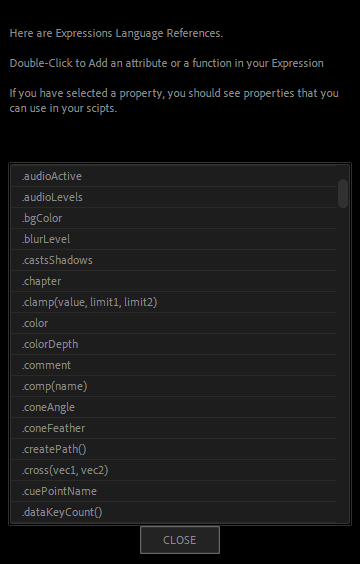 In addition to effects, presets, extensions, and customizable features, you can access and bookmark the following:
AE Natives Commands:
Add To Media Encoder
Add To Render Queue
All Text Transform Properties
Auto Orient Orient Along Path
Auto Trace Path
Bake property / Convert Expression To Keyframes
Cam View Back
Cam View Bottom
Cam View Front
Cam View Left
Cam View Right
Cam View Top
Camera: 3D Create Orbit Null
Center Anchor Point In Layer
Clear Guides
Composition Flowchart
Composition Settings
Consolidate All Footage
Convert Audio To Keyframes (AE 2022)
Convert Shape
Convert To Editable Text
Copy Expression Only
Copy With Property Links
Create Masks From Text
Create Protected Region
Create Shapes From Text
Create Shapes From Vector Layer .Ai .Eps
Create Stereo 3D Rig
Crop Composition To Region Of Interest
Deselect All
Disable Expressions
Edit In Adobe Audition
Edit Original
Enable Expressions
Enable Protected Region
Export Guides
Extract Work Area
Fit Comp
Fit Comp Height
Fit Comp Width
Flip Horizontal
Flip Vertical
Free Transform Points
Freeze Frame
Freeze On the Last Frame
Generate Markers From Audio Beats
Generate Markers From Audio Events
Group Shapes
Guide Layer
Hide Locked Masks
Hide Other Video
Import Guides
Last Effect
Layer 3D Orientation
Layer Add Stroke
Layer Alpha Add
Layer Alpha Inverted Matte
Layer Alpha Matte
Layer Bevel And Emboss
Layer Center In View
Layer Collapse
Layer Color Overlay
Layer Convert To Editable Styles
Layer Create Intro
Layer Create Outro
Layer Drop Shadow
Layer Environment Layer
Layer Feather Falloff
Layer Gradient Overlay
Layer Inner Glow
Layer Inner Shadow
Layer Inverted
Layer Lock
Layer New Camera 3d
Layer Outer Glow
Layer Quality Best
Layer Quality Bicubic
Layer Quality Bilinear
Layer Quality Draft
Layer Remove All
Layer satin
Layer settings
Layer shows All Styles
Layer smooth
Layer styles
Layer switch Motion Blur
Layer switch Shy
Layer switch Solo
Lift Work Area
Line Anchor
Link Focus Distance To Layer
Link Focus Distance To Point Of Interest
Lock Guides
Lock Other Masks
Look at all Layers
Look at selected layers
Mask And Shape Path
Mask Expansion
Mask Feather
Mask Interpolation
Mask Opacity
Mask Shape
Move Layer Down
Move Layer To Bottom
Move Layer To the Top
Move Layer Up
New Adjustment Layer
Open Script Editor
Pre Compose
PreRender
Previous Keyframe
Purge All Memory
Purge All Memory And Disk Cache
Purge Image Cache Memory
Purge Snapshot
Purge Undo
Reduce Project
Remove All Masks
Remove All Text Animators
Remove Mask
Remove Unused Footage
Reveal All Modified Properties
Reveal Comp In Pw
Reveal Expression Errors
Reveal In Explorer
Reveal In Timeline
Reveal Layer Source In Project
Select Equal Keyframes
Select the Following Keyframes
Select Label Group (Selecting a layer)
Select Previous Keyframes
Separate Dimensions
Set Focus Distance To Layer
Set Poster Time
Shape Fill Color
Show Grid
Show Guides
Show Layer Controls
Show Rulers
Snap To Grid
Snap To Guides
Split Layer
Stroke Color
Stroke Width
Switch 3Dview
Sync Property To Audio Beats
Text Anchor Point Animator
Text Line Spacing
Text Opacity Property
Text Scale
Time Reverse Keyframes
Time Reverse Layer
Time Stretch
Trim Comp To Work Area
Ungroup Shapes
Unlock All Layers
Unlock All Masks
Exclusive Features:
Replace Any Text
Replicate Composition
Mark Audio BPM on the Composition
Shift Layers
Fit Adjustment L. Above Layer(s)
Add Bounce with Controllers to a Property
Reverse Selected Keyframes After PlayHead
Use a Comp as Pattern (tile)
Remove Selected Keyframes
Remove Useless Keyframes
Keep Random Keyframes
Add guides around an Object
Cancel Separate Dimensions
Separate Joined Dimensions
Stick Layers
Replicate Composition
Add Trimmed Solid Under Selected Layer(s)
Create Projects .aep from Comps
Sound System (audio Layer)
Delete/Clear/Reset Layer (s) Fx
Color Label Per Layer Type
Auto Crop and Precomp Layer(s)
Master Null For Layer(s)
Create Golden Ratio Map
Explode Shape Layer(s)
Mirror Keyframes
Organize Project Folder
Select 3D Layer(s)
Select Cameras
Select Guides
Select Light Layer(s)
Select Nulls
Select Shape layers
Select Text Layer(s)
Precompose With Attributes
Precompose Without Attributes
Clear Expressions
Reset Layer (s) Anchor Point
Reset Layer(s) Position
Reset Layer(s) Rotation
Reset Layer(s) Scale
Add Guides All Around an Object
Setup Guides as Rule Of Third
Stroke: Round Join And Cap
Trim layer To Another
Trim Layer(s) Until the End of Work Area
Unprecompose Layer
Grid / Distribute Layer(s)
Import Text File in Text Paragraph
Switch to the JS engine
Layer Rename Source Name (match)
Set Markers / Interval
Beat Per Minutes & Measures
Easy 3D Camera with Controllers
Set Markers to Keyframed Properties
Sort Layers (inPoint)
Soap Opera Effect
Rename Layer (s) Using Effects
Join (Cancel) Separate Dimensions
Remove Selected Keys
Set Markers on Layers With Expressions
Open Project Folder
Scale / Resize Composition
Enable/Disable All Expressions
Collect/Assemble End-to-end Footage[Video]
Beat / Sound Audio Sync Music Reactions
Separate Joined Dimensions [Pos.Anch.Point]
Set Layers to Classic 3D
Set Layer Markers as Comp Markers
Add/Save Your logo / Watermark
Control Loops
Randomize Layers Position
Remove Empty Folders From the Project
Continuously evolving...Stay Tuned!
Modular tools :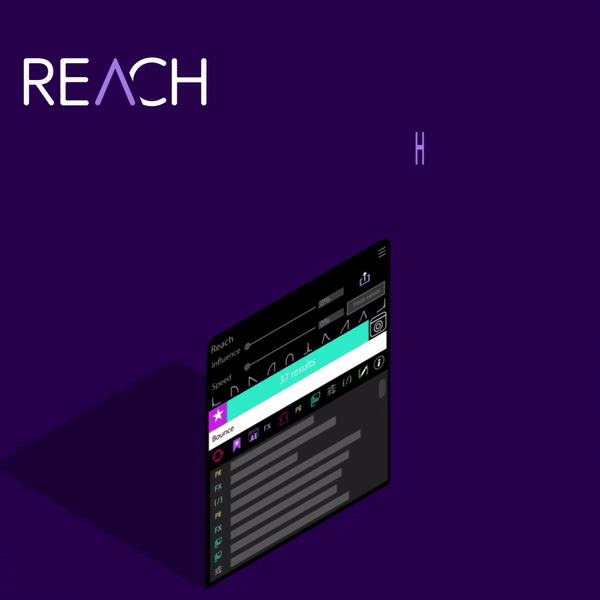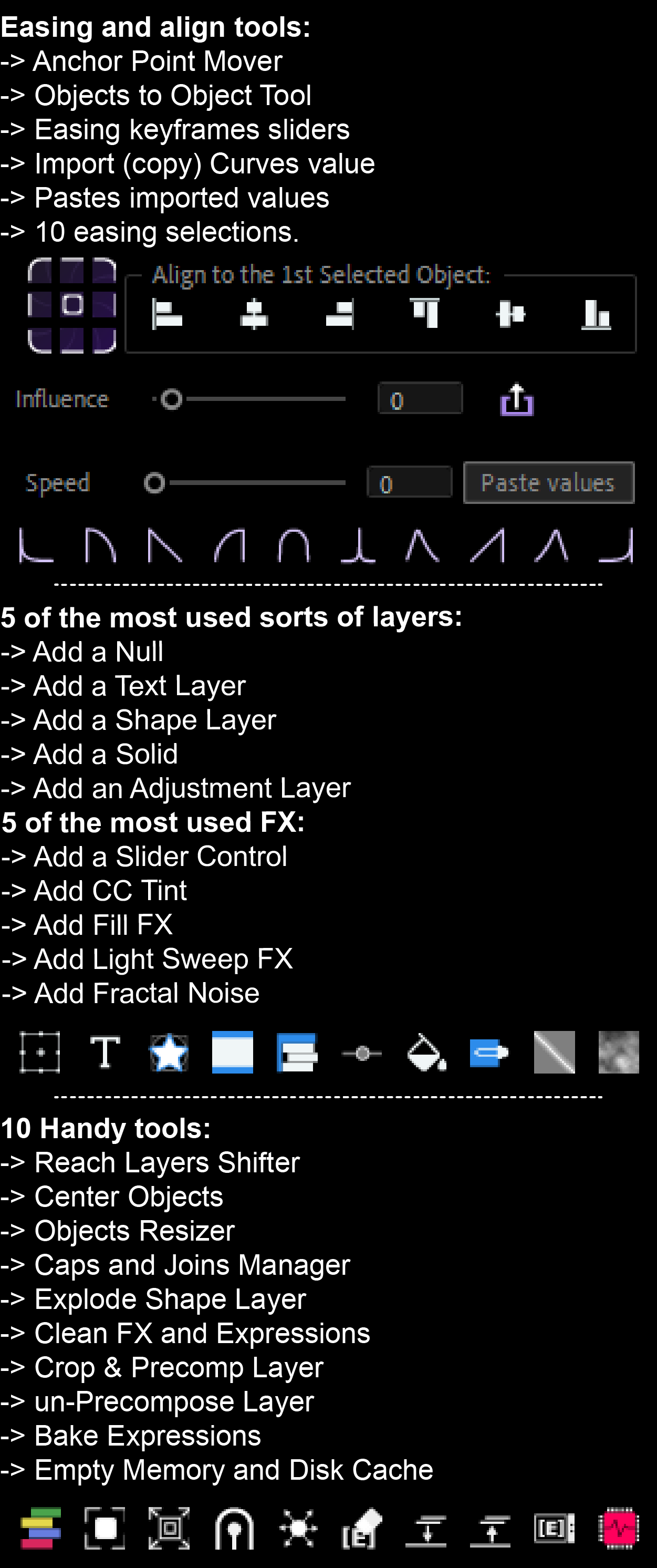 Reach Items Organizer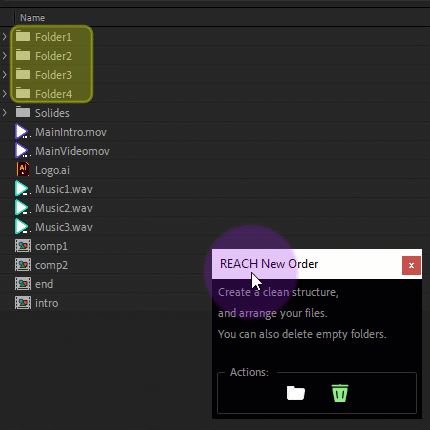 Adobe Expression Language Reference, Embedded in the expressions editor(1 click):
acceptsLights
acceptsShadows
active
activeCamera
add(vec1, vec2)
ambient
anchorPoint
aperture
audioActive
audioLevels
bgColor
blurLevel
castsShadows
chapter
clamp(value, limit1, limit2)
color
colorDepth
comment
comp(name)
coneAngle
coneFeather
createPath()
cross(vec1, vec2)
cuePointName
dataKeyCount()
dataKeyTimes()
dataKeyValues()
dataValue()
degreesToRadians(degrees)
depthOfField
diffuse
displayStartTime
div(vec, amount)
dot(vec1, vec2)
duration
ease(t, tMin, tMax, value1, value2)
ease(t, value1, value2)
easeIn(t, tMin, tMax, value1, value2)
easeIn(t, value1, value2)
easeOut(t, tMin, tMax, value1, value2)
easeOut(t, value1, value2)
effect(index)
effect(name)
enabled
eventCuePoint
focusDistance
footage(name)
frameDuration
framesToTime(frames, fps =)
frameTarget
fromComp(point, t=time)
fromCompToSurface(point, t=time)
fromCompVec(vec, t=time)
fromWorld(point, t=time)
fromWorldVec(vec, t=time)
gaussRandom()
gaussRandom(maxValOrArray)
gaussRandom(minValOrArray, maxValOrArray)
hasAudio
hasParent
hasVideo
height
hexToRgb(hexString)
hslToRgb(hslaArray)
index
inPoint
inTangents()
intensity
invert
isClosed()
key(index)
key(markerName)
layer(index)
layer(name)
layer(otherLayer, relIndex)
length(point1, point2)
length(vec)
lightTransmission
linear(t, tMin, tMax, value1, value2)
linear(t, value1, value2)
lookAt(fromPoint, atPoint)
loopIn(type='cycle', numKeyframes=0)
loopInDuration(type='cycle', duration=0)
loopOut(type='cycle', numKeyframes=0)
loopOutDuration(type='cycle', duration=0)
marker
marker.key(index)
marker.key(name)
marker.nearestKey(t)
marker.numKeys
mask(index)
mask(name)
maskExpansion
maskFeather
maskOpacity
...
---
And so on...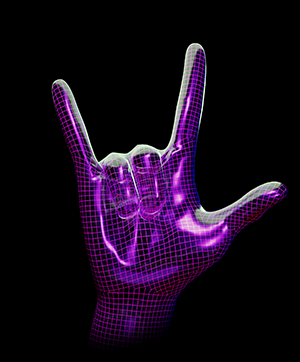 Reach BPM Manager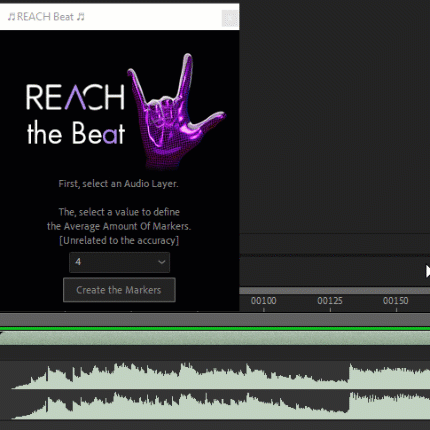 Reach Bulk Layer Renamer

Easing Tools (activate/deactivate this toolset):
Footer Tool Kit (optional in your settings):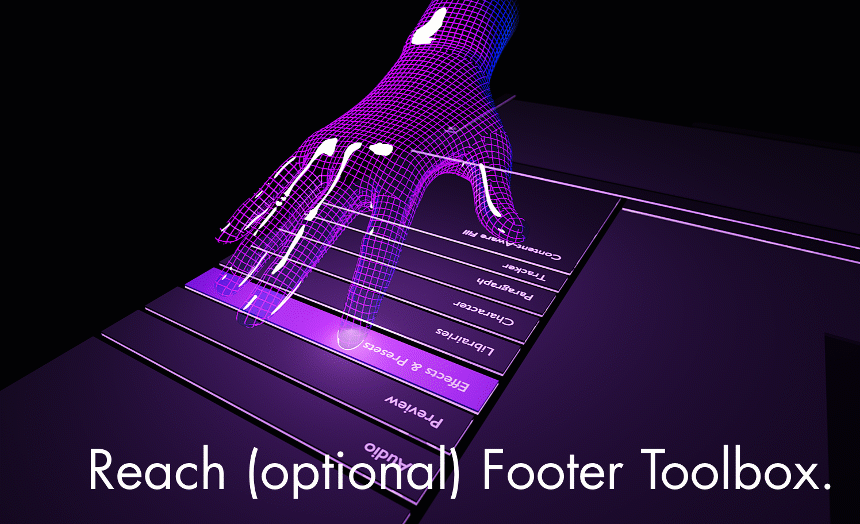 Shift layers by color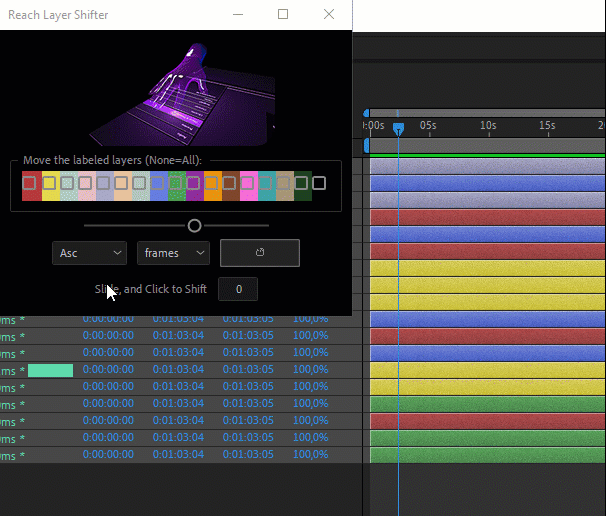 Definitely in my top 5 plugins ever . A time saver bargain. These guys update it incluiding new features, tools and presets almost daily. I bought it 2 months ago when they released it and I haven't had enough time to try them all yet.

— Escuela Nueva (@enuevaonline) December 9, 2022
I just recently tried out REACH: AEssential Kit, and boy oh boy - it's amazing! Every mouse click saves you out of routine and spares valuable time and nerves. Definitely recommend!@aescripts #aescipts

— Secktorus (@Secktorus) October 31, 2022
1.9.8 (Current version) - Jul 27, 2023
A more readable Anchor Point Mover and two helpful presets for the Easing tools: flay and 50-50
Cheers,
1.9.7 - Jul 14, 2023
Fuction Swap Text : Have fun!
1.9.6 - Jul 3, 2023
Grid: Distribute Grid based on rows, columns, and distance, but also in Square, Circle, and two triangle formats :)
1.9.5 - Apr 21, 2023
New Button: Toggle Continuously Rasterize - >Click = Toggle the Continuous Rasterize option on ALL layers in your Project File.\n+Shift=Off\n+Alt=On
1.9.4 - Mar 29, 2023
The Bottom toolkit has been updated with a great new feature:
Push your PlayHead to navigate easily on your TIMELINE.
The new UI Toggle makes expanding compositions more obvious.
Many enhancements on all features for a smoother experience.
About the Color System: Pick a color and apply it with the square icon on any layers, even text, WITHOUT DELETE FORMATTING.
1.9.2 - Mar 24, 2023
Here are the new features for Reach:
We've rebuilt ALL the NULLS: no more solids to clutter your projects!
Empty memory is now in the main tools button, so the color manager is not mandatory anymore!
New color system management using the native color Picker.
We have added a 'parent in chain' button (the link icon): yeay!
1.9.1 - Mar 4, 2023
-Handy Pins: rebuilt, no more NULLS to control your puppet pins
-Mismatch undo errors fixed on the cleaner and the anchorPoint Mover
1.7.9 - Feb 17, 2023
-Reveal Filefrom timeline to finder or project Panel
-Toggle Extend Composition Panel
-Split layers according to their keyframes
-A lot more features. You'll find out which ones when you will need them.
1.7.88 - Feb 15, 2023
-Null icon rebuilt: Use +Shift to have a center Null for all selected layers
-New Build for 'Grid: Distribute'
-Blueish tone for align tools to 1st layer, to avoid confusion with AE align tools(still white in Legacy)-
-Minor improvements
1.7.871 - Jan 31, 2023
New : Boosted Anchor Point Mover
Update AE COMMANDS execution fixed.
1.7.87 - Jan 30, 2023
New : Boosted Anchor Point Mover
Update AE COMMANDS execution fixed.
1.7.86b - Jan 27, 2023
Update AE COMMANDS execution fixed.
1.7.86 - Jan 23, 2023
Licence updated
New Handy Pins Controllers
Bulk Renamer: New functions and UI
Multiple Optimizations

1.7.85 - Jan 21, 2023
-Reach Bulk Renamer: fixed error messages
-Reach New Order (Organize projects): fully functional, fixed a bug with solids
1.7.84 - Jan 18, 2023
-New Big Feature: Reach Bulk Renamer:
Rename project items and layers by type, color label, and add numerical suffixes. In addition, you can insert some text and even replace a part of the current name.
1.7.83 - Jan 13, 2023
-ToolBar and utilities improved: Clean a Layer (Expressions, Keyframes, Effects, Styles) in a click
-Add an adjustment layer like before: In a click. From now use +Shift to Add a Trimmed Adjustment layer
-Minor improvements
1.7.82 - Jan 5, 2023
-Function Precomp and Crop Improved: More accurate and now with multiple layers, even not precomped!
-Manage all types of loop using 3 pictograms
-Delete keyframes icons and Delete Useless Icons removed.
-Colorwheel UI changed
1.7.81 - Jan 2, 2023
Add function [button] Zoom straight to 100%
Settings updated
Minor improvements
1.7.8b - Dec 30, 2022
Layer Shifter new built
1.7.8 - Dec 30, 2022
Layer Shifter new built
1.7.7 - Dec 27, 2022
-New kit with ten specific features (to enable in your settings). !
Bug fixes.
Two new significant tools:
-Replace Any Text
-Tile your comp

1.7.6 - Dec 23, 2022
Bounce improved + feature added in the toolsets

1.7.5 - Dec 22, 2022
New features:

Remove Disabled Effects

Stick 2 Layers (Remove Gap)

Remove Useless Keyframes

Center Shapes around centered Anchor Point

1.7.4d - Dec 20, 2022
-Shifter Improvements:
ASC/DESC & RANDOM + offset fully functional with label
-Documentation PDF

1.7.4-doc - Dec 20, 2022
-Documentation PDF
-New Easing Tools-Shortcuts
1.7.4 - Dec 16, 2022
-New Easing Tools-Shortcuts
1.7.3b - Dec 14, 2022
-Block UI consolidate
1.7.3 - Dec 13, 2022
-Compact format
New features
-Replicate Comp
-Color manager
-Zoom smooth Slider
1.7.1 - Dec 8, 2022
2 new features:
-New Organize Project option+ Delete Empty Folder
-REACH Beat! Comp Markers from Audio!
-Bugs fixed
1.7c - Dec 5, 2022
-Toolset Effects fully functional
1.7b - Dec 5, 2022
-Review of the alignment tools
-Fix undo mismatch
1.7 - Dec 5, 2022
-Review of the alignment tools
1.6.7 - Dec 2, 2022
-New optional panel:
Align Paragraphs tosave space on your workspace (check your settings.
-Add Solid Icon
-White/black using Shift and Alt
-UI Responsive and Modular
1.6.6c - Dec 1, 2022
-Add Solid Icon White/black using Shit and Alt
-UI designed fine-tuned
1.6.6b - Nov 30, 2022
Fully Modular
Display or hidden each Tool one by one
1.6.6 - Nov 28, 2022
We've added a new optional Toolset (please check your settings:
The 5 most used sorts of Layers
-> Add a Null
-> Add a Text Layer
-> Add a Shape Layer
-> Add a Solid
-> Add an Adjustment Layer
And 5 most used FX (already available in your search results):
-> Add a Slider Control
-> Add CC Tint
-> Add Fill FX
-> Add Light Sweep FX
-> Add Fract Noise

And:

-Improvement of the Shifter tool with a "PUSH" button
-Flaoa Bomb feature was added: BLOOM YOUR COMPS and updated
-New aesthetic UI, more responsive (check settings)
-Minor Bugs fixed
1.6.5b - Nov 24, 2022
-UI improvement
-Tips Updated
-DARK MODE optionnal

1.6.5 - Nov 23, 2022
-Improvement of the Shifter with a "PUSH" button
-Flaoa Bomb feature was added: BLOOM YOUR COMPS!
-New aesthetic UI, more responsive
-Minor Bugs fixed

1.6.4 - Nov 14, 2022
-New features:
Normalize (rescale) a 3D layer
Resize a Comp in a responsive way
-Fixed: Loop Controls

1.6.3 - Nov 8, 2022
-New features:
Randomize layer Positions
Shift Layers By group and colors!

1.6.1 - Nov 4, 2022
-Handy Pins: Colors=Pins colors
-Remove Empty Folders
1.6 - Nov 3, 2022
-Search in your Expressions (manage this option in your settings)
2 New features:
-Display your layers Randomly
-Discover a new way to manage your puppet pins with "Handy Pins".
1.5.82b - Oct 31, 2022
2 New features:
-Add and store your logo or watermark
-Manage Loop (iteration and types) with sliders
1.5.82 - Oct 31, 2022
2 New features:
-Add and store your logo or watermark
-Manage Loop (iteration and types) with sliders
1.5.81 - Oct 27, 2022
-Important Update: Fix settings with toolset
-More permissive Trial
1.5.8 - Oct 27, 2022
-Fix easing disabled buttons
1.5.7 - Oct 25, 2022
-New Easing tool with Presets
1.5.6 - Oct 17, 2022
-Feeback screen improvement
1.5.5 - Oct 13, 2022
-FIXED new toolbar tools resize and join|Cap
1.5.4 - Oct 10, 2022
-Audio Sync feature improved with separated Horizontal & Vertical movement
-UI improvements
1.5.2 - Oct 6, 2022
-UI Black and White in Settings (Legacy UI)
-Synch Audio Tool Rotation fixed
1.5.1 - Oct 3, 2022
-Licence updated
1.5.0 - Sep 19, 2022
Multilingual Release