REACH: AEssential Kit
Compatibility After Effects

Please check exact version compatibility under the "COMPATIBILITY" tab below
Make Simple Tasks Simple!
A Lot of Crazy Features Called Utilities

1

A Bunch of Pre-made Expressions 2
Our Expressions Editor + Script Helper + Saver
Our Wisely Selected Commands
All Your Effects Added or Removed
All Your Presets Applied
All Your Plugins Launchable
All Your Scripts & Dockable Scripts
1 Bookmarks Manager
A Smooth Feedback Live in the UI
An Anchor Point Mover
2 Sliders to Ease Your Keyframes

...And a responsive Search Bar to Rule Them All.
Wait... What?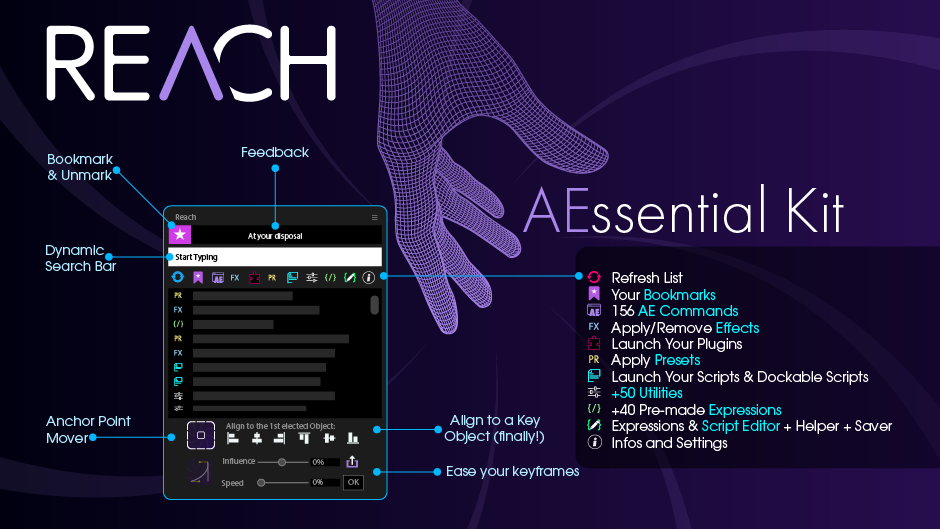 UI: Feedback & Search Bar
Buttons: Refresh, Bookmarks, Commands, FX, Presets, Your scripts, Utilities, Expressions, Editor, Infos.
Edit, Fetch, Inject, Crate Expressions and Select the property(ies) to apply them. Save or Delete any Expression. All your Expressions are immediately accessible in Reach*.(more information below)
Paste Expressions Language References directly in your code with double click. Bonus: Scripting Helper when you select a property from your timeline.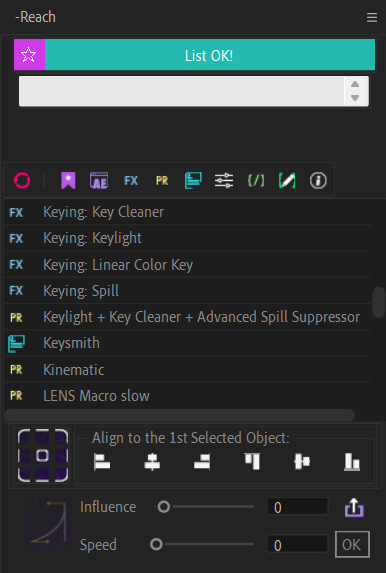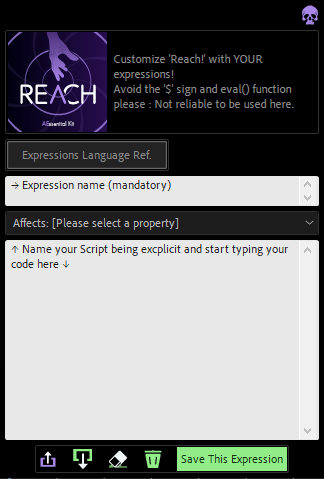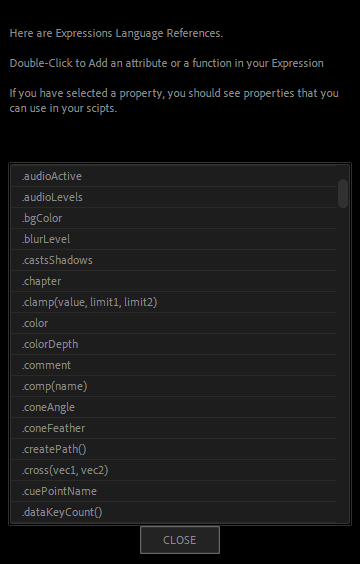 1 - Utilities:
· Add a Master Null For Layer(s)
· Grid: Distribute Layers
· Resize Composition and Assets
· Synch Music to a property
· Add Bounce with Controllers to a Property
· Import Text File in Text Paragraph
· Select Layers by type (null, text, camera..)
· Add Guides All Around an Object
· Join Separated Dimensions
· Set Markers / Interval
· Add Trimmed Solid Under Selected Layer(s)
· Match Layer Name & its Source Name
· Set Markers on Layers With Expressions
· Auto Crop and Precomp Layer(s)
· Mirror Selected Keyframes
· Set Markers to Keyframed Properties
· Add Markers with BPM & Measures
· Open Project Folder
· Setup Guides as Rule Of Third
· Collect & Assemble End-to-end Footage from a folder
· Organize Project Folder
· Add "Reach Soap Opera" Effect
· Color Layers by Type
· Precompose With Attributes or Not
· Sort Layers (inPoint)
· Create Golden Ratio Map
· Remove All Expressions
· Create A Sound System Manager
· Create Projects .aep from Composition(s)
· Remove Selected Keys on Multiple Layers
· Stroke: Round Join And Cap
· Reset Layer(s) Fx
· Rename Layer(s) Using Effects
· Switch to JS engine
· Rig Camera for 3D with Controllers
· Set layers to classic 3D
· Reset Layer(s) Anchor Point
· Trim layer To Another
· Enable/Disable Expressions In Timeline
· Reset Layer(s) Position
· Trim Layer(s) Until the End of Work Area
· Explode Shape Layer(s)
· Reset Layer(s) Rotation
· Unprecompose Layer
· Fit Adjustment Layer Above Layer(s)
· Reset Layer(s) Scale
2-Pre-Made Expressions:
· Blink / Wink
· Bounce Back
· Fix Centered Anchor Point
· Fix Centered Layer
· Elastic WoOoOw!
· Explosive Overshoot
· Exponential Zoom Loop [Pulse]
· Fade In & Out in seconds
· Fade while Zoom In [3D layers]
· Horizontal Wiggle X axis
· Ignore Parent Rotation
· Ignore Parent Scale
· Inertia Bounce
· Inherit Parent Opacity
· Iterative Wiggle (Loop)
· Keep Stroke Width
· List Layers Name
· Move on an X or Y axis (Loop)
· Move on an X or Y axis (Loop) with velocity.
· LoopIn Mixed with LoopOut
· Looping Wiggle
· Markers Drive Keys
· Number of Loops (30 by default)
· Overshoot Any Property
· Pendulum / Swing Around Anchor Point
· Random Speed
· Revolve in a Circle
· Squash And Stretch A
· Squash And Stretch B
· Text Start From Center
· Tick Down + Slider
· Timer Coder/ Counter/ Chrono
· Undulation / Sway / Swing / Wave Rotation
· Vertical Wiggle Y axis
· Vibrate and Shake
· Wobble / Wiggle In Container
· Simple Spin
· And all yours!
1.5.0 (Current version) - Sep 19, 2022
Multilingual Release