Super Resize Me!
Compatibility After Effects

Please check exact version compatibility under the "COMPATIBILITY" tab below
Development by Mograph Mindset & Nate Lovell
Motion Design & Art Direction by Mike Labrow
Super Resize Me!
Resize a Composition's dimensions and scale all child layers and precomps relative to it. This allows you to quickly scale projects for different output resolutions while maintaining the same aspect ratio.
Upscale or downscale a complex project
Convert HD project to 4K

—or

vice-versa
Resize individual comps while working
Bulk versioning
Features
The "Recursive" setting scales the starting comp and all related child precomps. To scale one comp at a time, uncheck the "Recursive" checkbox.
Easily scale all:
2D Layers
3D Layers
Camera Layers
Default 3D Camera
Parented Layers
Locked Layers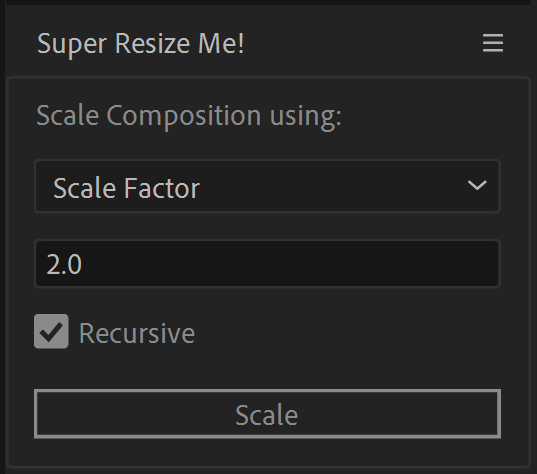 Note: The use of expressions dependent on Transforms and Camera Properties may need to be converted to keyframes before running the script. (Right-click keyframes and go to Keyframe Assistant > Convert Expressions to Keyframes. For batch expression conversion, use Easy Bake).
Installation
The easiest way to install is by using the aescripts + aeplugins manager app
Windows: Move Super Resize Me!.jsx to C:\Program Files\Adobe\Adobe After Effects 2023\Support Files\Scripts\ScriptUI Panels
Mac: Move Super Resize Me!.jsx to Applications/Adobe After Effects/Scripts/ScriptUI Panels/
Inspired by "Recursive Scale Comp" by Blurrypixel Software (2010)
| | |
| --- | --- |
| After Effects | 2023, 2022, 2021, 2020, CC 2019, CC 2018 |
1.1 (Current version) - Feb 10, 2023
- Initial release
1.1 - Feb 10, 2023
Fixed non-recursive
1.0 - Feb 8, 2023
Initial Release