Tracking Bundle
Compatibility After Effects

Please check exact version compatibility under the "COMPATIBILITY" tab below
The Tracking Bundle includes a collection of mamoworld tools for After Effects that assist you in your tracking and rotoscoping workflows:
Get all five products for only $79.99, normally $125.95
MaskTracker+ (regular price $49.99)
MochaImport+ (regular price $49.99)
CopyMask2Layer (regular price $9.99)
Tracker2Mask (regular price $9.99)
KeyTweak (regular price $5.99)
MaskTracker+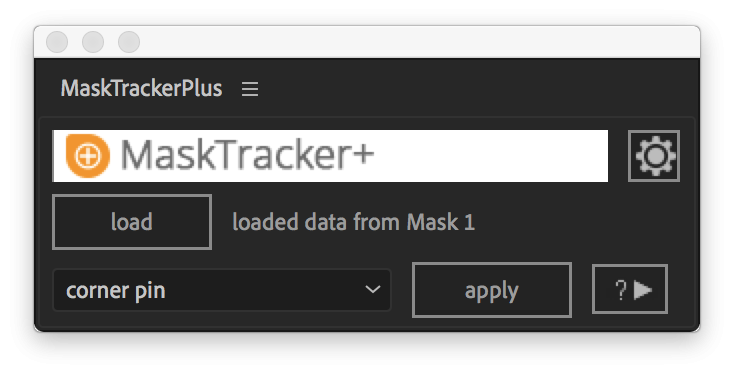 MaskTracker+ turns the Mask Tracker in After Effects into a comprehensive planar tracking station, allowing you to do much more with the tracker than just move masks. Specifically, you can use it to move layers, make corner pins, stabilize shaky footage, create stabilized precomps and move masks based on the track of other masks.
MochaImport+ (for Ae)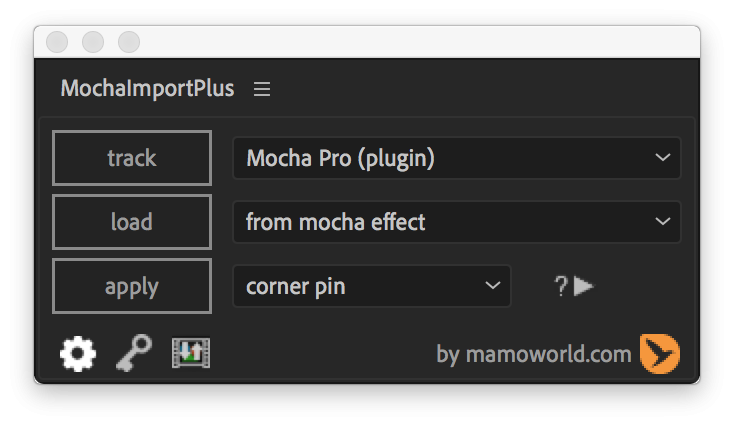 Simplifies your workflow between mocha and After Effects. More precisely, it helps you to send your footage to mocha and then applies the mocha tracking data back in After Effects, in whichever way you want. As with MaskTracker+, it can move layers, create corner pins, stabilize footage and create stabilized views - but using mocha tracking data instead of the mask tracker.
CopyMask2Layer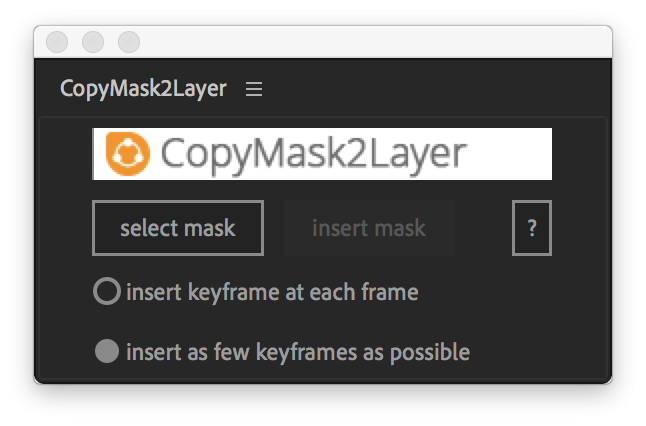 When you copy a mask from one layer to another, it often changes its position. With CopyMask2Layer, you can copy masks while keeping their position perfectly - even if the layers are moving and the mask path is keyframed.
Tracker2Mask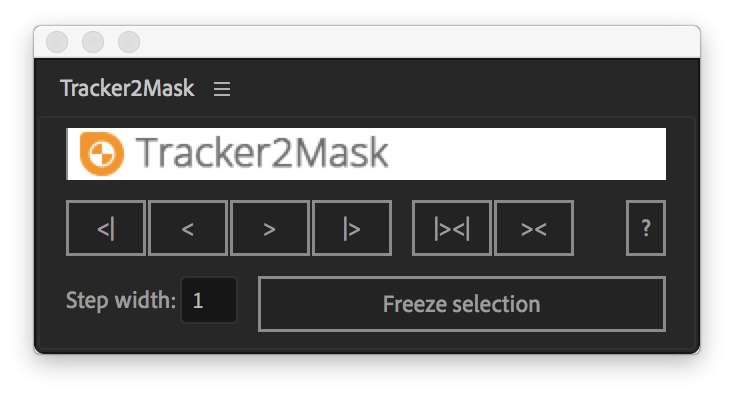 Computes the movement of mask shapes based on the motion of trackpoints created by the After Effects point tracker. It is flexible and easy to use. Importantly, you don't need one trackpoint for each maskpoint.
KeyTweak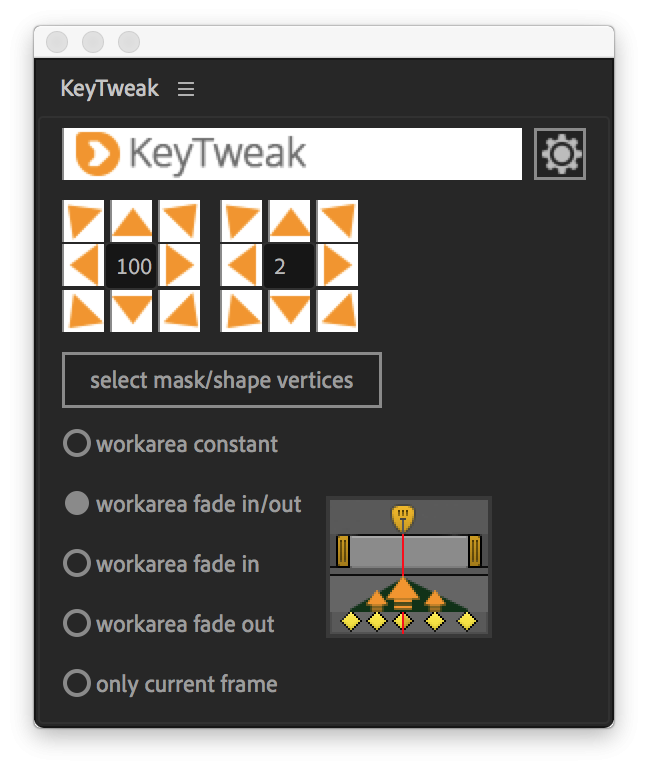 Have you ever animated a mask with 100 keyframes, then had to modify each and every one of them by hand to correct errors? With KeyTweak, you only need to modify one or two keyframes and the others are automatically changed for you. What's more, with KeyTweak you can modify not only masks, but any other keyframed property too. For example, you can also use it to correct a drifting track, or quickly refine the keyframed movement of a layer.
Other Voices
| | |
| --- | --- |
| After Effects | 2022, 2021, 2020, CC 2019, CC 2018, CC 2017, CC 2015.3, CC 2015, CC 2014, CC, CS6, CS5.5, CS5, CS4 |
MochaImport+ V6
6.0.010 (Current version) - Nov 13, 2019
- added compatibility with CC 2020
6.0.009 - Dec 6, 2018
- fixed issues with MochaImport+ not starting when being behind a firewall
- added "Check for updates now" button to settings
6.0.008 - Nov 28, 2018
fixed issues with loading corner pin data from the clipboard or a file
6.0.007 - Nov 19, 2018
New Features:
- Full CC2019 compatibility including support for Mocha Pro 2019
- Keyframing Tracked Masks
- Send Masks From/To Stabilized Precomp
- Many Performance Improvements
- Compact UI, KBar integration and Scripting
- Automatic Tracking Data Conversion

MaskTrackerPlus
1.0.7 (Current version) - Jan 12, 2021
- fixed bug that failed to create proper error message when tracking data could not be loaded
1.0.6 - Sep 7, 2020
- added support for time-limited licenses
1.0.5 - Apr 5, 2019
- fixed update check
- updated settings dialog
- fixed minor issues with the new Ae 16.1
1.0.4 - Dec 6, 2018
- fixed issues with MaskTracker+ not starting when being behind a firewall
- added "check for updates now" button to settings
1.0.3 - Sep 16, 2018
added support for floating licenses
1.0.2 - Nov 4, 2016
fixed automatic update check
1.0.1 - Nov 4, 2016
minor UI improvements
1.0 - Aug 4, 2014
initial release
CopyMask2Layer
2.2.001 (Current version) - Nov 13, 2019
- added compatibility with CC 2020
2.2.000 - Aug 6, 2019
- added compatibility with Mac OS Catalina
- fixed broken update check
2.1 - Jun 24, 2014
fixed licensing issues
2.0 - added support for Rotobezier masks, new CI
1.2 - CS6 per point mask feather compatibility (+more compact logo image) - Apr 2012
1.1 - fixed some licensing issues
1.0 - initial release
Tracker2Mask
3.2 (Current version) - Sep 2, 2013
fixed incompatibilities accidentally introduced in 3.1
3.1 Updated interface to match new CI - Sep 2013
3.0 Updated interface, automatic update check, improved function of |><| button - Dec 2010
2.3 Made CS5 compatible and minor bug fix - Jun 2010
2.2 Bug fix that made AE freeze in some very rare occasions - Mar 2010
2.1 Initial release on aescripts.com - Aug 2009
KeyTweak
2.5.002 (Current version) - Feb 4, 2021
fixed issues with using local mode on 2d properties like corner pin points.
2.5.001 - Dec 1, 2020
Minor UI improvement: the mode (workarea constant,...) is now persistent, saved in the Ae preferences and restored when KeyTweak is launched the next time
2.5.000 - Aug 5, 2019
- removed broken update check
- improved installation instructions
2.4 - Nov 7, 2016
added meaningful error message when trying to apply KeyTweak to mask with changing vertex count and updated UI and update check.

2.3 - Sep 2, 2013
updated user interface to match new CI

2.3 - Sep 2013

updated user interface to match new CI

2.2 - Nov 2012

more compact user interface
more robust creation of images
fixed bug with bezier handle interpolation

2.1 - Feb 2011

In local mode, several properties can now be modified simultaneously (if the property is not a mask)
global mode works now also with 1d-properties
images are embedded now in script source

2.0 - added local mode - Nov 2010
1.0 - initial release