Still Exporter
Compatibility Premiere

Please check exact version compatibility under the "COMPATIBILITY" tab below
Video editors create more than just video: in this multimedia and social media age, clients often need to have a set of still images exported from their video. Still Exporter simplifies this process by allowing the user to set markers, choose a file format and let Still Exporter take care of the rest.
Workflow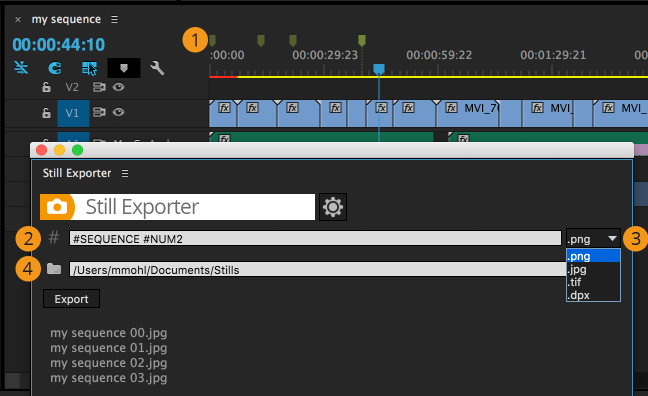 Set markers at the frames you want to export.
Choose a naming pattern that describes how the images should be named.
Choose a file type from jpg, png, tiff or dpx.
Choose a destination folder and click Export.
Export Formats

Export directly to jpg format for a small file size, or to png if you need transparency or lossless quality. tif and dpx images are also supported.
Flexible Naming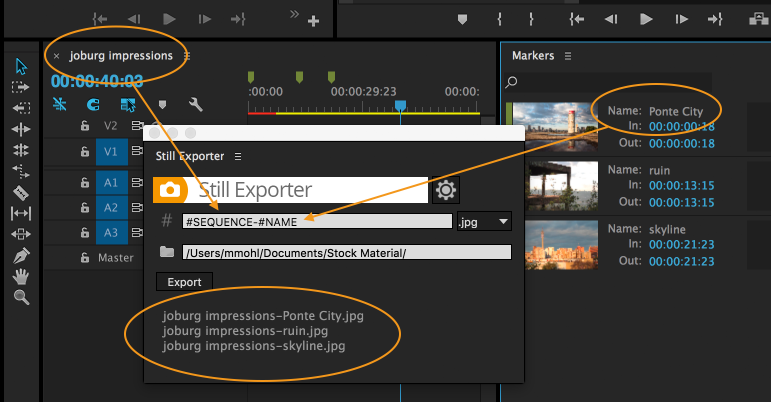 No need to tediously rename each of the files after export. Describe how the exported images should be named using easy to use, powerful naming patterns. The naming pattern supports the following placeholders:
#NUM number of the marker (or #NUM2, #NUM3 etc. to pad the number with leading zeros)
#NAME the name of the marker
#COMMENT the comment of the marker
#PROJECT the name of project file (excluding the extension .prproj)
#SEQUENCE the name of the sequence
#TIMECODE timecode of the frame (in the timecode format that you chose on Premiere Pro for the sequence). In parenthesis you can also add a custom separator symbol between the hours, minutes, seconds and frames. So #TIMECODE(-) will exports timecodes like 00-00-00-00, #TIMECODE(#) will use 00#00#00#00 and #TIMECODE() will use no separator at all, i.e. 00000000
Including Timecode in Filenames
| | |
| --- | --- |
| Premiere | 2023, 2022, 2021, 2020, CC 2019, CC 2018, CC 2017, CC 2015.3, CC 2015 |
1.2.000 (Current version) - Aug 18, 2020
adds support to include timecode in filenames
1.1.001 - Oct 8, 2019
fixed crashing on CC2019 when file open dialog is closed
1.1.000 - Aug 29, 2019
licensing system now supports floating licenses
1.0.3 - Oct 20, 2017
added compatibility to Premiere Pro CC 2018
1.0.2 - Nov 3, 2016
added compatibility to Premiere Pro CC 2017
1.0.1 - Aug 5, 2016
initial release
1.0.0 - Apr 19, 2016
initial release