Automation Toolkit
Compatibility After Effects

Please check exact version compatibility under the "COMPATIBILITY" tab below
Check out the new forum
What is Automation Toolkit?

Automation Toolkit is a tool that lets you automate
many time-consuming tasks, It allows you to create a variety
of script-like functions, called automations.
An automation works like any other After Effects script
so even if you're in need of a script that doesn't exist,
now for the first time you have the power to create it yourself exactly how you want it, without having any knowledge in programming...
Automation Toolkit contains an automation editor (for creating
and editing automations) and an automations toolbar (for running the automations).
Why Automation Toolkit?

If you ever had an idea of an automation that could save up time but
You don't have the knowledge of how to code it.

You know how to code it or you could learn how to code it but this automation isn't urgent enough to be worth all the time and hassle in coding it.
Automation Toolkit was developed to make your life easier by creating a codeless environment so you can focus on creating your automation without having to know any scripting language or move to any other piece of software. Even if you know how to code you will find yourself having fun "coding" in this errorless environment.


Toolbar

Editor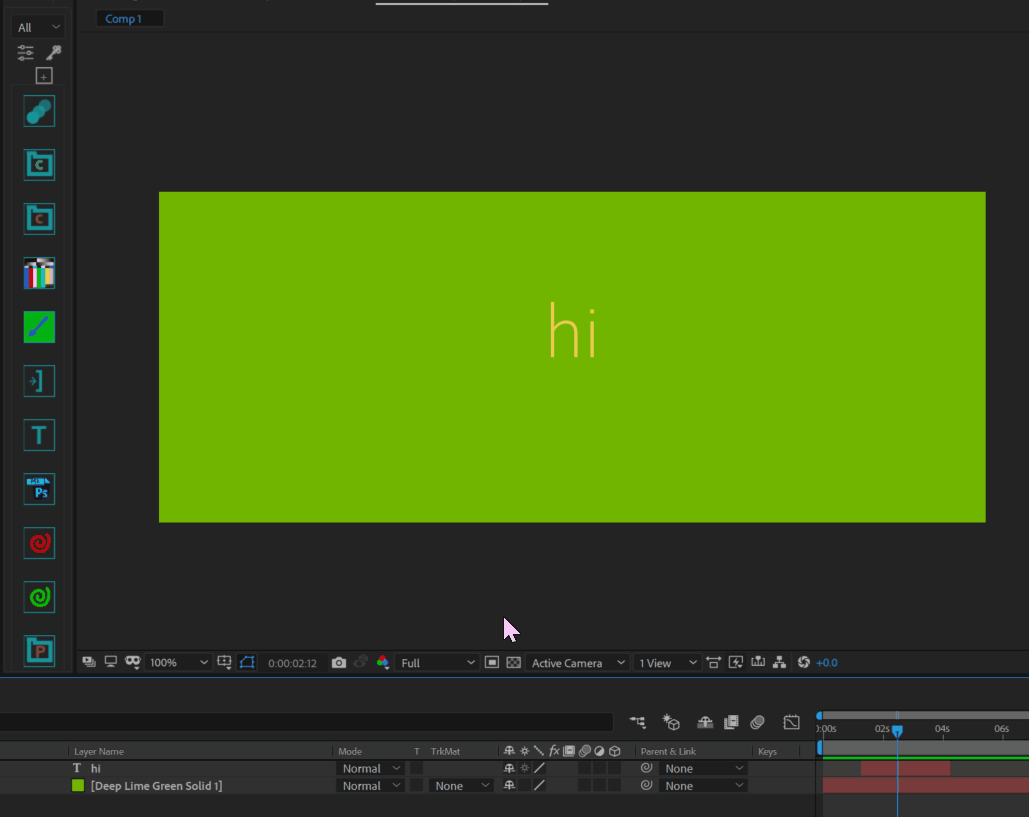 Features:
Dynamic & simple UI
Automation Toolkit User interface designed to dynamically change its visual elements to show you only the options you can use so you can forget about error messages and unnecessary confusion.
No code!
Automation Toolkit makes the power of After Effects scripting accessible for non-coder users.
There is no need to know any coding language to create an automation although knowledge of programming will help getting started and creating more complex automations.
Share your automations with others!
You can share your automations with all your colleagues who have a copy of Automation Toolkit so their work will be more productive too!
Powerful & versatile
Automation Toolkit is made to be as versatile as it can be so you can create fast and simple automations or complex and very sophisticated automations.
Categories & icons
Organize your automations inside custom categories and set a custom icon for every button!
There are many ways to customize the appearance to fit your style.
Unlimited amount of possibilities
Automation Toolkit created to make your ideas a reality.
You can create an unlimited amount of tools that will fit your workflow, fix your problems, or just will be that feature you wanted.
Capabilities:
Loop
The loop purpose is to go through items and run the same operations on all of them.
Loop enables you to run operations on all the layers, compositions, footages, keyframes.
You can add an automation line inside the loop so as you run the automation the loop will run it's automation lines on all specified items.
If
Sometimes, we need to perform different automations based on different conditions.
The if automation line purpose is to add logic to your automations so you can make automations that take effect only on specific items.
Set
set the value of any property that can be changed by the user. First you have to specify which property to set and then specify what the new value of this property should be.
Set can run mathematical calculations of many properties or custom values.
Action
The action automation line will do a function on Layers/Items/Keyframes.
The functions enable to do manipulations that not connected to any property,
for example - duplicate, delete, replace, and more.
Message
The message automation line displays a window with a specified message and an OK button.
Message can show most of the properties of Layers/Project Items/Keyframes combined with a custom text.
Message can also be used to make a list of text data from specific properties.
List box
The list box automation line displays a window with a specified list of messages and an OK button.
List Box can show only a message automation line(that should be set to "sum to list") and a custom text.
List Box messages can be copied as plain text to any other application.
Variable
Variable automation line can contain every type of object:
Number,Text,Layer,Item,Property,Boolean.
Variable purpose is to save custom value of any kind of object
for later use.
Some properties can be accessed only inside a loop
so if you want to use this value outside of the loop
you have to save it inside a variable.

supported properties


Layer


Item


Effect


Property

name

name include

name starts with

name ends with

comment

active

enabled

audio enabled

selected

selected index

first selected

last selected

index

in point

out point

start time

is locked

is null

is solid

is camera

is light

is shape

is text

parent

this layer

is shy

is solo

stretch

label

is Adjustment

motion Blur

3d

blending mode

track matte

frame blending

collapse transformation

time remap

effects active

guide layer

height

width

opacity

position x

position y

position z

anchor point x

anchor point y

anchor point z

scale

scale x

scale y

scale z

rotation

rotation x

rotation y

rotation z

orientation

orientation x

orientation y

orientation z

is Duplicate

source text

font

font size

text justification

camera zoom

camera depth of field

number of markers

containing comp

source

name

name include

name starts with

name ends with

file extension

item id

parent folder

is selected

item

type

is still frame

use proxy

has alpha channel

alpha channel mode

loop

num

ber o

f layers

number of markers

this item

label

height

width

duration

start timecode

frame rate

time indicator

work area start

work area end

is Missing

motion Blur

project name

root folder

name

match name

index

enabled

seleced

name

match name

value

time

selected

speed in

speed out

influence in

influence out

index

expression

is expression enabled

have keyframes

number of keyframes

this property


Text Variable


Number Variable


Marker


Project


Render Queue Item

value

text element

contains text element

text length

word count

value

random minimum

random maximum

round random

comment

time

index

duration

number of markers

name

color bit depth

linearize working space

linear blending

working space

working gamma

time display style

number of render queue

render enabled

index

render status

number of outputs

source comp

supported actions


Project


Layer


Item


Effect


Property

add composition

add folder

menu command

run javascript code

start render

remove unused

delete

duplicate

move

to b

eginning

mo

ve to end

move after

move before

remove all effects

add effect

add marker

delete all markers

add animation preset

replace layer

retime selected keyframes

retime all the keyframes

offset selected keyframes

offset all the keyframes

delete

duplicate

precompose(move all attributes)

pre

compose

(leave all attributes)

add item

replace item

replace with solid

replace with placeholder

add solid

add null

add text

add camera

add light

addshape

add to render queue

send to media encoder

set proxy

unset proxy

add vertical guide

add horizontal guide

remove all guides

copy all guides

add marker

delete all markers

delete

move to beginning

move to end

move to

duplicate

add key

delete key

delete a

ll keyframes


Text Variable


Number Variable


Marker


Render Queue Item


Output Module

find and replace...

make uppercase

make lowercase

remove whitespace

randomize number

round number

convert text to number

snap to frame rate

delete

duplicate

apply template by name

apply template from list

add output module

delete

apply template

save destination file
Usage:
Add new Automation by clicking in the main window on the "+" button.

Right-click on the new automation button "~New Automation" to edit the automation in the editor.

Change the automation name and description.

In the editor add Automation line by clicking the "+" button.

Add the functionality you want by adding the automation lines you need(read more information on automation line types inside the settings window-help tab).

Test the automation by clicking the "Run" button and fix the problems if existing.

Save your automation by clicking the "Save & Exit" button.

Run your new automation by clicking left click on the automation name button.
Limitations:
After Effects with a different language other than english not fully supported

and some properties won't work as expected(menu command, position when the dimensions are separated, x,y,z rotation when 3d).

Some Keyframe Properties can't be changed (keyframe interpolation, toggle hold keyframe), the value of the keyframe can be changed.

Shapes and Masks are not supported and cannot be accessed.

Text Layers - only source text, font, font size and justification are supported, text animators are not supported too.

Layers Styles are not supported.

Import files is not supported.
See the new forum - atforum.discoursehosting.net
See User Manual
| | |
| --- | --- |
| After Effects | 2021, 2020, CC 2019, CC 2018, CC 2017, CC 2015.3, CC 2015 |
1.0.3.8 (Current version) - Mar 11, 2021
added support for enable/disable properties (Layer Styles, Animators and more)
1.0.3.7 - Mar 10, 2021
critical bug fix

1.0.3.6 - Mar 8, 2021
better memory management, better performance and faster UI.
new features:
2 new types of loop:
- stop loop: new ability to stop loops for more efficiency and faster executions on large projects.
- properties in the layer: loops on all the properties of the layer, new support for many more properties(layers styles, 3d, camera properties, light properties and many more).
new collection actions and properties.
new functionalities in the user interface:
- multiline text support.
- lines counter.
- select multiple lines to delete, disable or collapse.
- upload automation files from the main window.
- "collapse all" button.

1.0.3.5 - Jan 30, 2021
critical file save fix
1.0.3.4 - Jan 28, 2021
new text variable properties and actions(find and replace last/first text element, starts/ends with text element).
new collection property and action(add letters/words as elements, joined text).
new layer action(copy to comp).
new item action(add adjustment layer).
new text variable user prompt options.
copy and paste names improvement, highlight lines bug fix.



1.0.3.3 - Jan 11, 2021
- new copy & paste automation line function


1.0.3.2 - Dec 8, 2020
New features:
- Undo System
- Collection variable(new array object)
- UI enhancements

Improved:
- Loop "custom amount of times".
- Track matte layer property.



1.0.3.1 - Nov 29, 2020
new keyboard shortcuts support, added option to disable lines.


1.0.3 - Nov 22, 2020
Summary - new UI optimization mode, new properties.

UI bug fix when deleting variables
new UI optimization mode checkbox button
offset/retime keyframes bug fix
new Number Variable "snap to frame rate" action
new Number Variable "round random" property
new button for exporting all the automations at once
layer "Duplicate" action bug fix
added new "start timecode", "use proxy", "is still frame", "has alpha channel", "alpha channel mode" and "loop" item properties

1.0.2.7 - Nov 17, 2020
Summary - added render queue support and new "run javascript code" action.

added "time remap" property to the layer properties.
added render queue support:
new RQ Item object -
properties:
- render enabled, index, render status, number of outputs, source comp.
actions:
- delete, duplicate, apply template by name, apply template from list, add output module.
added render queue output-module support:
new Output-Module object -
properties:
- name, index, post render.
action:
- delete, apply template, save destination file.

added text variable "contain text element" property
added "run javascript code" action to the project actions.

1.0.2.6 - Nov 16, 2020
Summary - added project settings support and new reposition anchor point action.

- added "reposition anchor point" action to the layer actions.
added "project" variable type -
- actions : start render, remove unused footage.
- properties : number of render queue items, name, color bit depth, working space, working gamma, linearize working space, linear blending, time display style.

1.0.2.5 - Nov 12, 2020
Summary - added marker support.

added markers support -
- new layer and item property - "number of markers".
- new layer and item actions - "remove all markers", "add marker".
- new loop option - "markers in layer/item".
new marker object -
- properties : comment, time, index, label, duration.
- actions : add marker, delete marker.
added support for the composition's work area start/end properties.

1.0.2.4 - Nov 3, 2020
Summary - new options to randomize numbers and find and replace text.

Number variables -
New actions:
- randomize number.
- round number.
- convert text to number.
New properties:
- random minimum.
- random maximum.

Text variable -
New actions:
- find and replace text element.
- make uppercase.
- make lowercase.
- remove whitespace.
New properties:
- text element
- text length
- word count
1.0.2.3 - Oct 28, 2020
added support for applying animation presets.
added UI option for collapsing automation lines.
1.0.2.2 - Oct 21, 2020
offset selected keyframes action bug fix.
added support for looping on effects of a layer(new controls for the layer effects).
added support for looping on effect's properties(new controls for the layer effect's properties).
added support for camera zoom and depth of field.
added support for frame blending.
1.0.2.1 - Oct 9, 2020
added support for offset keyframes by time.
info window bug fix.
added support for guides.
added support for text paragraph and font size properties.
1.0.2 - Oct 2, 2020
Added support for retiming the layer keyframes.
1.0.1 - Sep 29, 2020
added support for changing fonts
1.0 - Sep 25, 2020
Initial release