KBar3
Compatibility After Effects

Please check exact version compatibility under the "COMPATIBILITY" tab below
Custom, sleek, shareable toolbars for After Effects
Create custom toolbars unique to your workflows. Save time and clicks by putting your most used effects, presets and more at your fingertips. Multiple toolbars let you switch between different tasks and keep your productivity up. Focus on creativity, not digging through menus.

What's in KBar3?
Fun and colorful toolbars
Slick and easy to use
Shareable with others (New!)
Toolbar labels (New!)
More button types (New!)
Make up to 4 toolbars (with keyboard modifiers!)
Bulk import and export buttons (New!)
Wider Buttons (New!)
Slick and Easy UI
Drag and drop reordering
Switch between toolbars
Snap to the left or right edge of AE
for vertical mode
Open up to 4 toolbar windows at once
Make buttons do more with
keyboard modifiers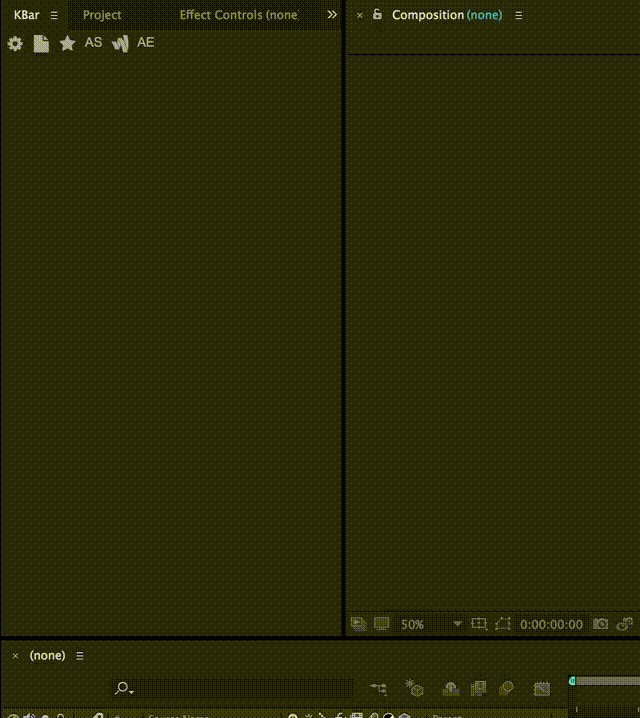 Lots of Button Types
Fun Ways to Customize
Text labels including emoji's
Pick from 600+ Icons
Use your own PNG or SVG files
Adjust the size and spacing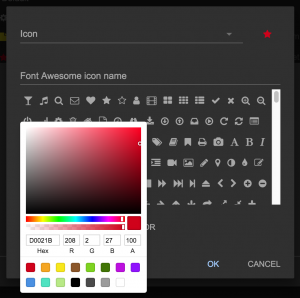 KBar Integration Guide
If you're an author and want your scripts to work with KBar checkout the
integration guide
.
Upgrade Notice
KBar2 users can upgrade for $20. KBar1 users can upgrade for $30. Simply login to the same account and the discounted price will be automatically shown. If you need assistance
please open a support ticket
| | |
| --- | --- |
| After Effects | 2024, 2023, 2022, 2021, 2020, CC 2019 |
3.1.2 (Current version) - Dec 30, 2022
New Features:
- You can disable showing modifiers in tooltips. This is mostly useful for Mac users that think the tooltips are too big.

BugFixes:
- The toolbar label wasn't being saved upon restarting KBar. This is fixed.
- If you press a modifier key and hover over a button the tooltip was wrong.


3.1.1 - Nov 24, 2022
BugFixes:
- Effect button "Loading…" issue is fixed.
- Square text buttons sometimes acted like wide button for mouse events.
- Custom png icon buttons in the icon designer had an unbounded width for the preview.
- `kbar.JSON` and `kbar.aeq` were removed by in an earlier build of KBar by accident.
3.1.0 - Nov 21, 2022
New Features:
- Wider text buttons (up to 16 chars)
- Spacer buttons
- Toolbar label with a dropdown for easy switching

Other Improvements:
- Tooltips include modifier buttons underneath.
- Tooltips can be disabled.
- Extension buttons can have custom arguments.

BugFixes:
- Text buttons with 2 east asian characters shows up on a single line.
- Other minor annoyances
3.0.3 - Sep 3, 2022
BugFixes:
- Customers on 22.6 or the AE Beta were getting licensing errors.
- Run Shell Script Buttons didn't work correctly when the path had a space in it.
3.0.2 - Aug 30, 2022
This update fixes 2 issues:

- Some customers on Windows 10 were getting "ReferenceError: url is undefined" at startup.
- Toolbar exports were too large.
3.0.1 - Aug 15, 2022
KBar was struggling to load toolbar files bigger than 1 MB. This update fixes that.
3.0.0 - Aug 7, 2022
- Initial release of KBar3
What's in KBar3?
- Shareable toolbars
- More button types
- Make up to 4 toolbars (with keyboard modifiers!)
- Bulk import and export buttons