Quick Menu
Compatibility After Effects

Please check exact version compatibility under the "COMPATIBILITY" tab below
Quick Menu is a launcher that appears over your UI when invoked by a user definable shortcut. It is smart and intuitive and lets you quickly launch effects, plugins, presets, scripts and expressions and most menu commands in After Effects. This lets you stay focused on creating and not interrupt your workflow hunting through menus.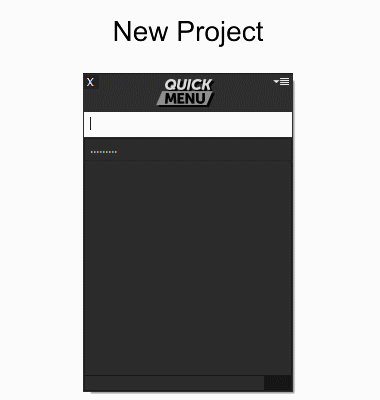 - Launch instantly with keyboard shortcut of your choice.
- No more hunting around menus, wasting valuable time.
- No UI real estate wasted. It only shows up when you need it.
- Just type a few letters and it will find what you need.
- Centralize your favorite expressions, presets and scripts.
WHAT USERS ARE SAYING
QUICK MENU SUPPORTS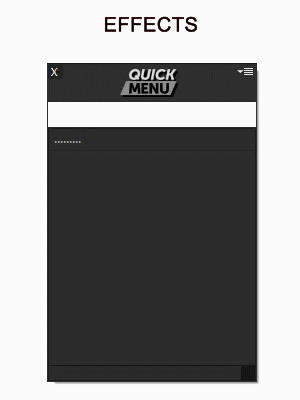 EFFECTS & PLUGINS

Applies an effect to a selected layer.
Works with all built-in effects and 3rd party plugins.

MENU COMMANDS*

Call most commands found in the After Effects (refer to user guide for exceptions).
Includes scripts installed in Scripts and ScriptUI Panel folders.

SCRIPT LAUNCHER

Launches scripts in both the Scripts and Window (Panels) menus.

ANIMATION PRESETS

Applies animation preset to the selected layers or active composition.

EXPRESSION TEMPLATES

Applies an expression to one or more selected properties.

SCRIPTED COMMANDS

Runs an ExtendScript snippet to automate some repetitive tasks.
*Menu Commands are currently only available when After Effects is running in ENGLISH language
For a complete description of Quick Menu and all its features, please read the online User Guide.
| | |
| --- | --- |
| After Effects | CC 2018, CC 2017, CC 2015.3, CC 2015, CC 2014, CC, CS6 |
1.2.1 (Current version) - Oct 17, 2017
- Fixed bug on CC 2018 version.
1.2 - Jun 30, 2017
Fixed bugs:
- Logo icon not being drawn
- No Settings Window button
1.1 - Sep 24, 2015
**Please note that your QM prefs might need to be reset
- Fixed Icons not being drawn.
- Fixed QM losing the Shortcuts file.
- Fixed QM not loading the custom presets.
- Fixed QM not finding some menu commands.
1.0 - Aug 27, 2015
Initial Release