LightMan
Compatibility After Effects

Please check exact version compatibility under the "COMPATIBILITY" tab below
Working with lights inside After Effects can be a little bit tricky and unintuitive. If only After Effects had the ability to look through a light as most dedicated 3D apps do, it would be much easier. Well that's what LightMan tries to mimic inside After Effects. Hope you like it and it improves your workflow!
LightMan helps you in the process of placing and aiming lights in the After Effects 3D world. It lets you create and position a light in 3D space while you look through it. It gives you a quick access to some of the most common light properties you are currently looking through, all contained in a small inspector window. This makes the process of working with lights faster and easier.
It has a very simple interface as you can see in the image below it contains 4 buttons to create the light type that you need, except of course for Ambient Lights as there is no need to set the position for this type of light.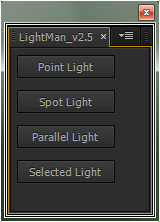 Workflow
Click on one of the buttons to create the light
Use the Unified Camera Tool to position the light just as if you were positioning a camera.
Set the light properties with the Light Properties inspector
Once you are happy just click the SET LIGHT POSITION button to confirm the creation and placement of the light.

Light Properties Inspector

Intensity : Let´s you change the intensity of the light you are currently looking through.
Off ( Light Contribution) : Let´s you see the light´s contribution to the final illumination.
Solo :Let´s you see only the illumination of the light you are currently looking through.
Cast Shadows : Cast Shadows from the light .
Show Cone Angle : Show the light´s cone angle in the viewer(Only if it is a Spot Light).
SET LIGHT POSITION : Confirms the creation of the light and set its position. Once clicked it will close the LIGHT PROPERTIES WINDOW as well.
I hope you find LightMan useful and if you have any questions or suggestions please let me know.
NOTE : This is the first version and you may find some missing features like changing the color of the light and other useful things. I would love feedback as well as feature requests.
| | |
| --- | --- |
| After Effects | CC 2015.3, CC 2015, CC 2014, CC, CS6 |
1.0 (Current version) - Jan 9, 2015
Initial Release