Font Manager
Compatibility After Effects

Please check exact version compatibility under the "COMPATIBILITY" tab below

A BRAND NEW WAY TO CREATE AND WORK WITH ANIMATED TYPEFACES
Font Manager makes setting up and using Animated Typefaces fast and easy.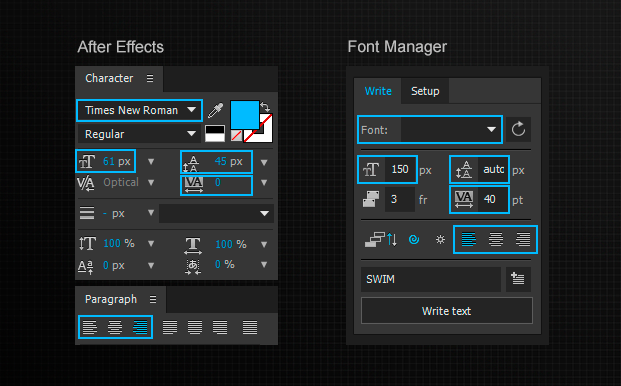 FAMILIAR INTERFACE
Font Manager's UI should be very familiar to anyone used to the After Effects Character panel so you can dive in without having to read a manual.

SUPPORTS KERNING AND METRICS
Automatically analyses and applies kerning and metrics. You don't have to adjust layers manually.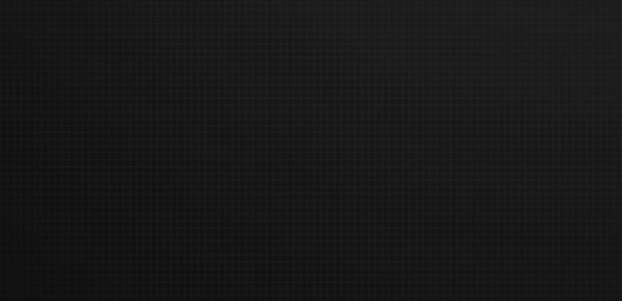 MULTILINE AND TEXT ALIGNMENT
Yes! Finally!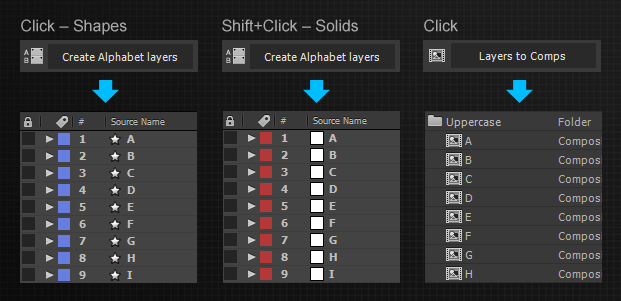 ONE CLICK TO CREATE A FULL TYPEFACE
Generate shape or solid layers for each character, create/copy the animation and sort them into comps. By the way, you can customize glyphs sets.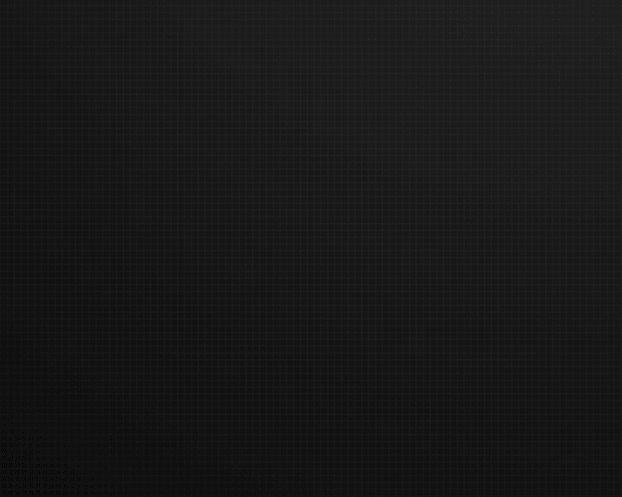 UNIQUE PARENTING FUNCTION
Select the properties you want to parent and Font Manager will do the rest! Inside all glyphs! You can find the properties by name and batch parent or add expressions to them.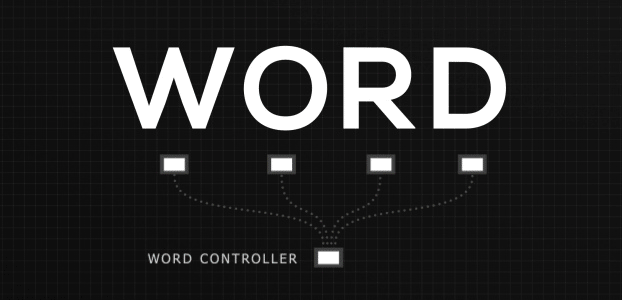 SUPER EASY CONTROLLER
Manage all characters within one layer or manage each character separately.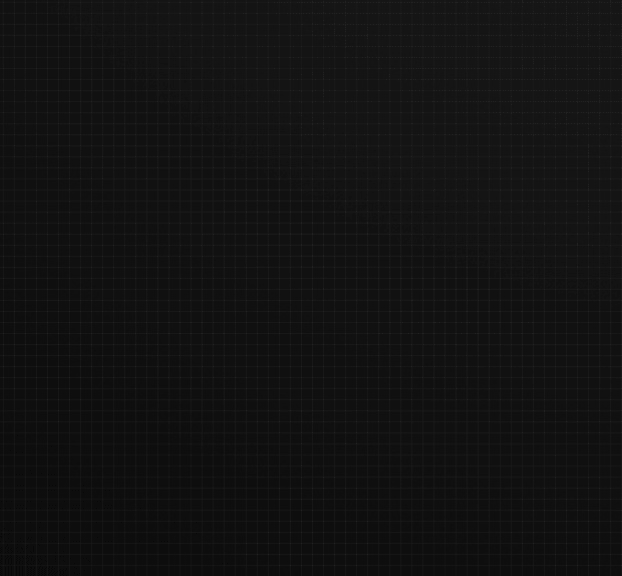 QUICK START ASSISTANT
Will guide you through the whole process in a matter of minutes (or even seconds) so you won't miss anything.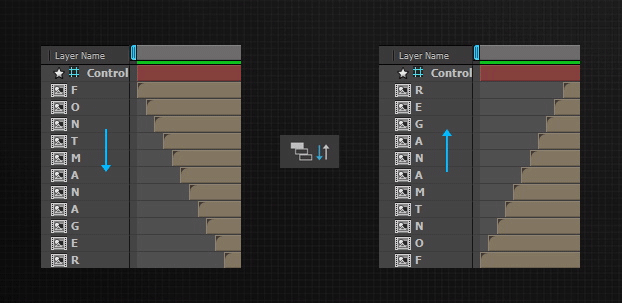 LOTS OF ADDITIONAL FUNCTIONS
Everything you might need to setup and use an animated typeface such as:

Offset layers in time
Change layer order
Toggle parenting
Demo all glyphs
Easy navigation
and more.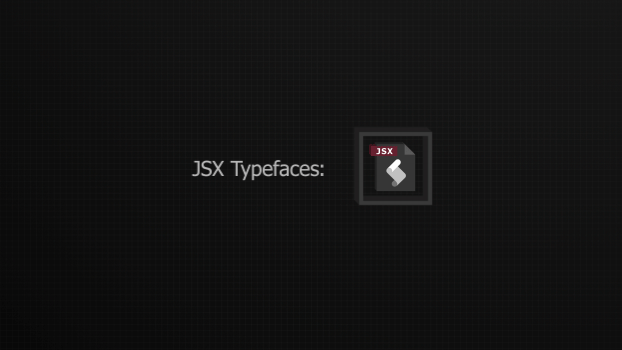 WORKS NATIVELY WITH JSX TYPEFACES
JSX typefaces are a fantastic new light-weight format for animated typefaces the seamlessly integrate with Font Manager. Checkout our constantly growing library of JSX typefaces.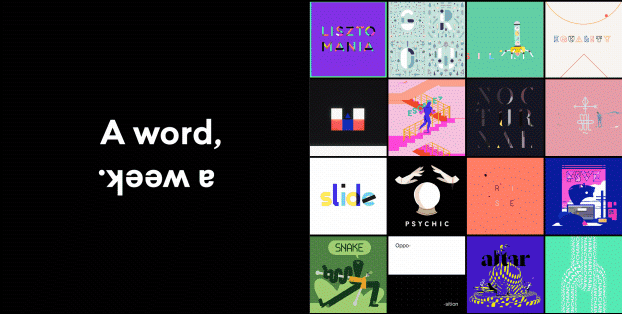 WORD A WEEK
A word, a week is year-long creative exploration help by Animography. They invite a new artist or studio for each week of 2018 to create a loop with our animated typefaces using animated typefaces and Font Manager. An opportunity to see how the people we admire put our products. Checkout the project here
FAQ:
Can I use FontManager with Animography typefaces?
Sure. They are 100% compatible. Just make sure that you have the latest version downloaded.
Does it work with Arabic or Hebrew Right to Left languages?
Yes, Font Manager now supports the TypeMonkey Text Modifiers.
VIDEO TUTORIALS
Please check out the VIDEOS tab above
Videos used in the presentation:
Lissajous Typeface Animated by Rocco Natale
algoriddim by Mario Brauer
Typeface Animation Design by HUTE DICH
Higher Animated Typeface by Yury Iliadi
국립 한글 박물관 by YOONDESIGN
머리정체2S NAVY _Animated Font by YOONDESIGN
Enigma by Bobby Voeten
| | |
| --- | --- |
| After Effects | 2023, 2022, 2021, 2020, CC 2019, CC 2018, CC 2017, CC 2015.3, CC 2015, CC 2014, CC, CS6 |
2.0.1 (Current version) - Mar 1, 2021
[FIXED]

1. Controllers were not parented during the use of the "Precompose type" function
2. Wrong start time of the precomp and layers
2.0 - Oct 9, 2020
[NEW]
1. Refined UI. Rebuild from scratch.
2. New "Mark Controller expressions" function. Use it to add support of precomps for your typefaces.
3. New parent expressions behavior.
4. Changed installation folder for JSX typefaces to "My Documents\FMTypefaces"

[FIXED]

1. Settings now support Unicode.
2. Correct comp's BG color while using the "Layers To Comps" function.
3. A lot of small fixes and improvements
1.6.9.5 - Apr 28, 2019
[FIXED]
- Bug with "Unable to execute script at line 136. undefined is not an object."
1.6.9 - Feb 19, 2019
[NEW]
- You can now precompose your type automatically
[FIXED]
- Bug with setDate
1.6.8 - Nov 22, 2018
[NEW]
- Added alert when user required to select the new typeface from the dropdown while creating new typeface
- Support bitcoin symbol
[FIXED]
- Lots of bugfixes
1.6.7 - Jul 14, 2018
[NEW]
- Integration with AEViewer. You can now select the animated JSX typeface in AEViewer and with a double click, it will automatically be selected under the Fonts menu.
[FIXED]
- No more freezing AE on start
1.6.5 - Jun 12, 2018
[NEW]
- Added ability to specify the constant version of the character
- Added two options under the Settings menu "Typesetting controls" and "Timing Controls"
[FIXED]
- Error at line136
1.6.1 - May 14, 2018
- Fixed an issue when Font Manager wasn't able to create a new character using the JSX typeface
- Updated the guide with JSX typefaces installation
1.6 - Mar 20, 2018
- Expanded the list of supported languages as well as glyphs
- Added a few languages to the language sets
- Fixed keyframes on the type Controller
- Fixed issues with jsx framework, when FM didn't pick up the built characters
1.5.1 - Feb 22, 2018
- Hotfix for expressions
1.5 - Feb 20, 2018
- Font Manager now remembers the last used typeface
- New typefaces sorting. Now imported fonts will be at the top of drop-down menu
- Improved UI for creating new typeface template and typeface layers and some other parts
- Fixed parented properties offset
- Fixed wrong number naming of the compositions
- Fixed time-remap keyframes
- Fixed "Can't find Metrics" error
- Fixed bug when "Parent Properties" window didn't open after adding the Kerning and Metrics
- Fixed lots of "Undo" bugs
1.044 - Oct 13, 2017
- Updated jsx framework
1.043 - Oct 10, 2017
- Support of jsx typefaces!
- Faster creation of the words
- Character versions and terminals support
- Full Unicode support
- Info button for typefaces
- Offline font converter (beta)
- Properly vertically aligned multi-lined texts
- Added Korean charset
- Fixed bug with the wrong size when typed only one character
- Fixed error "Could not create outlines from selected characters

1.042 - May 17, 2017
- Added support of foreign character in the expressions
- Support of parenting inside precomps
- Full support of Animography typefaces

1.041 - May 14, 2017
- Updated script manual
- Few bug fixes related to metrics

1.04 - May 9, 2017
- Added support of Arabic and Hewbrew via Text Mods
- Added support for Japanese, Greek, Russian
- Customizable characters sets
1.03 - May 8, 2017
- Fixed "Can't find folder with letters" error for non-english AE versions
1.01 - May 1, 2017
- Fixed Quick Setup assistant issue with afm files
- Fixed "Error during parsing" error
- Other minor bug fixes
1.0 - Mar 15, 2017
Initial release