AEVIEWER 2 Pro
Compatibility After Effects

Please check exact version compatibility under the "COMPATIBILITY" tab below

Compatibility Premiere

Please check exact version compatibility under the "COMPATIBILITY" tab below
BETTER, FASTER AND MORE POWERFUL WORK WITH YOUR MEDIA FILES!
Preview and import files
Preview and import AEP, MOGRT and PRPROJ files without opening them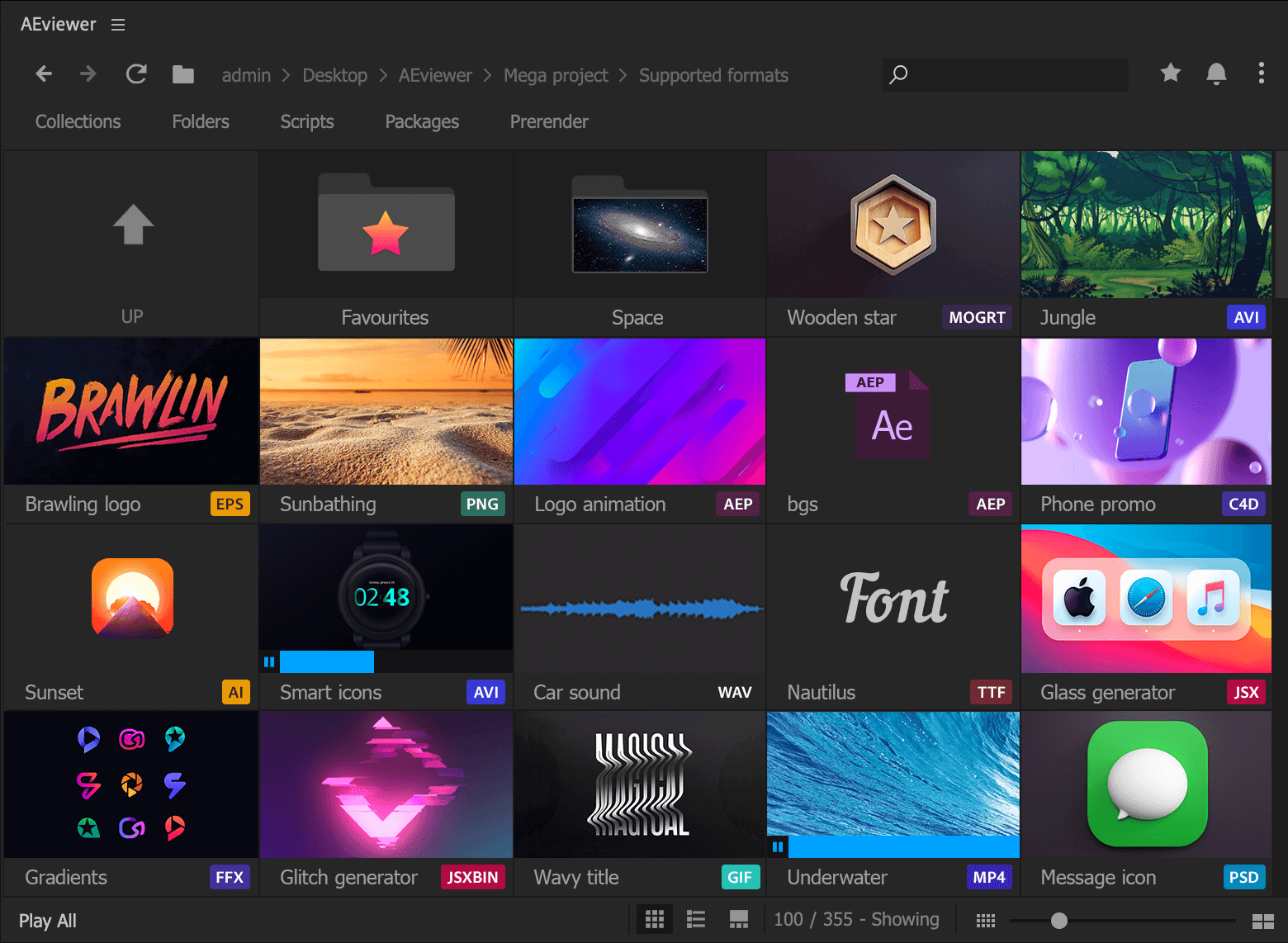 Tabs bar
AEVIEWER is packed with lots of features
to save your day
Create Collections
or moodboards
Classic browser
and favourites
Add all your script to
fast access
All Installed packages
in one place
Save your compositions as
separate projects and
automaticaly create
previews for them
Folder previews
Important information is highlighted
Multiple import options
You can import your files in many ways
Audio preview
Preview waveforms before listening
Then hover on the tracks to listen
It will dramatically speed up the process of choosing the right sound fx for your project
Customize fonts previews
Choose your text for previews and find the right font quickly
Apply fonts to your text
Double click on the font to apply it
Create your presets
With our plugin it is very easy to create your own presets library
Just select the expression and do a couple clicks
Three previews modes
You can customize the preview mode
Collections
Create virtual folders with inspiration
and references or thematic groups
Quick access
Instant access to the most used folders
Curate your own list
Instant search
Find your files using the keywords
Including subfolders
API available
Use API to integrate your tools and projects
And create your own secured packages
Customer Testimonials
I see a lot of these tweets and I get them. But...

AE Viewer saved my life this weekend. Thank you so much @motion_land, I don't think I could have survived without such a valuable tool.https://t.co/oN0nGs4pWM

Thank you.

— Andrew Embury (@aembury) September 4, 2018
AE Viewer is nearing essential status & I've just started using it – ever notice that AE has a Media Browser that does just about NOTHING for you?

AE Viewer is Media Browser that Adobe couldn't build, but @aescripts did.

— Ryan Summers (@Oddernod) November 22, 2017
.@motion_land your #AEviewer extensions looks amazing. Thanks for this powerful tool.

— michamedia (@michamedia) November 22, 2017
... this is a fantastic tool to use in After Effects. Really should be a feature in to After Effects.

— Creative Dojo January 31, 2019
Free
Pro
Core Features
Preview and import AEP, MOGRT, FFX, C4D, PRPROJ, PSD, AI, AET, AEPX,WAV, MP3, MP4, AVI, MOV, PNG, JPEG, JPG, GIF
✅
✅
Premiere Pro version
✅
✅
Auto preview generation
❌
Coming soon
Execute scripts JSX, JSXBIN
✅
✅
Number of preview modes
2
3 (includes advanced List mode)
Import options
3
6
Preview and import vector files
Only .ai
✅
Preview and apply fonts
❌
✅
Preview and import C4D files
❌
✅
Instant search (subfolders supported)
✅
✅
Collections
✅
✅
Favourite folders
✅
✅
Open file in the default program
❌
✅
Packages (install packs and templates)
✅
✅
API available
✅
✅
Options
More supported formats: PRPROJ, SQPRESET, EPS, JSON, MGJSON, CSV, TSV, TXT, FLAC, OGV, OGM, OGG, OGA, M4A, AAC, APNG, MXF, MKV, EXR, NEF, DPX, PAM, PBM, PCX, PTX and more
❌
✅
Rename files
❌
✅
Additional import options (import and replace, import and precomp)
❌
✅
"Create Preset from Expression" feature
❌
✅
Authoring tools for template and package authors (Prerender tab)
❌
✅
Organize your collection of scripts, add categories
❌
✅
Apperance customization (font preview, files to load, search settings and more)
❌
✅
Actions tab (customize actions before or after import of the files)
❌
Coming soon
Priority support
❌
✅
Pricing
Price
$0
$59.99
Upgrade Notice
If you purchased AEviewer v1 after June 28, 2021, you can upgrade for free, otherwise the upgrade is $42. Simply login to the same account you purchased v1 from and the upgrade pricing will be shown automatically. If you need assistance
please open a support ticket
.
Please note that the main version of
AEVIEWER
is now Free! This upgrade is only for the Pro version.
| | |
| --- | --- |
| After Effects | 2023, 2022, 2021, 2020, CC 2019, CC 2018, CC 2017, CC 2015.3, CC 2015 |
| Premiere | 2022, 2021, 2020, CC 2019, CC 2018 |
2.0.4 (Current version) - Feb 7, 2023
[NEW]

- Control sound level
- Two new import settings
- Fast project open
- New "Remove missing items" window for collections

[FIXED]

- "Create preset" function
- Compatibility with Dropbox offline files
- Installation of the free packages
- Fix for removing items from favorites
- Fixed disk names on Windows
- Updates license framework
2.0.3 - Mar 12, 2022
[NEW]

- Full support of Unicode and UTF-8 (collections, files, everywhere)-
- Added API. Check more details here: https://github.com/axwt/aeviewer-api
- Encrypted packs
- Trial mode for packs
- MOGRT resize. Add "Scene Width" and "Scene Height" properties to your responsive MOGRT files to support automatic resize
- "Open in Photoshop" feature on right click for media files

[FIXED]

- Compatibility with Curva script
- Compatibility with Dropbox and system policy
- "CSXS Event doesn't have a constructor" was fixed
- Remove file from the collection
- Right-click on the file when using List mode
- Drag&Drop inside the collection when using List mode
- Removed alert on start when a computer is offline
- Item placement on the track inside PPro
2.0.2 - Sep 16, 2021
[NEW]

- MOGRT files now have video previews
- Improved loading speed of media preview

[FIXED]

- Import of the files in Premiere Pro
- Import to the root folder of the project in Premiere Pro
- Set active comp when applying preset
- Compatibility with other scripts
- "Adobe After Effects Auto-Save" folder can be shown now
2.0.2 - Sep 16, 2021
[NEW]

- MOGRT files now have video previews
- Improved loading speed of media preview

[FIXED]

- Import of the files in Premiere Pro
- Import to the root folder of the project in Premiere Pro
- Set active comp when applying preset
- Compatibility with other scripts
- "Adobe After Effects Auto-Save" folder can be shown now
2.0.1 - Jul 31, 2021
[NEW]

- MOGRT files now have video previews
- Improved loading speed of media preview

[FIXED]

- Import of the files in Premiere Pro
- Import to the root folder of the project in Premiere Pro
- Set active comp when applying preset
- Compatibility with other scripts
- "Adobe After Effects Auto-Save" folder can be showed now
2.0 - Jul 28, 2021
2.0 - Initial release