Quick Access
Compatibility After Effects

Please check exact version compatibility under the "COMPATIBILITY" tab below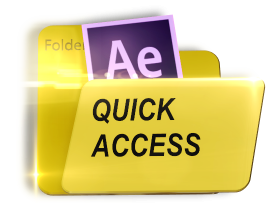 Keep your materials at hand. Don't waste time on searching. Click once.
BENEFITS
Allows to make collection of Favorite Folders directly in AE;
Opens the desired folder in one click;
Imports any files supported by AE and opens AE projects;
Saves History of folders up to 100 items;
Gets unique paths from AE History, Project Panel and Render Q;
Occupies minimum workspace,
Easy-to-use;
Simple interface.
VERY SIMPLE, BUT VERY POWERFUL ORGANIZER

FEATURES
Quick Access speeds up your search for materials, so you can quickly import files by selecting paths from the Main List or by clicking Import button. Press Ctrl/Cmd and click this button to open AE Project.
Quick Access creates history of paths, which includes all the latest After Effects paths. Hold Ctrl/Cmd and press Settings Button to update the List of Recent Paths.
Quick Access does not modify the history of After Effects.
MAIN LIST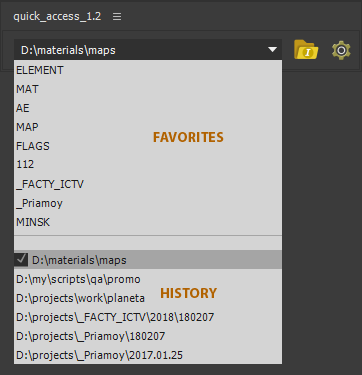 The top section of the list is Favorites, the lower one is Recent Paths (QA History).
SETTINGS
Minimum of work. Quick Access will show you the folders you have visited, choose your Favorites.
| | |
| --- | --- |
| After Effects | CC 2019, CC 2018, CC 2017, CC 2015.3, CC 2015, CC 2014, CC, CS6, CS5.5 |
1.21 (Current version) - Jul 2, 2018
Bug fixed: Settings window didn't open
1.2 - Feb 13, 2018
Added support for aliases;
Redesigned logic;
Added an ablity to open projects.
1.1 - Nov 17, 2017
Bug fixes.
Added Update function to Recent Paths History (Ctrl/Cmd + Click on Settings button).
Updated minimum version to CS 5.5.
1.0 - Nov 17, 2017
Initial release on aescripts.com