Quick Access
Compatibility After Effects

Please check exact version compatibility under the "COMPATIBILITY" tab below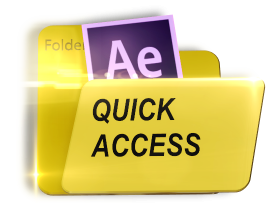 Import files by selecting paths from the list or by clicking on the button. That's all.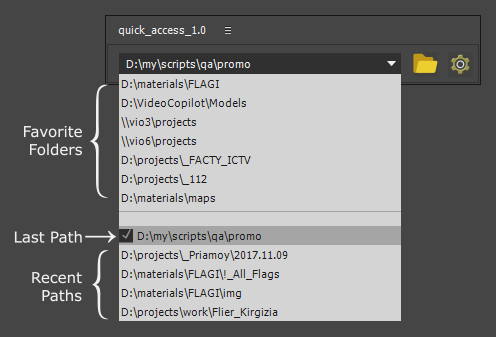 FEATURES
Quick Access creates its own history of import paths which includes all the latest After Effects paths as well as the paths that you can customize in Settings. For your convenience, Quick Access does not modify the After Effects history.
(Note: the list of "Recent Paths", created by Quick Access is used by all versions of After Effects on your computer).
Files are imported by clicking on the button either by selecting a path from the list.
The top section of the list is Favorites, the lower is Recent Paths.
The "Favorites" list has to be created manually. Recent Paths list is generated automatically.
Hold Ctrl/Cmd and press the Settings button to update the History of Recent Folders.
The "Favorites" list is customized in Settings in one of the following ways:
By double-clicking on the path in any of the tabs in the Settings;
By clicking the button "Add selected Paths to Favorites";
By manual input or by inserting a path into the text box
The paths in the "Favorites" list can be sorted, edited (by double-clicking on the path) or removed.
The right side of the Settings window contains four tabs with paths:
The "Recent Paths" tab is your history of import paths. (Note: if you imported files by using the built-in After Effects tools, click the Refresh button to refresh the Recent Paths list);
The "Project panel" tab contains file paths that are located in the Project panel;
The "Render Q" tab contains paths for Render Queue files;
The "MRU (Most Recently Used)" tab contains the paths of the recent After Effects projects.
| | |
| --- | --- |
| After Effects | CC 2018, CC 2017, CC 2015.3, CC 2015, CC 2014, CC, CS6, CS5.5 |
1.1 (Current version) - Nov 17, 2017
Bug fixes.
Added Update function to Recent Paths History (Ctrl/Cmd + Click on Settings button).
Updated minimum version to CS 5.5.
1.0 - Nov 17, 2017
Initial release on aescripts.com