MoDeck.io Annual Recurring Subscription
Compatibility After Effects

Please check exact version compatibility under the "COMPATIBILITY" tab below

Compatibility Media Encoder

Please check exact version compatibility under the "COMPATIBILITY" tab below
You control the creative,
they control the content.
Make your After Effects mogrts effortlessly editable online by anyone through a drag and drop, mobile ready editor, all in their browser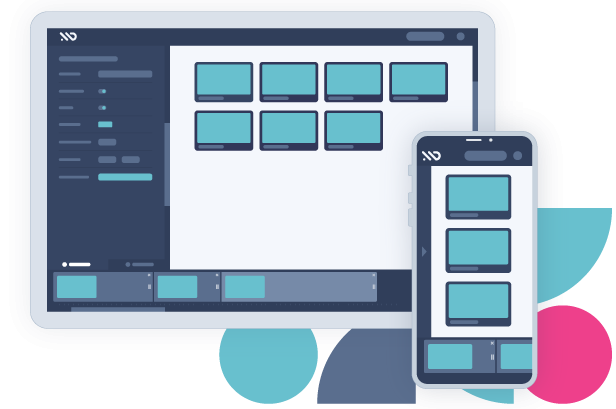 Free
$
0
/mo
Edit decks online for free, forever!
Create decks free for 14 days
Create 2 decks
Invite 1 user per deck
Up to 3 mogrts per deck
Pro
$
19
/mo
Create up to 5 decks
Invite 3 users per deck
Up to 8 mogrts per deck
Enterprise
$
79
/mo
Unlimited decks
Unlimited editors per deck
Unlimited mogrts per deck
Generate video sets from data
Customize color scheme and logo of editor
Share decks with a link
Embed the editor on your own site

Give anyone the power to use your projects
Producers, team members, marketing managers, anyone can make videos by inputting data such as text, images and number values into your After Effects files through an easy online editor.

Putting mogrt files to work
Templates are built using standard mogrt files, just install the desktop app and drop mogrt files in your sync folder and they'll instantly be online and ready for anyone you invite to input data and media.

Create data driven video sets
Video versioning made effortless. Need to create the same video in multiple languages? How about hundreds of videos, each containing different text and graph data? Through the online editor anyone can generate large sets of customized videos driven by spreadsheet data.
How it works.
For more in-depth details, check out the docs.
Download the free desktop app
The desktop app syncs your mogrts to the online editor and integrates with After Effects.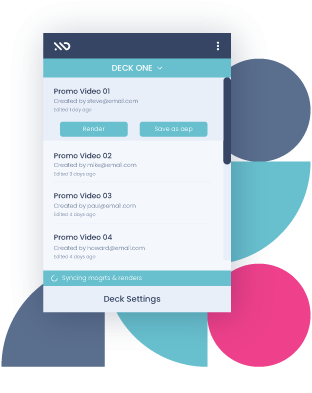 | | |
| --- | --- |
| After Effects | 2021, 2020, CC 2019, CC 2018, CC 2017, CC 2015.3, CC 2015, CC 2014, CC, CS6, CS5.5, CS5, CS4, CS3 |
| Media Encoder | 2021, 2020, CC 2019, CC 2018, CC 2017, CC 2015, CC 2014 |
MoDeck desktop app for macOS
1.5.47 (Current version) - Jun 29, 2021
- Bug fixes
1.5.43 - Jun 24, 2021
- App now has option "Run background AE instance." The app can now runs a background instance of AE to quickly render preview frames and output aeps. An AE icon is now present on the top right of the app, this indicates whether the background instance is running
1.5.37 - Jun 18, 2021
- Fixed some issues with base mogrts

- Added API access, you can now initiate renders and fetch mogrt data through the MoDeck API, more details in the docs:

https://modeck.io/docs#modeckapi
1.5.35 - Jun 16, 2021
- Can now define the Watch and Render folder locations, as well as add additional Watch and Render folders, read more about these folders here:

https://modeck.io/docs#watchfolder

- Can now add decks from other machines that are also running the app, allowing you to share rendering across machines, also outlined other multi machine rendering approaches in the docs:

https://modeck.io/docs#multimachine
1.5.3 - Jun 8, 2021
- Bug fixes
1.5.2 - Jun 7, 2021
- Added modk-stretchEditable command
1.5.1 - Jun 4, 2021
- Using protected regions in your mogrts now works as expected, be sure to make any dynamic duration commands stretch the comps (when using modk-durationEditable, add "stretch" to comment value. Use modk-setStretch instead of modk-setDuration)
- Fixed bug where expressions in mogrts that linked to other comps were breaking when edit is assembled
- Better aep output queing, desktop app now better handles many render requests made at once
- Can set default spreadsheet data for decks, see docs
- Now works correctly if AE is set to any language
- Base mogrts can be set to stretch instead of change comp duration, for when using protected regions
- Bug fixes

See docs for more info:
https://modeck.io/docs
1.4 - Apr 18, 2021
- App settings now have an option "Give each deck own watch folder" this adds separate watch folder settings to encoder for each separate deck, useful if you would like to have different output settings for each deck.
- Notification emails will now also use your custom colors scheme and logo if present.
- Pro users can now use the app on 2 machines simultaneously, enterprise on 3.
- Previews no longer need to be initialized, preview frames now start rendering straight away.
- Bug fixes
1.3 - Dec 4, 2020
- Bug fixes
- Add preview clips for individual mogrts (https://modeck.io/docs#previews)
- Preview rendering imporvements
1.2 - Dec 4, 2020
- Can now set multiple preview frames for online editors
- Add demo/preview videos to decks
- Create magic links to share decks
- White labeling features
- View csv data on editor and preview videos with individual rows of data applied
1.1 - Dec 4, 2020
Fixed macOS render issue
1.0 - Nov 16, 2020
Initial Release
MoDeck desktop app for Windows
1.5.47 (Current version) - Jun 29, 2021
- Bug fixes
1.5.43 - Jun 24, 2021
- App now has option "Run background AE instance." The app can now runs a background instance of AE to quickly render preview frames and output aeps. An AE icon is now present on the top right of the app, this indicates whether the background instance is running
1.5.37 - Jun 18, 2021
- Fixed some issues with base mogrts

- Added API access, you can now initiate renders and fetch mogrt data through the MoDeck API, more details in the docs:

https://modeck.io/docs#modeckapi
1.5.35 - Jun 16, 2021
- Can now define the Watch and Render folder locations, as well as add additional Watch and Render folders, read more about these folders here:

https://modeck.io/docs#watchfolder

- Can now add decks from other machines that are also running the app, allowing you to share rendering across machines, also outlined other multi machine rendering approaches in the docs:

https://modeck.io/docs#multimachine
1.5.33 - Jun 9, 2021
- Faster aep output and preview rendering
1.5.3 - Jun 8, 2021
- Bug fixes
1.5.2 - Jun 7, 2021
- Added modk-stretchEditable command
1.5.1 - Jun 4, 2021
- Using protected regions in your mogrts now works as expected, be sure to make any dynamic duration commands stretch the comps (when using modk-durationEditable, add "stretch" to comment value. Use modk-setStretch instead of modk-setDuration)
- Fixed bug where expressions in mogrts that linked to other comps were breaking when edit is assembled
- Better aep output queing, desktop app now better handles many render requests made at once
- Can set default spreadsheet data for decks, see docs
- Now works correctly if AE is set to any language
- Base mogrts can be set to stretch instead of change comp duration, for when using protected regions
- Bug fixes

See docs for more info:
https://modeck.io/docs
1.4 - Apr 18, 2021
- App settings now have an option "Give each deck own watch folder" this adds separate watch folder settings to encoder for each separate deck, useful if you would like to have different output settings for each deck.
- Notification emails will now also use your custom colors scheme and logo if present.
- Pro users can now use the app on 2 machines simultaneously, enterprise on 3.
- Previews no longer need to be initialized, preview frames now start rendering straight away.
- Bug fixes
1.3 - Dec 4, 2020
- Bug fixes
- Add preview clips for individual mogrts (https://modeck.io/docs#previews)
- Preview rendering imporvements
1.2 - Dec 4, 2020
- Can now set multiple preview frames for online editors
- Add demo/preview videos to decks
- Create magic links to share decks
- White labeling features
- View csv data on editor and preview videos with individual rows of data applied
1.1 - Dec 4, 2020
Fixed macOS render issue
1.0 - Nov 16, 2020
Initial Release