BVH Importer
Compatibility After Effects

Please check exact version compatibility under the "COMPATIBILITY" tab below
What is BVH Importer
A BVH file is a format that was developed by Biovision, a motion capture services company, as a way to provide motion capture data and skeleton hierarchy information in addition to the motion data. A .bvh file is nothing more than a text file that has data that was captured from a moving skeletal system. Another name for this type of data capture is "Motion Capture" which has been abbreviated as mocap. You can find tons of free BVH motion data on the web or motion libraries for sale in BVH format. By using BVH Importer you can convert all these available resources to something that After Effects can handle and enrich your motion content.
The goal is to use motion capture data on an avatar, or an articulated figure,
which could be the first step in creating real world motion gestures in After Effects.
Euler angles
BVH Importer not only supports "standard" ZXY Euler rotations, but goes beyond that and accepts mixed joint rotations. Any XYZ, XZY, YXZ, etc combination is acceptable. The tool has a built-in file compatibility check option that will report any errors regarding the BVH file.
Skeleton
You can have skeletons in it's rest position which will make rigging much easier, even if neutral pose is not defined in the BVH file. No motion data deformations are applied to it at the beginning of the animation. Use options to set the skeleton in the center of composition screen instead of arbitrary offsets defined in the BVH file.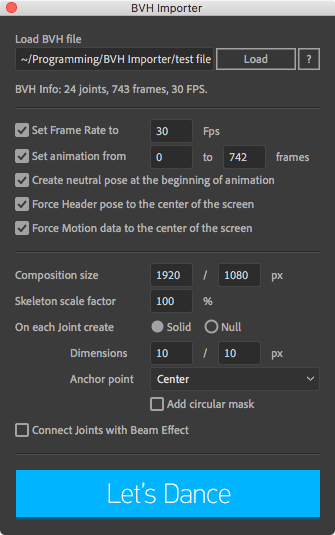 Workflow
Run

BVH Importer

and import BVH file. Check for file compatibility if it's your first run for that particular file;
Adjust parameters such as FPS, duration, animation range. Enable rest pose if you are planning on rigging this skeleton;
Set composition parameters and geometry options;
Apply the Beam Effect in order to get visual lines between joints;
Simple as that
Where to get BVH files
There are several different formats that mocap files can be stored in. BVH Importer can only deal with files in Biovision BVH format. BVH files can be bought from many commercial sources, but a large range of mocap files are also available for free download. Here are some sites that I found to be useful:
User manual
Looking for more info about the tool? Find it in User Manual.
Trial version
The free trial version can be downloaded above and is limited to 50 animation frames.
| | |
| --- | --- |
| After Effects | 2022, 2021, 2020, CC 2019, CC 2018, CC 2017, CC 2015.3, CC 2015, CC 2014, CC, CS6, CS5.5, CS5, CS4, CS3 |
1.6.1 (Current version) - Jul 16, 2022
change:
- allow maximum 999 FPS for AE v18 and newer,
- link to online docs
1.6 - Nov 14, 2019
Adds support for MacOS Catalina
1.5.1 - Oct 30, 2018
- Adds support for AE CC2019
1.5 - Nov 5, 2016
- Speed improvements when adding keyframes;
- Rewrite of the BVH parsing algorithm;
- Minor UI changes;
1.0.1 - Jul 11, 2015
Minor UI changes for CC2014 and CC2015
1.0 - Aug 24, 2014
Initial release