Free Compose
Compatibility After Effects

Please check exact version compatibility under the "COMPATIBILITY" tab below
Please click on the green TRY button above to download the free trial and make sure you enjoy using Free Compose prior to purchasing!
New features! Opacity control, In/Out points, Visibility/Audibility control with previous state remembered, duplicate groups button, time stretching (not time remapping). See below:
What can I do with Free Compose?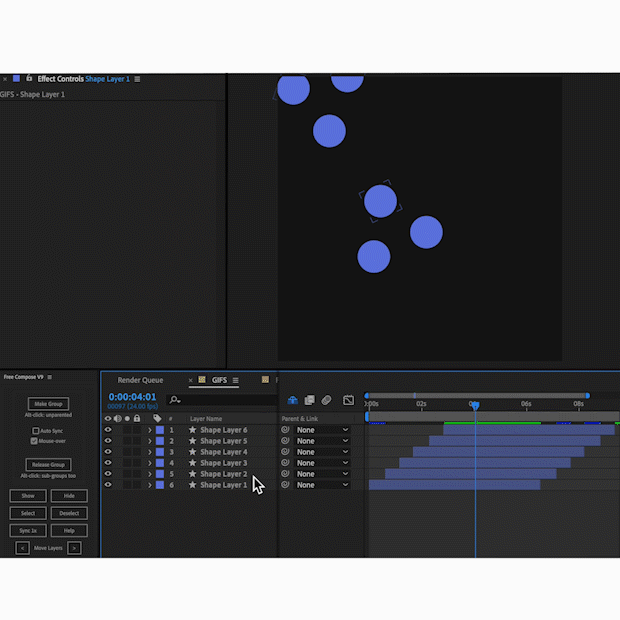 Group any layers.
Select any layers and hit the 'Make Group' button. Hold alt if you don't want them parented. Name the group.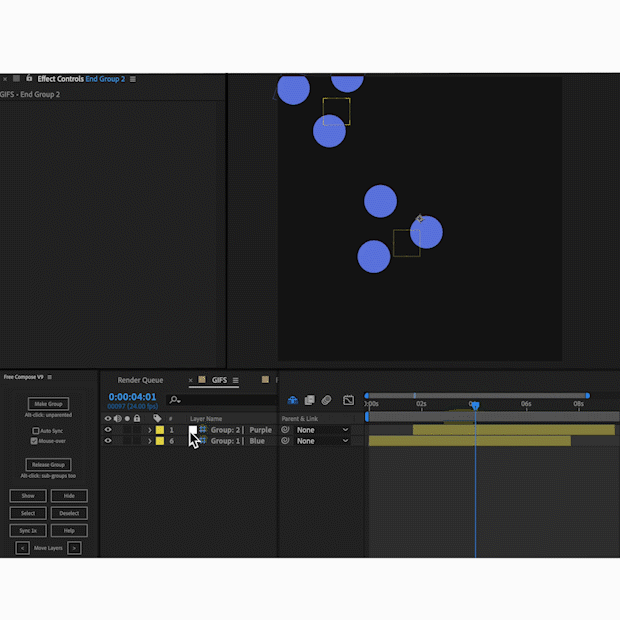 Move groups' layers easily in the timeline
Any time you move a group control layer, you can sync the contained layers either at your will by hovering over the Free Compose panel, or automatically by turning on 'Auto-Sync'. This also works for adding or subtracting layers from the group, and syncing in/out points.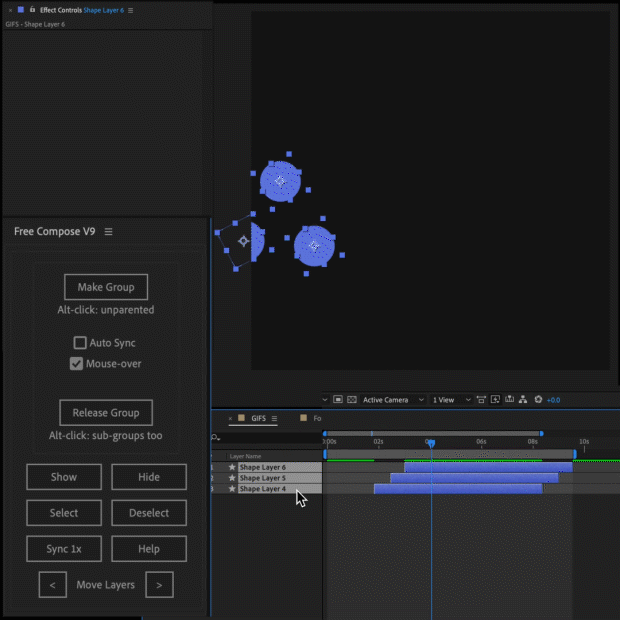 Doesn't cut off layer content like pre composing does
Group things right in place, and dont worry about whether they'll be cut off.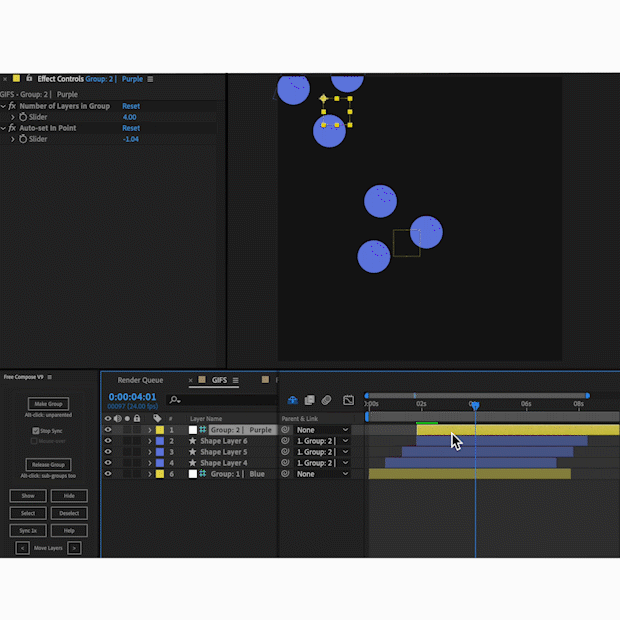 Add FX by groups
Quite like pre-composing, you can apply FX directly to a group control layer and it will apply with property links to that group's contained layers. Remove FX the same way.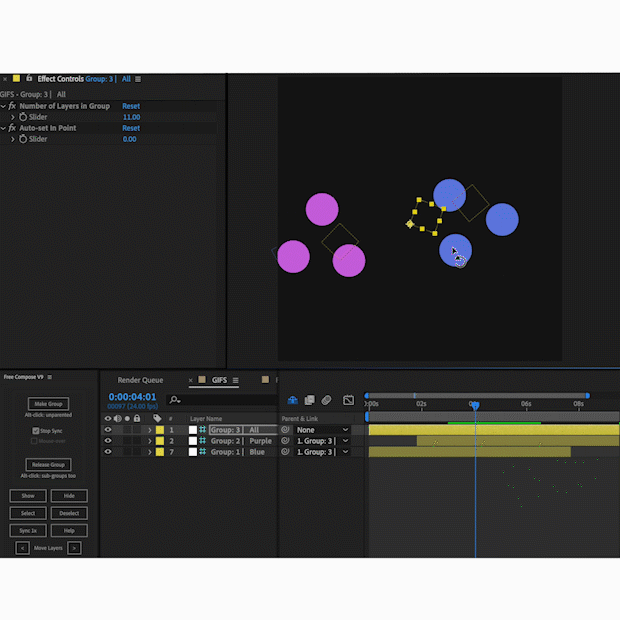 Show and hide layers or groups
Show all the layers, or hold alt to show only a group's nested group layers.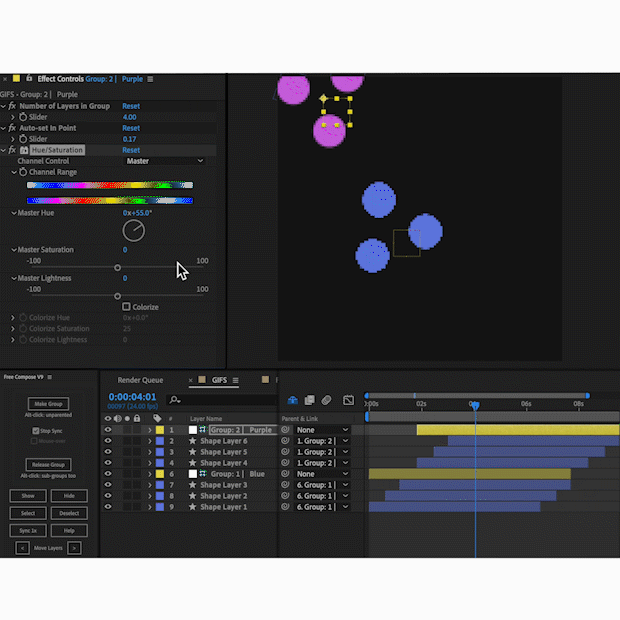 Nested groups parented at average positions
Tired of pre-composing and having the anchor point jump away? Get intuitive control with Free Compose. All group control layers are created at their contained layers' average positions.
| | |
| --- | --- |
| After Effects | 2020, CC 2019, CC 2018 |
1.3 (Current version) - Dec 15, 2020
NEW FEATURES:

- Updated UI! Option of classic or compact (icons) version
- Can select layers in non-sequential order (it will move them together)
- Time-stretching is now supported for groups! (see how-to-use document)
- FREE companion script: Darth Fader. Fade layers' opacity at In and/or Out with keyframes or expressions. Use-able on its own and specially compatible with Free Compose groups' in/out markers and all their expressions. Just a handy little thing.
- When a group shortens during refresh, it brings straggling in/out markers with it


Bug Fixes:

- Time-reversed layers' in/out are calculated correctly
- Expressions are fully removed on releasing grouped layers if they're "value;"
- General code clean up

1.2.1 - Dec 10, 2020
MINOR update: Upon loading, Free Compose now checks to make sure the project has the correct expression engine running, and gives the option to change it.

Expressions fully removed on group release.

See MAJOR updates with new features from 1.2 if you are upgrading from 1.1 or 1.0 (in+out control/opacity control/duplication/more).
1.2 - Dec 2, 2020
NEW Features!

- Now, easily duplicate groups (Shift-click "Make Group)
- Mark an in/out for groups' layers
- Control opacity and audio levels with Group Control Layer
- Group Control Layers' labels turn orange when they are nested
- Toggle grouped layers' visibility/audibility with prior state remembered
- The group layer now also changes its source name, no need to click "Layer Names" column



Bug fixes + stability!
- Potential issue with double-digit group numbers
- Group Control Layer no longer improperly offset if "Create Layers at Composition Start Time" setting is unchecked in preferences
- Fixed issue with grouping layers whose names start with "Group" (eg after using motion tools or explode shape layers)
- Releasing layers now also un-parents/re-parents appropriately
- Group creation checks project instead of comp to iterate in number (helps avoid duplicate group #'s)
- Fixed issue where light and camera layers in groups stopped the FX refresh function
- Always selects the group layer that has just been created
1.1 - Nov 16, 2020
Bug fixes:

1. Compatability with some non-english versions of After Effects.

2. Grouping could get stuck at creation of the End Group layer, when grouping layers at the top or bottom of the layer stack.

3. Message "refreshGroup2 is undefined" when using Auto-sync.

4. Issue with the group null sometimes being created in the upper left.

Feature changes:

1. Groups now refresh their layers' visibility based on the status of the group's visibility. (Affects all layers)

2. Group FX are removed when using both '<' and '>' functions.
1.0 - Nov 2, 2020
Initial Release