Un-PreCompose
Compatibility After Effects

Please check exact version compatibility under the "COMPATIBILITY" tab below
A better way to reorganize
With just a couple clicks, Un-Precompose will release all layers of a pre-comp into the parent composition without affecting position and keyframes1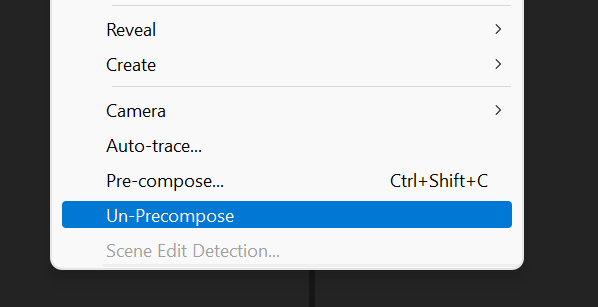 What is Un-Precompose?
Un-precompose is simply the reverse of the built-in After Effects functionality "Pre-compose".
Pre-compose allows you to move all of your selected layers into a new composition, leaving only the composition layer in the original timeline.
Un-precompose allows you to pull all of those layers out of the pre-comp and into your root composition and does its best to do so without affecting the appearance of your content. This includes copying over effects to each of the extracted layers as well as maintaining keyframes and expressions that were previously applied.
More options for extracting layers.
The latest version of Un-Precompose brings new capabilities when extracting layers from your pre-comps
Un-Precompose multiple pre-comps in a single run to allow you to work more efficiently
Optionally attempt to correct placement of layers containing randomized expressions
Prepend extracted layers with the name of the pre-comp for easier organization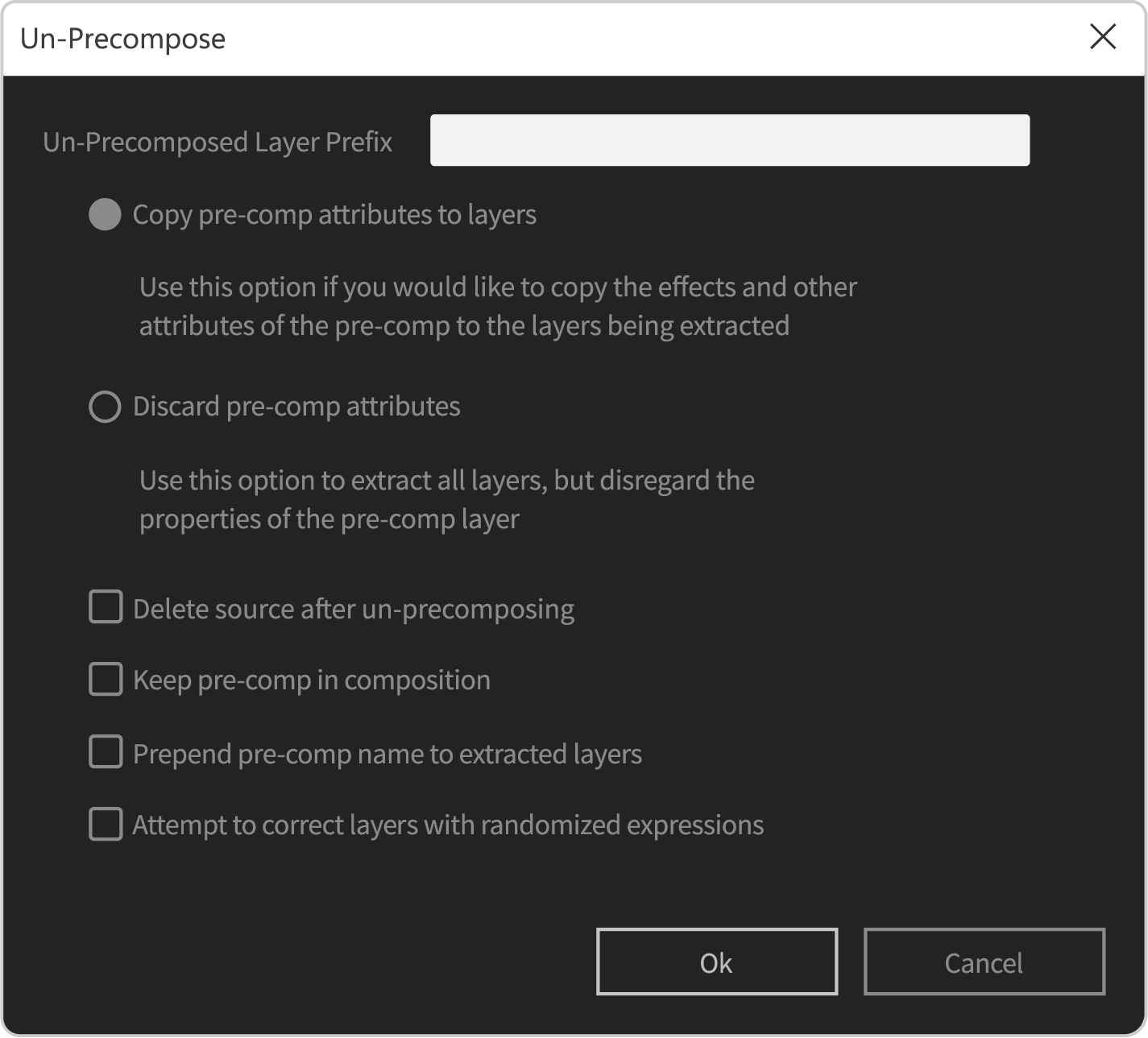 Finally updated for the latest versions of After Effects.
Un-Precompose was originally released in 2011 and had remained basically unchanged since its initial release. With version 1.1.0, Un-Precompose has been updated with additional features and, more importantly, support for the latest versions of After Effects and newer operating systems.
Even with these updates, Un-Precompose remains a free / pay-what-you-want tool. Please be sure to test the plugin first before deciding to pay for it, if you choose to do so.
Notes
1. Un-Precompose does as much as possible to maintain the positioning and appearance of the extracted layers, however there are several cases where the extraction will cause a change. Some examples of this would be if your precomp and main comp each have a camera for a 3D scene, if there are expressions on your layers with randomization not controlled by the random seed, effects that generate 3d effects ro particle simulations, etc.
Please keep in mind that Un-Precompose is a pay-what-you-want plug-in. Download it for free and verify that it works for your use case before deciding to pay for it.
| | |
| --- | --- |
| After Effects | 2023, 2022, 2021, 2020, CC 2019, CC 2018 |
1.1.5 (Current version) - Jun 28, 2023
- Fixed crashing on Windows
1.1.4 - Jun 15, 2023
- Fixed AE Error: CLayerItem::GetCLayerPtr: `clayerP` showing in AE 2023
1.1.3 - Nov 9, 2022
- Fixed an issue causing After Effects to crash when prepending precomp names
1.1.2 - Nov 5, 2022
- Fixed issue with internal verification error depending on selection in the project panel
1.1.1 - Nov 4, 2022
- Fixed issue where AE would crash when deleting pre-comp source
1.1.0 - Nov 1, 2022
- Fixed interface on latest versions of After Effects
- Apple Silicon Support
- Un-Precompose multiple precomps in a single run
- Optionally attempt to correct placement of layers containing randomized expresssions
- Prepend extracted layers with the name of the pre-comp
1.04 - Apr 27, 2011
Initial release on aescripts.com