Cloners + Effectors
Compatibility After Effects

Please check exact version compatibility under the "COMPATIBILITY" tab below
Procedural animation system for After Effects
Creating complex animations with a lot of layers and keyframes, has always been a difficult and time consuming task.
With Cloners+Effectors you can animate multiple layers at the same time using a large set of effectors and falloffs. This workflow is well known from many 3D applications, and allows you to create those complex animations in a few minutes. While still remaining fully customisable.
Cloners
Quickly set up cloned layers in a Linear, Radial or Grid pattern. These patterns can all be controlled parametrically to create the exact result you are looking for. You can also use the cluster cloner and leave all the clones as your original layers, making it easy to animate Text and Illustrations.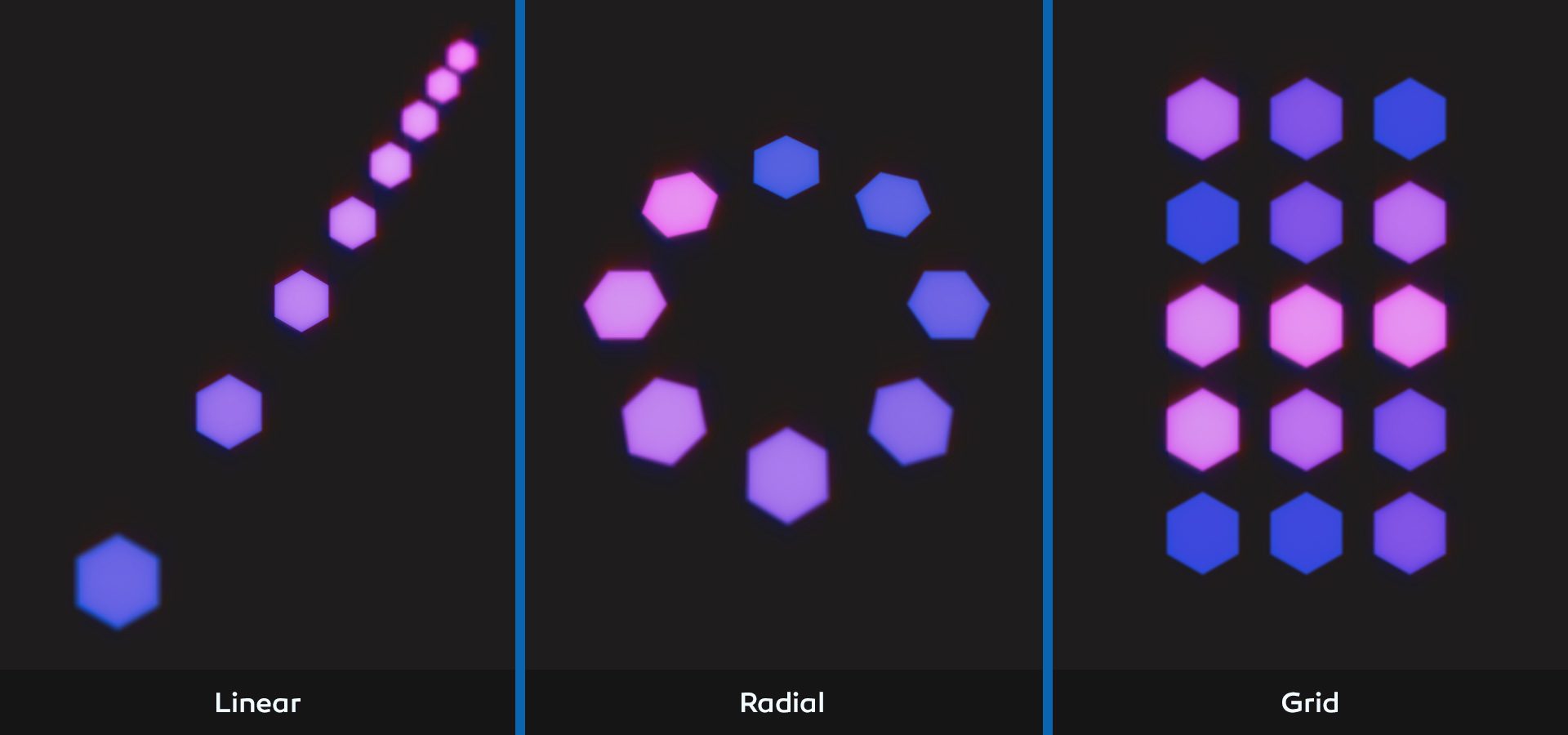 Effectors
Add one of the seven powerfull effectors to animate your clones. Easily control basic properties like position scale and color. Or add any numeric or color parameter on your cloned layer with a single click. You can even control properties from any filters which have been added.
Use the Random or Step effector to create even more complex patterns. Use effectors like Pulse or Noise to create animation with out putting down a single keyframe. Combine multiple effectors for ultimate control.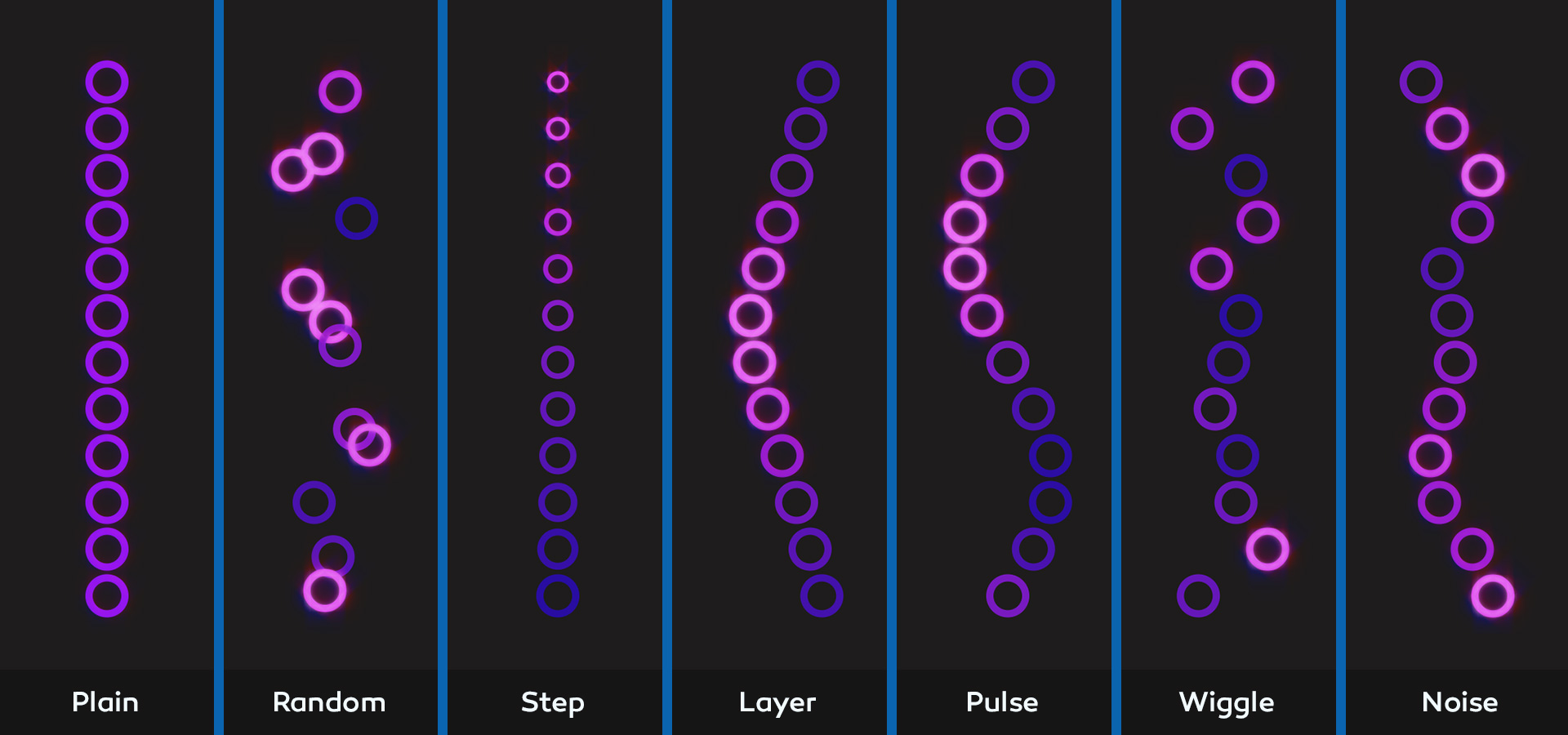 Falloffs
Add falloffs to any effector and drag it across your clones to animate them. This workflow allows you to create advanced animation in just a few keyframes. You get a great idea of what your animation will look like even before you put down the first keyframe, and the animations will be easy to edit and adjust.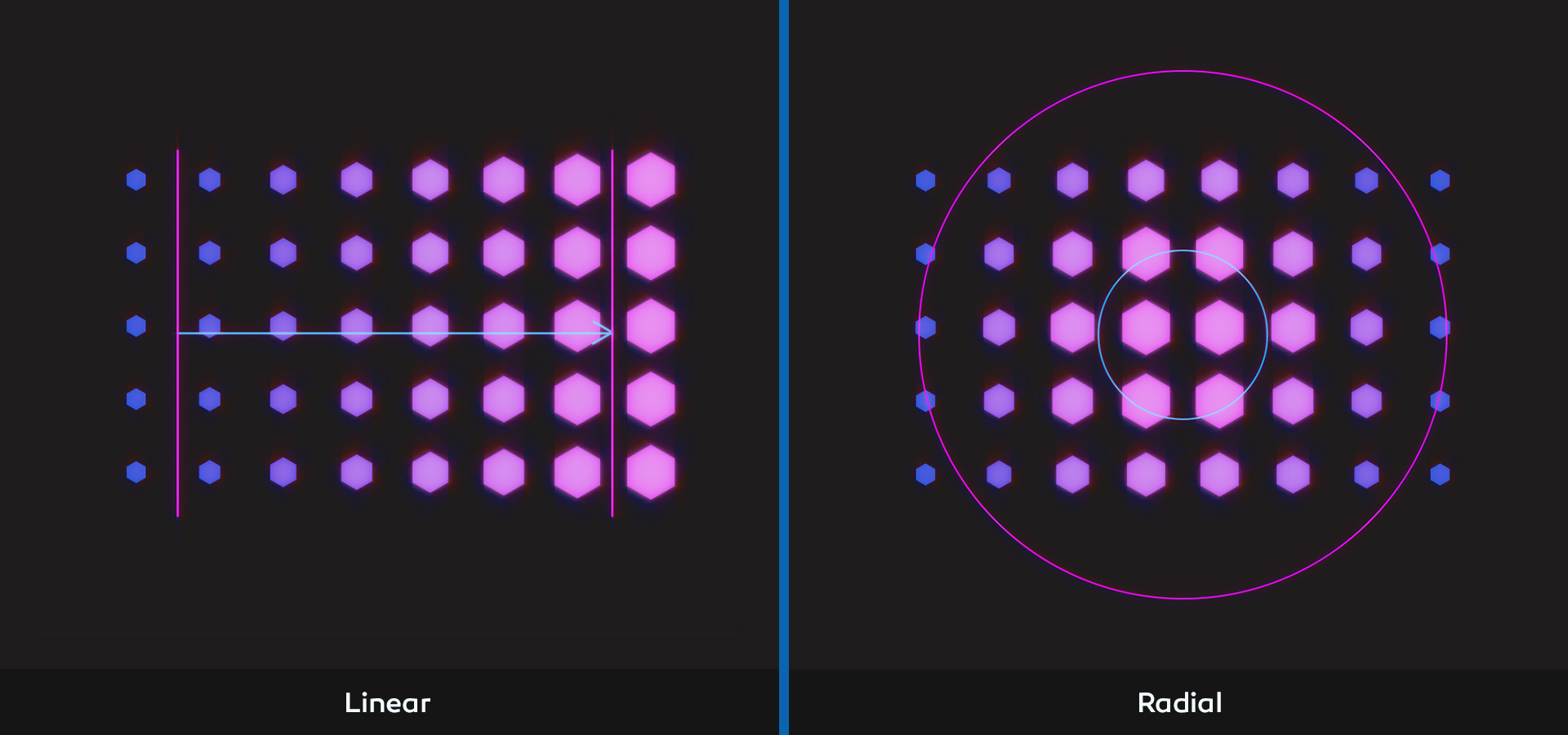 Text
Cloners+Effectors also makes it easy to create complex text animations. Giving you unprecedented control over your text animations.
Illustrations
Animate illustrations or vector logos faster than ever before. Quickly add transitions to entire illustrations with a single effector.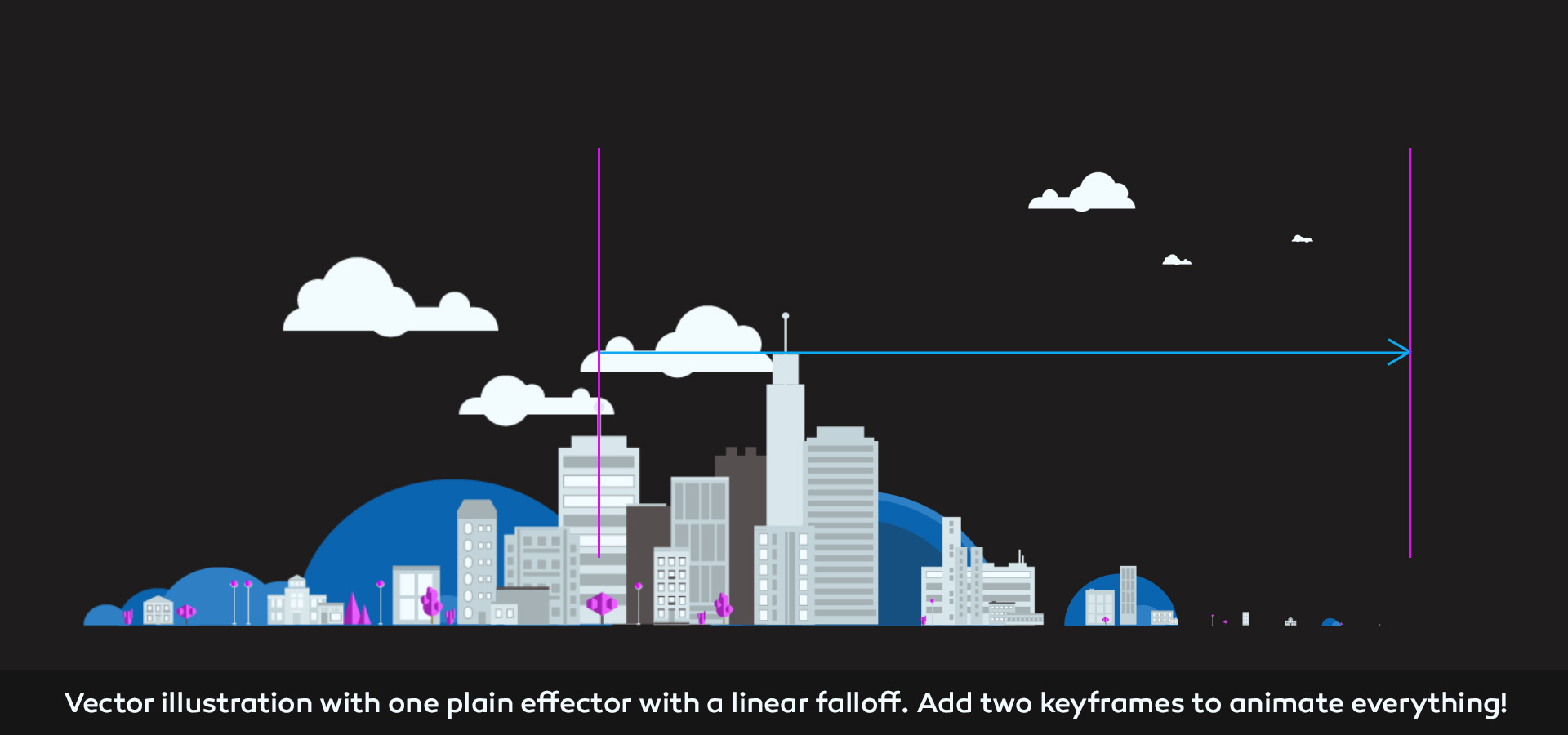 2D and 3D
Clone and animate both 2D and 3D layers. And control those 3D layers in After Effects' 3D space.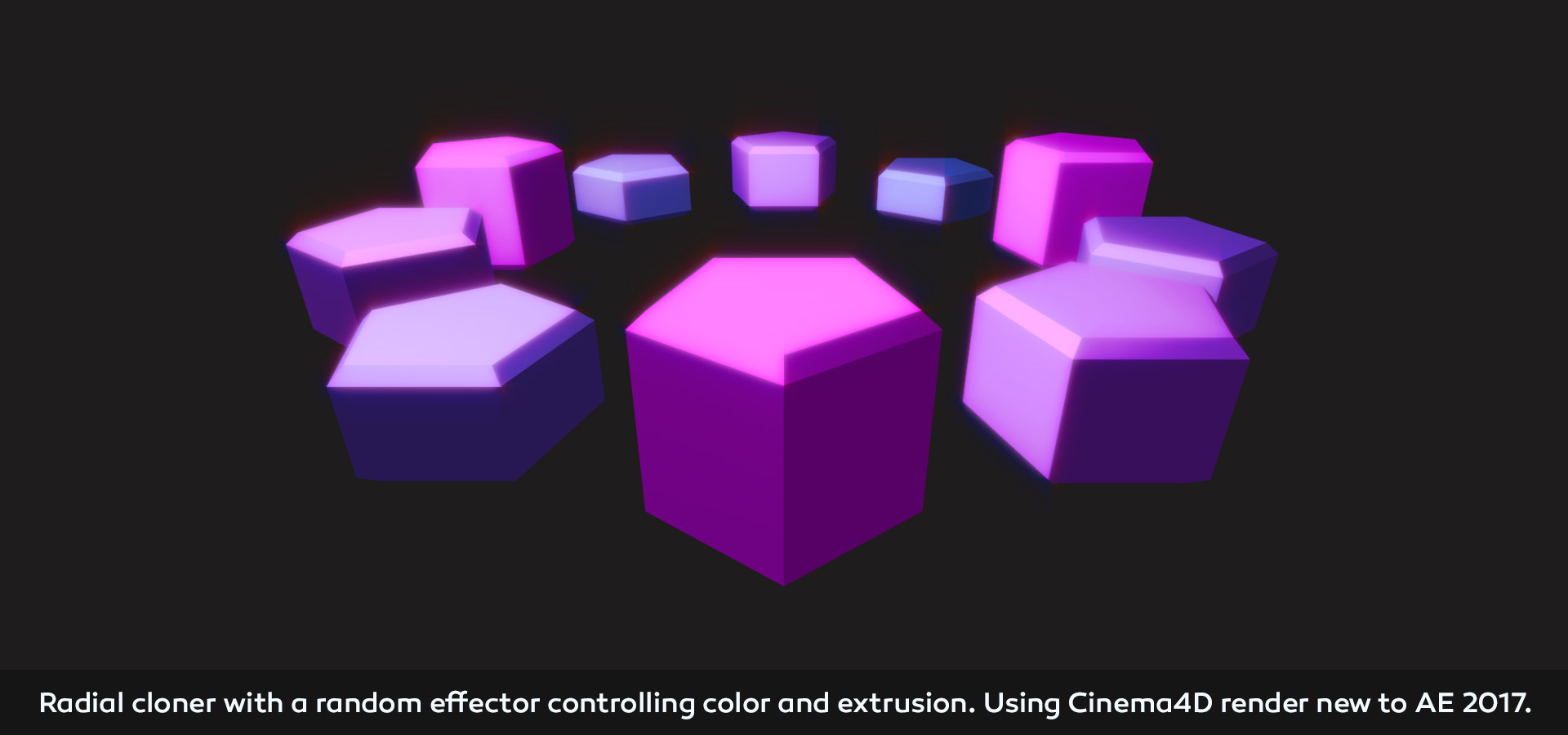 Get started!
Download the trial, watch the overview video below or check out all the "working with Cloners+Effectors" tutorials here.
Follow me on Twitter or Instagram for lots of free source files, tutorials and more!
Trailer
Overview
Follow me on Twitter or Instagram for lots of free source files, tutorials and more!
| | |
| --- | --- |
| After Effects | CC 2017, CC 2015.3, CC 2015, CC 2014, CC, CS6 |
1.07 (Current version) - Jan 23, 2017
- Fixed conflict with plexus
- Fixed small bug which could reset orientation of cloner layer
- Fixed bug when using sequences or any layer containing [] in layer name
1.06 - Dec 15, 2016
- Fixed bug causing the plugin to interfere with other plugins.
1.05 - Dec 8, 2016
- Fixed a number of bugs with Add Property, making it more stable.
- Fixed Bug causing the cs6 panel not to update when selecting falloff.
1.04 - Nov 29, 2016
Possible fix for bug causing some users to only see 3 options in dropdown lists.
1.03 - Nov 28, 2016
Fixed spherical falloff when in 2D mode.
1.02 - Nov 23, 2016
Fixed a bug related to effectors in cs6
1.01 - Nov 23, 2016
Fixed problem with effectors in cs6
1.0 - Nov 18, 2016
Initial Release