Mettle Flux
Compatibility After Effects

Please check exact version compatibility under the "COMPATIBILITY" tab below

Compatibility Premiere

Please check exact version compatibility under the "COMPATIBILITY" tab below
Create space scenes, Nebulas, sci-fi fx, and more.
---
Formats: Traditional video, 360/VR Monoscopic and Stereoscopic O/U and SBS

FLUX Preset Panel for one click application of animations

Additional presets in FLUX Effects Control Panel in After Effects

Globe Preview Panel to work and view results in 360°

Customize with: Force Field, Mutations, Iterations, Evolutions, Lights, Symmetry

GPU Accelerated, with Volumetric Rendering

Supports native After Effects 3D camera

Built-in camera for After Effects and Premiere Pro

---


Buy it in the Mettle Suite and Save

---
How to Create a 3D X-Ray Effect in After Effects with Flux and Mantra V2
Download After Effects Project File
How to Generate FLUX Atmosphere and 3D track to a Scene in After Effects
Download After Effects Project File
---
"Flux feels like science fiction after so many years wishing that I could have a tool like this.
I've had a deep fascination with fractal flames for over 20 years, but the extreme render times and lack of interactive control in programs like Electric Sheep has always kept them a distant fascination. Now along comes Flux, and it absolutely floors me. Not only do I finally get to play with fractal flames, I get to render them in stereo 360º, I can use match moved cameras, and I can actually interactively tweak the parameters. Every time I use Flux I still have to pinch myself that it is real – that it is actually doing what it does. "
- Andy Cochrane, Independent Immersive Content Creator
---
FLUX V1.10 New Features Overview .
* More mutation variations - more interesting results
* Final mutation
* New presets: Blooming Fern, Laniakea, Starburst
* Randomize Mutations button
* Render Modes: Depth, Anaglyph, Equiluma, Cross Section
* Ability to select OBJ file as Force Field shape
* Rotation controls for Force Field
* Recursive Zoom
* Clipping planes
* Clipping by OBJ shape
---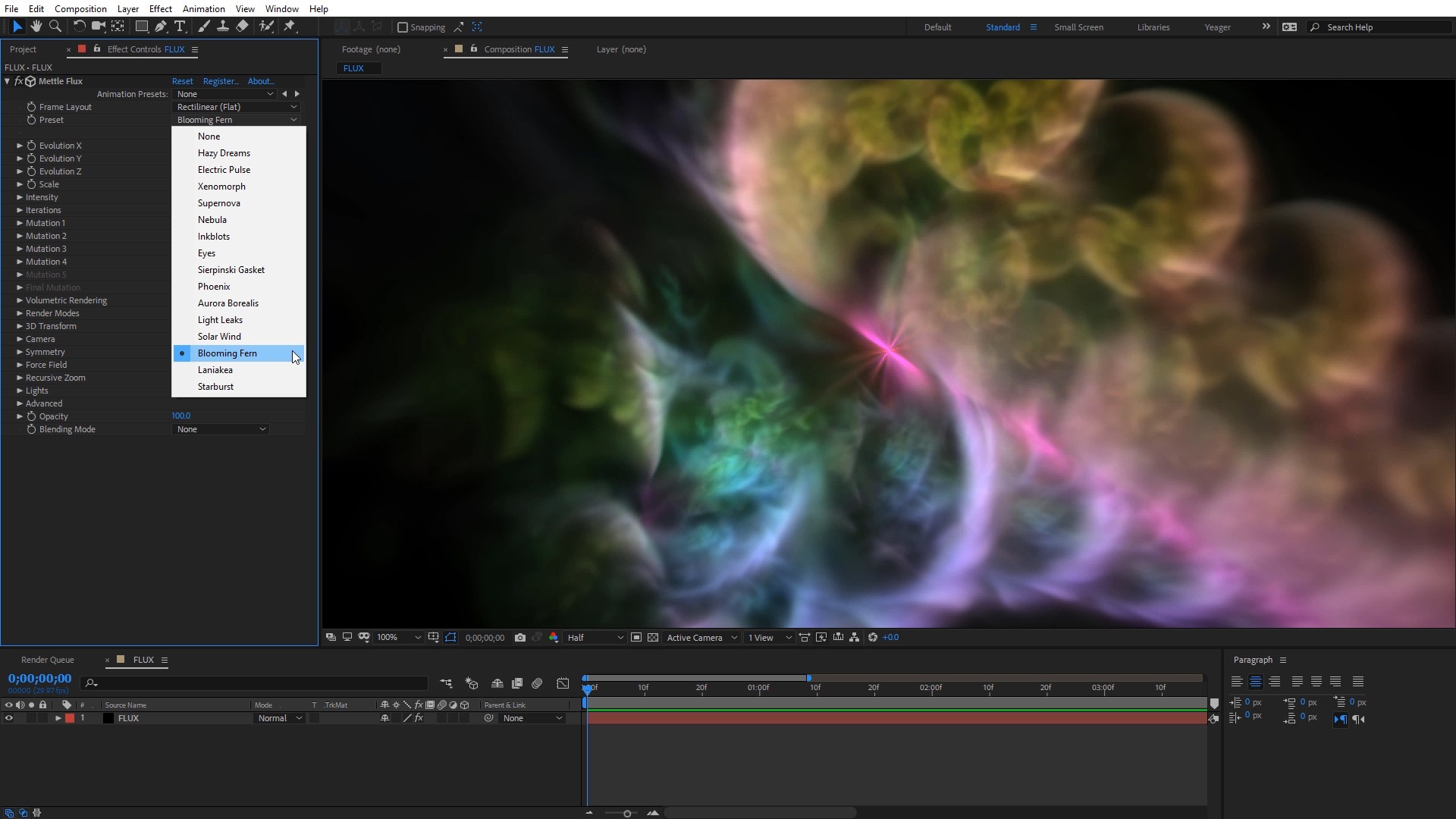 FLUX V1.10 includes more presets .
---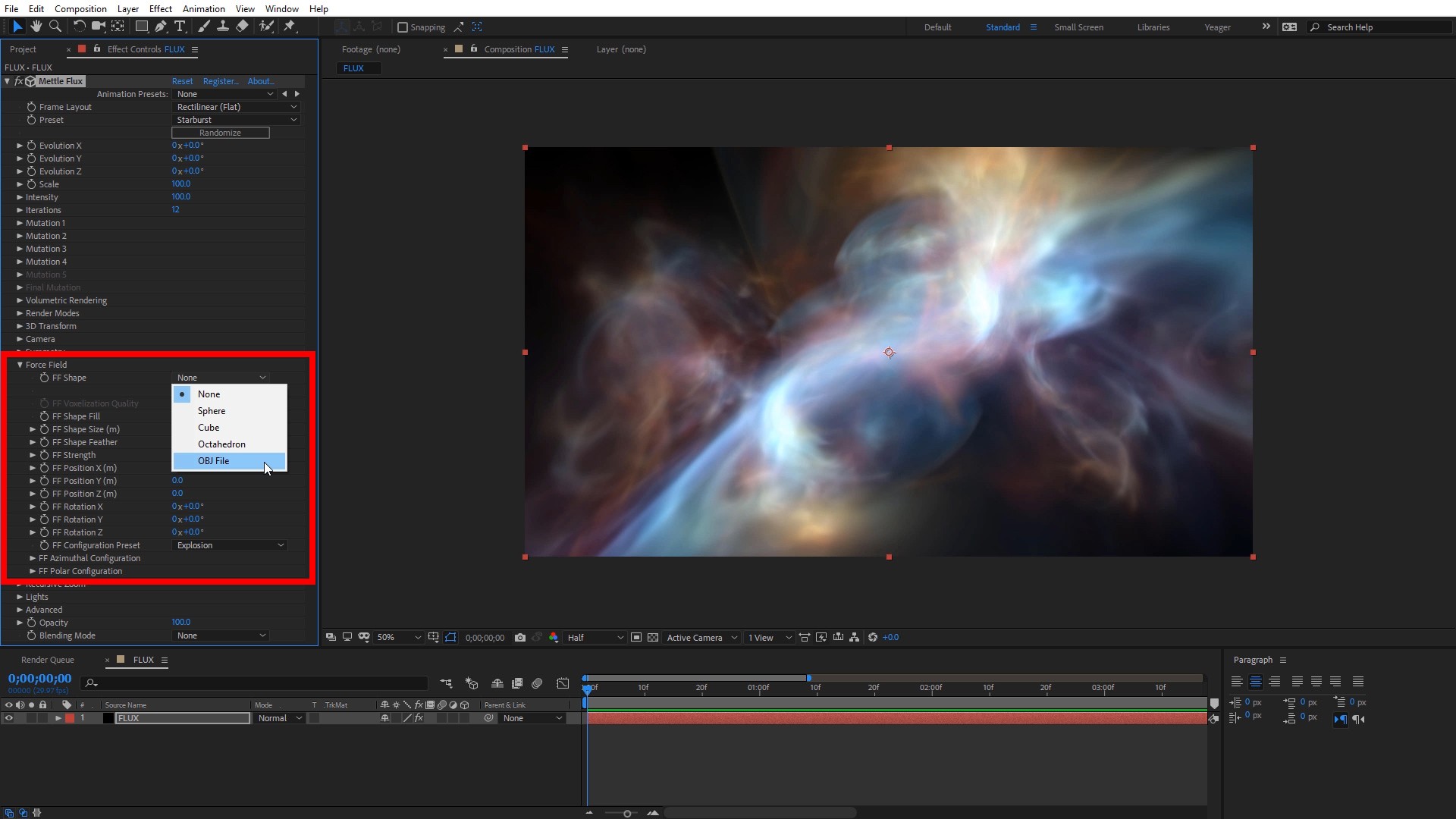 V1.10: Select OBJ file as Force Field shape
---

FLUX Preset Panel - Animation Presets with one click application
---
Ideal for atmospheric effects like Aurora Borealis.
---
---
Getting Started Tutorial
| | |
| --- | --- |
| After Effects | 2023, 2022, 2021, 2020, CC 2019, CC 2018, CC 2017, CC 2015.3, CC 2015, CC 2014, CC |
| Premiere | 2023, 2022, 2021, 2020, CC 2019, CC 2018, CC 2017, CC 2015.3, CC 2015, CC 2014, CC |
1.16.1 (Current version) - Nov 28, 2022
* Fix macOS installer signature
* No change on Windows
1.16 - Oct 31, 2022
* Added 2023 Compatibility
1.15 - Aug 16, 2022
* Native Apple Silicon support
* Bug fixes
1.14.2 - Dec 14, 2021
* Multi-frame rendering support
1.14. - Nov 2, 2021
* Added 2022 compatibility
1.14 - Mar 18, 2021
* Added 2021 compatibility
1.13 - Jun 9, 2020
* Force Field Superimpose feature
* Bug fixes

1.12 - May 27, 2020
* GPU Accelerated mode (both AE & Premiere)
* Fixed Radeon RDNA performance issues on macOS
* Fixed Flux Presets Panel initialization in CC 2020
1.11.1 - Dec 4, 2019
* Adobe 2020 compatibility
1.11 - Oct 22, 2018
* Adobe CC 2019 compatibility
1.10 - Oct 5, 2018
* More mutation variations - more interesting results
* Final mutation
* New presets: Blooming Fern, Laniakea, Starburst
* Randomize Mutations button
* Render Modes: Depth, Anaglyph, Equiluma, Cross Section
* Ability to select OBJ file as Force Field shape
* Rotation controls for Force Field
* Recursive Zoom
* Clipping planes
* Clipping by OBJ shape
1.0 - Jun 27, 2018
Initial Release