Credits Are Due
Compatibility After Effects

Please check exact version compatibility under the "COMPATIBILITY" tab below
Credits Are Due puts the "end" in "end credits."
Build fast, flexible credit scrolls in After Effects. Make changes easily. Get some sleep.
How it works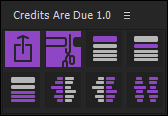 Setup: Simply create a scroll control, then add or categorize your elements. Credits Are Due takes care of the rest.
Make changes: Reorder whole sections, edit the type styling, add extra people, split them into multiple columns, and everything snaps into place automatically.
Throw in a few logos: Images and videos scroll just like text -- and in whole pixel increments, of course.
Hit exact timing: Change scroll speed, section spacing, scale and position on a global level and squeeze things to fit.
Work faster: Run the layer trimmer to crop layers so they're only in the timeline when they're actually on screen.
Note: This tool takes advantage of recent changes to expressions in AE, so it requires CC2015.
Features
Create six types of scroll element
Dynamic layout: reorder, restyle or reclassify existing elements and leave custom text formatting alone
Arbitrary multicolumn layouts: break things into as many columns as you need
Add images and footage as well as text
Scroll in whole-pixel increments
Change global scroll speed, position and element spacing
Speed up previews and rendering by auto-trimming layer duration to match on-screen visibility
Ctrl/Cmd-Click to select layers by type
Shift-Click to override existing text selections and create new elements

Endorsements
| | |
| --- | --- |
| After Effects | 2020, CC 2019, CC 2018, CC 2017, CC 2015.3, CC 2015 |
1.1 (Current version) - Jun 23, 2020
- Support for macOS Catalina
- Support for Floating Licenses
1.0 - Aug 19, 2015
Initial release