textsyncr
Compatibility After Effects

Please check exact version compatibility under the "COMPATIBILITY" tab below
The Monkey Scripts
Let a voice recording drive animations from any Monkey script (TextMonkey, LayerMonkey, MotionMonkey). Textsyncr creates layer markers to work seamlessly with the Monkeys. See this example.
Automatic Subtitles
Textsyncr comes with a captions featureset that can be used to create automatic subtitles based on the Layer Markers of any layer.
Label your Video
Conveniently label your video with the aligned transcription to never have to scrub again.
Key Features
Full-featured speech analysis (English only)
Aligns transcription to audio as Layer Markers
Generate and control automatic captions
Workflow
Import a spoken track and paste its transcription
Let textsyncr analyze and align the transcription
The layer markers can be used for different applications
Generate captions such as subtitles or lyrics with just a few clicks
Languages
The current version of the speech analysis engine only works with English language.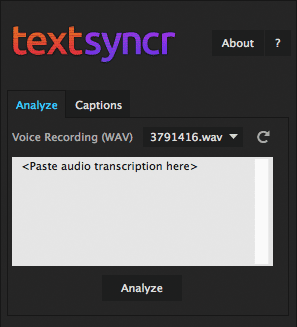 Need support? Check out the FAQs, write a comment, or open a support request!
| | |
| --- | --- |
| After Effects | 2023, 2022, 2021, 2020, CC 2019, CC 2018, CC 2017, CC 2015.3, CC 2015, CC 2014, CC, CS6, CS5.5, CS5 |
1.6 (Current version) - Oct 18, 2019
- Support for remote network users
- Improved special character handling
1.4 - Oct 5, 2019
macOS Catalina compatibility
1.3 - Jan 14, 2018
- Fixed bug forcing users to download assets manually on first launch
1.2 - Feb 9, 2016
- New feature: Control Segment Breaks via Line Breaks
1.1.1 - Dec 12, 2015
- Fixed bug that caused error when opening second project
- corrected installation instructions (Windows path)
1.1 - Dec 3, 2015
Fixed bug that led to wrong info when clicking 'Check for Updates'
1.0 - Jun 10, 2015
Initial Release