lipsyncr 2
Compatibility After Effects

Please check exact version compatibility under the "COMPATIBILITY" tab below

Speed
Time is money, so stop wasting it. Lipsyncr finishes tasks in a matter of seconds that would otherwise cost you dozens of hours. The longer you work with it, the more time it will save you. So let's better start now!

Control
Every project is different. That's why with lipsyncr you can control the level of detail of your animation and the amount of illustration effort. The workflow is so flexible that you can combine any number of audio tracks with different mouth compositions.

Usability
Don't worry about complex viseme mappings and workflows anymore. Lipsyncr features a clean interface that is integrated into the After Effects functionality you are used to work with. Not exactly a 'one-button solution', but as close as it gets!
Key Features
Full-featured English speech analysis
Combine any number of audio files and mouth compositions
Three different viseme mappings: 4 illustrations (low quality), 7 illustrations (medium quality), 10 illustrations (high quality)
Template viseme images including illustration guides
Workflow
Create a template composition with your desired viseme count and replace the templates with your own images
Import your spoken track and its transcription and let lipsyncr analyze it
Let lipsyncr animate the mouth composition to your desired spoken track!
Languages
The current version of the speech analysis engine only works with English language. For all the other languages, the script provides a manual mode. Check the video section on how to use Premiere Pro Speech Analysis instead!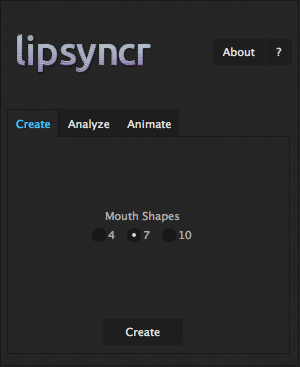 Need support? Check out the FAQs, write a comment, or open a support request!
Cinema 4D
Interested in using lipsyncr inside Cinema 4D? Have a look at the workflow tutorial in the 'Videos' section!
| | |
| --- | --- |
| After Effects | 2023, 2022, 2021, 2020, CC 2019, CC 2018, CC 2017, CC 2015.3, CC 2015, CC 2014, CC, CS6, CS5.5, CS5 |
2.7 (Current version) - Oct 18, 2019
- Support for remote network users
- Improved special character handling
2.5 - Oct 5, 2019
macOS Catalina compatibility
2.4 - Feb 3, 2018
- Fixed bug causing UI error and download-loop
2.3 - Jan 14, 2018
- Fixed bug forcing users to download assets manually on first launch
2.2.3 - Dec 12, 2015
- Fixed bug that caused error when opening second project
- corrected installation instructions (Windows path)
2.2.2 - May 19, 2015
- Fixed bug 'Unable to call "keyTime"' when last marker without duration parameter
2.2.1 - May 7, 2015
- Fixed bug caused by special characters in paths
2.2 - May 4, 2015
- Usability and wording improvements
- Analysis timeout
2.1 - Apr 21, 2015
- Introduced manual mode
- improved silence detection
2.0 - Apr 14, 2015
Initial release