Transcriptive Rough Cutter
Compatibility Premiere

Please check exact version compatibility under the "COMPATIBILITY" tab below
Transcriptive Rough Cutter
Creating transcript-based rough-cuts in Premiere Pro and online is now easier than ever. Transcriptive Rough Cutter for Premiere, the PowerSearch metadata search engine and Transcriptive Web App are designed to harness text-based video editing. Their integration with Premiere Pro and each other allows Adobe users to create collaborative, transcript-based rough cuts in Premiere Pro and quickly share transcripts online. By using either the Rough Cut or Selects workflow, Transcriptive Rough Cutter provides two powerful ways of creating transcript-based rough cuts in Premiere.
Transcribe Everything! Easily Search Footage & Create Captions
Transcriptive uses artificial intelligence and natural language processing to transcribe footage. This makes all that footage searchable and makes it easy to create captions or paper edits. It'll help automate and accelerate your video workflow!
Transcript-based video editing in Premiere Pro
Create rough cuts by editing text and share your work with other editors.
Transcriptive Rough Cutter for Premiere Pro is the next evolution of text-based video editing. Transcribe or sync an existing transcript, strikethrough the text you want to remove from the clip, automatically assemble the rough-cut and collaborate with your team without leaving Premiere.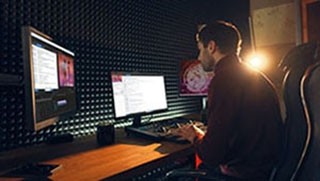 Create rough cuts by editing text
Edit a transcript in Transcription for Premiere Pro panel and the panel will quickly create a text-based sequence. The edits in the video will match the edits in the transcript, showing an instant rough cut. Video editors can also set in and out points on transcripts, insert selected soundbites into a timeline and quickly auto-generate a new transcript based on the edits.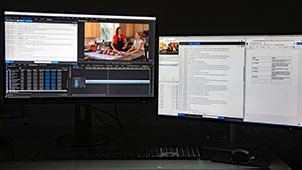 Transcribe or Sync existing transcripts
Sync text documents to your footage or use Transcriptive AI to create new transcripts. Both are great ways of incorporating text-based editing into your workflow! Every word will have a timecode so you can easily jump to the exact time a sound bite was said. Users can choose to batch transcribe or batch align to process multiple clips at once.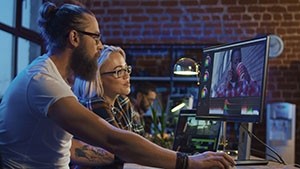 Share your work with teammates and client
Share your work with other Premiere users or take advantage of Transcriptive.com to collaborate with teammates and clients working outside of the Adobe app. Receive new transcriptions and edits made online without leaving Premiere Pro, take advantage of the Comment and Strikethrough features to share notes, and assemble collaborative rough cuts in no time.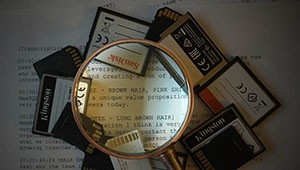 Search all content in your project
Search all transcripts, clips and markers in your Premiere Pro project to find content much faster. Our PowerSearch panel is free for Transcriptive for Premiere Pro users and works like Google for your project. There is no extra cost to scour your entire project for keywords if you own a Transcriptive for Premiere Pro license. Use the same serial number to activate PowerSearch and streamline your video editing.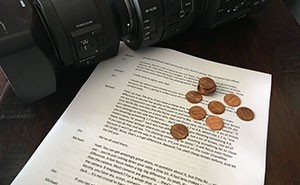 98% AI accuracy for Pennies
Our AI transcription technology makes it possible to transcribe footage for less. Purchase prepaid minutes to reduce costs from $0.08/min to $0.04/min and pay $2.40 to convert 1 hour of video into text without leaving Premiere Pro.
Prepaid minutes packages are available in bulk for $150 (62.5 hours in transcription) or $500 (208 hours in transcription). Users can also choose to pay as you go with a credit card for $0.08/min.
Search Capability
The most powerful component of transcribing is searchability. Transcriptive 2.0 users have free access to our PowerSearch panel, which adds the option to search not only for transcribed content but also clips, sequences, markers or anything else you have in Premiere.
PowerSearch works like Google for your Premiere project. If there's text somewhere in your Premiere project, PowerSearch will find it!
Transcribe a clip or a sequence
Whether you choose to use Clip Mode or Sequence Mode, Transcriptive will turn your audio into text in a quarter of the real-time footage. This means a 60 min video or audio will take about 15 minutes to appear as text in your Transcriptive window.
Every word on your transcripts will have a timecode so you can jump straight to where the content was said in your footage. Clip mode allows you to edit video through text by setting in/out point on your transcript and inserting them directly into your timeline. Learn more here!
Sync an existing transcript
Already have a transcript or a script? Transcriptive has the ability to sync it up to your audio, adding timecode to every word.
English transcripts can be synced for free and without an internet connection with our Offline Alignment option. Transcripts in other languages will require an internet connection and cost $0.04/min.
Export formats for Captions and subtitles
Creating captions is a common and important use of Transcriptive. Easily do this all within Premiere; or any other captioning program. Transcriptive exports file formats such as: SRT, STL, VTT, or SMPTE-TT (xml). As an added bonus, having subtitles help YouTube videos get better rankings on Google!
Built-in text editor
We all know AI is not perfect. Although Transcriptive offers up to 97% accuracy rate, the precision of your transcripts will vary according to your audio quality, background noise, and speakers' ability to talk clearly. Correct any mistake you find with our built-in text editor! It's quick and easy to use because it works just like a Word processor.
Fully integrated with Premiere Pro
What makes Transcriptive so powerful is that everything works from a Premiere panel. This makes it easy to communicate with other parts of Premiere and use all of Premiere's tools. There's no extra application, you don't have to pass around XML files to get the transcript into Premiere… Everything lives in Premiere.
Transcriptive is like all Digital Anarchy plugins: Powerful but simple to use. We know you're busy and don't have a ton of time to spend reading manuals. Plugins should make your life easier! That said, sometimes it helps to watch a tutorial or check the manual for more info. You can also always open a support request for more help.
Upgrade Notice
Transcriptive Rough Cutter is a FREE upgrade from Transcriptive 2. Simply download the new version from the 'My Downloads & Licenses' section in your user account.
You can upgrade from Transcriptive v1 for $89. To get the upgrade pricing simply login to the same account. If you need any assistance open a support request for more help.
System Requirements
Transcriptive is compatible with Adobe Premiere Pro CC 2015.3 [or newer], and supported by both Windows and Mac Operating Systems.
| | |
| --- | --- |
| Premiere | 2022, 2021, 2020, CC 2019, CC 2018, CC 2017, CC 2015.3 |
3.x (Current version) - Jul 30, 2021
- his NEW version of our transcription and video search plugin for Adobe Premiere Pro CC will work with Premiere Pro 2018 and above. You'll need to create a Transcriptive account to use Transcriptive.
2.0 - Nov 7, 2019
- Multiple transcription options
- Clip Mode
- Editing video with text
- Syncing Transcripts to Footage
- New Text Editor
- PowerSearch Bundled Free