LayerMonkey
Compatibility After Effects

Please check exact version compatibility under the "COMPATIBILITY" tab below

LayerMonkey is a versatile script for After Effects that arranges and animates your comp's layers in time and space. It also creates a parented camera and generates a master control layer that makes timing and global adjustments a piece of cake. Now stills, videos and pre-comps can be used as kinetic elements in a complex monkey-generated composition with a simple push of a button.
Key features
Creates randomized complex kinetic layouts using layers in your comp based on parameters entered into the control panel.
Features 3 different algorithms with a Justify option.
Works with stills, video, pre-comps, shapes, solids, text, eps and pretty much any other type of layer AE accepts.
Multiple controls for handling time-based layers.
Variable layer order options.
Keyframe-less timeline makes changes to timing as simple as sliding a marker.
Creates a parented camera that points to each successive layer as it transitions on.
Distributes markers across the timeline in 3 different ways.
Exludes non- image based layers in comp such as nulls, cameras, audio and adjustments.
Manual adjustments are easily made to size, position, rotation and opacity.
Features a wide range of type transitions randomly selected by default, but can be specified as well.
Marker Sync feature allows for push button alignment with preexisting marker layers, making syncing to music a breeze.
Allows for different interpolation for camera movement, auto rotate and auto frame.
Automatically builds and cleans to facilitate easy experimentation.
Palette controls makes colorizing layers very easy.
Kuler color palettes are now easily imported.
Supports motion blur, lock & shy, and preset Load and Save.
Free: Includes MonkeyTools- an ongoing collection of utilities specifically written to enhance the functionality of the Monkey Suite. Includes: UnShy Selected Layers, UnShy Text/Image Layers, UnShy Control Layers, Reset View, Invert Locks, Unlock All, Lock All, Scene Maker, Remove Duplicate Markers (to clean up Premiere-generated marker layers, Lock Childern & Lock Parents) (You find MonkeyTools in the same place as your main Monkey download)
*Note to users interested in syncing text to audio as demonstrated in several tuts, the Content Analyse feature is no longer supported by Premeire Pro. We recommend using
Textsyncr
, a great script here on aescript.com
About Monkey Products:
The Monkey products are designed with both the novice and professional in mind. They can save hours, or even days of work by helping to automate the creation of motion graphics. In a world of shrinking budgets and tight deadlines, Monkey products are an indispensable part of any designers toolkit.
Whats the difference between Monkeys?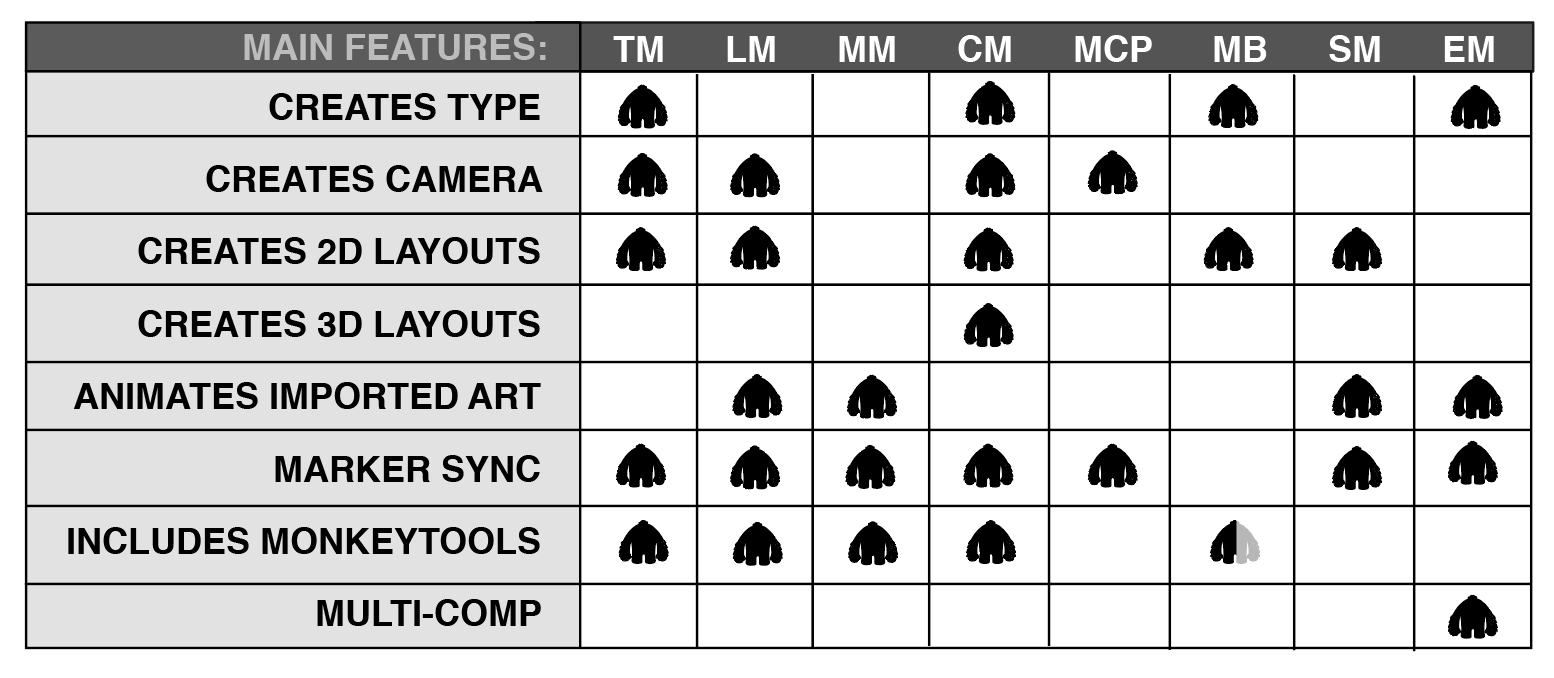 ShapeMonkey
is a procedural shape layer animator.
Designed for easy experimentation and quick iterations.
CircusMonkey
creates and animates type. It specializes in complex 3D text layouts using 7 different algorithms that can be adjusted via effects controls after the build.
TypeMonkey also specializes in animated type. It has a unique algorithm that simulates a "2D staircase" design that is popular in kinetic typography.
LayerMonkey uses the same layout algorithm as TypeMonkey, but it works with any type of layer - video, pre-comps, graphics, whatever. However, it won't generate text like CircusMonkey or TypeMonkey. Text has to be prepared manually in Illustrator, Photoshop.
MotionMonkey is a whole other animal. It has a much more complex and versatile animation system then the others, but it doesn't create a layout, text or generate an animated camera like the others. It's ideal for layered artwork where the layout has already been designed.
MonkeyCam Pro
Is a more powerful version of the camera thats included in most of the others. Its a standalone product but can also be used in conjuntion with any of the other monkeys.
MonkeyBars
specializes in creating text box animations, the kind used in viral videos, info graphics, lower third supers, and subtitles. Great if you do high volume work.
EditMonkey

i
s a Swiss Army Knife - it can create and sequence dozens of tcomplex ext, video ro graphic animations with a single click.
Big News!

The Monkey Suite is now available for trial or rent by the hour on StratusCore, a platform that gives you instant access digital content creation tools & software in the cloud. Learn more at stratuscore.com *

Use of software requires an active Adobe Creative Cloud subscription for AE.
| | |
| --- | --- |
| After Effects | 2020, CC 2019, CC 2018, CC 2017, CC 2015.3, CC 2015, CC 2014, CC, CS6, CS5.5 |
LayerMonkey
1.10 (Current version) - Nov 1, 2019
updated licensing framework
1.09 - Aug 31, 2019
updated to support macOS 10.15 Catalina
1.08 - Nov 5, 2018
Correct error in trial version logic
1.07 - Oct 15, 2018
Update expressions for AE's new JavaScript engine.
Update licensing framework.
1.06 - Mar 24, 2016
Add new serialization code.
Fix randomization issue with newer versions of AE.
1.05 - Mar 18, 2015
Fixed problem with 3D source files.
1.04 - Aug 18, 2014
Fixed scaling bug for layers with non-square pixels
1.03 - Apr 20, 2014
Added Kuler file support.
Allow processing of null layers.
Eliminated potential crash scenarios.
MonkeyTools
1.02 (Current version) - Aug 13, 2014
Added Move Multiple Markers tool.
1.01 - Apr 10, 2014
Added support for MotionMonkey
Renamed "Utility" tab "Pre-Build"
Added Lock Children function
Added Lock Parents function