MonkeyWords
Compatibility After Effects

Please check exact version compatibility under the "COMPATIBILITY" tab below

MonkeyWords is the fastest and easiest way to create animated typography. It was developed to take advantage of the power and flexibility of After Effects' native text animators. It's capable of generating multiple complex kinetic text animations instantly using random or customizable setups.
MonkeyWords differs from our other tools in its ability to produce animations with unique layout options and a dual animation system with a keyword-focused design. Ideal for quotes, callouts, lower thirds, credit rolls, corporate, advertising, broadcast, viral, lyric videos, and anything else that needs impactful motion typography. Great for all levels of expertise.
Need animated text? Let the Monkey do it!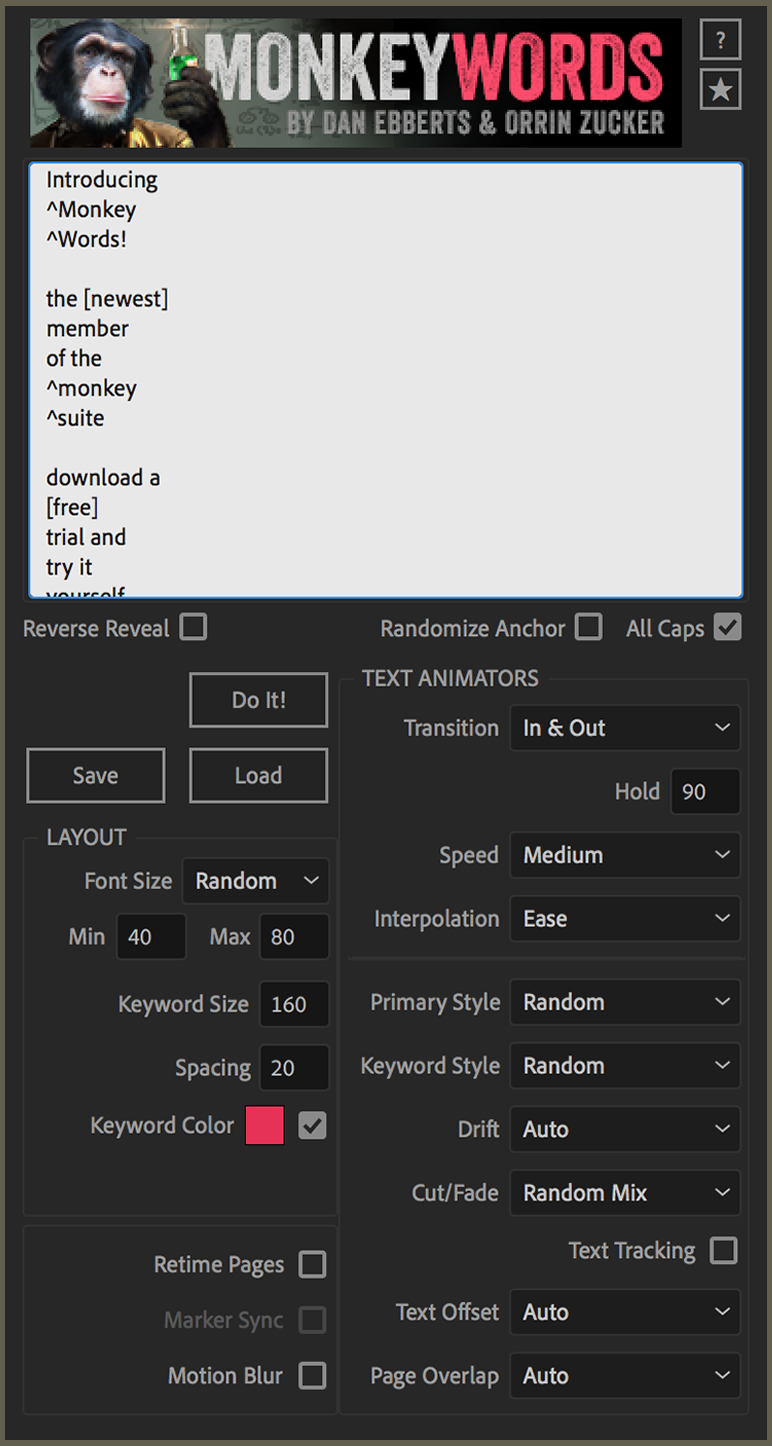 FEATURES:
- Generate, animate & sequence text with one click
- User-friendly interface
- Automatic or custom modes
- Separate keyword animator
- Endless combinations
- Easy adjustment after the build via effects controls
- Marker Sync for automated retiming to audio
- Drift feature keeps text moving between transitions
- Pages compatible with MonkeyCam Pro
- Check the FAQ for references and tips
About Monkey Scripts: Monkey Scripts are practical production tools designed with both the novice and professional in mind. They can save hours, or even days of work by helping automate the creation of motion graphics.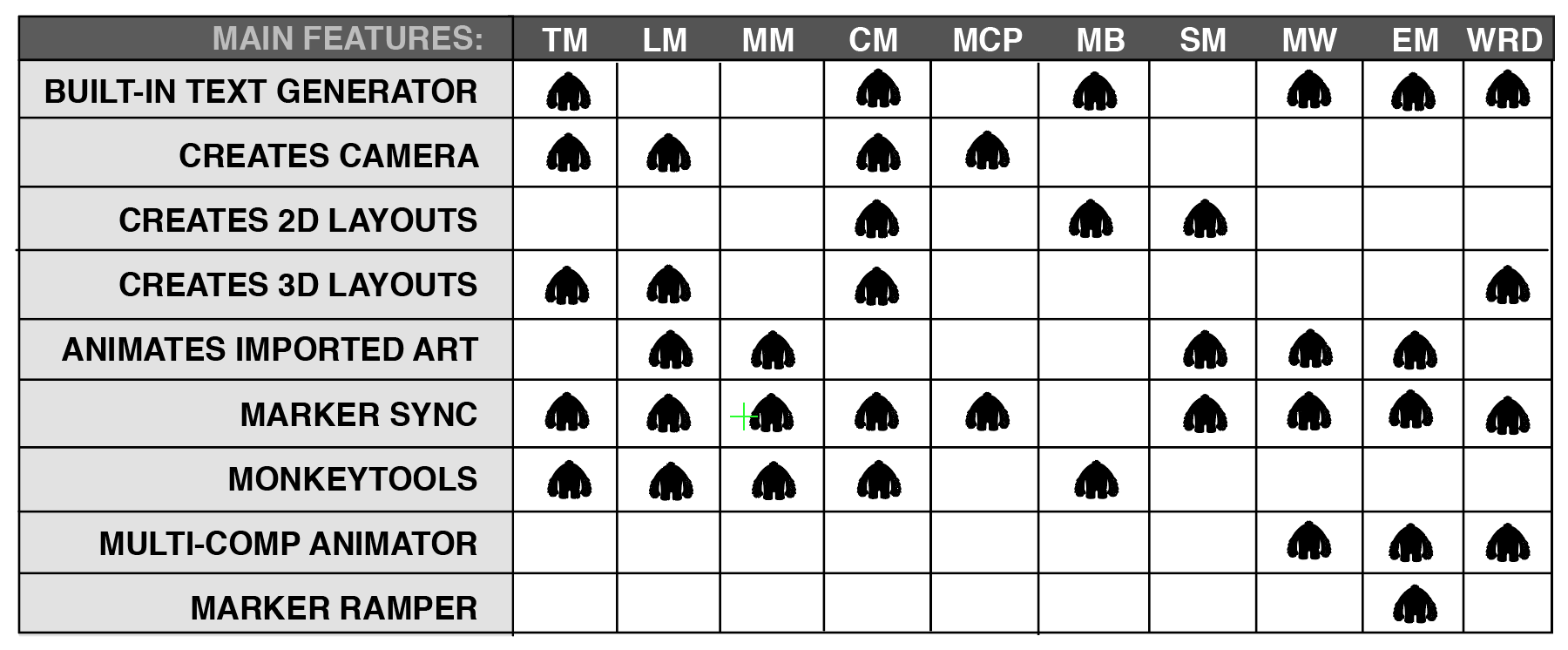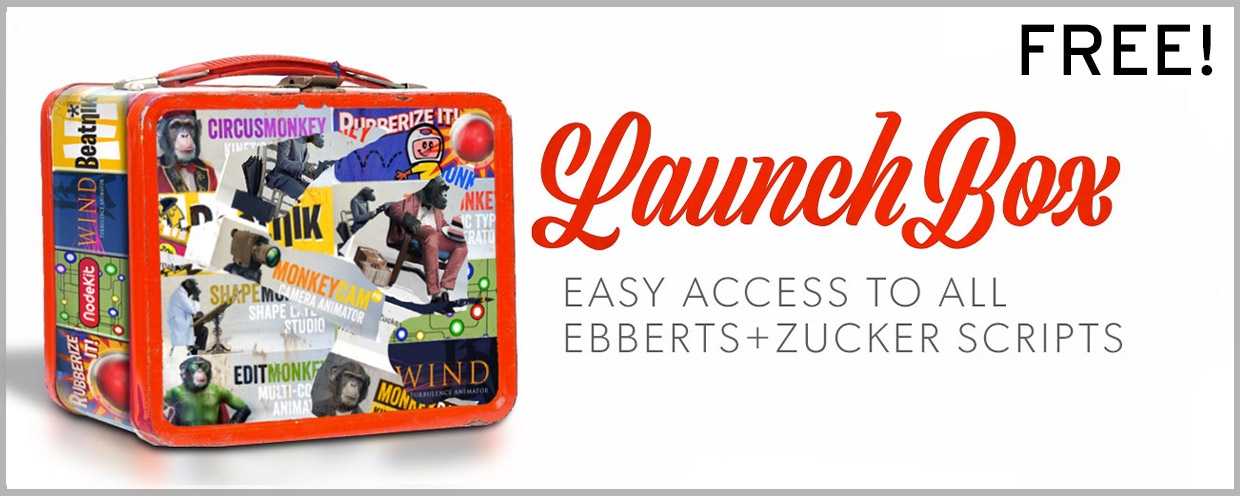 | | |
| --- | --- |
| After Effects | 2023, 2022, 2021, 2020, CC 2019, CC 2018, CC 2017 |
1.08 (Current version) - Feb 8, 2023
fix bug in tracking expression +
update licensing framework
1.07 - Oct 21, 2022
update licensing framework
1.06 - Aug 18, 2022
update licensing framework
1.05 - Apr 21, 2022
allow negative line spacing
1.04 - Jan 23, 2022
update licensing framework.
1.03 - May 16, 2021
Fix errors in comp duration and overlap timing.
1.02 - May 5, 2021
Fix obscure bug in anchor adjustment expression.
1.01 - Apr 25, 2021
Fix problem with effect controls when Retime Pages selected.
1.00 - Apr 12, 2021
Initial Release