Newton 2
Compatibility After Effects

Please check exact version compatibility under the "COMPATIBILITY" tab below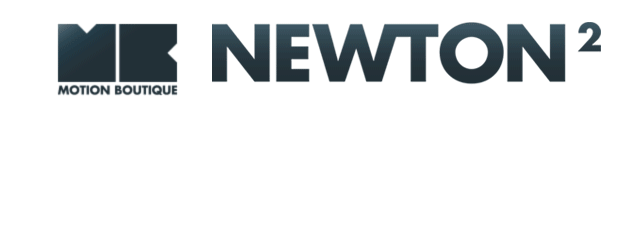 Newton interprets 2D composition layers as rigid bodies interacting in a real environment. Newton provides many simulation controllers such as body properties (type, density, friction, bounciness, velocity, etc), global properties (gravity, solver), and allows the creation of joints between bodies. Once simulation is completed, animation is recreated in After Effects with standard keyframes.

Newton 2 review by 3D World
Main Features
2D layers in AE become rigid bodies in Newton
Supports masks, text and shape layers
Handles collision, friction, bounciness, gravity and much more
6 types of body (static, dynamic, kinematic, AEmatic, dormant and dead)

4 types of joints (distance, pivot, piston and spring)
that allow you to connect bodies to each other with specific constraints
Provides clean, efficient and easy to use interface
Fast preview, fast export to keyframes
Comprehensive user's guide with illustrative animations for almost every property
New Features

| | |
| --- | --- |
| After Effects | CC 2018, CC 2017, CC 2015.3, CC 2015, CC 2014, CC, CS6 |
Newton
2.2.13 (Current version) - Jun 8, 2017
EULA update
2.2.12 - May 11, 2017
Bugfixes
--------
New in 2.2.12:
fixed a bug in the Windows installer.
2.2.11 - Dec 6, 2016
Bugfixes
--------
New in 2.2.11:
Fixed a bug with circular shapes. Some transformations, including scale, were incorrectly interpreted.
2.2 - Oct 13, 2016
Bugfixes
--------
- Fixed conflict with some Mocha-related extra plug-ins
- Fixed numerous bugs with shape layers (including anchor point issues,
incorrect interpretation of rotated shape)
- Fixed bug with layers having 0%-scale at t=0
- Fixed bug with Desired Length property of spring joint

Changes
-------
- Completely rewritten shape layers code (shape transform properties are
now correctly interpreted)
- Adjusted GUI appearance to better match latest AE versions
- Updated internal GUI library (from Qt4.8 to Qt5.6)
- Tabbed docks/panels can now be moved by group (when multiple docks are
nested)
- UI Theme option removed (in prefs dialog)
- Added new preference for Comp Bounds color
- Added warning message when the scene contains a lot of polygons (> 2000),
that suggests to use the Use Convex Hull option
- Replaced all dashed lines in the preview with solid lines (selected bodies
and joints, gravity tool)
- Added an informative message above the preview to inform the user when
Newton is loading settings
- Updated documentation
- Added CC 2015, CC 2015.3 compatibility

- Dropped support for AE CS5 and AE CS5.5
- System requirements: mostly the same as the system requirements for AE CS6.
CS6 being the oldest supported version. On Mac: OSX 10.7 and later. On
Windows: Windows 7 and later
- Added a Windows installer for installing the plug-in and all required components
2.1.22 - Nov 5, 2014
Fixed a bug with undo/redo
2.1 - Nov 2, 2014
Changes
-------
- CC 2014 compatibility
- Added an option in Load Settings dialog that allows you to choose between layerID (AE internal identifier, comp specific),
layer index or layer name, when importing settings file. In previous versions only layerID was used, so a settings file was
tied to the comp used when saving the settings.
- Added Randomizer dialog that allows you to randomize the value of a property for every selected body or joint
- Added Copy/Paste Body Settings and Copy/Paste Joint Settings commands in the Edit menu and context menu
- Added an option in the General prefs to specify whether the (body) color must be ignored when pasting body settings
- Added an option in the General prefs to specify which body identification method must be used by Newton when it auto-loads
last scene settings (in previous versions only LayerID was used)
- Context menu commands are now enabled/disabled according to the current selection (in previous versions they were always
enabled)
- File path of the last loaded settings becomes the default path when loading settings
- File path of the last saved settings becomes the default path when saving settings
- UI sliders moved with the mouse step of 0.005 instead of 0.001
- Auxiliary dialogs (prefs, randomizer, keyboard shortcuts) have now a window frame
- Load/Save settings dialogs have been customized to better fit Newton's appearance
- Updated documentation

Bugfixes
--------
- Launching Newton with the Effect Controls panel opened (or similar panels) was sometimes causing a crash
- Motion path of AEmatic and kinematic bodies were sometimes incorrect
- Delaunay triangulation (used when creating multiple distance joints at once) was sometimes yielding a crash
- After resetting transform of two bodies connected by a pivot joint, joint anchor was staying at the same position
- Fixed bugs in Undo/Redo system
- Fixed "flashing" bug when moving bodies in the scene on Mac OS X
Newton 2 Sample Projects
2.2 (Current version) - Oct 12, 2016
Updated for v2.2
2.1 - Nov 2, 2014
Updated for v2.1
2.0 - Feb 21, 2013
Initial release