Connect Layers PRO
Compatibility After Effects

Please check exact version compatibility under the "COMPATIBILITY" tab below
Connect your layers with
dynamic

lines

Create lines that are dynamically linked to the layers using powerful path expressions. No keyframes at all!

Create rope, spanning tree and triangulation with a
single click !

Then customize the look of your lines on the fly using the powerful features of our plug-in interface !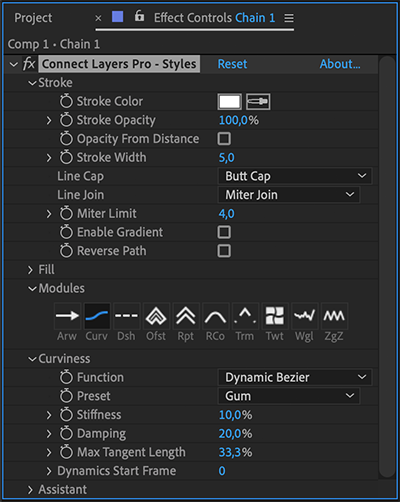 Curviness
Customize the curviness of your lines !
Connect Layers PRO offers a
wide variety of styles of curviness
: steps, arc, bezier, Penner easing curves, and dynamics.

Arrowheads
Square, circle, triangle, or
add your own arrowhead !
When you trim your connection, the arrowheads
follow the ends of the line
.

Dynamics
Choose one of the 3 powerful curviness features to
add a natural feeling to the motion of your lines
.
Presets included !

Colors & Gradients
Stroke and fill colors support both solid and gradient colors.

Trim, Dash, Offset...
Repeater, Round Corners, Twist, Wiggle, Zig Zag. They're all here !
The power of shape layers, minus the headache
.
Connect Layers PRO is based on the powerful After Effects shape layers system, but you can control the settings directly from the plug-in interface.

3D World
Last but not least, Connect Layers PRO also
works with 3D layers
.

A Great Companion for Newton 3
Use the power of
Newton 3
to make stunning animations: create realistic ropes, soft objects and much more !

Connect Layers PRO curviness presets map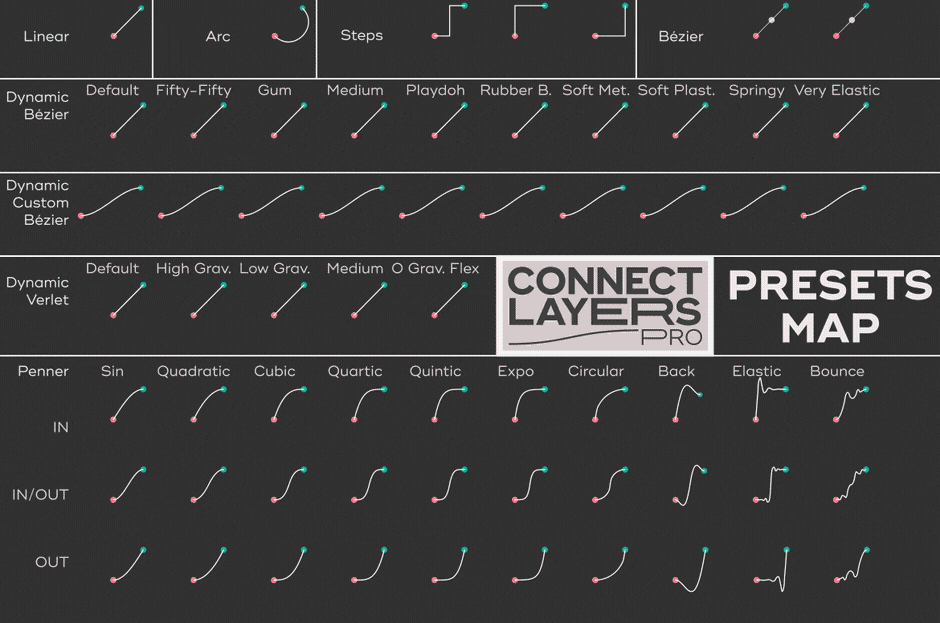 Quick Start
Try it for Free !
The 7 days trial version is fully functional, but the number of supported layers is limited to 3 and the Add to Existing Connection option is disabled.
Note on Compatibility
Connect Layers PRO uses the path expressions introduced in AE CC 2018. Therefore, the plug-in
requires AE CC 2018 or later
.
AE CC 2019 has introduced a new expression engine called "Javascript", which is generally faster than the old "Legacy ExtendScript". Since the plug-in makes intensive usage of expressions, we recommend you to use AE CC 2019 (or later). In the File->Project Settings dialog, click the Expressions tab, and change the Expressions Engine option to "Javascript". Please note that projects saved in previous versions of After Effects default to Legacy ExtendScript.
Upgrade Notice
If you previously purchased the old "Name Your Own Price" version of Connect Layers you can apply 20% of what you paid as a discount towards this version. For example, if you paid $20 then you will get a $4 discount. Simply login to the same account and the discount will be automatically applied. If you have questions or need assistance
please open a support request
| | |
| --- | --- |
| After Effects | 2023, 2022, 2021, 2020, CC 2019, CC 2018 |
1.3.4 (Current version) - Oct 19, 2022
- fixed a bug (introduced in the previous version) in the Dynamic Verlet option
1.3.3 - Oct 17, 2022
- added an option that allows you to flip the direction of the Step connection
- updated aescripts licensing framework
1.3.2 - Mar 17, 2022
- updated licensing framework to the latest version
1.3.1 - Feb 7, 2022
- added support to Apple Silicon architecture
- updated licensing framework
1.3 - Nov 3, 2021
Changes: AE 2022 compatibility.
1.2 - Apr 9, 2021
- replaced ui icons with text when those icons failed to be loaded properly
- updated the licensing framework with the latest version so the tool is compatible with AE Beta and the next public release of AE
1.1 - Nov 13, 2019
- Updated licensing framework
- Notarized the plug-in to satisfy macOS Catalina (10.15) requirements
1.0 - Jun 18, 2019
Initial release