MotionMonkey
Compatibility After Effects

Please check exact version compatibility under the "COMPATIBILITY" tab below

Big News! The Monkey Suite is now available for trial or rent by the hour on StratusCore, a platform that gives you instant access digital content creation tools & software in the cloud. Learn more at stratuscore.com *Use of software requires an active Adobe Creative Cloud subscription for AE.
"MotionMonkey is a thing of beauty. I am in awe." - Brian Maffitt
"It should be built in to the next version of AE" - Gary Bird / Motion Designer
"MotionMonkey...really blew me away" - Carey Dissmore
"It's a really easy way to...come up with some really engaging animation" - Alicia van Heulen / Toolfarm
Digital Production Buzz Podcast: NAB 2014 (Excerpts)
Key features
Creates a wide range of animations of your layered design based on parameters entered into the control panel.
Random or custom settings create animated variations from mild to wild.
Works with most layers including text, stills, video, pre-comps, solids, shapes, .ai, .psd, nulls and parented layers.
Motion Mixer option adds additional variation and complexity to animations.
Multiple interpolations, speeds and intensities allow for a wide range of moods, from subtle to energetic.
Kuler color palettes are easily imported.
Free: Includes MonkeyTools - an ongoing collection of utilities specifically written to enhance the functionality of the Monkey Suite. Includes: UnShy Selected Layers, UnShy Text/Image Layers, UnShy Control Layers, Reset View, Invert Locks, Unlock All, Lock All, Scene Maker, Remove Duplicate Markers (to clean up Premiere-generated marker layers, Lock Childern & Lock Parents (You find MonkeyTools in the same place as your main Monkey download)
About Monkey Scripts:
The Monkey Scripts are designed with both the novice and professional in mind. They can save hours, or even days of work by helping to automate the creation of motion graphics. In a world of shrinking budgets and tight deadlines, Monkey Scripts are an indispensable part of any designers toolkit.
Whats the difference between the Monkeys?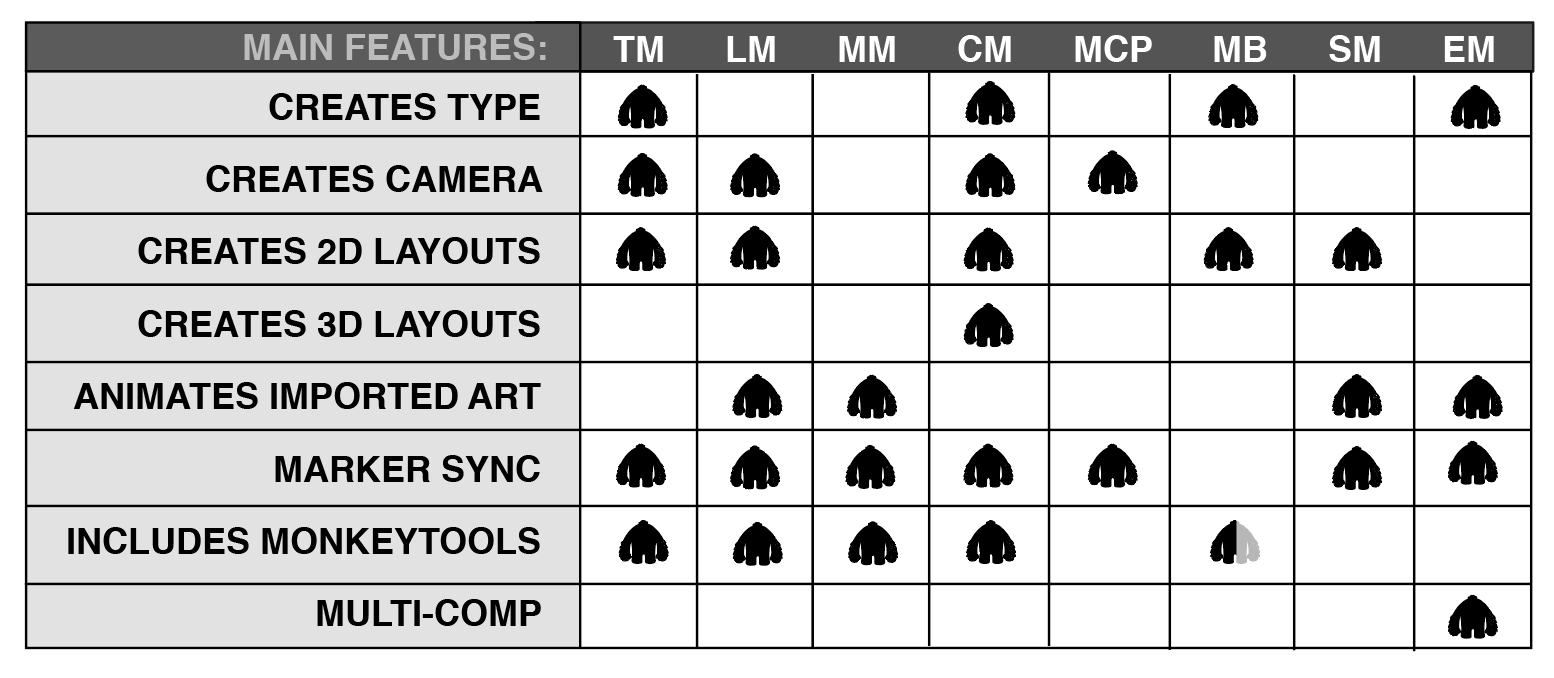 ShapeMonkey
is a procedural shape layer animator.
Designed for easy experimentation and quick iterations.
CircusMonkey
creates and animates type. It specializes in complex 3D text layouts using 7 different algorithms that can be adjusted via effects controls after the build.
TypeMonkey also specializes in animated type. It has a unique algorithm that simulates a "2D staircase" design that is popular in kinetic typography.
LayerMonkey uses the same layout algorithm as TypeMonkey, but it works with any type of layer - video, pre-comps, graphics, whatever. However, it won't generate text like CircusMonkey or TypeMonkey. Text has to be prepared manually in Illustrator, Photoshop.
MotionMonkey is a whole other animal. It has a much more complex and versatile animation system then the others, but it doesn't create a layout, text or generate an animated camera like the others. It's ideal for layered artwork where the layout has already been designed.
| | |
| --- | --- |
| After Effects | CC 2019, CC 2018, CC 2017, CC 2015.3, CC 2015, CC 2014, CC, CS6, CS5.5 |
MonkeyTools
1.02 (Current version) - Aug 15, 2014
Added Move Multiple Markers tool.
1.0 - Initial release - Apr 7, 2014
MotionMonkey
1.03 (Current version) - Aug 31, 2019
updated to support macOS 10.15 Catalina
1.02 - Oct 15, 2018
Update expressions for AE's new JavaScript engine.
Update licensing framework.
1.01 - Mar 27, 2016
Add new serialization code.
Fix randomization issue with newer versions of AE.
1.00 - Apr 2, 2014
Initial release
1.0 - Initial release - Apr 7, 2014