CircusMonkey
Compatibility After Effects

Please check exact version compatibility under the "COMPATIBILITY" tab below

"I love the ability to have more control over the animation after running the script with the effect controls.. brilliant!" Ian Robinson
"CircusMonkey is another well-thought-out tool that promises to be really useful. I can't wait to put it into production." Brian Maffitt
"...a very efficient way to create complex title sequences and promo graphics inside After Effects" Eran Stern
"...this opens up a lot of 3D doors, not only for text, but even using this as a placeholder for other elements! " - Charles Marshall
Welcome to the Circus!
CircusMonkey is a follow up to the original TypeMonkey, our first kinetic type generator. While both generate kinetic typography, they go about it differently and the results are unique.

CircusMonkey's Text Rigs are at the core of a system that allows you to create a series of basic 3D shapes with your text. It has multiple animation options, an automatically generated camera that moves from one word to the next, and marker-based timing controls that make adjustments a breeze.

An additional set of live, effects-based controls allows you to adjust the layout, animation, camera angle, and visibility of the kinetic rig after the initial build.

As with all our Monkey scripts, it's designed for a wide range of users, from beginners to experts.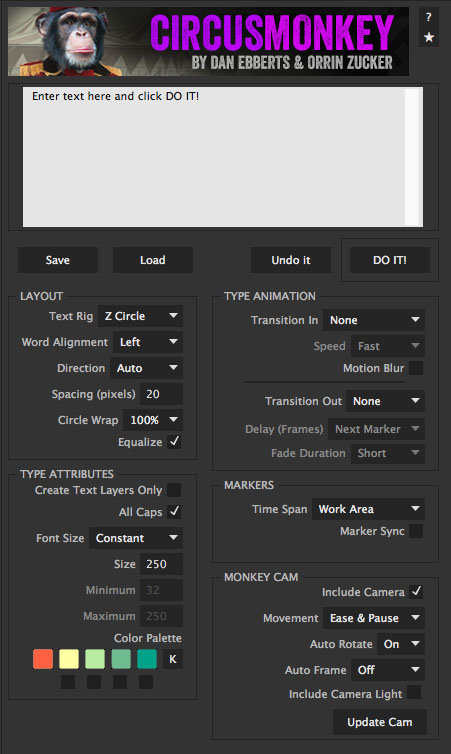 Includes:
-7 Flexible Text Rigs
-Multiple Alignments
-Kuler Palette Import
-Multiple Transition In and Out options
-Markers dynamically linked to text and camera with no keyframes
-Marker sync feature helps make automatic VO and music sync a breeze
-Timing changes as simple as sliding a marker
-New camera algorithm allows for breakthrough dynamics
-Effects control for additional post-build adjustments
-Visibility Controls to help separate words in Z space
-Free MonkeyTools to help build and manage project
Check out the CircusMonkey Tips & Tricks
.
About Monkey Scripts: Monkey Scripts are practical production tools designed with both the novice and professional in mind. They can save hours, or even days of work by helping automate the creation of motion graphics.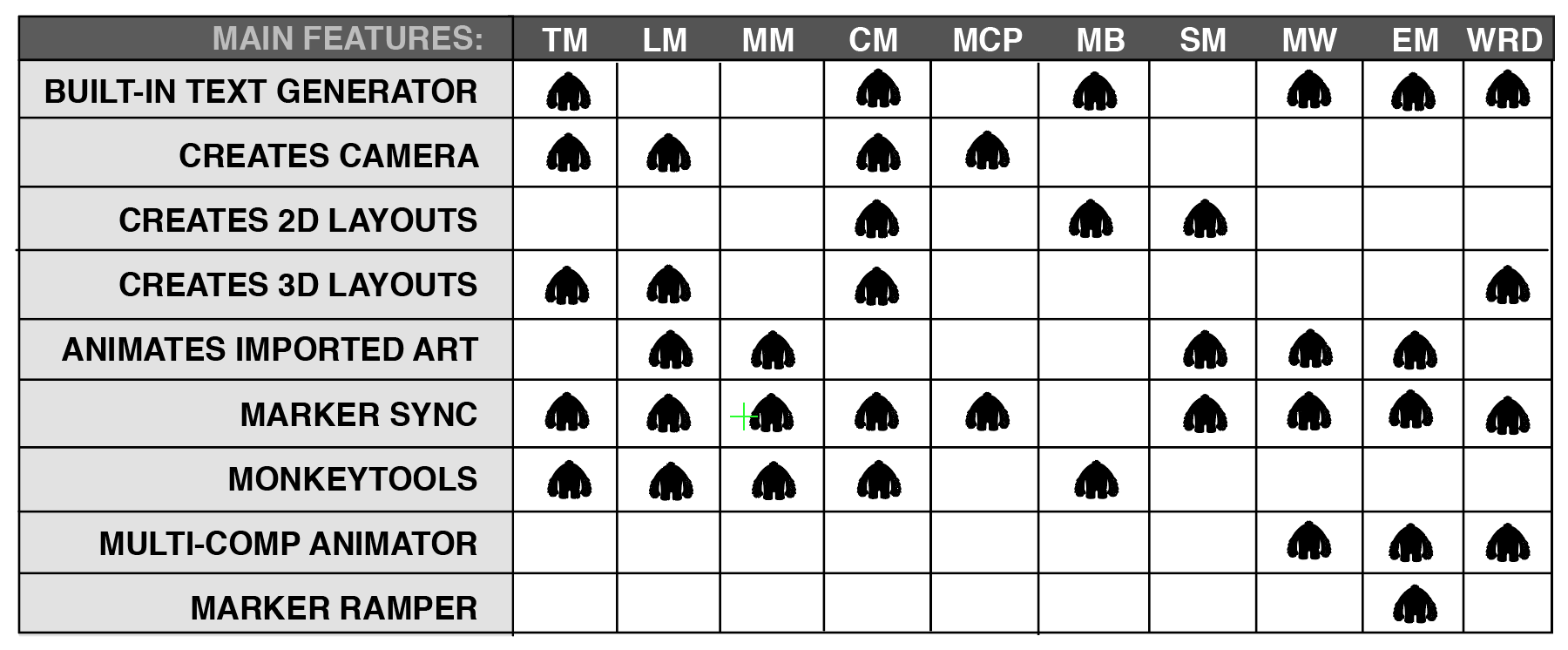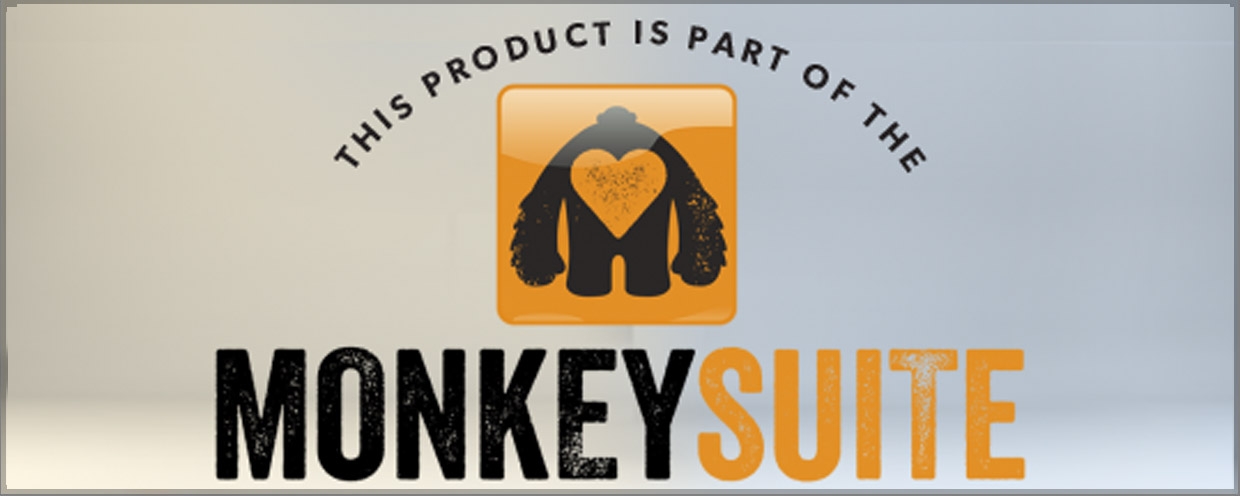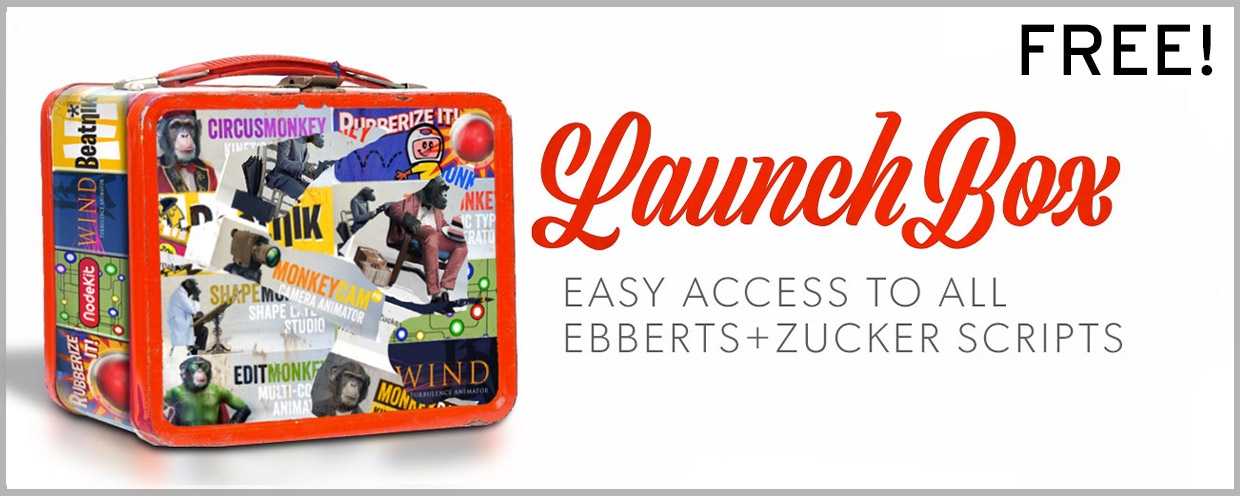 | | |
| --- | --- |
| After Effects | 2023, 2022, 2021, 2020, CC 2019, CC 2018, CC 2017, CC 2015.3, CC 2015, CC 2014 |
CircusMonkey
1.10 (Current version) - Oct 21, 2022
update licensing framework
1.09 - Aug 18, 2022
update licensing framework
1.08 - Apr 27, 2022
update licensing framework
1.07 - Jan 23, 2022
update licensing framework
1.06 - Feb 2, 2021
updated expressions for compatibility with JavaScript expression engine
1.05 - Nov 1, 2019
updated licensing framework
1.04 - Aug 31, 2019
updated to support macOS 10.15 Catalina
1.03 - Oct 15, 2018
Fix issue with handling text with umlaut characters.
Update expressions for AE's new JavaScript engine.
Update licensing framework.
1.02 - May 12, 2017
Fix bug with overlapping words on cuts.
1.01 - Dec 26, 2015
Extend compatibility back to AE CS 5.5
1.00 - Nov 23, 2015
Initial release.
MonkeyTools
1.03 (Current version) - Nov 21, 2015
Update to include CircusMonkey