Fixel Contrastica 2 PR
Compatibility Premiere

Please check exact version compatibility under the "COMPATIBILITY" tab below
Overview
Fixel Contrastica 2 PR is a Global and Local Contrast Enhancement filter.
Fixel Contrastica 2 PR is a plugin that features a novel algorithm to enhance and boost local & global contrast in video frames and images.
Fixel Contrastica allows you to control & create the perfect contrast between your pixels.
Contrastica enables you to control the contrast all over the tonal range (Shadows & Highlights), reveal hidden details and create overwhelming total look.
Details, Clarity and Global Contrast done right!
Fixel Contrastica 2 PR is Multi CPU accelerated and compatible with Adobe Premiere Pro CS6, CC, CC 2014 & CC 2015 64 Bit on Windows and OS X.
Features
Optimized Resolution Local Contrast Presets
The user is given a set of presets for Local Contrast, Though experimenting with values is encouraged.
Full Control All Over The Tonal Range
Set you priority, either enhance contrast mainly in Highlights / Shadows or a balanced result.
No Clipping
Even in the most extreme global contrast value Highlights / Shadows won't be clipped.
Unique Color Contrast Effect
The novel global contrast algorithm when applied on the color channels yields unique saturated colors.
Preserve Saturation Mode
The filter will affect the Luminosity channel only. No color shifting.
HDR Like Effect
Using the highest resolution preset with high global contrast value results in pseudo HDR effect.
Intuitive & User Friendly
Full integration with Adobe Premiere Pro including the ability to use scripts to automate workflows.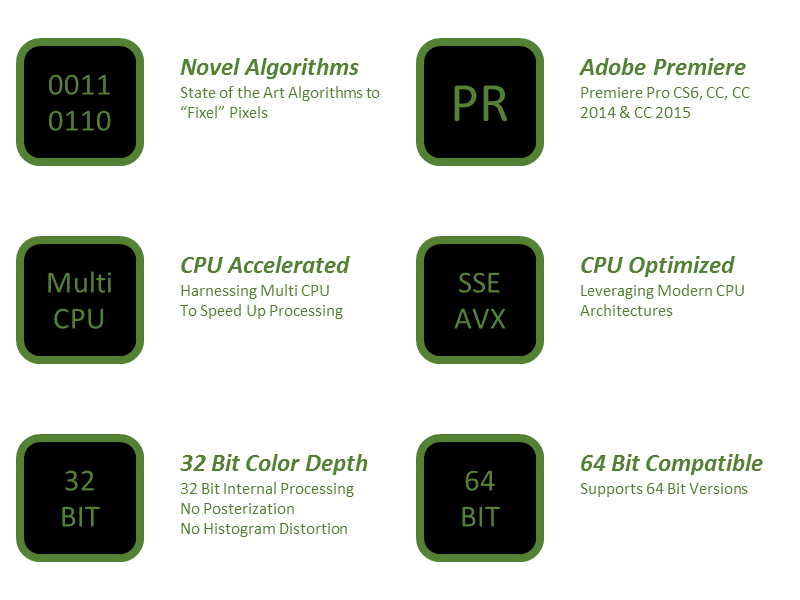 Fixel Contrastica 2 PR Resources
System Requirements
Operating System

Windows Vista, Windows 7, Windows 8, Windows 8.1, Windows 10.
64 Bit Only.
OS X 10.7, OS X 10.8, OS X 10.9, OS X 10.10, OS X 10.11.

Host Program

Adobe Premiere Pro CS6 (64 Bit).
Adobe Premiere Pro CC (64 Bit).
Adobe Premiere Pro CC 2014 (64 Bit).
Adobe Premiere Pro CC 2015 (64 Bit).

Hardware

Intel or Compatible with SSE 4.1 Support.
At Least 2 GB System Memory.
Installation, Usage and Support
Reviews
Bloggers, Youtube Channels Authors, Vimeo Channels Author and Media People, for reviewing the product, please contact us.
Credit
Some Photos on this page are credit of Martina.
Fixel Contrastica 2 Bundle
The Fixel Contrastica 2 product family is composed of 3 products, Fixel Contrastica 2 AE, Fixel Contrastica 2 PS and Fixel Contrastica 2 PR.
Purchasing any plug in of the family entitles for 25% on any other product from the family.
This applies for any current or previous owner and for any combination (Namely for any you currently have you get 25% for any or both the others).
Upgrade Policy
Fixel Algorithms products versions are as following: <MajorVersion>.<MinorVersion>.<BuildNumber>.
Aescripts owners are entitled to free minor version and build number upgrades.
Aescripts owners of previous version are entitled to 50% discount for purchase of a new major version of the product.
If you purchased it on our old site simply create a new account using the same email address.
If you have any questions please contact support.
| | |
| --- | --- |
| Premiere | CC 2015, CC 2014, CC, CS6 |
2.0.002 (Current version) - Sep 8, 2015
* First release version.