ClearPlus
Compatibility After Effects

Please check exact version compatibility under the "COMPATIBILITY" tab below

Compatibility Premiere

Please check exact version compatibility under the "COMPATIBILITY" tab below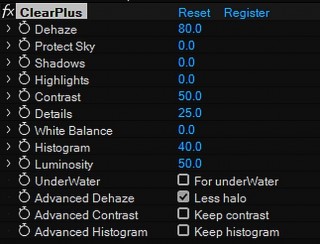 ClearPlus is a powerful plugin designed to enhance footage including hazy, underwater and low light videos, and it is also ideal for sky enhancement. Make the colors pop in an effortless and flexible way.
Shadows/highlights allows you to adjust the different parts of the image while preserving a natural look.The shadows slider, along with the dehaze slider, can recover the dark areas and keep the overall image clear. Especially for low light images, even when captured on a hazy/foggy night. Moreover, the histogram slider can further boost image contrast while preserving overall balance using the advanced histogram equalization algorithm.
Use it for underwater color correction, the dehaze slider along with white balance lets you obtain a natural and clear image without effort.
ClearPlus plugin is GPU accelerated for Adobe After Effects and Adobe Premiere Pro.
| | |
| --- | --- |
| After Effects | 2022, 2021, 2020, CC 2019, CC 2018, CC 2017 |
| Premiere | 2022, 2021, 2020, CC 2019, CC 2018, CC 2017 |
2.2 (Current version) - Dec 13, 2021
-Support for Multi-Frame Rendering
-Support for Apple M1 Silicon
-Add details slider
2.1 - Jun 23, 2020
Upgrade license libs
2.0 - Feb 25, 2020
Add advanced dehaze mode with less halo effects
Add advanced contrast and histogram modes to eliminate flickering
1.2.1 - Jan 11, 2020
Updated AE SDK
Fixed loading issues for MacOS 10.15.2
1.2 - Nov 26, 2019
Support for macOS 10.15 Catalina
1.1 - Sep 26, 2019
Fixed an issue of the color artifacts on preview
Fixed a crash related with licence lib in Mac OS.
1.0 - Sep 18, 2019
Initial Release