ContrastUp
Compatibility After Effects

Please check exact version compatibility under the "COMPATIBILITY" tab below

Compatibility Premiere

Please check exact version compatibility under the "COMPATIBILITY" tab below

Compatibility Nuke

Please check exact version compatibility under the "COMPATIBILITY" tab below
ContrastUp plugin provides the sophisticated algorithms to enhance contrast and improve image quality for video frames and images. With it, the users can adjust the local and global contrast enchancement with the easy and flexible way.
And Shadows/MidTones/highlights allows the users to adjust the different parts (darkest, midtone and brightest) of the image while preserving a natural look, and without flicking artifacts.
Moreover, ContrastUp plugin is GPU accelerated for Adobe After Effects, Adobe Premiere and OFX hosts, with real time performance.
ContrastUp Controls: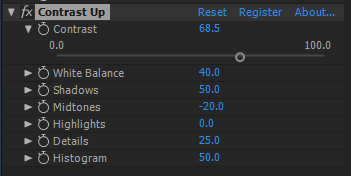 Before and After:
| | |
| --- | --- |
| After Effects | CC 2019, CC 2018, CC 2017, CC 2015.3, CC 2015, CC 2014 |
| Premiere | CC 2019, CC 2018, CC 2017, CC 2015.3, CC 2015, CC 2014 |
| Nuke/NukeX | 11.0, 10.0 |
1.2.1 (Current version) - May 22, 2019
Fix the a bug for 16 bit processing
1.2 - May 18, 2019
v1.2
Fix the ContrastUp not loading problem
1.1 - May 17, 2019
v1.2
Fix the ContrastUp not loading problem
1.0 - Apr 16, 2019
Initial Release
1.0 - Apr 16, 2019
Initial Release
1.0 - Apr 16, 2019
Initial Release