Marker Remap
Compatibility After Effects

Please check exact version compatibility under the "COMPATIBILITY" tab below
NOTICE: Version 1.2 is now available! If you've already used Marker Remap on a project, this is fully backwards compatible. v1.2 is a huge update, adding loads more functionality to the COPY/PASTE/DELETE buttons. You can now selectively cut, paste, or delete markers and marker ranges using dynamically populated dialogue boxes. Even if you're not in the habit of time remapping, Marker Remap is indispensable in quickly moving large marker sets around and between layers. See updated Additional Helper Functions below.

With the release of After Effects CC 2019 (16.0), Marker Remap is getting some competition in the form of the new built in Responsive Design feature. See how it stacks up below!
Marker Remap lets you retime compositions using split layer markers in two easy steps!
First, add timeline markers, split around key actions in the composition you'd like to retime.
Once placed into a parent comp and selected, simply click ENABLE RETIMING and... that's it!
Adjust, delete, rearrange or retime correspondingly-named layer markers.
Here's what a Marker Remap setup looks like: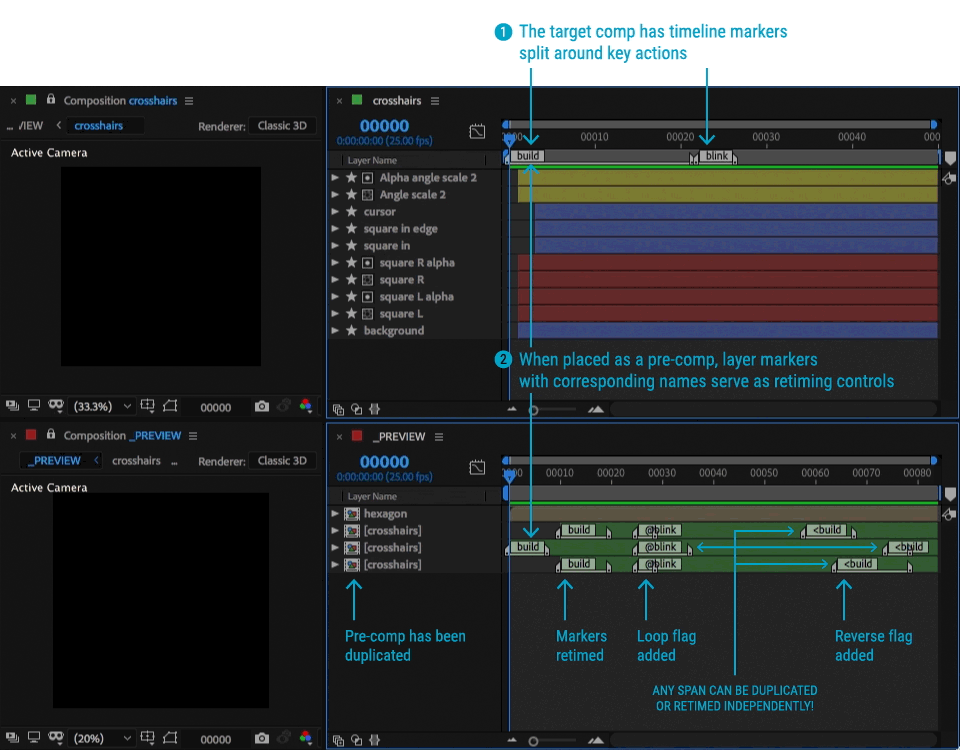 It's two tools in one: Time Remapper and Marker Manager
Extract all or some comp markers
Copy and paste entire marker sets across layers and comps
Shift markers for easy timing edits
Cut, paste or delete select markers or entire marker ranges to other parts of a layer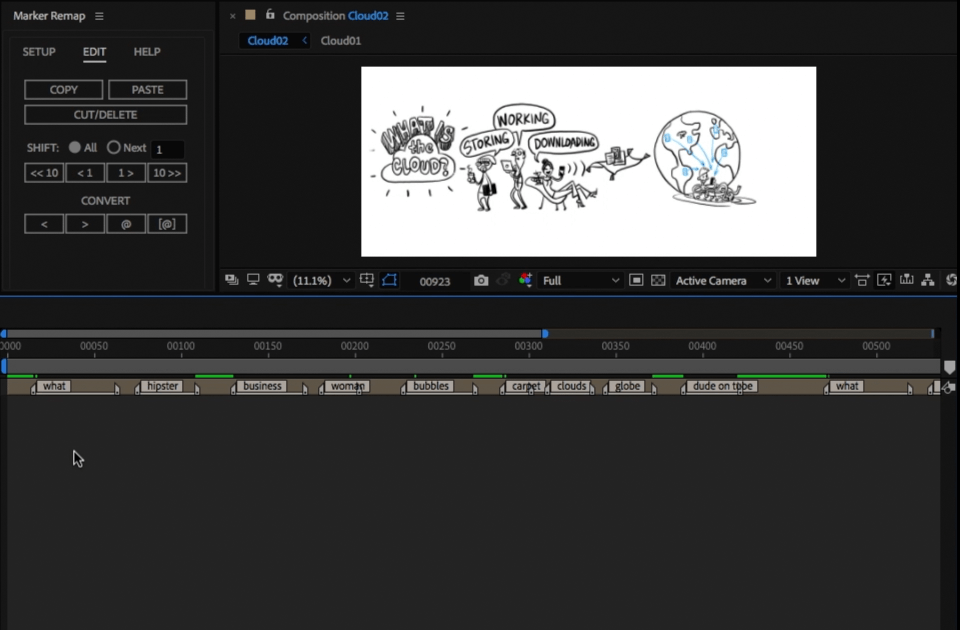 Marker Remap will change the way you work:
Reuse pre-comps at entirely different timings
Easily frame-hold pre-comp segments
Trigger pre-comp sequences in any order
Add flags to marker names to time reverse or loop marker segments
Retime complex sequences that would take hours to retime manually
or that are confusing to keep track of with native time remapping keyframes
or time stretching workflows
School of Motion
"Marker Remap is a very clever tool from aescripts + aeplugins that lets you retime your animations using markers. It's actually much cooler than it sounds, promise :) - hat tip to DJ K-Leb"

INSTALLATION:
Place "Marker Remap.jsxbin" inside AfterEffects/Scripts/ScriptUI Panels
Place "AddMarker.jsxbin" inside AfterEffects/Scripts/ (Advanced, not required)
Restart After Effects
Open the panel under Windows > Marker Remap
USAGE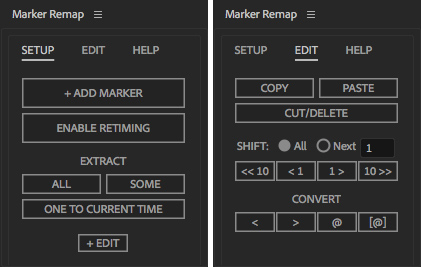 Marker Remap has a lot going on under the hood, but is very easy to use and is very stable. You can use AE's built in tools for adding markers, but using the Marker Remap Panel makes adding markers easy and controllable.

Click the + EDIT button to switch between a compact, tabbed UI and a single panel UI.
STEP 1: Add markers to the timeline of a comp, split around key actions.
To add timeline makers, make sure nothing is selected, and click + ADD MARKER

As a rule, if nothing is selected, buttons will act on the comp's timeline. If a layer is selected, buttons will act on that layer.
To add layer markers on pre-comps, select a pre-comp and click + ADD MARKER
Enter a name. If there are no other flags, a marker with a duration of 1 second will be added.
FLAGS:
scene:

If a colon is added after a name, a marker that spans the entire layer or comp duration will be added.

scene:23

If a colon and a number are added after a name, a marker that spans that duration in frames will be added.

ADVANCED: To speed up marker additions, set a keyboard shortcut for + ADD MARKER
Place the "AddMarker.jsxbin" file into the AfterEffects/Scripts/ folder.
Go to Edit > Keyboard Shortcuts
In the bottom left panel, Twirl the selector down to:
Applications > File > Scripts, and set "Add Marker" to a shortcut of your choice (i.e. "F4")
STEP 2: Place that comp inside of another comp. Select it and click "ENABLE RETIMING"
Time Remapping gets enabled and code is added to the expression field.
STEP 3: Adjust pre-comp's layer markers to retime segments
Simply drag the markers' in and out points and you're done! Those segments have been retimed.
Additional helper functions
Repeat as many marker segments as you'd like using the + ADD MARKER or EXTRACT buttons. Use the EDIT, SHIFT and CONVERT functions to manipulate pre-comp markers as needed.
EXTRACT: Generates a dialogue box with all the markers found in the selected pre-comp. Extract all or some at the original locations and durations, or extract just one at the current timecode.
COPY / PASTE / CUT / DELETE: Acts on the markers of the selected layer. If nothing is selected, acts on the timeline.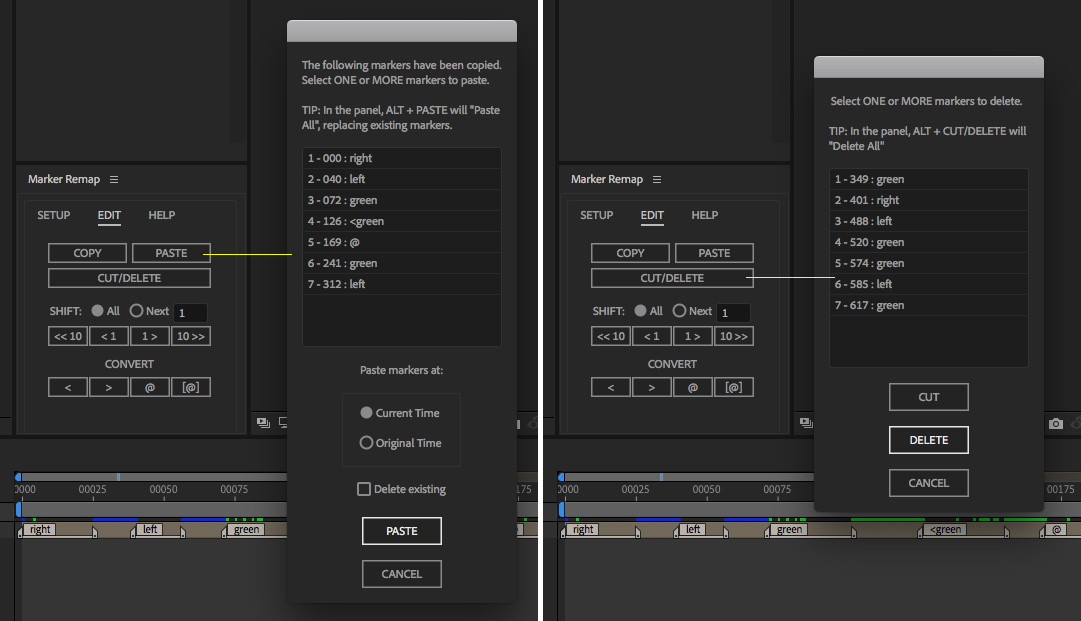 COPY: Copies the entire marker range of either the layer or timeline
PASTE: Invokes a dialogue box with a list of markers that have been copied to Marker Remap's clipboard. Select one or more markers to paste. Select weather to paste at the current playhead time or at the time indicated by the copied markers. Select whether or not to replace all existing markers using the checkbox.
CUT / DELETE: Invokes a dialogue box with a list of markers found on the layer or timeline. Select one or more markers to either Cut or Delete. Cut markers can be pasted. Deleting removes markers but does not clear out any existing Marker Remap clipboard.

ALT + clicking either the PASTE or CUT/DELETE buttons will skip the dialogue window and automatically PASTE ALL or DELETE ALL to the appropriate layer or timeline.
SHIFT: Shift all or a specified number of markers left or right. Acts on markers on or after the current time. If no layer is selected, timeline markers are targeted.
CONVERT: After selecting a layer, automatically renames the marker found at the current time to one of four states:
Time-reversed: Adds a '<' to the beginning of a marker name
Normal: Removes all flags from the marker and plays forward
Looped: Adds a '@' to the beginning of a marker
Looped segment: Replaces the name with only an "@"

TRIAL LIMITATIONS
7 day trial
Copy/Paste/Delete/Shift functions disabled (see tutorial videos for functionality)
FAQ
Will Marker Remap functionality still work if my file is opened on a system that doesn't have Marker Remap installed?
Yes! All expressions will remain in layers that have had ENABLE RETIMING enabled. The Marker Remap panel is there to speed up the setup process. But after that, everything's set.
Why is my layer not remapping according to the split layer markers?
This could be due to one of several reasons:
You haven't clicked
on the layer in question
Your pre-comp doesn't have corresponding timeline markers. Go into that comp and set them on the timeline.
You have a new version of Marker Remap but an older version of the retiming code on your layer. Simply select the layer, and click
again. The latest code will be applied. (Starting in v1.1, the Time Remapping expression code will state what version of code is applied to that layer. Always make sure that the version of the expression code matches the version number of your Marker Remap installation.)
Another script or plug-in is also trying to control Time Remapping for that layer. In this case, you may not be able to use Marker Remap for that particular layer.
Does Marker Remap work in tandem with the new Responsive Design feature in AE CC 2019? How does it compare?
Marker Remap will not break with compositions that have markers with "Protected Regions" enabled. AE's Responsive Design doesn't interfere with Time Remapping since it uses the Time Stretch feature to stretch and protect the timing of nested pre-comps. That being said, it's counterintuitive to use both since they are accomplishing similar ends and will get in the way of each other. As of this moment, there are some limitations to Responsive Design that Marker Remap solves:
When managing a pre-comp in a parent comp, you can't move or retime layer markers that have been set as a Protected Region (they lose their handles). By default, Marker Remap protects marker spans simply by being able to set them to durations equivalent to their counterparts inside the pre-comp (and they remain re-timeable!)
When managing a pre-comp in a parent comp, Protected Regions can't be modified with powerful flags that change their behavior (loop, reverse, ping-pong [coming soon])
When managing a pre-comp in a parent comp, Protected Regions can't be repeated as you can using Marker Remap
Responsive Design did not bring an amazing marker management panel like Marker Remap!
...so we're still claiming a victory on this round... ha! Thanks for supporting!
What features are in the works?
Ping-pong mode (already done in v1.3 coming soon)
Ability to set a duration when extracting "One to Current Time" (already done in v1.3 coming soon)
Ability to swap a marker name from a list populated by that pre-comp's existing timeline markers (already done in v1.3 coming soon)
Colorize Marker Remap markers (Waiting for Adobe to provide access to this on the backend. As of right now it can only be done manually through the interface.)
Flags to automatically apply marker in and out effects (easing, fading, ...?)
And we're eager to hear what you think Marker Remap needs for your workflow!
Credit where credit is due...
The core concepts of Marker Remap come from Joe Clay's excellent iteration of Dan Ebbert's excellent implementation of marker-based remapping. Go check them out if you're into the nitty gritty of it all! Marker Remap adds setup automation, flags, time-reversing, loops and marker management to the mix in a way that makes this method easy to access and manage when you need it. I hope you find it as helpful as I have!
FEEDBACK
Please leave reviews in the comments section, and
please let me know
features you'd like to see in the next version!
| | |
| --- | --- |
| After Effects | CC 2019, CC 2018, CC 2017 |
1.2 (Current version) - Oct 18, 2018
This is a big update! Revamped how "Paste" and "Delete" functions behave:
• "PASTE" now brings up a dialogue with markers currently in the clipboard. Using the dialogue, selectively paste markers at original times or at the current time
• "CUT/DELETE" now brings up a dialogue with markers currently found on the layer/timeline. Using the dialogue, selectively CUT to clipboard or DELETE markers
• ALT+PASTE executes a "Paste All" and ALT+CUT/DELETE executes a "Deletes All" without showing a dialogue
• Various UI label updates for clarity
• Various code enhancements
• Updates to the product page instructions

This now allows for lots of powerful marker management across layers and comps. Enjoy!

NOTE: There is no need to update Time Remap expression codes already applied between v1.1 and v1.2

If you have a moment, please leave positive feedback in the comments section of aescripts.com/marker-remap! It helps!
1.1 - Oct 10, 2018
- Added controls for compact vs. single panel UI

- Added functionality for converting marker segments to various states (without having to manually change the names using the native Edit Marker dialogue box)

- Added the "Loop Segment" state
1.0 - Oct 5, 2018
Initial Release