ShotList Creator for DaVinci Resolve
Compatibility Davinci Resolve

Please check exact version compatibility under the "COMPATIBILITY" tab below
Please note that ShotList Creator has been tested on:
macOS Ventura 13.2.1 with DaVinci Resolve Studio 18.5 beta

Windows 10, 11 Pro with DaVinci Resolve Studio 18.1.4
EXPORT MARKERS TO EXCEL WITH THUMBNAILS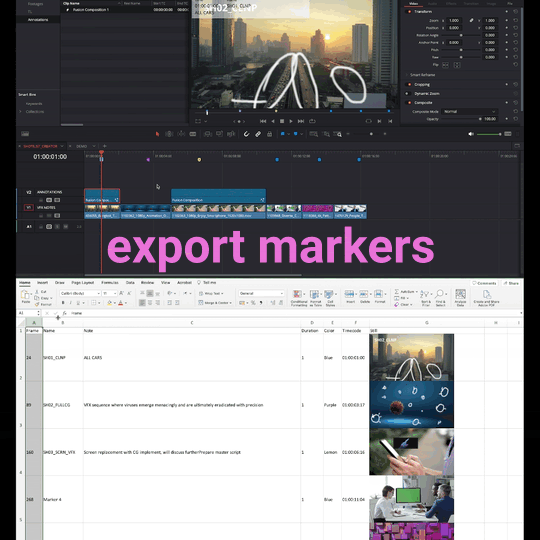 Installation:
Unzip the downloaded folder to your desired location.
Open DaVinci Resolve and load your project.
Navigate to keyboard customization and set a key for the next marker (Playback > Next Marker). This step is only required once.
Ensure that the album with stills (in the color page) is empty. This is crucial for the script to function correctly.
The script operates under the default DaVinci Resolve timecode, which begins from 01:00:00:00.
Run the script named ShotList_Creator. A dialog box will appear, prompting you to select an output folder. The script will then navigate through the timeline markers, grab thumbnails, and export the marker data (including frame, name, note, duration, color, and timecode) and stills to an Excel file in the selected folder.
Tips:
- If you wish to provide annotations, create a paint node in the fusion page and make your annotations there. Please note that marker annotations and burn-in information will not be exported.
- Due to image resizing, the resulting file will be small and easily convertible to PDF, Google Sheets, or any other format that supports Excel.
Feedback and Support:
I would love to hear your feedback on this script and any suggestions you have for improving it. Your input is greatly appreciated and will help me make the script even better. If you need additional user support or modifications, please open a support ticket so we can discuss the details. Thank you for your support!
1.0 (Current version) - Aug 10, 2023
Initial release