Text Chasing Rainbow
Compatibility After Effects

Please check exact version compatibility under the "COMPATIBILITY" tab below
Text Chasing Rainbow is the first script that helps you to create or convert any text into colorful text.
Choose between 2 and 16 colors palette and the method of how the colors are applied to your text: by
'Characters', by 'Excluding spaces', by 'Words' or by 'Lines'.
It is very easy to control the properties from the Effect Controls Panel.
Customize your palette and randomize color order.
Modify and animate the random seed or the offset of the colors.
Select one or more text layers to update the number of colors in the palette
or the method of how the colors are applied to your Text Chasing Rainbow layer.
WARNING
Every time you apply the effect to a text layer, a shy auxiliary text layer will be created. Please don't delete that layer! You can rename or change the name of that layer or your text layer and they will stay linked.
But a good practice would be that if you rename your text layer you should rename also the auxiliary layer with your text layer's new name + ' - arr' at the end, in order to not have orphan layers if you will update your Text Chasing Rainbow effect.
For a full explanation of all features check out the video tutorial on the product page aescripts.com/Text-Chasing-Rainbow


Have fun!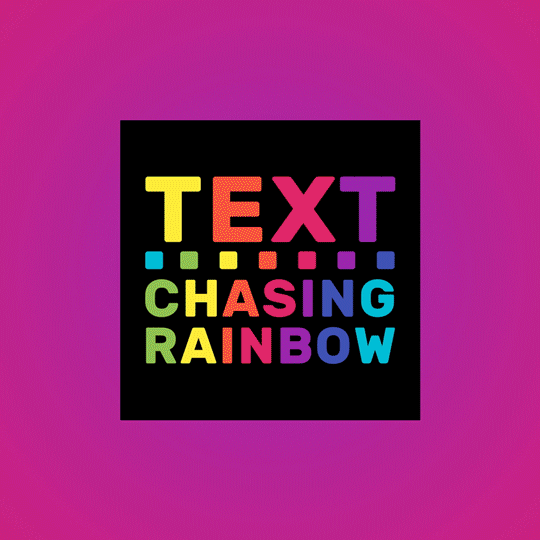 | | |
| --- | --- |
| After Effects | 2024, 2023, 2022, 2021, 2020 |
1.0 (Current version) - Oct 19, 2023
initial release