Trim to Layer
Compatibility After Effects

Please check exact version compatibility under the "COMPATIBILITY" tab below
Trims the selected layer to the layer above, below or fit between the two This should be useful for track mattes, glows, tint layers, adjustment layers, difference layers, etc.
Now with dockable UI, KBar and direct arguments support!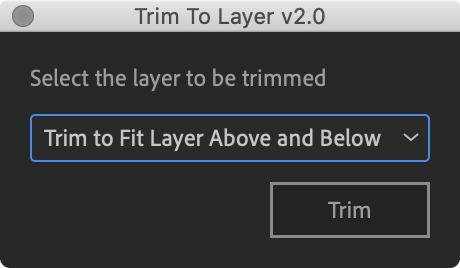 KBar Usage
You can trigger each function directly from a KBar button.
Add a "JSX/JSXBIN File" button and add one of the following arguments for each function:

Example: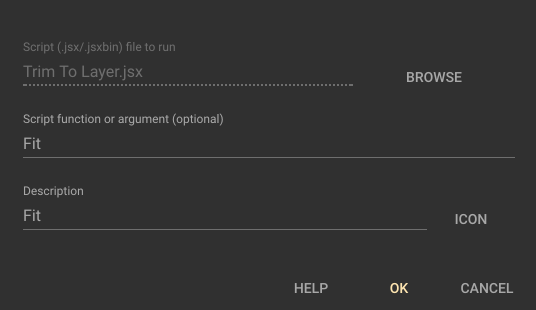 Direct argument usage
You can also change the filename and put it in the 'Scripts' folder (not the ScriptUI Panels folder) and have it perform any of the arguments directly. Simply add a dash and the argument you want after the filename and before the extension. For example:
Trim To Layer-above.jsxbin
Will trim to the layer above.
The options are:
Trim To Layer-above.jsxbin
Trim To Layer-below.jsxbin
Trim To Layer-fit.jsxbin
| | |
| --- | --- |
| After Effects | 2024, 2023, 2022, 2021, 2020, CC 2019, CC 2018, CC 2017, CC 2015.3, CC 2015 |
2.1.1 (Current version) - Nov 13, 2020
- Improved error correction
2.1 - Oct 20, 2020
- Added direct argument support
2.0 - Oct 16, 2020
- Added 'Trim to Fit Layer Above and Below' mode
- Added dockable UI
- Added KBar support
1.0 - May 8, 2008
Initial release