3D Text Creator
Compatibility After Effects

Please check exact version compatibility under the "COMPATIBILITY" tab below

Adding to cart...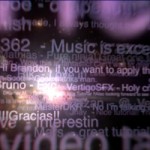 This script is used as part of the Cinematic Opening Title Redux tutorial on Aetuts+
Generates text layers and distributes them in 3D space. You can define the words, 3D ranges and color variations by editing the script. The script then asks how many words you like and will loop through your list to create them.
You get two versions of the script: In 3D_text_creator.jsx you type the words in the script file and 3D_text_creator_from_file.jsx reads the words from an external file. Open the script in ExtendScript toolkit and read the instructions on the top of the script. If you are looking to make Extruded 3D Text, check out 3D Extruder.
Watch a tutorial on how to use this script (and others) on Aetuts+ (The tutorial final render is below)
Sample Render
Final render from Cinematic Opening Title Redux tutorial on Aetuts+
Cinematic Opening Title Redux tutorial on Aetuts+
| | |
| --- | --- |
| After Effects | 2024, 2023, 2022, 2021, 2020, CC 2019, CC 2018, CC 2017, CC 2015.3, CC 2015 |
1.0 (Current version) - Jun 6, 2006
Initial release