Icon Mason
Compatibility Illustrator

Please check exact version compatibility under the "COMPATIBILITY" tab below
Open, import, and create IconJar icon archives directly in Adobe Illustrator on Mac and Windows
Icon Mason is an extension for Adobe Illustrator that works as a companion, not a a replacement, for IconJar. Of course, you don't have to have IconJar for Icon Mason to work. You can still open, import, and create IconJar archives that are 100% compatible with the IconJar app.
Windows Compatible
Until now, IconJar archives could only be used on a Mac. Now you can read and create IconJar archives on Illustrator for Windows.
Drag-n-Drop from IconJar files, directly in Illustrator
With Mason, you can open IconJar files, search, and drag-n-drop the icons without ever leaving Illustrator. Mason is a native extension that runs in a palette so you can add it to your workflow seamlessly.
Import the Icons to Artboards
Mason allows you to import the icons from your IconJar to individual artboards* in your Illustrator file. This is useful for icon designers who need to edit all of their icons in one place.
Export to IconJar Format
Export your artboards to IconJar format, fully compatible with the IconJar desktop app. With Mason you can create, edit, and export IconJar files directly from Illustrator.
Search by File Name and Tags
Mason uses fuzzy search to find your icons by file name and tags so you don't need to match the file name or tags exactly. You can also configure the search to be as strict or flexible as you like.
Add, Edit, & Replace Icons
With Mason, you can easily add, edit, and replace individual icons in the IconJar file. Add icons from your file system or by selecting the icon in Illustrator.
330 Free Icons
Icon Mason includes 300 free icons from Round Icons. If you like these, you'll love the full collection of over 40,000 icons - updated monthly with 1,000 new icons. Also included are 30 free icons from Diversity Avatars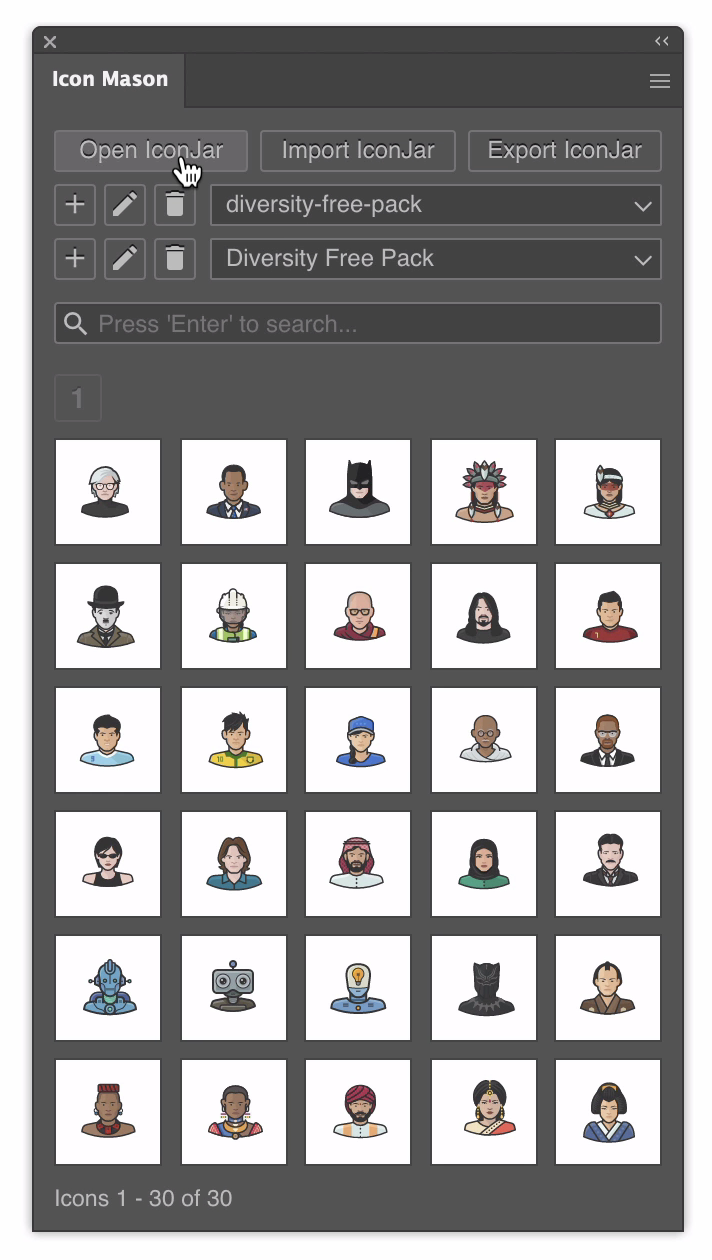 User's Guide
Learn more about Icon Mason in the User's Guide
| | |
| --- | --- |
| Illustrator | 2020, CC 2019 |
1.2 (Current version) - Aug 22, 2021
- Add `Add to Favorites` feature
- Replace `Export IconJar` button with `Save As...` button
1.1 - Aug 17, 2021
- Add Copy to Clipboard feature to copy selected icon SVG to clipboard
- Add support for https://iconset.io import
- Add support for https://iconset.io export
1.0.2 - Aug 10, 2021
- Fixes a bug in the Folder import logic
1.0.1 - Nov 29, 2020
- Fix a bug in selector to change the set an icon belongs to.
- Fix a bug in feature to open ZIP archives. Now supports any file structure
1.0.0 - Nov 17, 2020
Initial Release