Layer Sitter
Compatibility After Effects

Please check exact version compatibility under the "COMPATIBILITY" tab below
Parenting layers in After Effects can be difficult, time-consuming, and frustrating but Layer Sitter helps make parenting easier. Instead of dragging your pickwhip or endlessly scrolling you can quickly parent selected layers using a filterable list. Quickly add a new null with customizable position in both the composition and the timeline. Store commonly used layers as Quick Parents for easy parenting. Layer Sitter is perfect for character animators, motion designers, and anyone else who needs help managing compositions with many layers.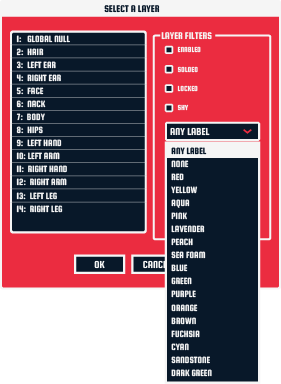 Quick Parents
Quick Parents make it easy to quickly parent select layers to commonly used parent layers. Simply select any layer and store it as a Quick Parent. Layer Sitter can remember up to 5 Quick Parents in unlimited compositions.
Parent selected layers to a Quick Parent
Select a Quick Parent
Add a new Quick Parent
Remove a Quick Parent
Removing a Quick Parent from Layer Sitter does not disrupt existing parenting chains.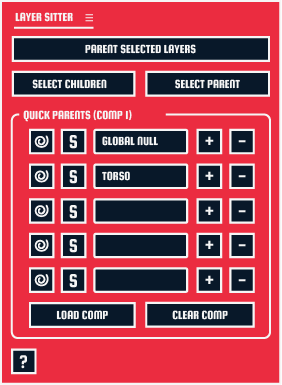 Parent Selected Layers
Quickly parent select layers to an existing layer. Layer Sitter provides a list of layers that can be filtered if their enabled, soloed, locked, shy, or have a specific label. Layer Sitter will also help make your life easier by checking and disabling layers that cannot be used.
Layer Sitter can also create a new null instead of using an existing layer. This new null has a variety of options for position in both the composition and the timeline.
Layer Sitter is smart. Layer Sitter will not disrupt existing parenting chains even if you have previously parented layers selected.
Layer Sitter makes managing parented layers easy. Not only can you quickly parent layers using a variety of options but you can also easily traverse up and down parent chains using the Select Children and Select Parent buttons.
| | |
| --- | --- |
| After Effects | 2023, 2022, 2021, 2020, CC 2019, CC 2018, CC 2017, CC 2015.3, CC 2015, CC 2014, CC, CS6 |
1.3 (Current version) - Sep 13, 2019
Mac OS Catalina support.
1.2 - Aug 13, 2018
Temporarily remove label filter to fix non-english installations.
1.1 - Aug 10, 2018
Added trial features
1.0 - Jul 24, 2018
Initial release