LongShadow
Compatibility After Effects

Please check exact version compatibility under the "COMPATIBILITY" tab below
Long Shadow is a GPU accelerated plugin for Adobe After Effects.
It creates different shadow and silhouette effects with unique capabilities: long directional shadow, radial and reversed radial stylized shadows, edge color tracing feature, several masking and coloration modes and many more.
Three Shadow Types:
Directional
Like your regular Drop Shadow, but way better
Radial
Set the source point and go
Inverse Radial
Source point now works as shadow attractor
Total Control over your Shadow
Color tracing feature
Perfect for modern glitch animation.
Just set Shadow tint amount to 0 and get this awesome shadow painted in edge color.
Interface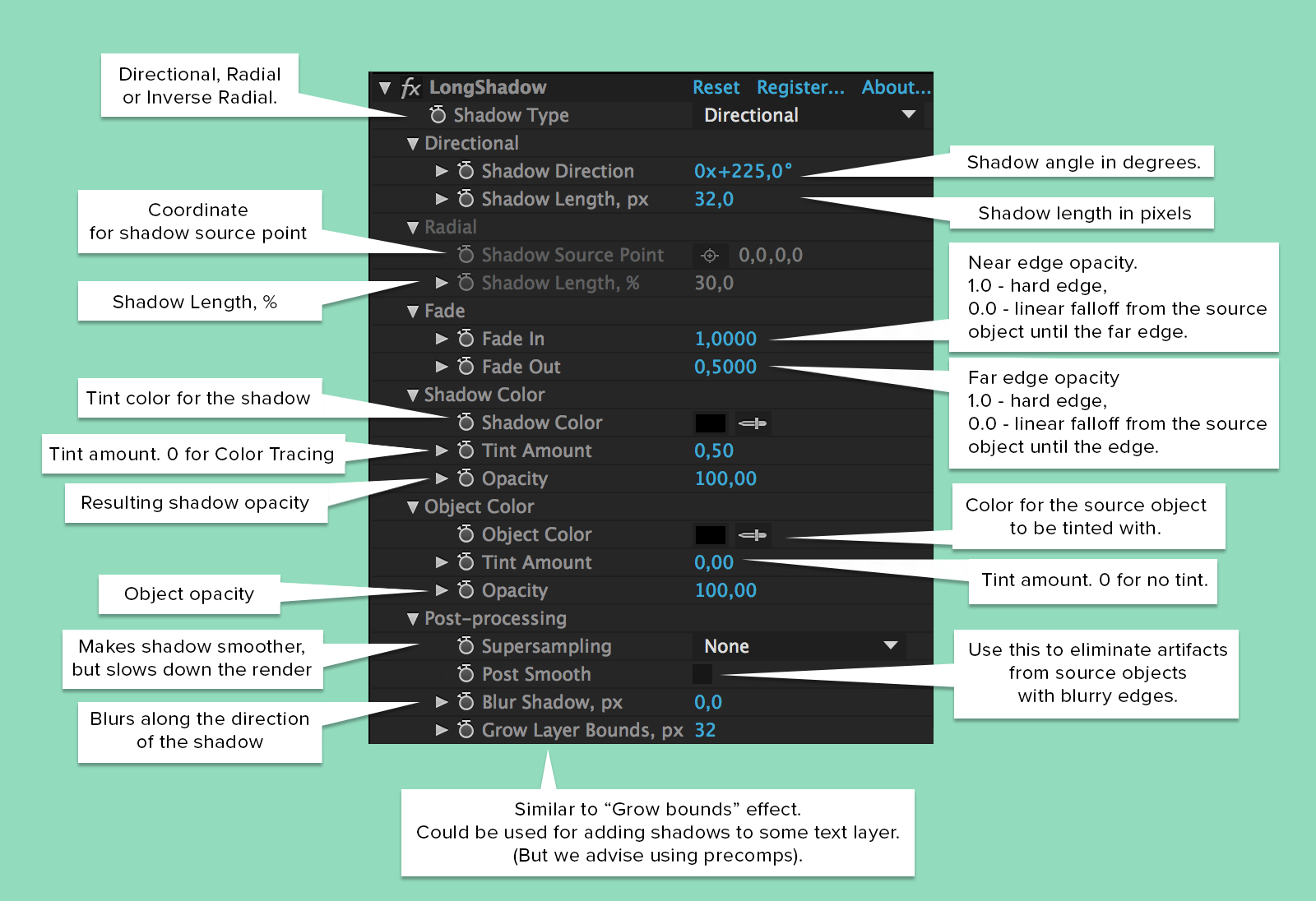 | | |
| --- | --- |
| After Effects | 2020, CC 2019, CC 2018, CC 2017, CC 2015.3, CC 2015, CC 2014, CC, CS6 |
1.14.2 (Current version) - Mar 23, 2020
- Fixing macOS binaries
1.14.1 - Mar 21, 2020
- Fixing macOS notarization issues
1.14 - Jul 21, 2018
- Fixing Grow Bounds position bug for big layers
1.13 - Mar 23, 2017
- Shadow opacity slider fix
1.12 - Mar 1, 2017
- plugin now works with Adobe Media Encoder on OSX
1.11 - Feb 10, 2017
- temporary rolling back OSX binaries (AME exporting will work only on Windows until the further fix)
1.1 - Feb 9, 2017
- fixed unwanted premultiplied alpha after the shadow blur
- AME compatibility
1.0 - Dec 30, 2016
- initial release