Millumin 3
Compatibility After Effects

Please check exact version compatibility under the "COMPATIBILITY" tab below

Compatibility Photoshop

Please check exact version compatibility under the "COMPATIBILITY" tab below

Compatibility Cinema 4d

Please check exact version compatibility under the "COMPATIBILITY" tab below
Millumin is a standalone macOS native application that manages video on stage for theaters, video mappings and interactive installations. It interfaces in real-time with After Effects comp via a free supplied plugin.
If you do gigs, performances, installations or video mappings, theaters or dance shows... You definitly should have a try!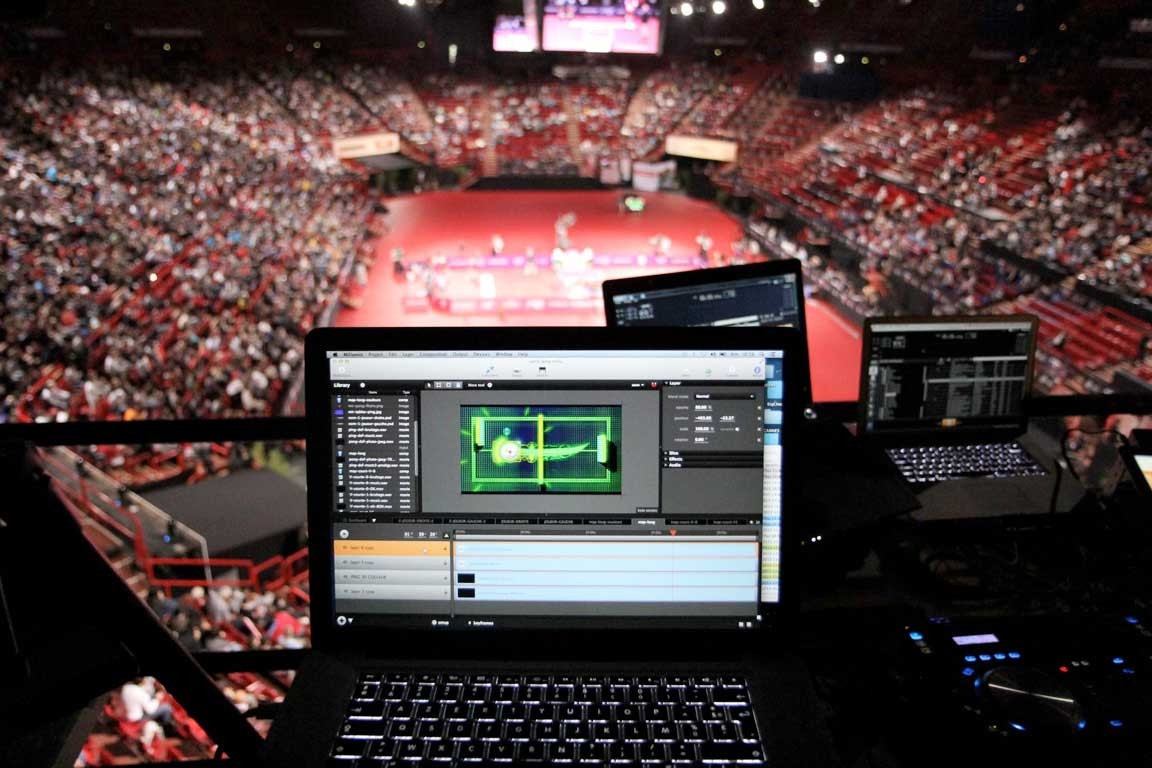 Show Conductor
Millumin is a creative solution to bring your ideas to life.
It is tailored to play your live show and tell your story.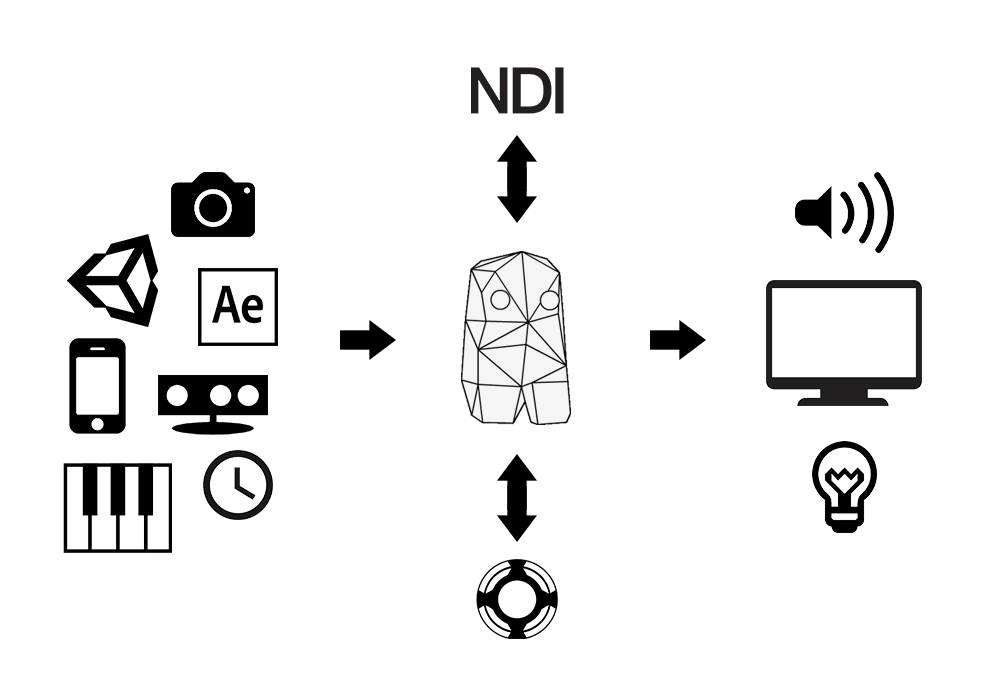 Flexible
Connect all together an ever growing number of devices and softwares.
Build your own workflow.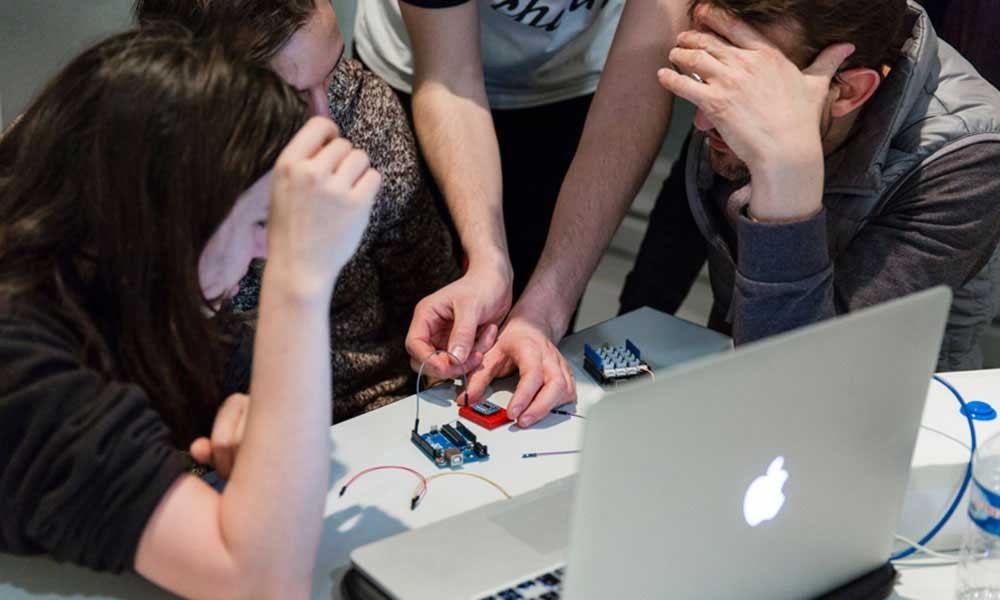 Powerful, yet Easy
Intuitive interface.
Contextual help.
Online tutorials.
Fast support.
New in Millumin V3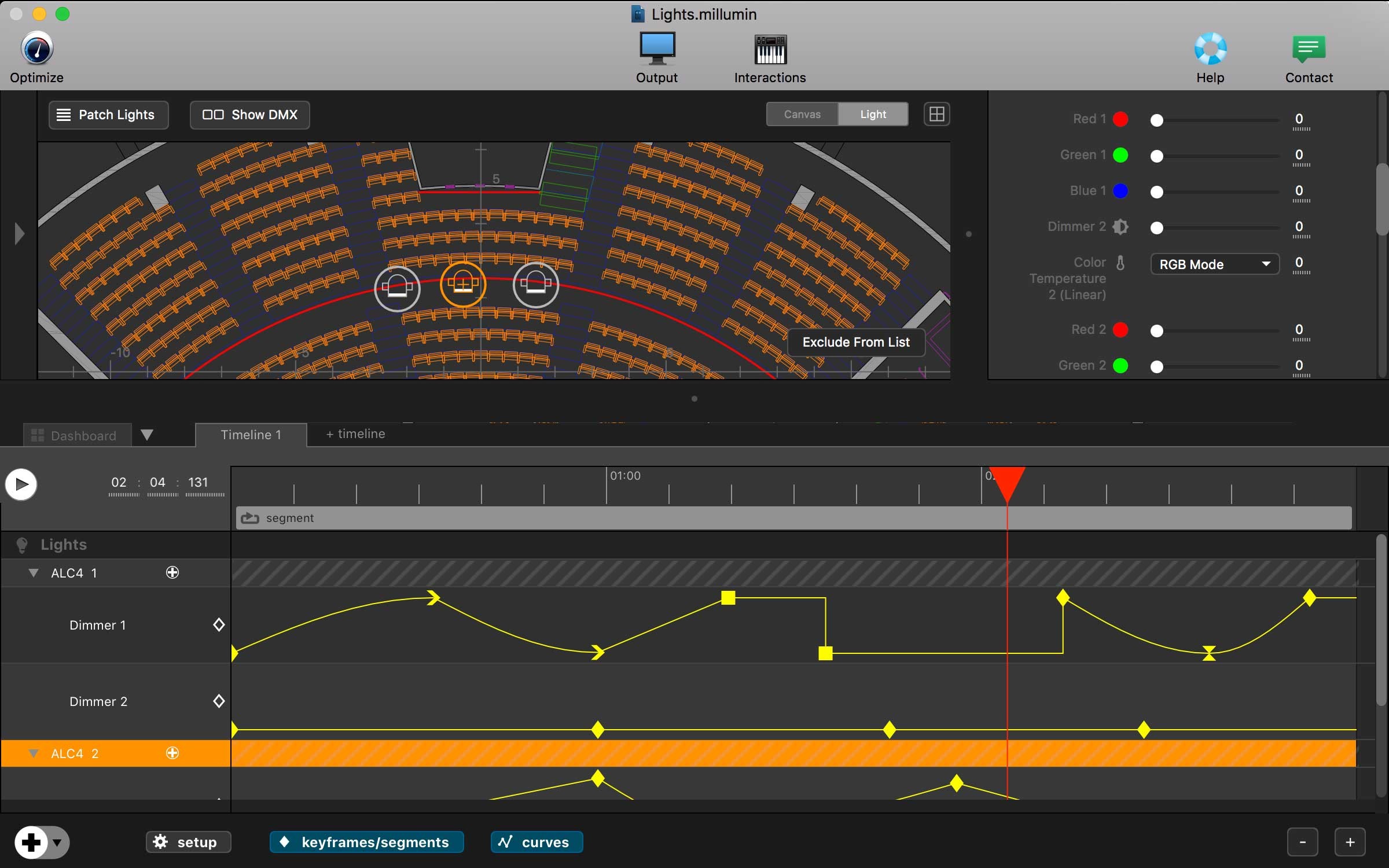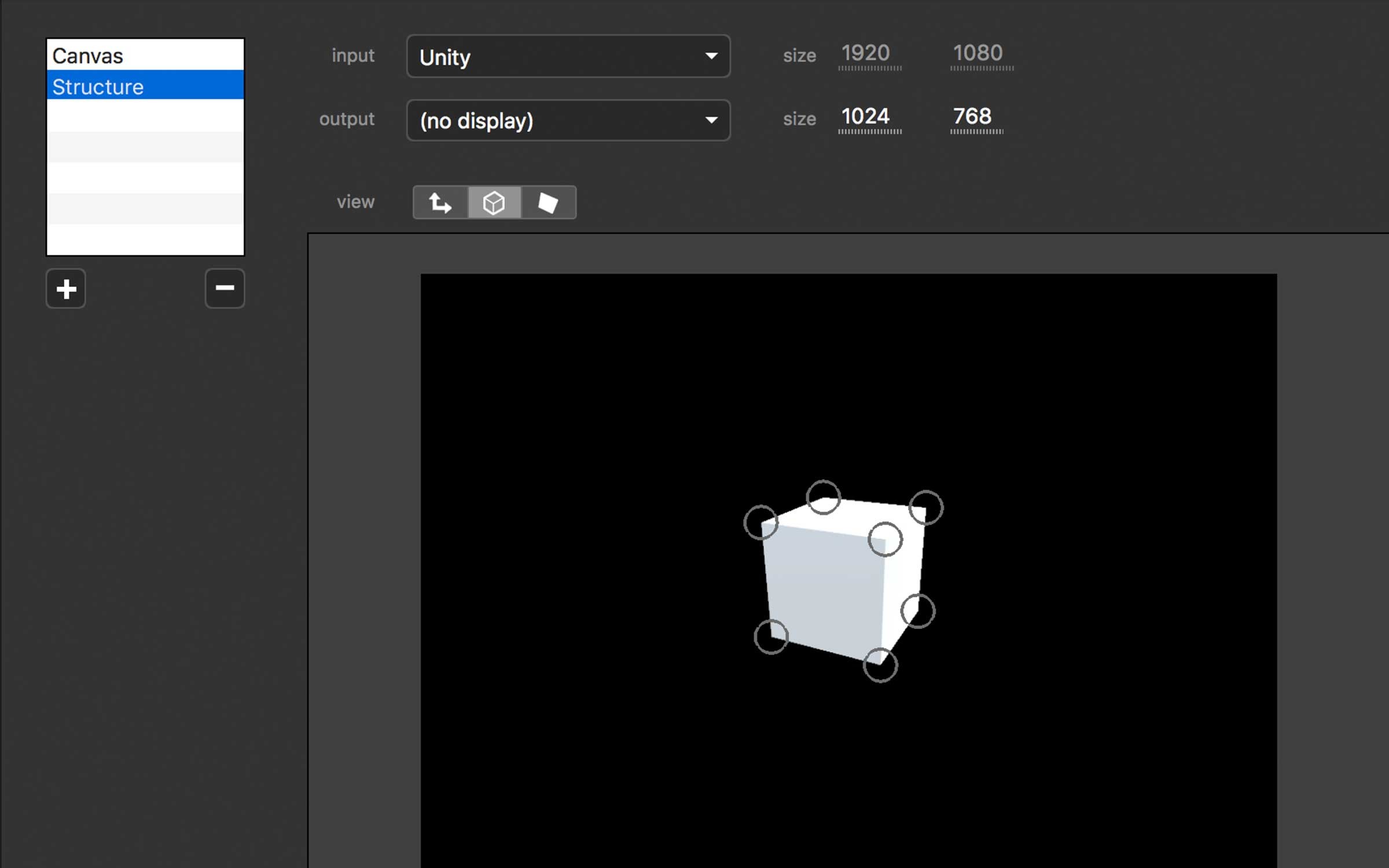 Plugins
Cinema 4D and Unity plugins allow you to get draft/final render in live. They join the long list of already existing addons (After Effects, gamepad control, TUIO input, TCP/Inet Syphon and much more).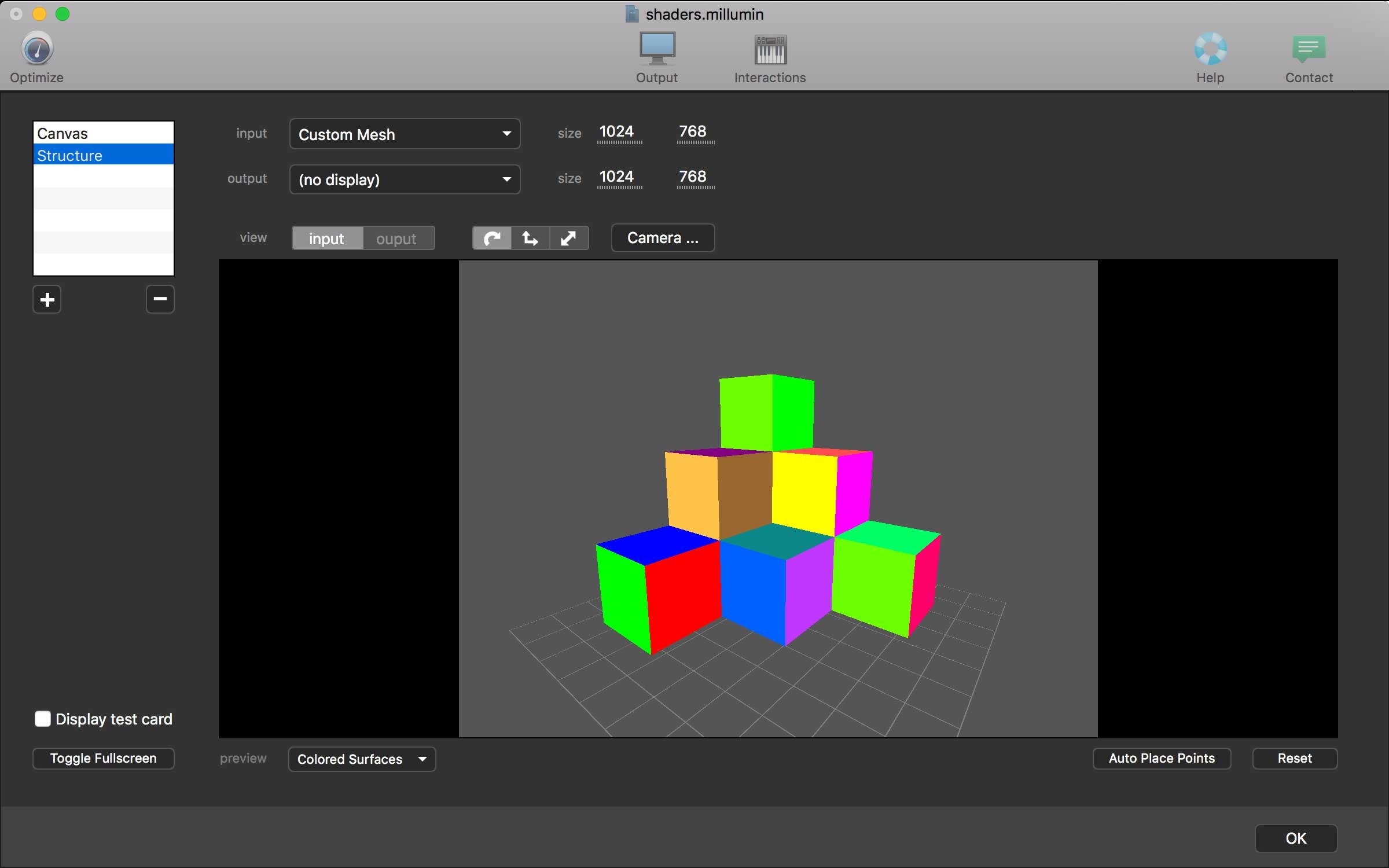 3D Structure
Structures eases 3D videomappings, by using a mesh that represents the surfaces to project onto. This allows you to create 3D moving anamorphosis.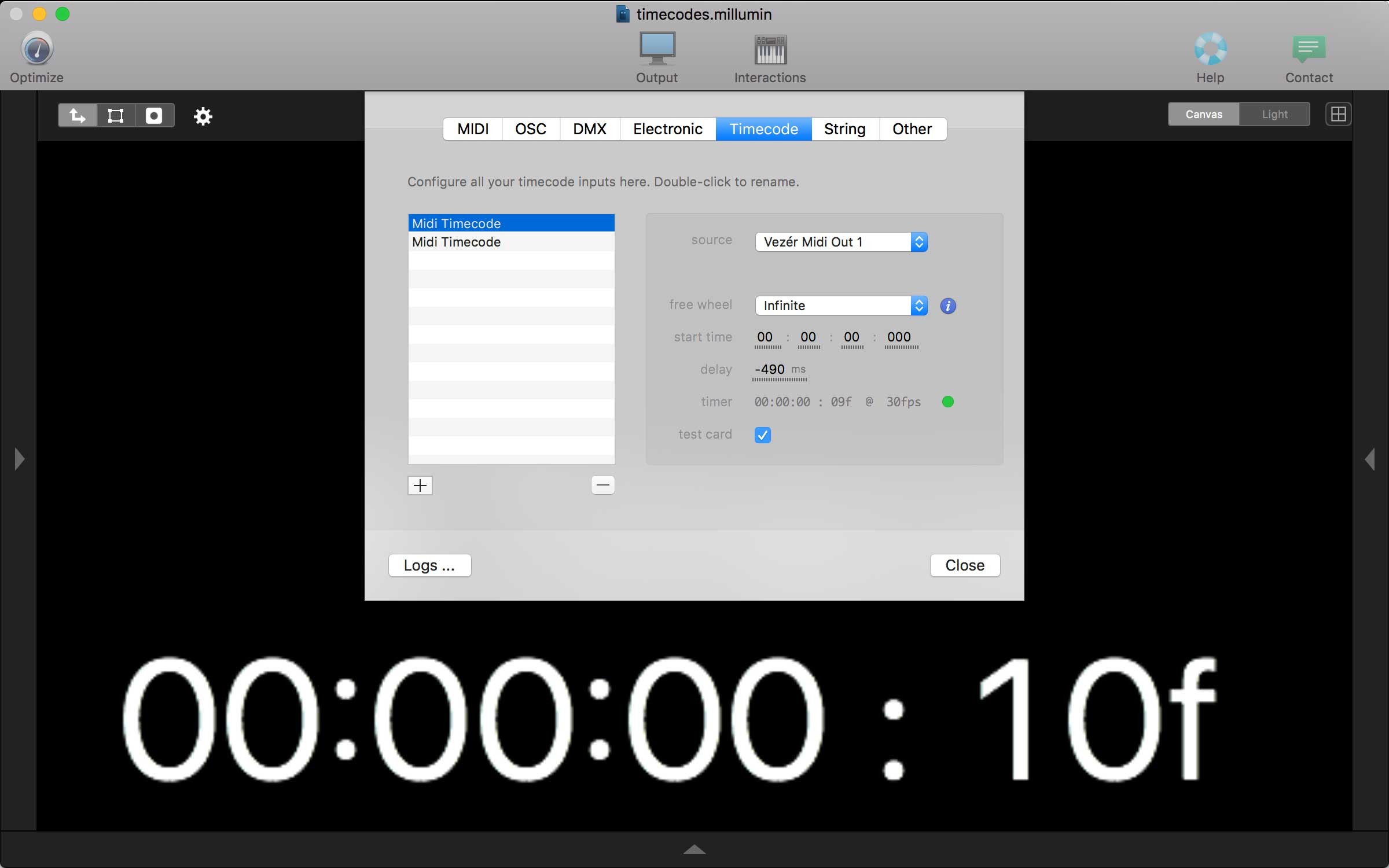 Timecode
Use a timecode to synchronise your show. Millumin now supports both audio (LTC) and Midi (MTC) timecodes. A timecode can be used to trigger cues or to get a frame synchronization over multiple machines. A special test card allows you to adjust delays with ease.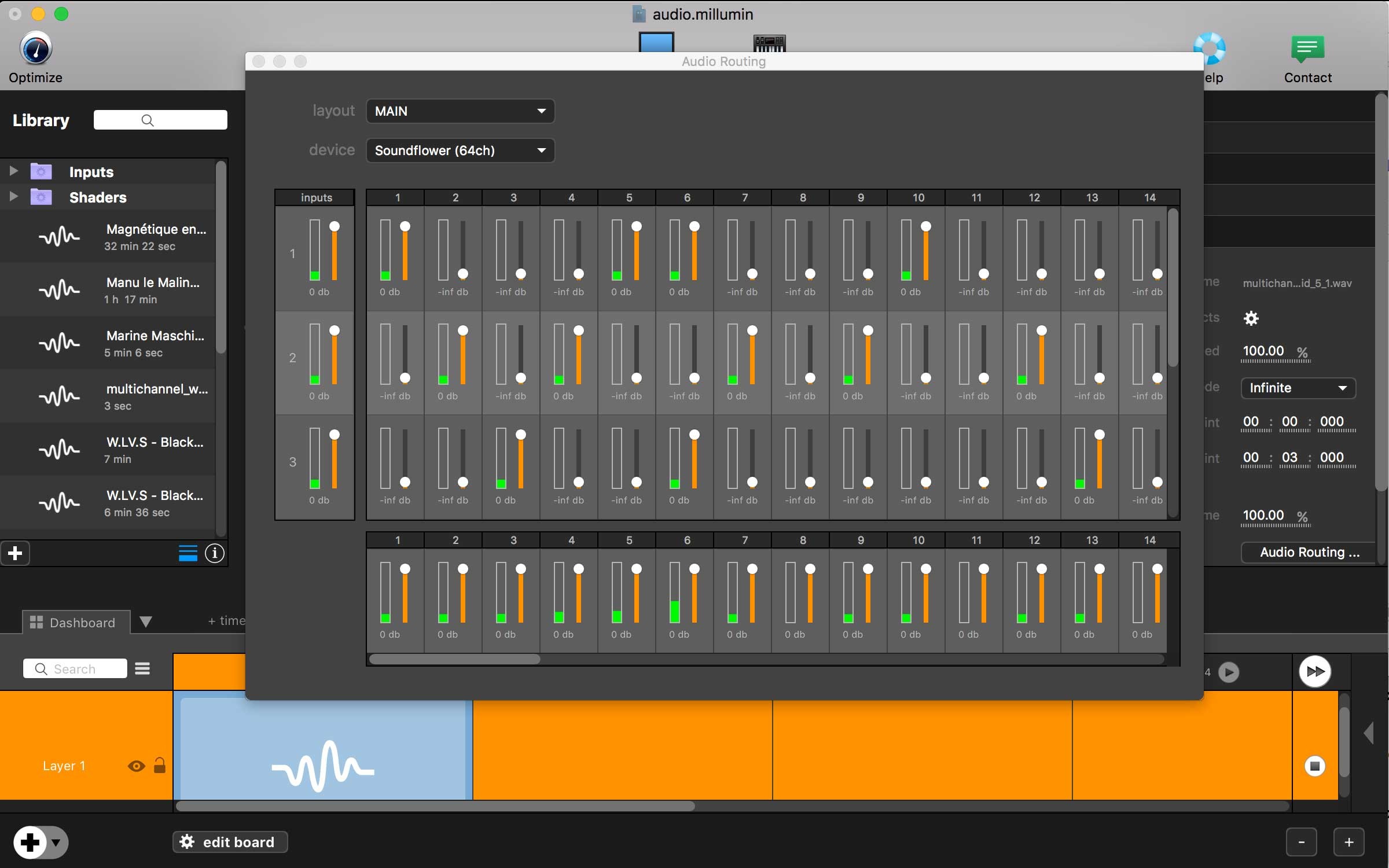 Audio Matrix Mixer
You can now mix every channel of your audio file, then route it to your the output. It can be very useful for 5.1 or 7.1 installations.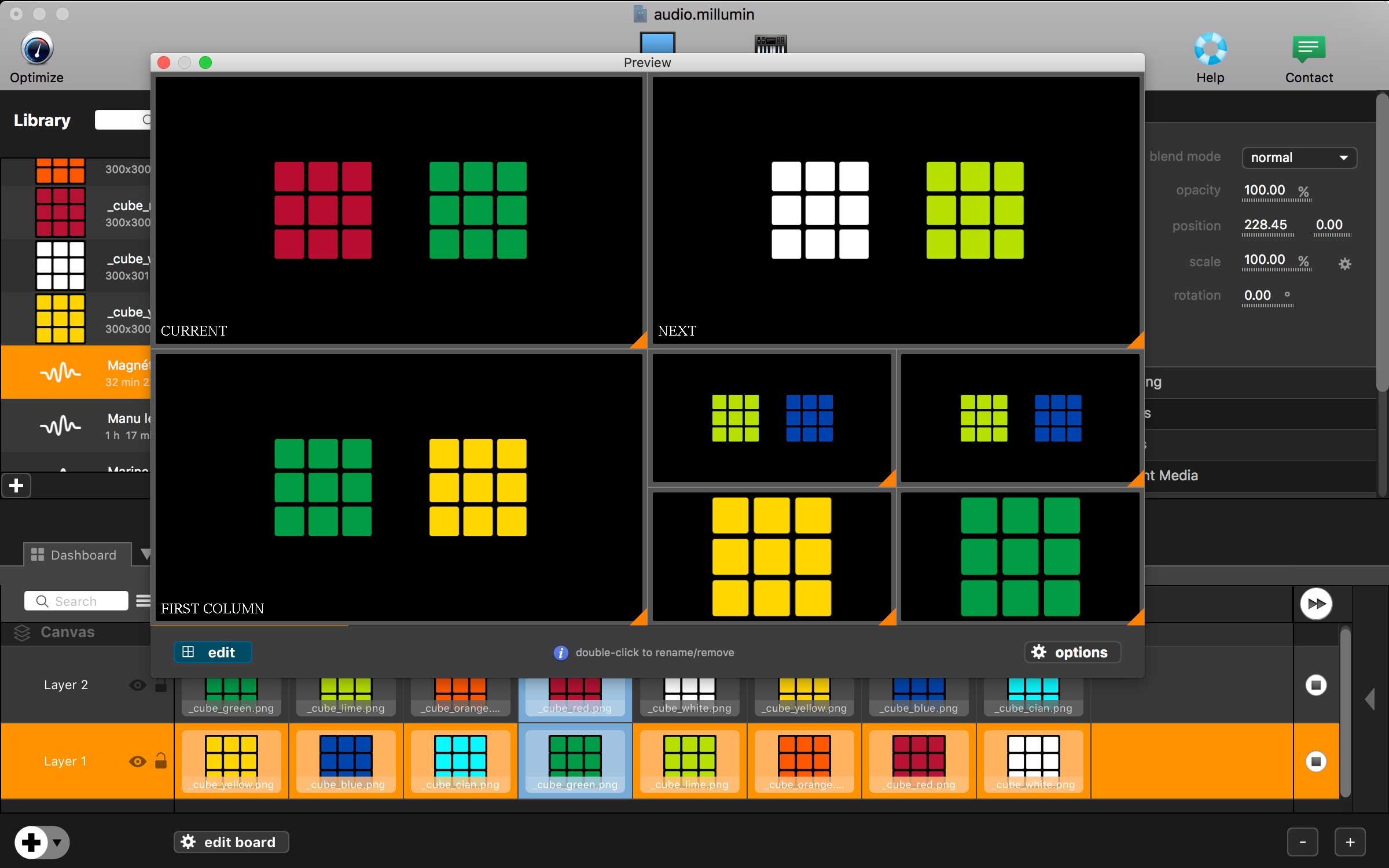 Preview Grid
The preview-grid monitors what's coming next in your show (next columns or live feeds). The grid can also be used as a live input mixer to trigger your source when needed.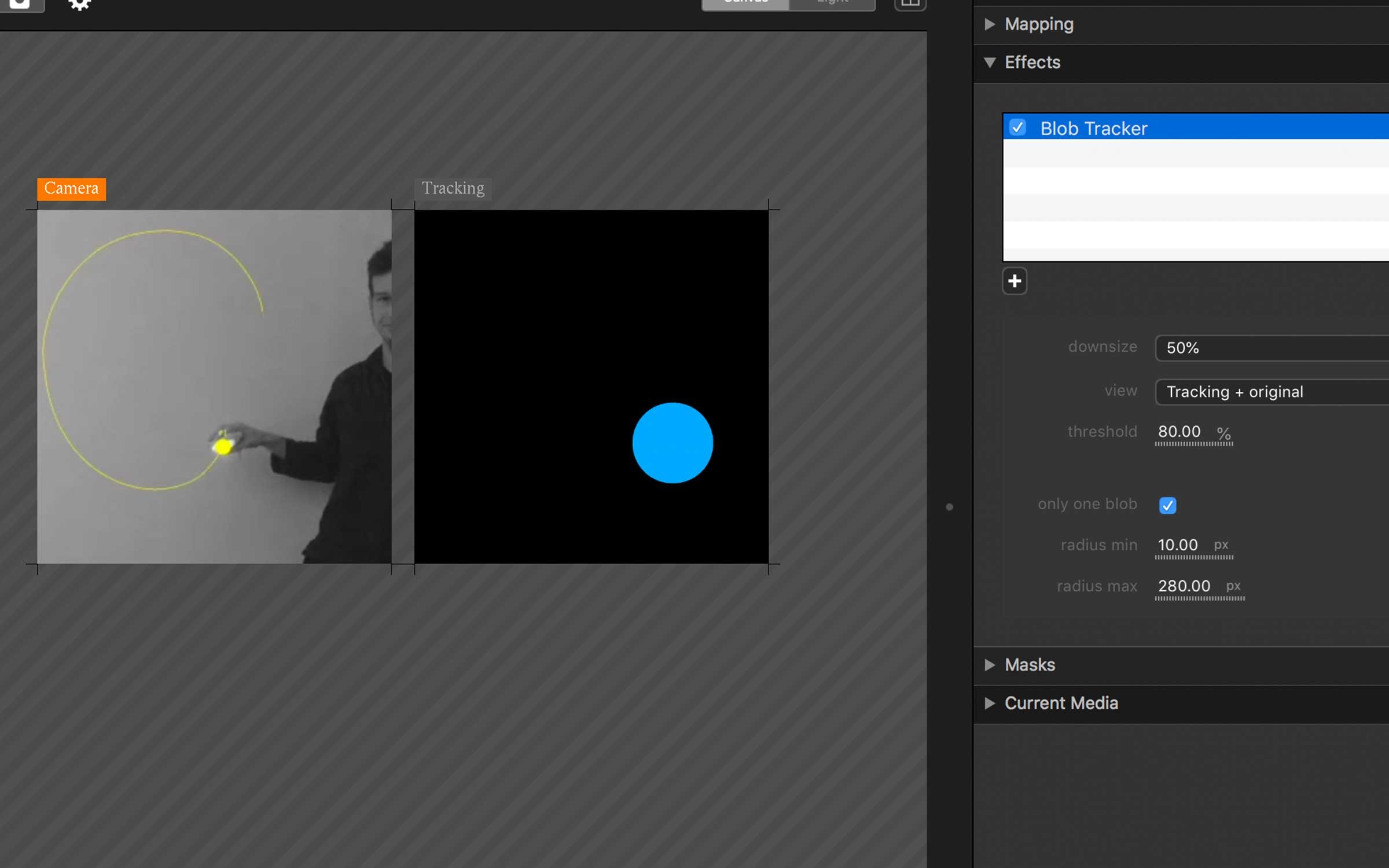 Blob Tracking
Millumin includes a brand new blob-tracking camera effect. You can use this blob-tracking to follow an actor on stage, activate effects or anything else: it is as easy to setup as any other interaction.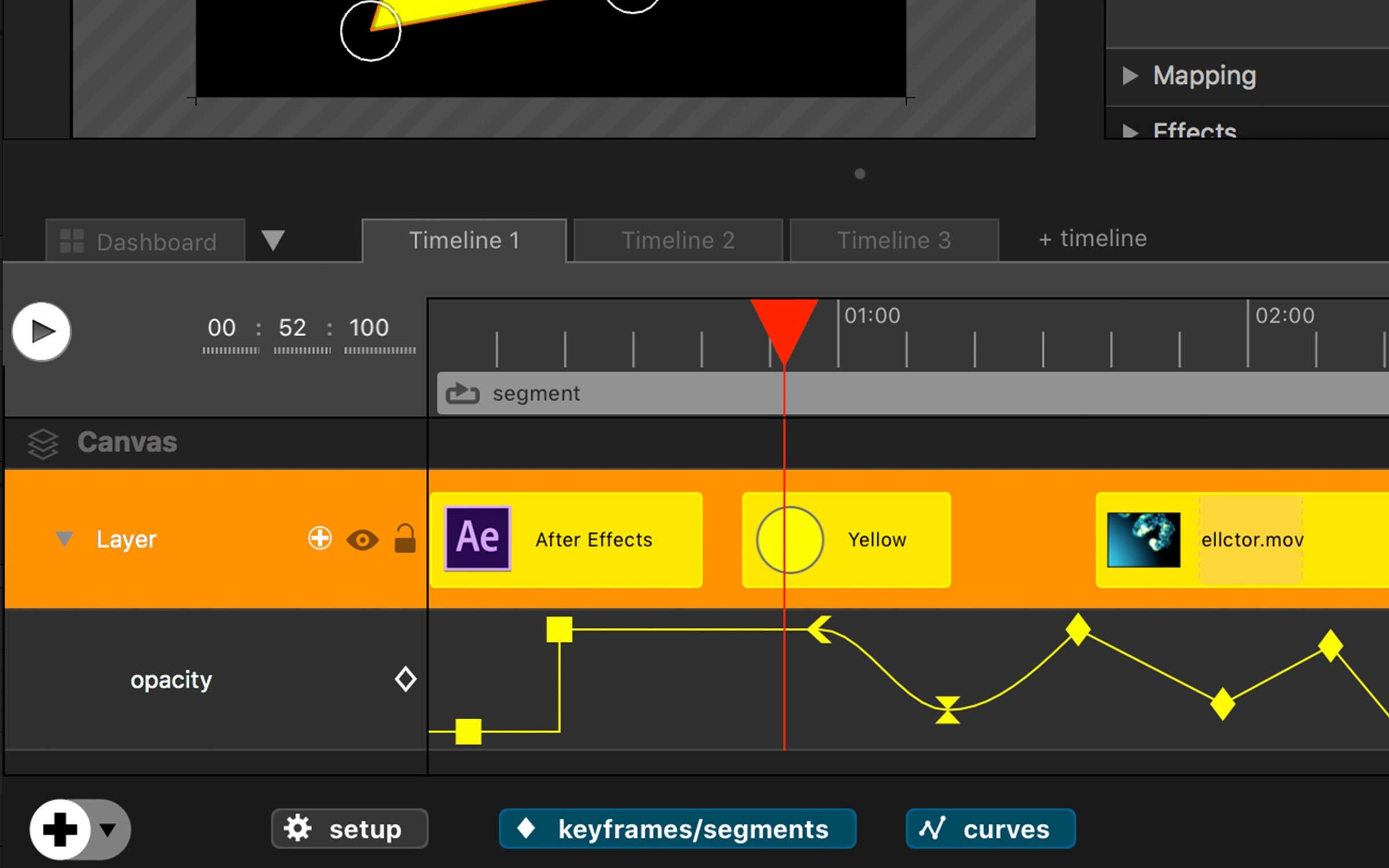 Timeline Curves
Timelines have been vastly improved, especially to display curves, so it give you an overview of your animations, fadings and transitions. Of course, such curves can be quickly edited with the mouse.
General features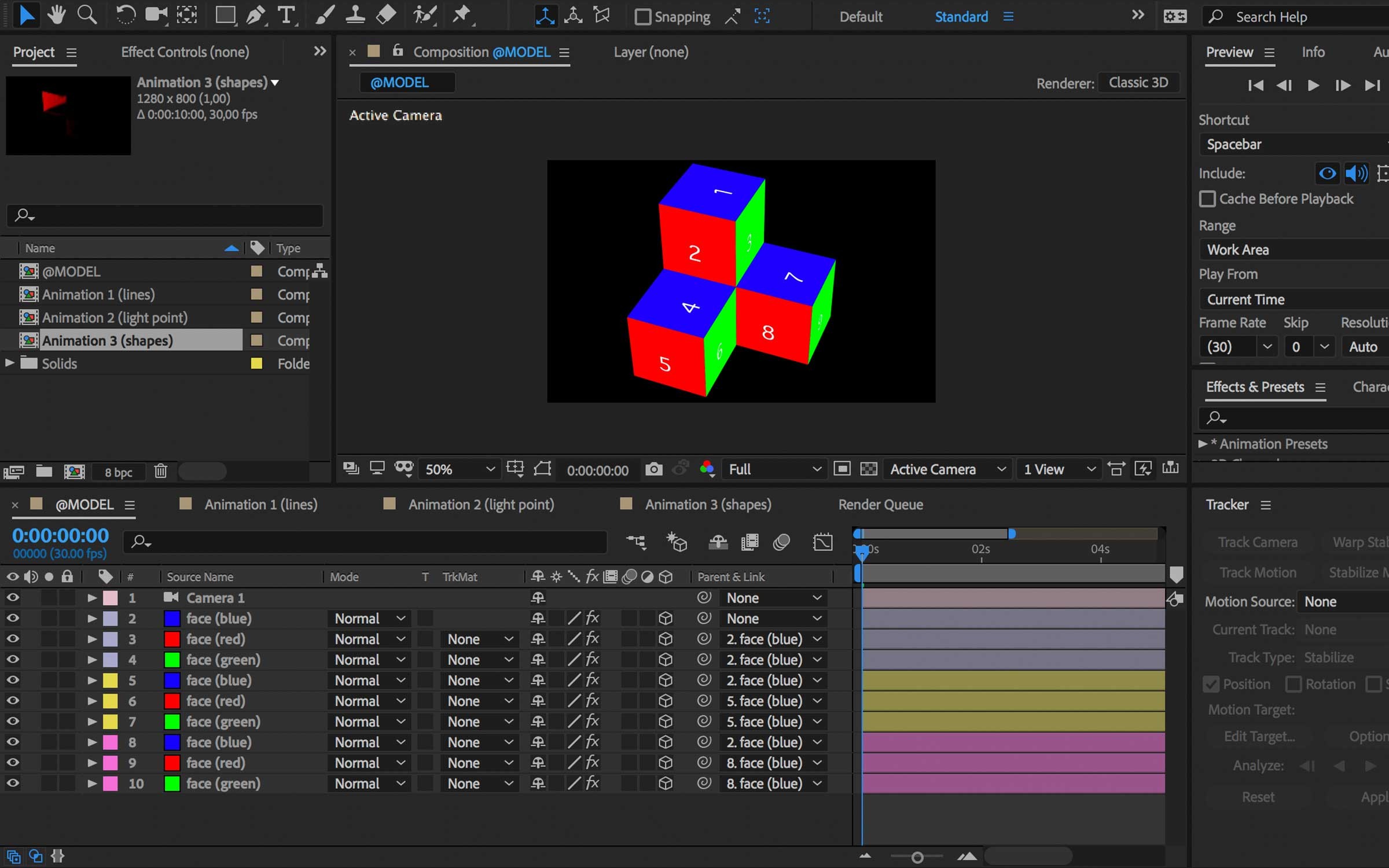 After Effects
Preview your After Effects compositions in real time, without rendering the whole clip to a MOV file.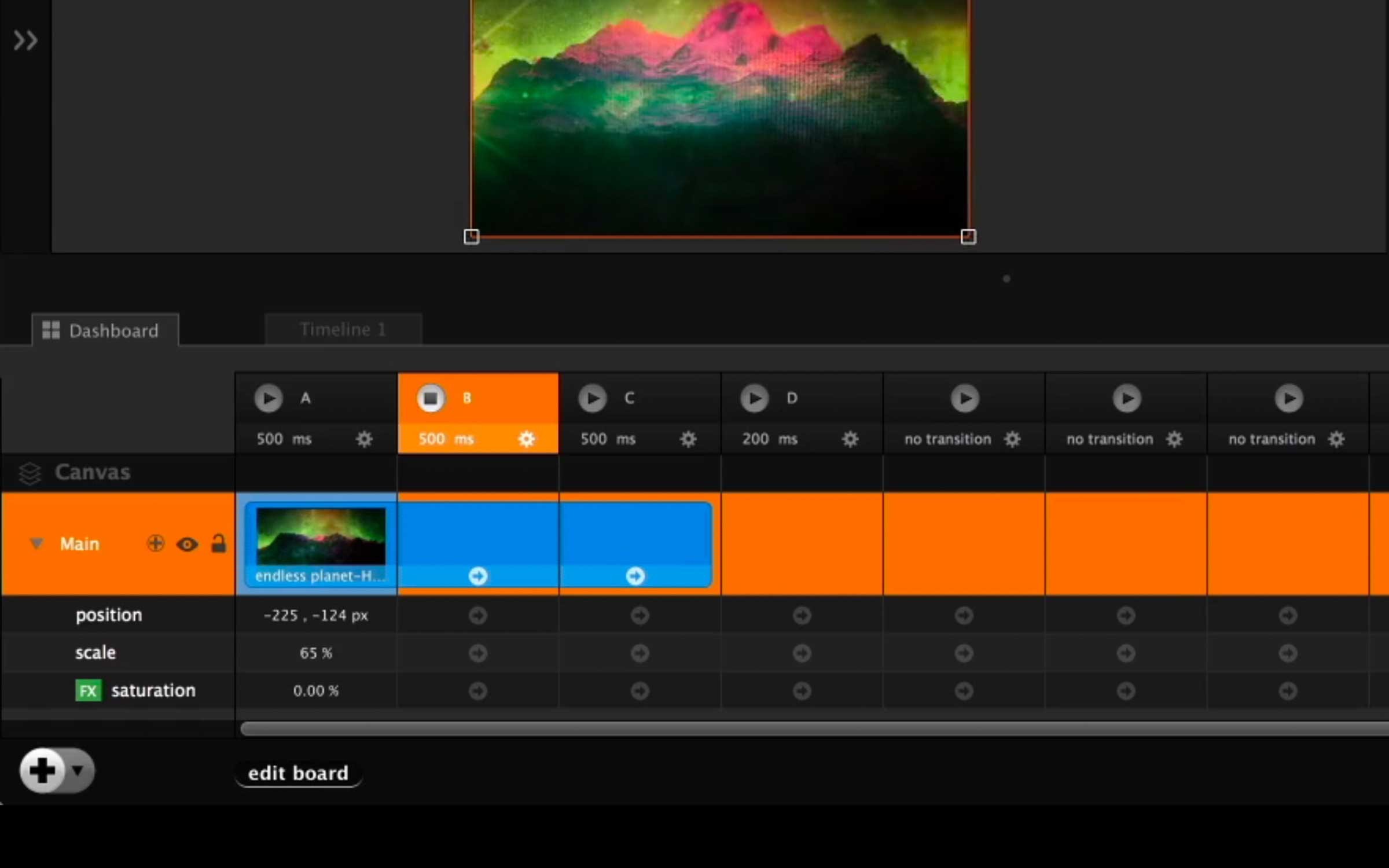 Sequencer
Trigger your show via a sequencer, including states and transitions. The sequencer gives you a one-click control for lights, videos, interactions, LED pixels and much more.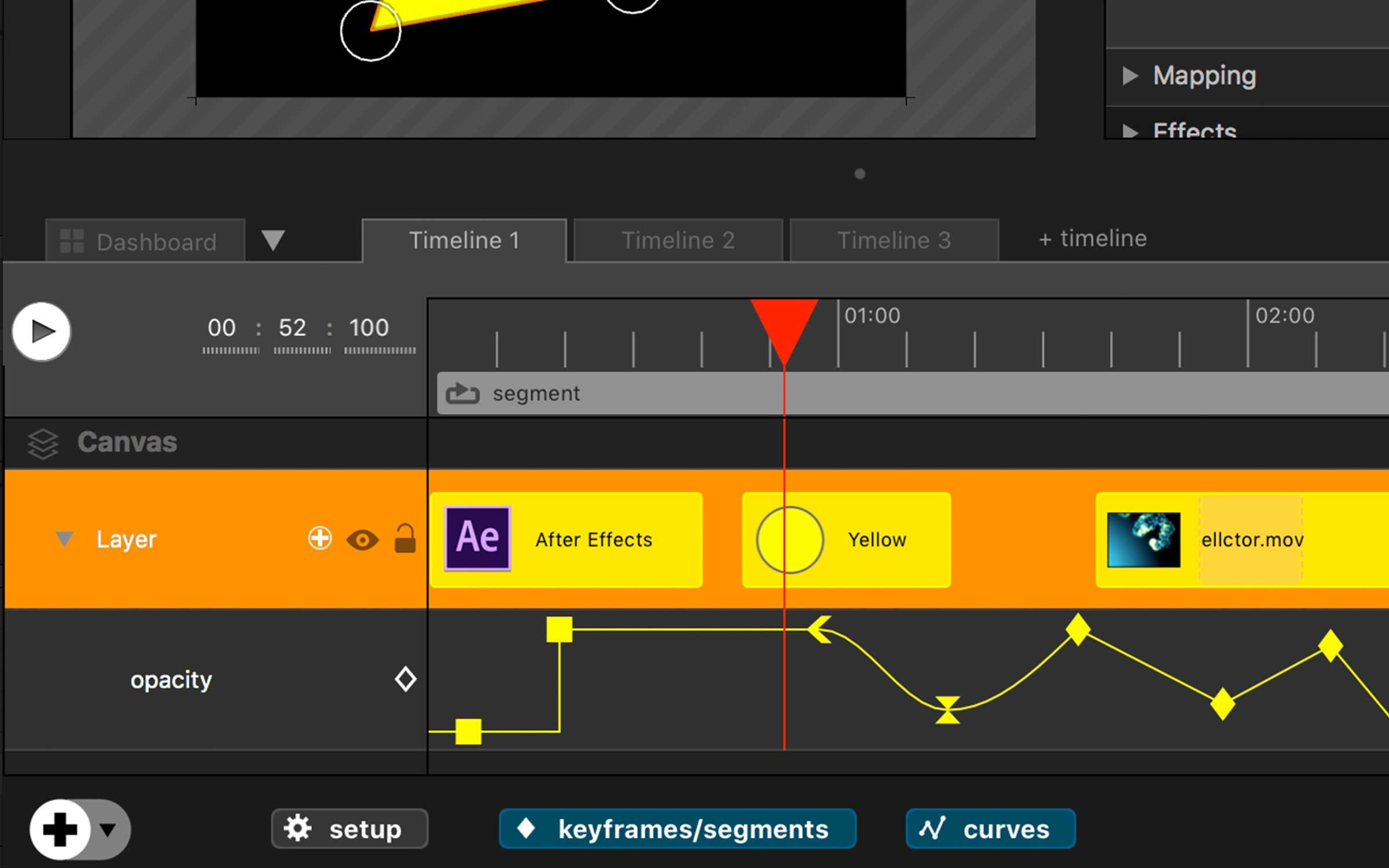 Timeline
Millumin includes a timeline-editor with animated keyframes, curves, and segments. Then such timelines can be used in Millumin's sequencer. It also features options to make timings flexible, to avoid video jumpcuts during your show (more info here).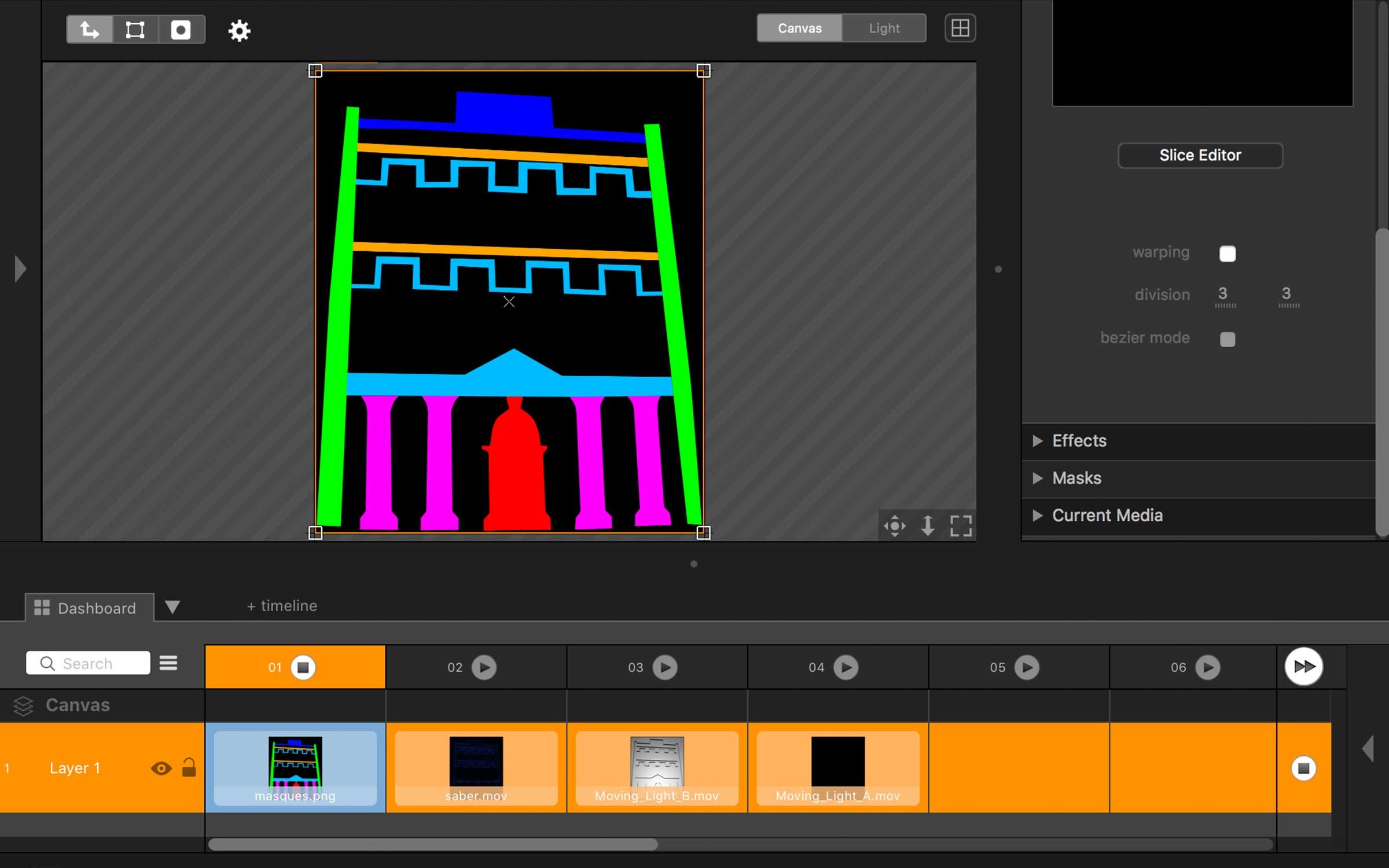 Videomapping
Millumin is a complete videomapping tool. You will easily adapt your medias to projection surfaces, use masks and warping tools so your images will fit perfectly the surfaces in real life.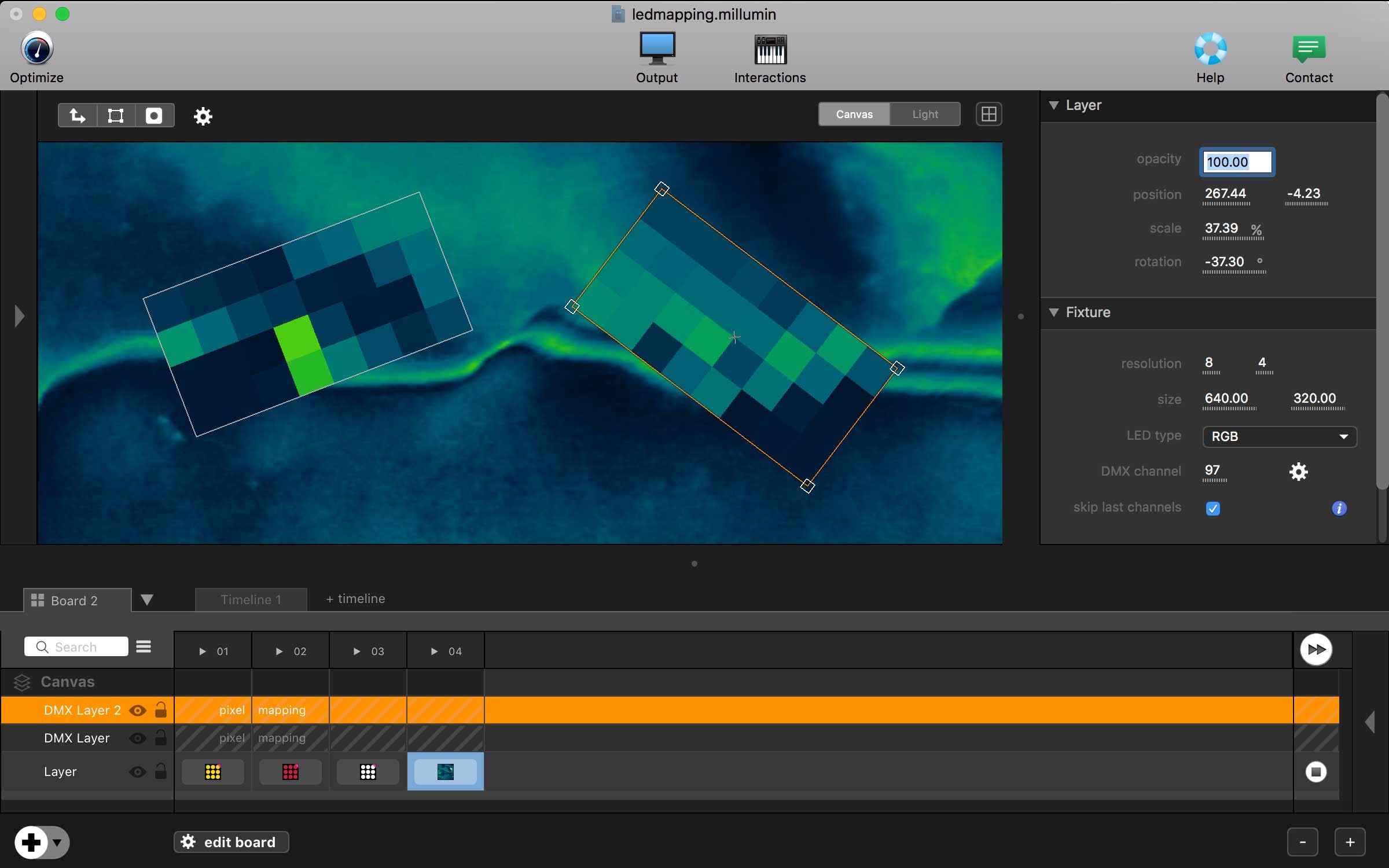 LED Mapping
Convert your pixels into DMX, and control LED strips or light ramps with video medias. See this tutorial.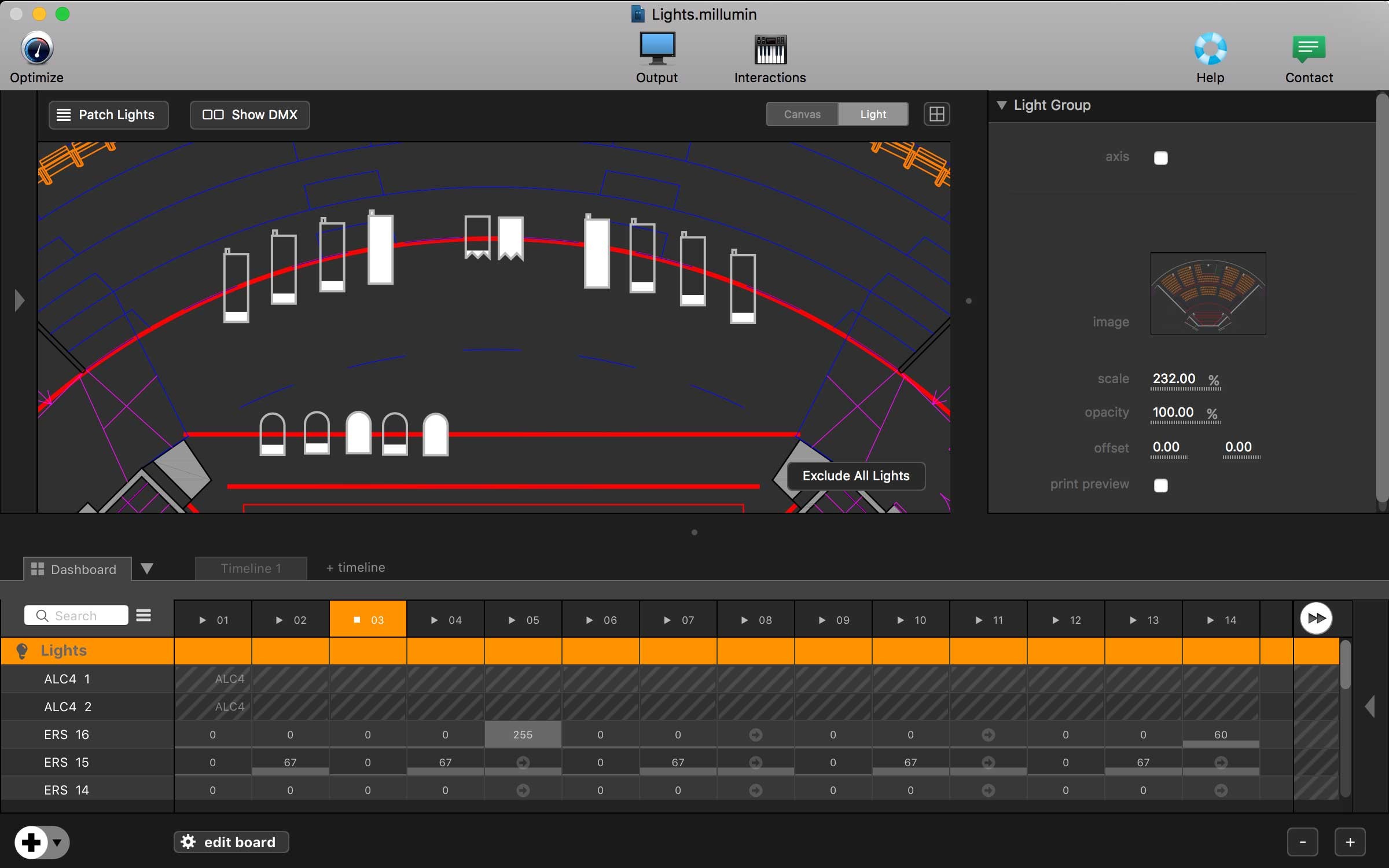 Lights
You can control any DMX/Artnet enabled device. Also, Millumin allows you to quickly and easily create light-plots, as well as record chases and light transitions. Lastly, Millumin supports various USB-DMX converters.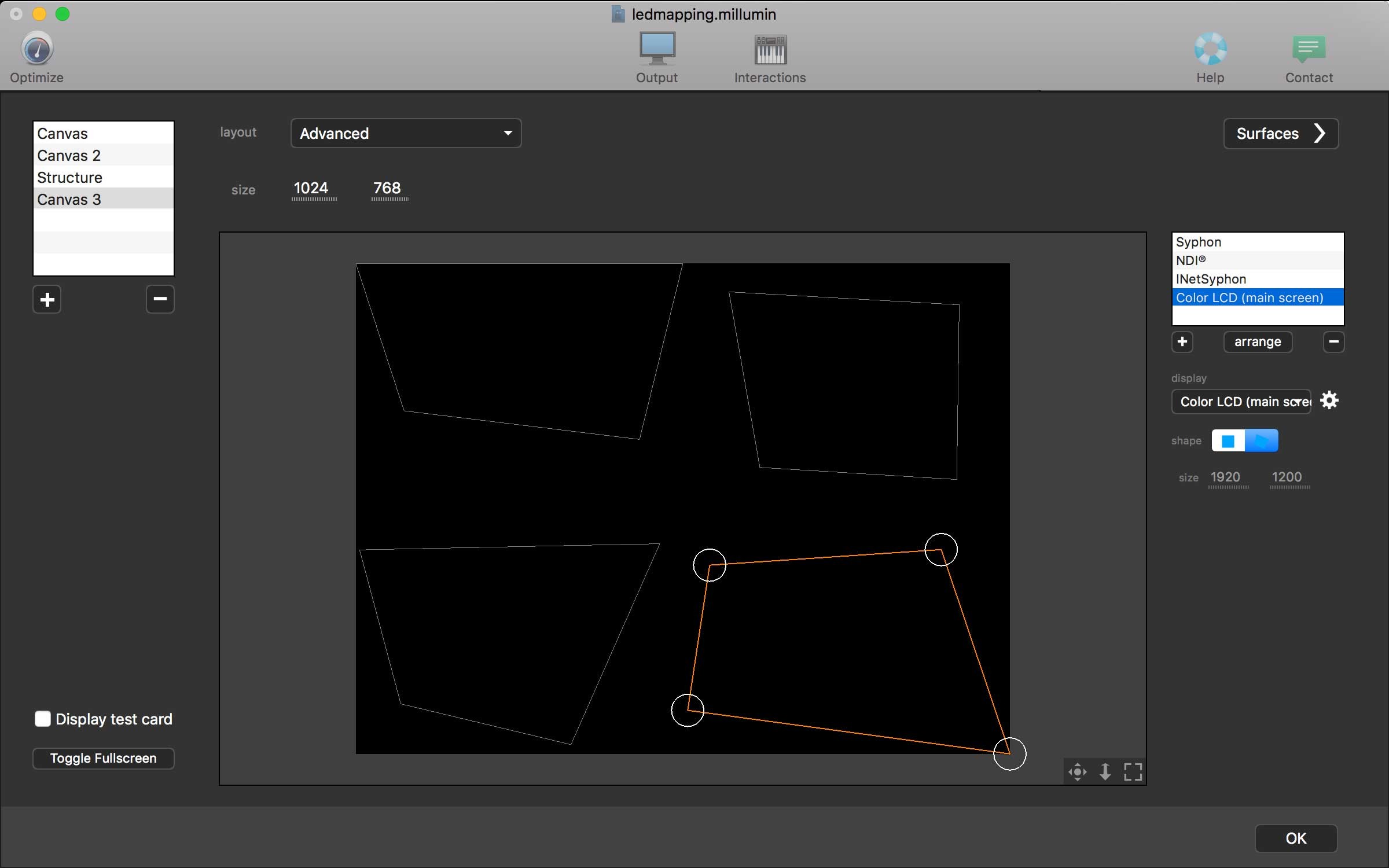 Multi-Screen
Project video on multiple screens. Blend videoprojectors together (soft-edge) to create a seamless image. And if needed, use the advanced-layout to manage complex setups, from big continuous projections to video walls, passing by broadcast switchers.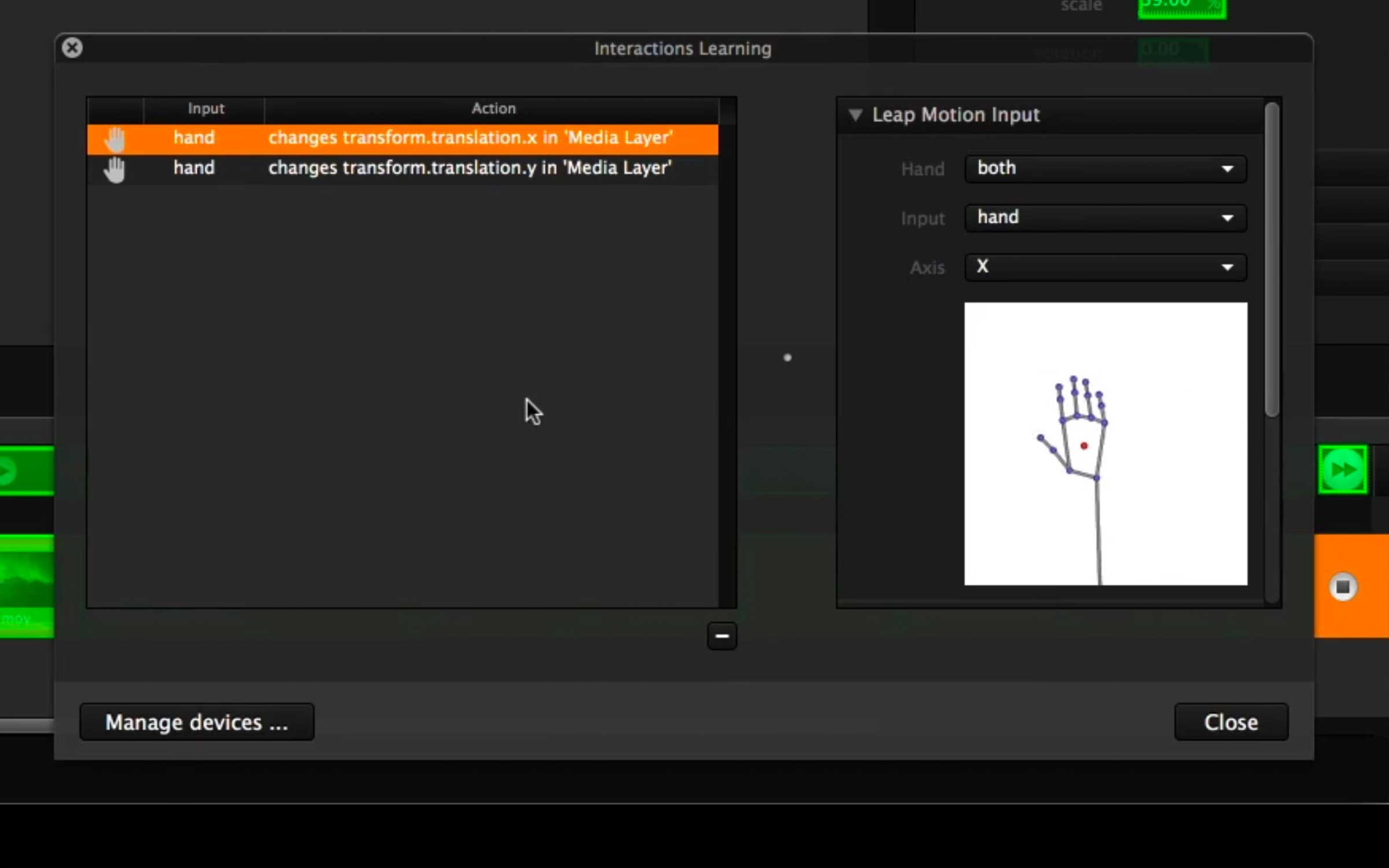 Interactions
Connecting anything to Millumin, that is the purpose of the interactions. MIDI, OSC, TUIO, Artnet, DMX, timecode, gamepad, keyboard, Arduino, Kinect, LeapMotion and much more can be used to control Millumin.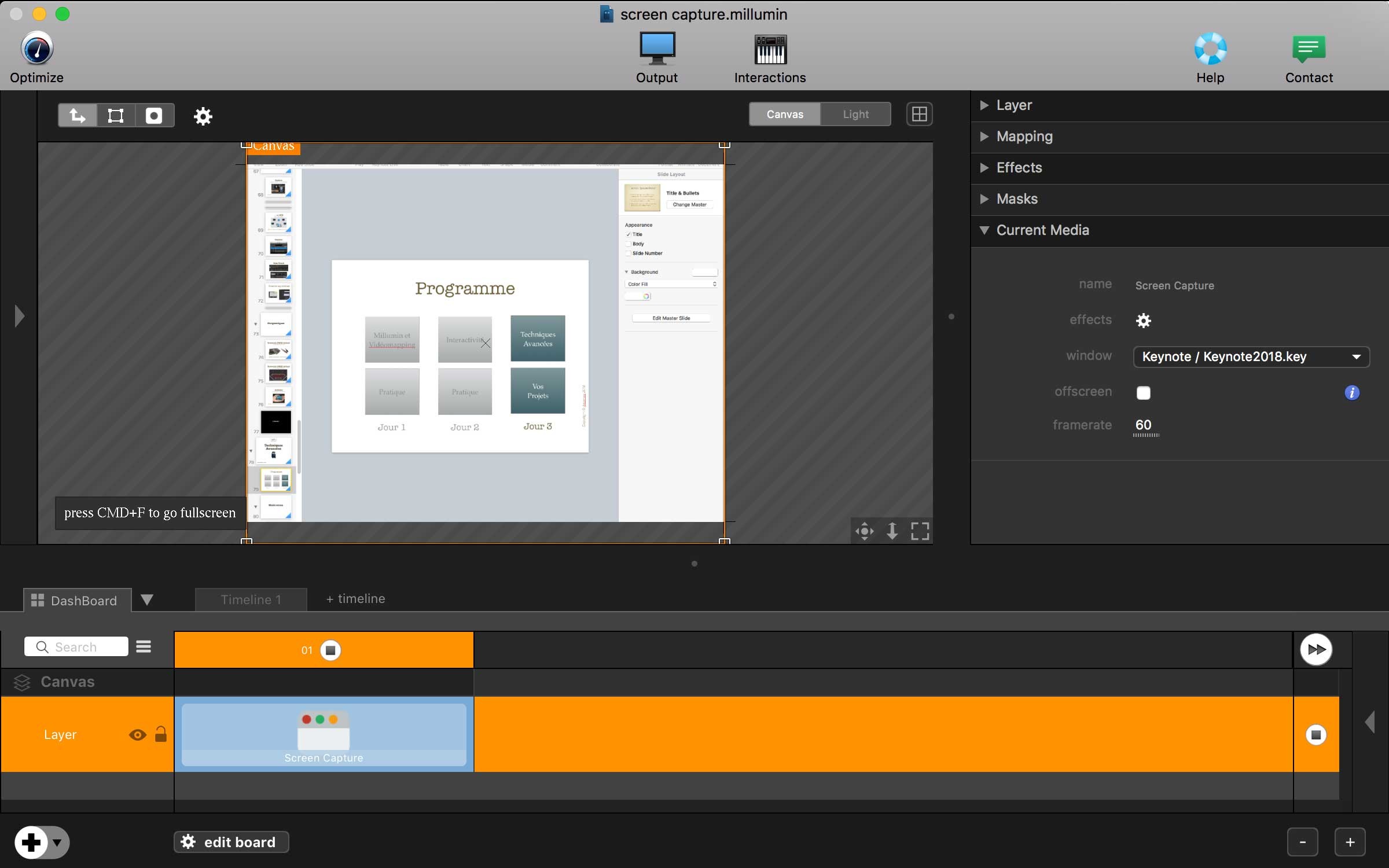 Screen Capture
Millumin's screen-capture can capture any windows running on macOS. So your web browser or a drawing application suddently become playable in Millumin.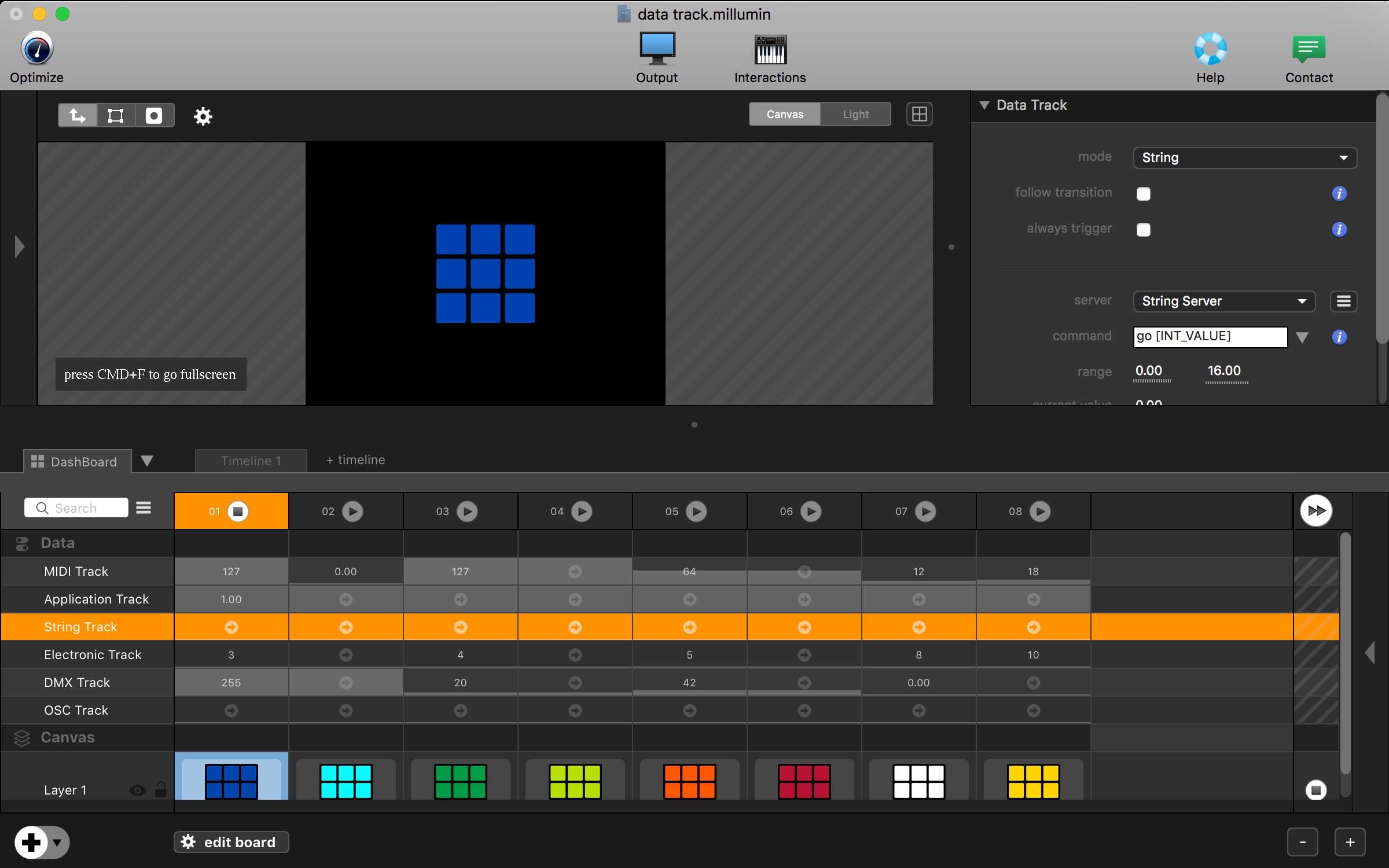 Data-Track
Data-track allows Millumin to 'talk' to other machines or softwares : indeed, it can send MIDI, OSC, DMX, strings, ... So Millumin can become the show conductor, managing other computers, light desks, projectors/shutters (via PJ-link), and much more.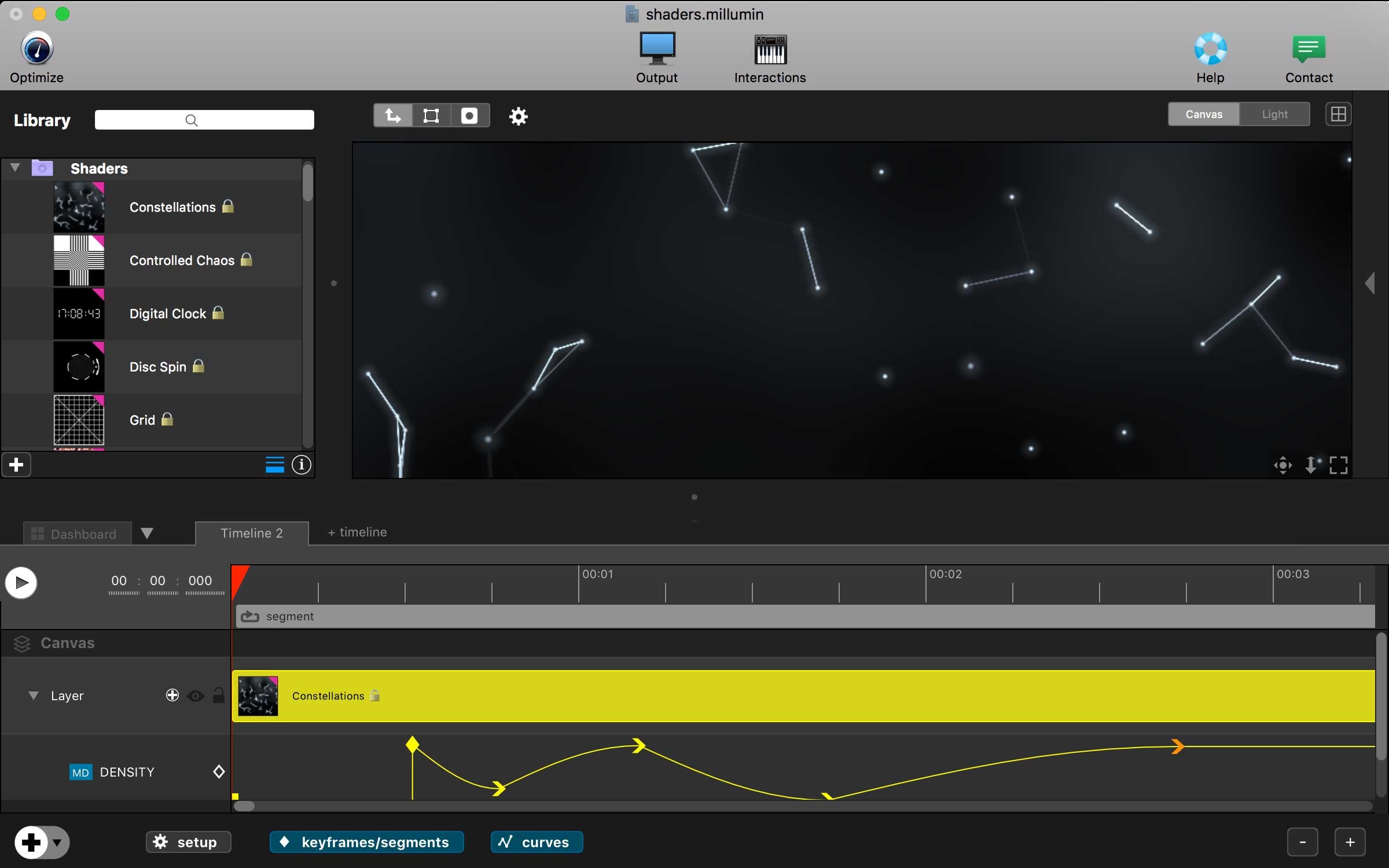 Shader Effects
Millumin supports ISF shader format that opens the software to unlimited creativity. The embedded inline editor allows you to edit the shaders in real time. Thus, you can create real-time controlled medias and effects. Or simply install additional ISF from third-party creators.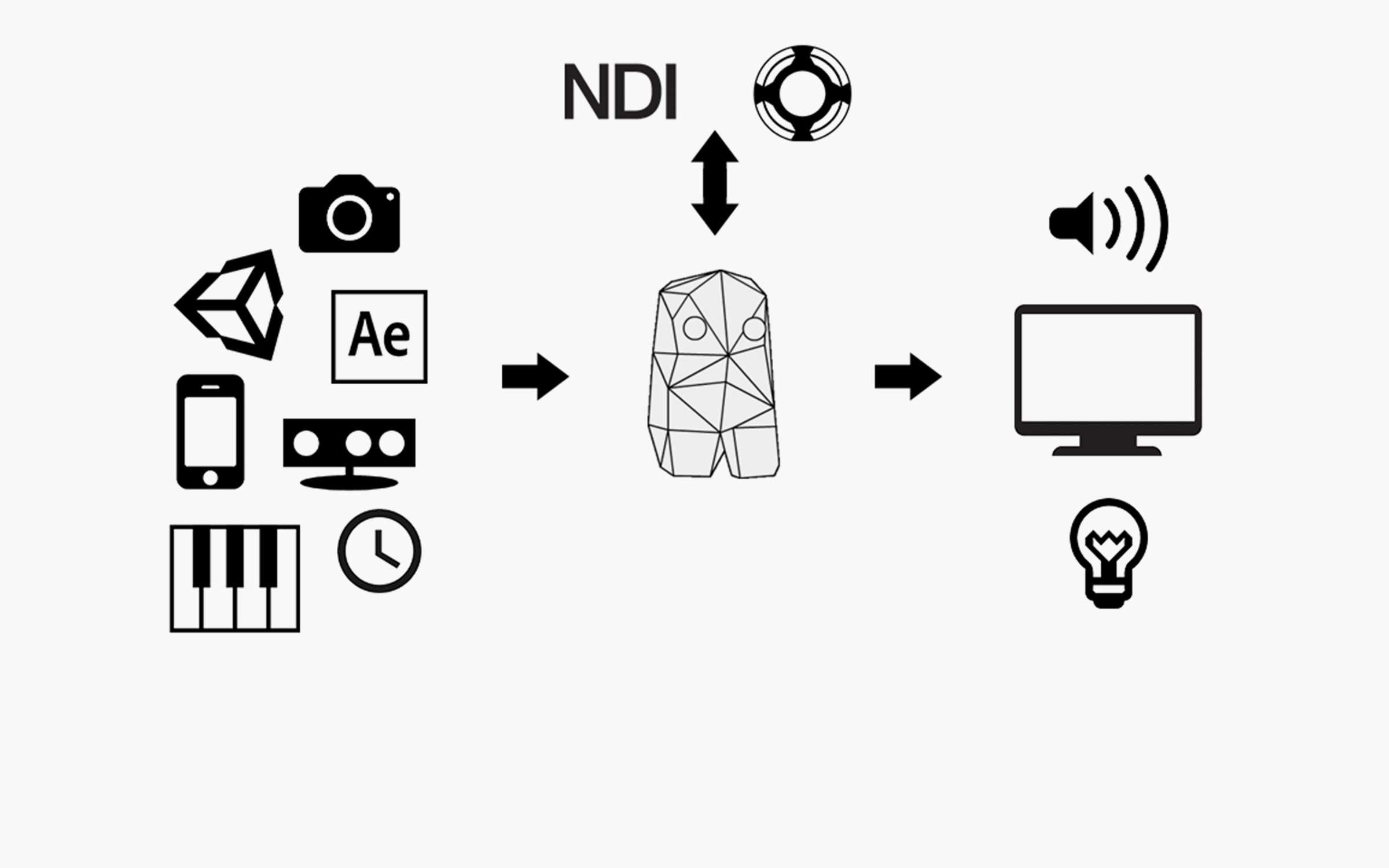 Devices / Protocols
Connect your devices & softwares via Syphon or NDI®.
Capture video with devices from Blackmagic, AJA, Epiphan, ...
Output to a Matrox Triplehead or Datapath FX4.
Use Millumin's OSC API to control it via TouchOSC or Lemur
Or browse the developer-kit to build your own controller.
Please note:
Millumin is a stand alone Mac OS X (10.11 or newer) application that interfaces with After Effects via a free plugin : you can download it here.
The license allows you to activate Millumin on 2 different computers
Millumin is not sold with only 1 activation : the second one comes as a bonus, for convenience or emergency purposes
Activations are easily transferable from one computer to another one (3 clicks). If you need assistance please contact us.
Upgrade Notice:
To upgrade from a previous version, go to your Millumin account and click on the Upgrade link
| | |
| --- | --- |
| After Effects | CC 2019, CC 2018, CC 2017, CC 2015.3, CC 2015, CC 2014, CC, CS6 |
| Cinema 4D | R19, R18, R17, R16, R15 |
| Photoshop | CC 2019, CC 2018 |
3.0 (Current version) - Nov 23, 2018
Major version release