Swiss Knife
Compatibility After Effects

Please check exact version compatibility under the "COMPATIBILITY" tab below
Swiss Knife it is one tool and unlimited possibilities
Play with 4 groups including parallaxer, interactor, placeholder and support.
Use it for any kind of projects, character animation, video editing, templates, UI/UX animation
Parallax
The main purpose of this group of tools is to allow you make parallax animation as easier, as possible.
Parallax 2D will make fake parallax effect with 2D layers, if you don't want to go to 3D.

Parallax 3D makes true 3D distribution between Near and Far Distances, which you can type manually.

Extruder main feature is that you can make extrude from placeholders.

Stack is a huge option, which allows you to make linear stacks in 2D or 3D space.
Interaction
Interactions is very helpful to make interdependent animations.
Dependence is a wonderful tool which allows you to put any animation in dependence of any other property.

Interactor put your animation in dependence of positions between last selected layer and others.

Animarker allows you to put your animation in dependence of markers.

Offset animates all parameters on the same value, but with time delay.

Revolver take rotation of the objects and links to the main object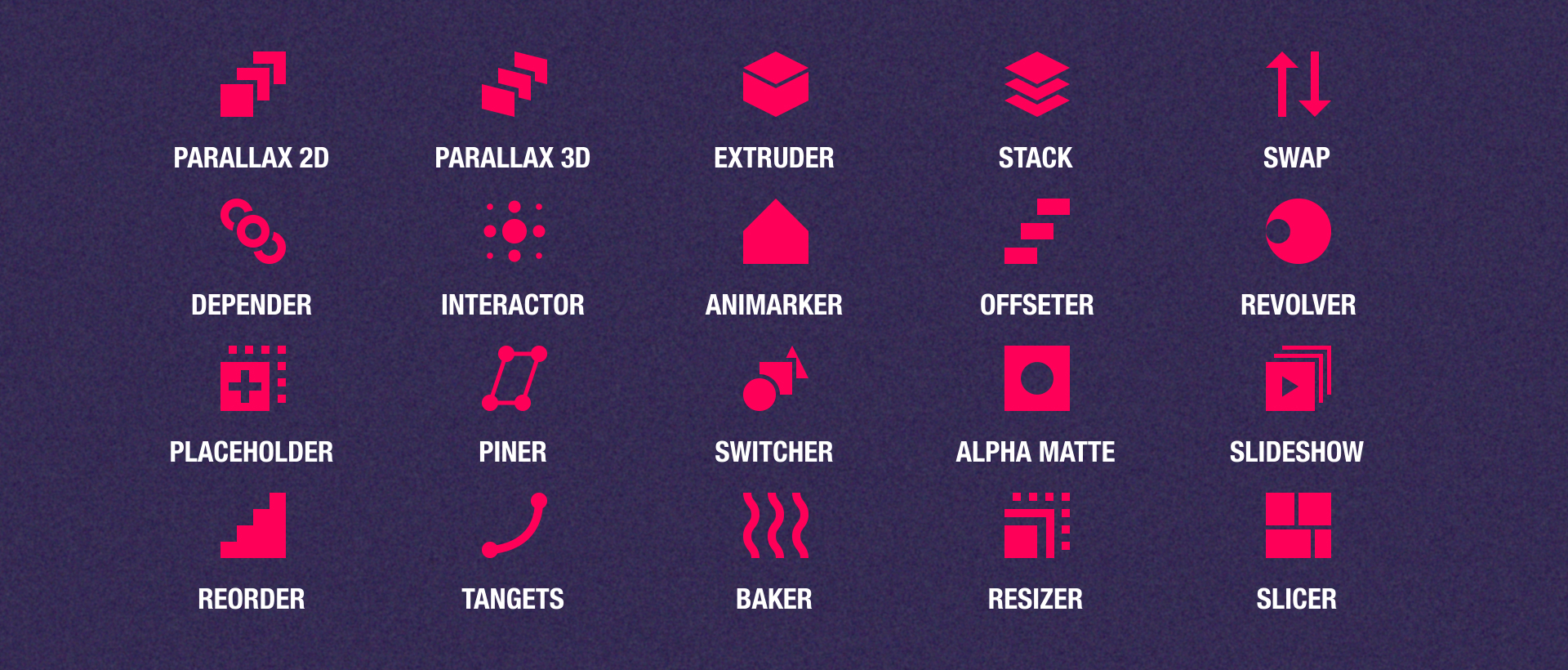 Placeholder
Allows you to optimize, probably, your every day's routine.
Placeholder allows you to use shape layers or picture layers as placeholders to any stack of footages.

Piner put your image in dependence of selected path vertices

Switcher puts all selected layers to precompose, crop precompose to biggest layer in it and turns on Time Remap.

Alpha Matte clones very top selected layer as Alpha Matte to all others.

Slideshow allows you to make simpliest slideshow in precompose.
Support
Support functions is a suit of different functions witch helps you with your projects.
Reorder will reverse your order. By Click there is simple reverse of order of selected layers.

Bake will bakes your expressions to keys and optimize them as possible.

Tangents is simple tool to make position moves with proper arcs.

Resize is a wonderful tool. It will help you to make all selected layers (or items) the same size.

Slice is beautiful. It's slices the layer on the pieces, it has it's own menu, just click on it and you will see.

Swap is very interesting and variable tool. It changing source off selected layers with just click.

| | |
| --- | --- |
| After Effects | 2023, 2022, 2021, 2020, CC 2019, CC 2018, CC 2017, CC 2015.3, CC 2015, CC 2014, CC, CS6 |
1.1.9 (Current version) - Dec 1, 2022
Fixed issue, when script might give an error, if dimensions on position of morphing layers were separated
1.1.8b - Aug 19, 2022
- Improved support and better error messaging for online activation
- Updated license framework to v4.01.000
1.1.8a - Mar 7, 2022
Fixed "Corrupted data" error in aescripts manager app, which didn't allow to update script
1.1.7 - Jul 14, 2020
- Fixed 'Unable to execute script at line' error on some windows systems
1.1.6 - Jun 15, 2020
License framework update
1.1.5 - Dec 12, 2019
Catalina compatibility update
1.1.4 - Oct 11, 2019
license update
1.1.3 - Jan 13, 2019
Placeholdel fix & some minor changes
1.1.2 - Jun 12, 2018
Some small fixes
1.1.1 - Jun 9, 2018
Fixed: independent colors on Extruder now works properly
1.1 - Jun 6, 2018
Fixed, when parallax 2D pseudoeffect wasn't created
1.0 - May 30, 2018
Initial release