Screen Mapper
Compatibility After Effects

Please check exact version compatibility under the "COMPATIBILITY" tab below
Screen Mapper (previously called Display Builder) is a new tool for After Effects that allows you too quickly set up multi-screen display templates.
Design your templates inside the tool, then export to after effects... Easy!
Screen Mapper will automatically create your master compositions and precomps, name, label and position them correctly.
*Screen Mapper was previously named Display Builder
- Creating, saving and exporting your own Screen Mapper canvas's
- Responsive toobar with lots of functions for quickly modifying displays and building scenes
- Grids, gutters, guides, rulers and snapping
- Importing images and scale displays appropriately
- Checkerboard layer and preset for previewing
- Keyboard shortcuts (US & UK Keyboards)
Create Complete Takeovers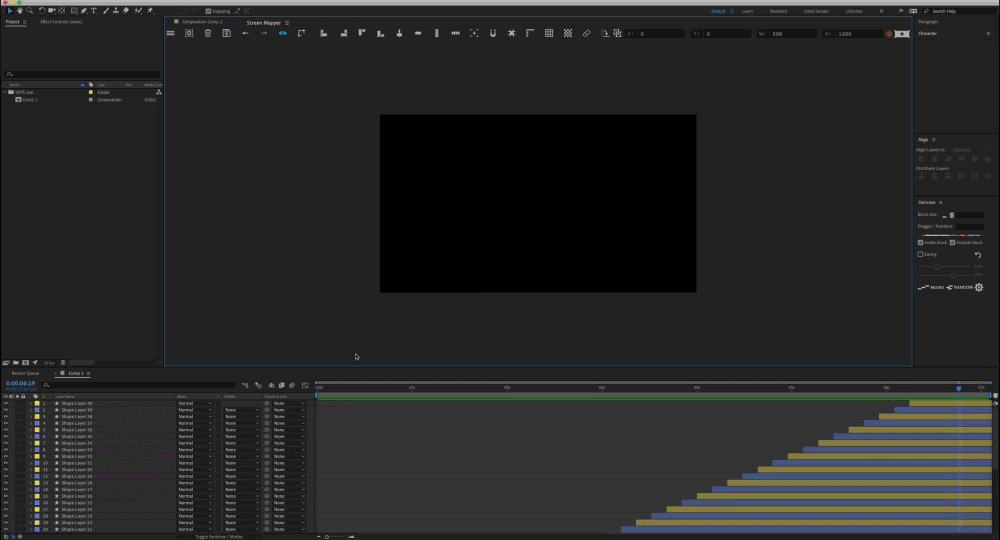 Design your templates and save them for using again or updating at a later date.
Working with other teams? Screen Mapper has the option to export your canvas to a file to share your template with someone else or import from one you have been sent.
When you're finished designing your template in Screen Mapper, export to AE and watch your project build in a matter of seconds!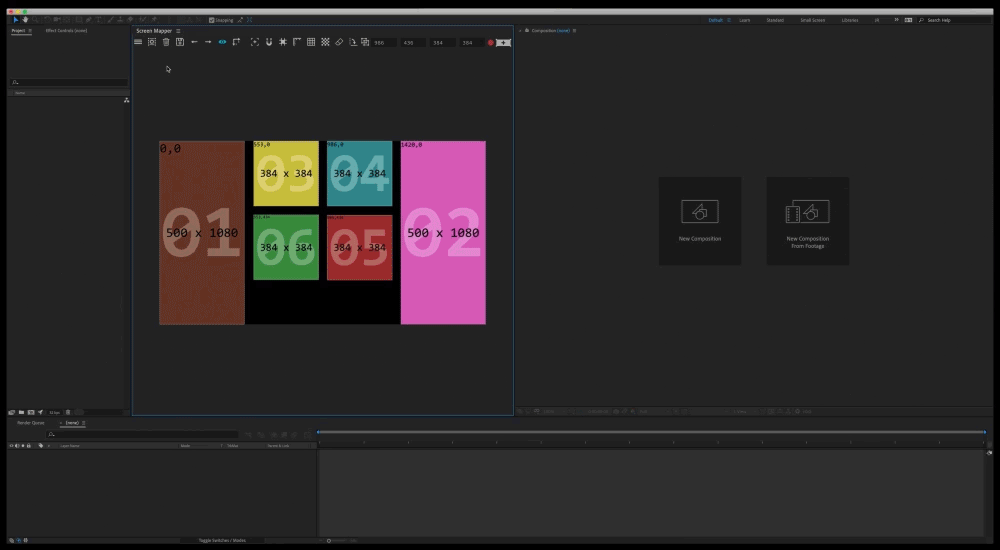 The Screen Mapper interface has been designed to feel as if you're working right within your Composition window.
It has an array of awesome features like rulers, grids, panning and zooming which can be enabled and disabled with keyboard shortcuts or via a button on the toolbar.
The toolbar has buttons for:
- Main Menu
- Project Menu
- Deleting Project
- Saving - Undo & Redo
- Show / Hide Images
- Scaling proportionally to images
- Reseting canvas view - Enable / Disable Snapping
- Enable / Disable Guides
- Enable / Disable Rulers
- Enable / Disable Grid
- Build Grid of Displays
- Deleting Display
- Rotating
- Multi Display Adjuster
- Changing label colours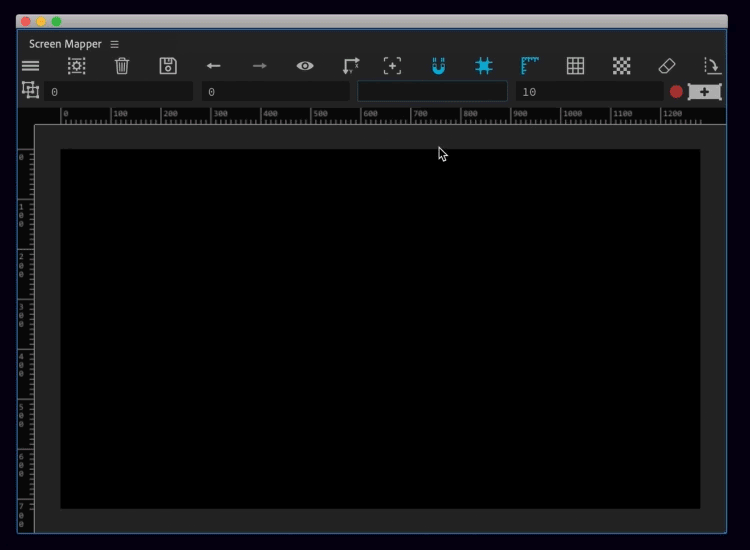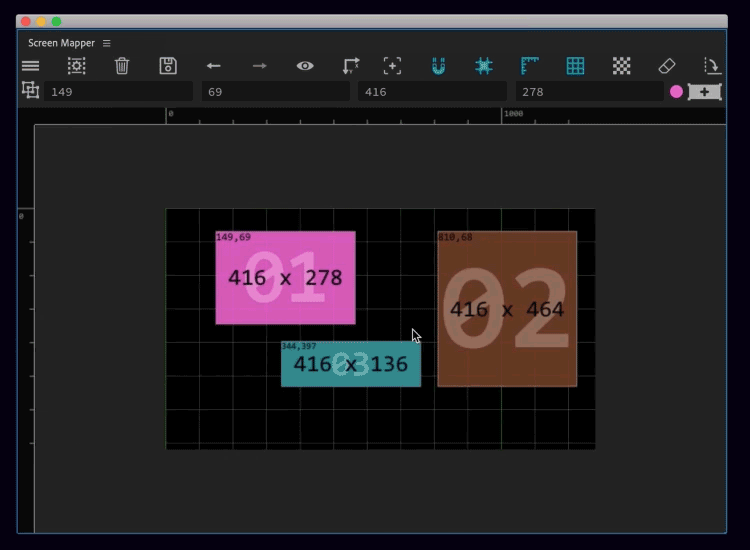 Grids, Guides, Gutters & Snapping
Check measurements with rulers and grids, and get pixel perfect accuracy with snapping.
Screen Mapper also has guides that show you what other displays it is currently aligned too, and allows you to set gutters, perfect for accounting bevels and spaces between screens
Importing Images and scaling Displays Using an image as a reference?
We've got you covered. Import images up to 10,000px in size. (Smaller size images give better perfomance in the extension.)
If you need to scale your image up to scale then you can use the scaling tool to set up a 1:1 ratio;
Note: Images and canvas's won't get bigger than 30,000px as that is the size of a composition with AE.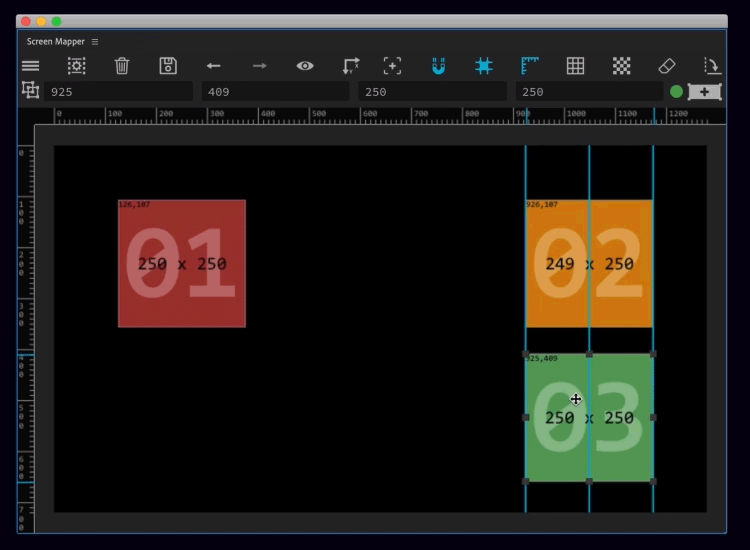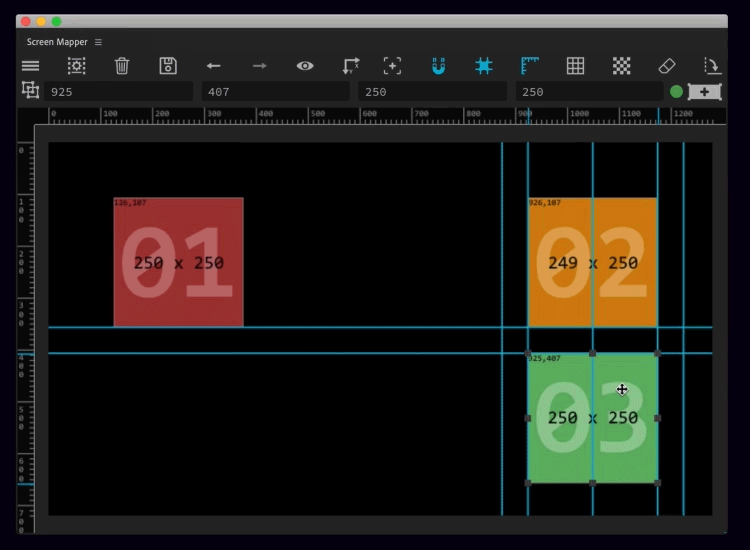 Pixel Mapping Presets & Keyboard Shortcuts
Screen Mapper gives you the option to add a preset pixel mapping shape layer for each display.
This gives you tons of flexibilities for adjusting and creating individual grids for each composition within your project.
Perfect for previewing and setting up before your event!
Screen Mapper utilises keyboard shortcuts for quickly moving and duplicating displays as well as many other actions.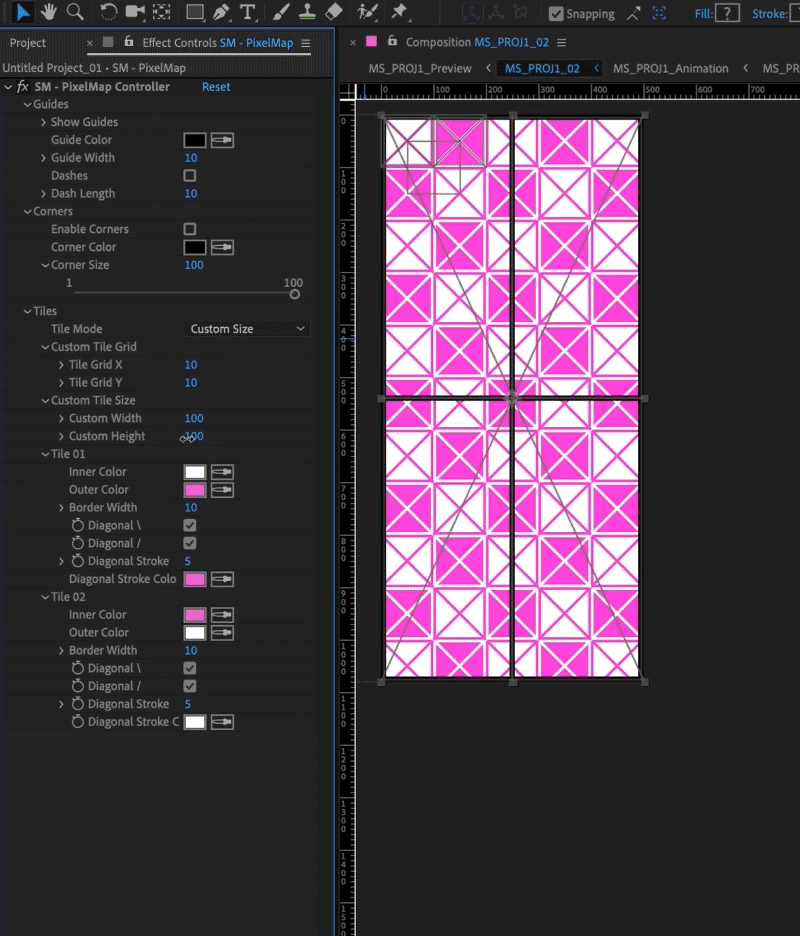 - Screen Mapper works with After Effects CC 2017 and up
- Screen Mapper has support for multiple languages in AE
- But please test trial before purchasing!!
- Trial Lasts for 7 days
- Max Canvas Size is 1280x720
- Only limited to exporting 5 displays
Screen Mapper's measurement is in pixels.
Support only for UK and US keyboards. On Mac, the shortcut to save your canvas (⌘+s) doesn't work well in extensions so (cntrl+s) is used instead.
| | |
| --- | --- |
| After Effects | 2022, 2021, 2020, CC 2019, CC 2018, CC 2017 |
1.0.0 (Current version) - Jun 24, 2020
* Initial Release *